Obviously during the COVID-19 pandemic we're spending a lot more time at home. This has led people to adopt new hobbies, everything from reading and baking (I've seen so much sourdough bread on my Facebook feed) to woodworking and home improvement (because if you're stuck at home, you might as well as fix it up). With a surge in home renovations — particularly outdoor projects — super small 1- to 2-metric-ton excavators have become even more popular.
"The ultra-compact market remained strong during 2020 because of a strong rental market and a landscaping and residential push due to the pandemic," says Patrick Baker, Kubota product manager — construction equipment. "More people are completing hardscape, landscaping and residential projects than years prior."
These mini machines are the perfect fit for DIYers who may be novice operators needing to swap the manual labor of a shovel and wheelbarrow for a faster, less back-breaking alternative. First, they're simple to transport and fit into yards thanks to their small size.
These machines are easily transported and can be loaded on a trailer and hauled behind a full-sized pick-up truck making them ideal for home owners. Their compact dimensions enable them to pass through standard doorways, gates, and other areas with very limited access.
The retractable undercarriage and blade with removeable end bits are ideal because they allow the operator to get into very confined areas, and once in position and ready to work they can be extended to provide greater stability.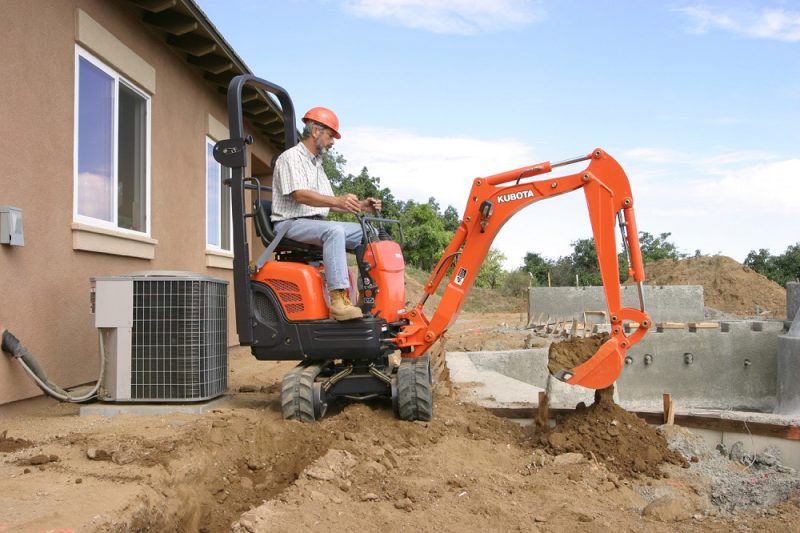 These super small diggers provide a lighter footprint for minimal ground disturbance in yards and less concrete and asphalt damage when performing street or utility work. Their small size also makes them less likely to hit any obstacles, such as surrounding landscapes or structures.
"Smaller excavators really excel wherever they fit," says Justin Steger, solutions marketing manager, site development and underground for John Deere. "For example, take a landscaper in a residential subdivision where lot lines seem to get closer and closer. This leads to narrow gateways on fenced-in property lines. Rather than bidding gate removal and replacement, or worse, gate repair due to damage into the job, a smaller excavator can fit through the gate and get to work faster. You'll typically have a more satisfied customer thanks to the less impact and disruption you cause their property while on the job too."
Mini Models
Interested in buying or renting one of these mini machines? Let's take a look at the smallest excavators from a variety of manufacturers.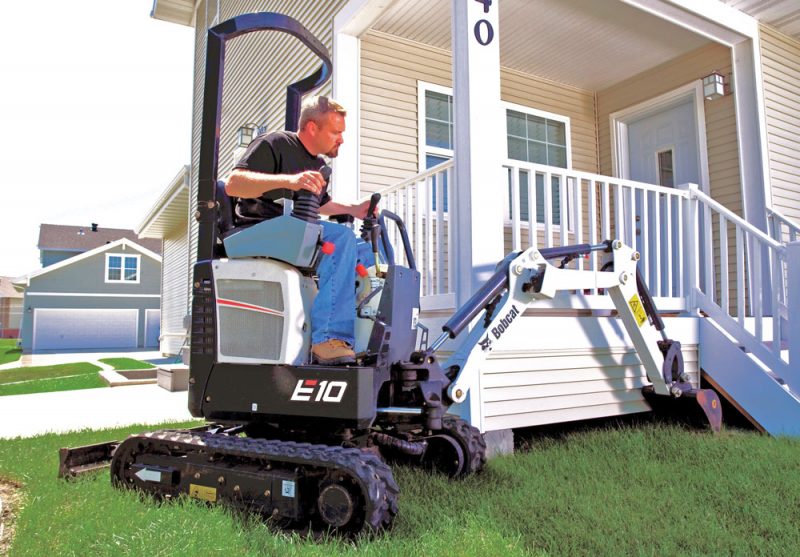 The E10 from Bobcat has a retracted track width of 28 in. so it can easily navigate through narrow openings and operate in tighter conditions. This machine is a zero tail swing compact excavator — offering the greatest flexibility to slew and deposit while providing protection against jobsite obstacles.
"Like the other excavators in the Bobcat lineup, the E10 is equipped with advanced performance, uptime protection, comfort and serviceability features," says Jason Boerger, Bobcat's marketing manager — excavators. "Performance features include selectable control pattern, two-speed travel and retractable blade and undercarriage. With the selectable control pattern, operators can easily switch between 'excavator' and 'backhoe' with no keys required, and two-speed travel allows operators to maneuver faster on the jobsite."
Both the E10 and Bobcat's E20 boast a hydraulically activated retractable undercarriage that gives operators the flexibility to access tight gates and doorways while maintaining its power as an excavating machine. The two models also have a retractable blade that allows greater ability to move in small areas.
Kubota's K008-3 is the smallest excavator in the company's extensive lineup. This ultra-compact machine features an easy operating control pattern changeover, offering either ISO or SAE, foldable ROPS for easier excavator entry into small workspaces — specifically doorways and elevators to complete work indoors — and two-speed travel. The K008-3 also has an adjustable width track frame and blade, reducing the excavator's width to an ultra-small 28 in. by simply operating a single lever. Two other notable features on the K008-3 include a reliable Kubota E-TVCS engine and accessible maintenance points.
"Maintenance on the K008-3 is simple and easy for the owner and/or operator," says Baker. "The bucket hoses are protected from damage and debris during operation. Kubota improved the K008-3 hose and boom cylinder protection by putting the hydraulic hoses within the boom and dipper arm. A fully opening hood and new engine layout make daily checks and inspections quick and easy."
Next up is John Deere's 17G. Unlike other models in the company's G-Series, the small, durable 17G offers a variable-width undercarriage and foldable blade — making it ideal for tackling big projects in tight spaces.
"The 17G undercarriage can be hydraulically retracted along with foldable wings to narrow the backfill blade," says Steger. "This brings overall machine width to a minimum 39 in. in order to navigate narrow pathways and tight quarters, which is then easily repositioned and expanded once on the other side of that gate or beyond the obstruction for solid stability. This feature allows our 17G to go to work where other machines can't."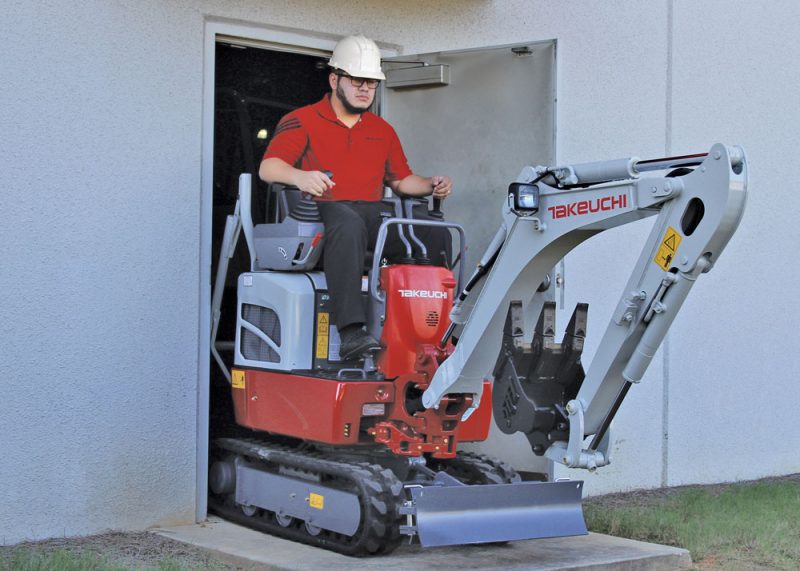 Takeuchi's TB210R offers an operating weight of just 2,535 lbs, a dig depth of 5 ft, 9.1 in. and a maximum reach of 10 ft, 9.4 in. This super small model features a retractable undercarriage that goes from 40.2 in. down to 29.5 in., helping it get into extremely tight spaces.
"With its track extended, the unit is a short tail swing model," says David Caldwell, product manager at Takeuchi. "It also has a backfill blade with extensions, pilot controls, a pattern change valve and two-speed travel. Its foldable ROPS makes it able to get into areas with low clearance, and its easily accessible design makes for excellent serviceability."
Yanmar's SV08-1D is its smallest mini excavator coming in at just 2,348 lbs. The SV08-1D has a maximum width of 2 ft, 9 in., a folding ROPS and an ultra-tight tail swing to tackle the most confined jobsites — particularly indoors.
"The design intent for the SV08-1D was indoor renovation. With the folding ROPS and adjustable track width, users can easily pass through a standard interior doorway," says Erik Coyle, product specialist for Yanmar. "It also excels in landscaping, irrigation and plumbing applications where low ground pressure is required. The eco-friendly ultra-low noise engine is ideal for residential work. It's a great machine in the right applications."
Auxiliary hydraulics come standard on the SV08-1D with a maximum flow of 5.2 gpm at 2,625 psi. The machine also features a breakout force of 2,360 lbf, tractive force of 1,550 lbf and a four-year/4,000-hour warranty.
The 1.8-ton ECR18E is Volvo Construction Equipment's smallest model and features an ultra-short tail radius, allowing it to squeeze into spaces as narrow as 39 in. The ECR18E's adjustable undercarriage can extend from 39 to 53 in. According to the company, the design for the ECR18E was directly influenced by its customers, including a large cab with well-placed handrails, metal panels all the way around for ease of maintenance and repair and side-by-side coolers that allow even cooling for the hydraulics.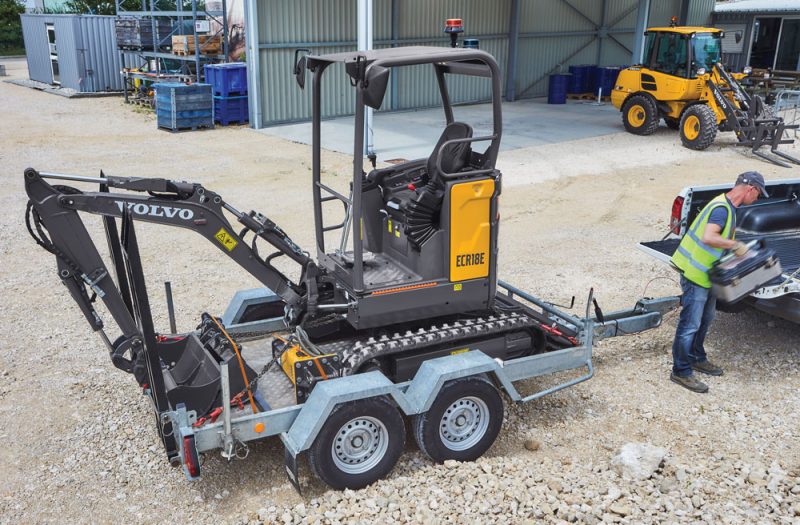 "It's also easy to transport because of its small size, light weight and four tie-down points," says John Comrie, Volvo's product manager, compact excavators and compact loaders. "Put it on a small trailer with up to three buckets and a hydraulic breaker, and you're good to go. The ECR18E also has a unique high-profile counterweight, ROPS/TOPS/FOPS certified four-pillar canopy and a simple, uncluttered operator environment, all of which support our emphasis on safety. We optimized the service access and made maintenance points very easy to get to as well."
JCB's most compact model, the 2-ton 19C-1E, is also the company's first fully electric mini excavator. The 19C-1E is powered by a four-battery pack creating 417 Ah (20 kWh) of capacity and can complete a typical day's work on a single charge.
"The 19C-1E is ideally suited to construction and excavation applications within enclosed or urban jobsites, or noise- and emissions-sensitive environments such as hospitals and schools," says Chris Lucas, JCB's excavator product manager. "It offers the same power as JCB's diesel-powered 19C excavator yet produces zero exhaust emissions and one-fifth of the noise."
Other features of the 19C-1E include a Bosch Rexroth load-sensing hydraulic system for excellent digging performance to a maximum dig depth of 8 ft, 5 in., a fully glazed cab and retractable undercarriage to easily navigate narrow spaces and doorways.
Pam Kleineke is managing editor of Compact Equipment.