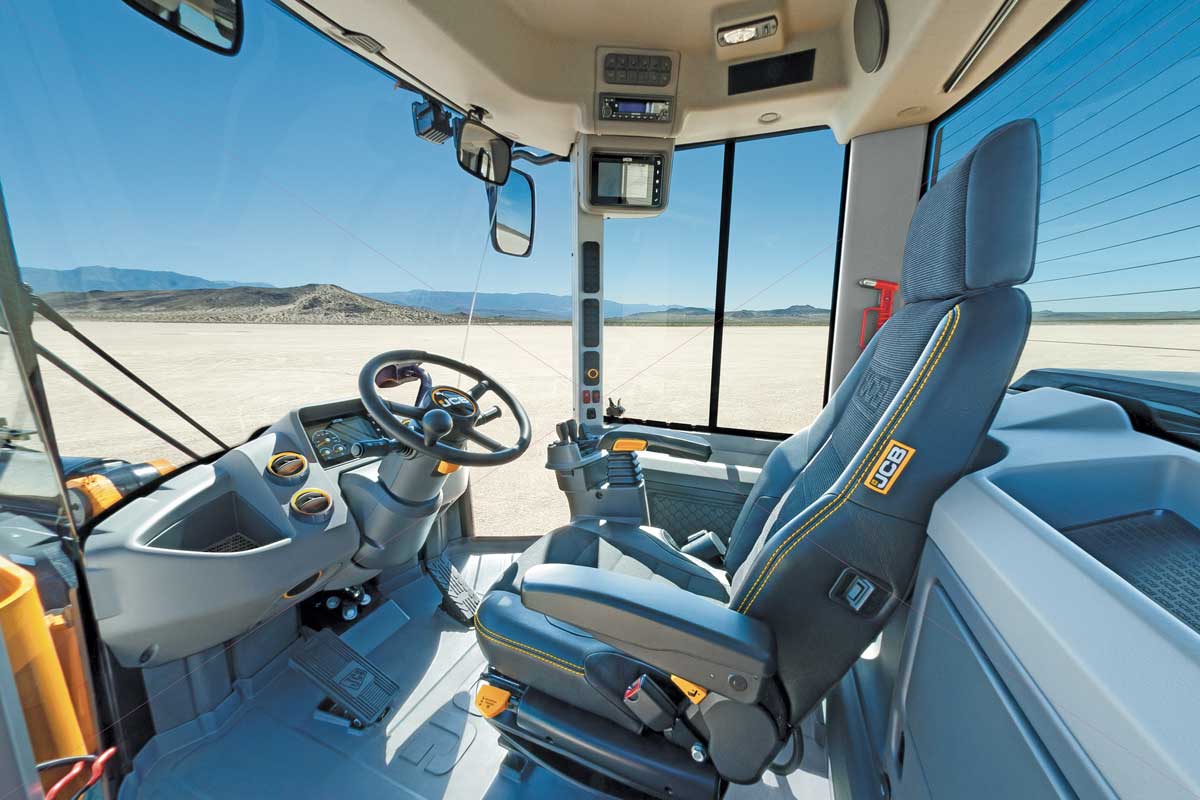 There are no guarantees, of course, but if you're lucky, perform well, build a solid reputation and keep your nose to the grindstone, then there comes a day when all those pre-dawn alarms, long days and late nights pay off. You reach a point where you can afford some of the finer things in life.
For many contractors, that might mean a brand-new, ridiculously loaded pickup truck or maybe an expansive office revamp that wows clients and employees. If you're the type of construction owner who has no intention of getting off the machines and into the office, then it may also mean upgrading construction equipment to make yourself — and valued, long-time employees — happier and more comfortable during the long workday.
Picture this: A beautiful brand-new compact wheel loader suddenly sitting in your fleet lot, brilliant in the morning light, outfitted with the latest comfort and tech features (from a heated seat and Bluetooth radio to telematics and a telescoping boom).
"Just like with an automobile, there are so many extra options and features that can be added to a wheel loader," says Ethan Clowes, product manager for wheel loaders and skid steer/compact track loaders at JCB. "Some of the most helpful are advanced telematics systems like JCB LiveLink, return-to-dig functions for repeatable activities and LED lighting packages. In addition, you can add even more versatility to your wheel loader with specialty attachments like high tip buckets and bespoke grapples such as the pipe grapple."
Small, attachment-taking wheel loaders already offer so many amenities over a skid steer or compact track loader, including easy entry and exit of the operator station and a wider, more refined cab experience with better visibility. Increasingly, compact wheel loader manufacturers have been adding even more options worthy of what we'll call a luxury loader experience. Scott Britton, compact wheel loader products application specialist with Caterpillar, has watched the evolution.
"I'm old enough to remember a time when we had a TV in our house that was a rotary dial and of course had no remote control, which almost seems funny in retrospect," says Britton. "Watching the compact wheel loader features evolve over the years has really been quite exciting. Customers see our big brothers in the 926M and larger lineup and all the bells and whistles those machines have and start to expect similar features on their own loaders."
Of course, Darren Ashton, product manager for compact wheel loaders at Volvo Construction Equipment, notes many items that were once considered luxury are now almost required.
"I would not consider these options luxuries as much as I would consider them enhancements that help contractors improve their productivity and get a solid return on investment," he says. "The contractors who purchase these options understand that they help with employee retention, fatigue and, ultimately, a safer working environment. Some may consider maintenance contracts a luxury. However, this will protect your investment by controlling downtime with technicians who are trained on your machine."
Is an Electric Wheel Loader the Ultimate Luxury Machine?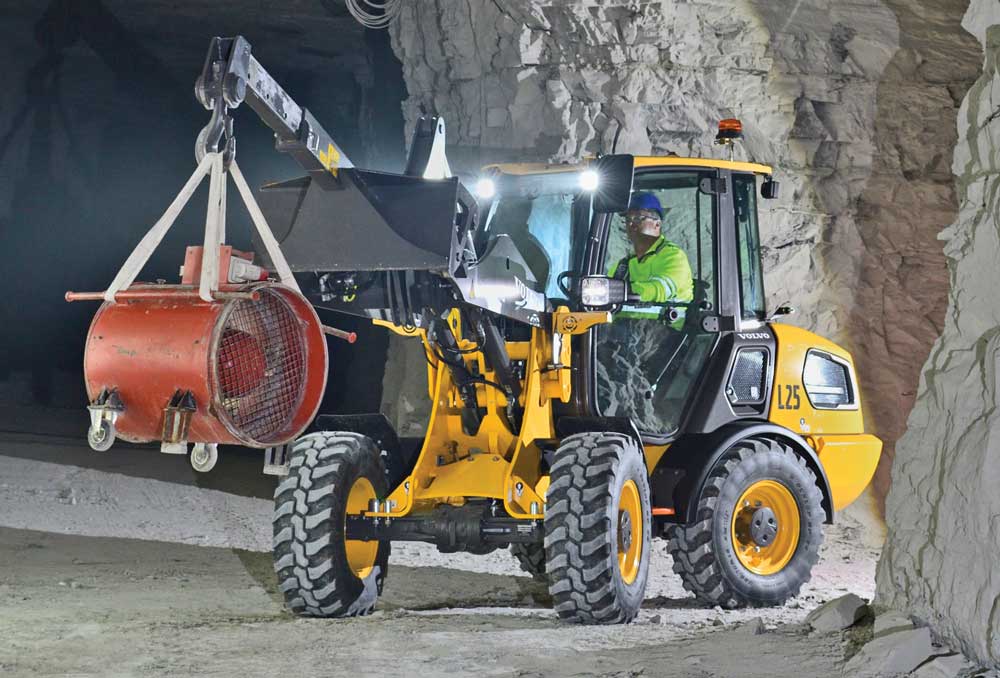 In addition to optional available features, Darren Ashton, product manager, compact wheel loaders at Volvo CE, says that one of the coolest new things in development today is electric machines like the new Volvo L25 Electric compact wheel loader, which he says gets the same types of jobs done as its diesel-powered equivalents, but with less noise, vibration and emissions. "These reductions are the result of removing the diesel engine and the cooling fan," Ashton explains. "In pilot programs, Volvo has received feedback that operators are much less fatigued after several hours of work. Even in a top-of-the-line Volvo cab, operators appreciate the difference of the smooth, quiet, emissions-free operation of electric construction equipment."
One of the more popular aspects of an electric wheel loader, he adds, is that as soon as the operator starts running it, the electric motors provide instant torque. There's no feeling of a slight delay, as can happen with some diesel machines.
"And then there are the zero exhaust emissions," Ashton notes. "More local and state governments are adopting clean air standards, and companies are implementing their own sustainability plans. Sustainability requirements are already showing up in project specifications, and construction contractors should expect that trend to continue to grow. An electric machine has the cool factor, but it can also help owners win jobs."
Climate, Cabs and Control
There are base machines and there are loaded machines for sale today. If your budget allows for a bit more splash and dash on your iron, what options are available? For many old school contractors who came up the "hard way," running machines themselves, climate control is usually the first luxury option that springs to mind. Although again, it's hard to argue that a heated cab in Minot, N.D., in January, and an air-conditioned cab in Montgomery, Ala., in August, aren't so much luxuries as productivity-enhancing necessities.
"What is a luxury compact wheel loader?" Britton asks, building on that theme. "While we all have our ideas, my vision of luxury may be very different than yours or the next operator, even on the same jobsite. It wasn't that long ago, machine development-wise, that a bare enclosed cab would have been considered the primo top-of-the-line option. Now it's commonplace if not standard in most regions to have several premium features."
When and how you use your equipment go a long way toward defining what options are luxurious or simply practical, Britton adds. "Does your work consist of running in the dark or cold evenings?" he asks. "How about a large, comfy multi-adjustable heated seat with lumbar support? Having full LED roading and working lights can make the jobsite seem like day light, so that you can see where you're going and your coworkers can see you. You can also get underhood LED lights for easy service checks as the day starts."
Compact track loaders are the most popular category of compact equipment in America. Learn why with loads of track loader features right here.
"Now," he continues, "let's really step it up. While satellite radios used to be very popular, the Bluetooth radio is now the norm driven by the automotive industry. Operators expect the same from their mobile office the same as they do on the daily commute. With cabs getting quieter and quieter, streaming music or even safely taking a call hands free is expected. Features like a tilt steering column have long been standard on Cat machines."
"We definitely see contractors spec'ing out more options on wheel loaders, and if you think about it, operators spend a full day in their machines," Clowes says. "So, operator comfort and machine options are of the utmost priority. Our JCB wheel loaders feature our CommandPlus cab on all medium and large wheel loaders. This cab was specifically designed to create the most comfortable operator experience in the industry. The cab is the largest in the market, features some creature comforts like heat and air conditioning, adjustable and tiltable steering wheels, radio and JCB's Smoothride load suspension to keep operators comfortable in even the roughest terrain."
There are heated and electrically adjusted rearview mirrors, which keeps them free from mist and ice in damp or cold weather conditions or when working underground, and safety is enhanced since these mirrors can quickly and easily be adjusted from the operator's seat via a control switch.
The overall operator station should be measured. "One we often take for granted is the layout of the cab," Britton adds. "And that merits some consideration: Is everything within easy reach? How about your often used buttons or switches? Can you get to them without having to stretch? Are you able to do that by feel without looking? The less needed head movement to look around, the less fatigued the operator tends to be. How's the visibility? Did you notice the narrow hood line and flat faced rear counterweights so you can easily see behind you? Do you use the standard camera since you've got this machine with full cab? None of this was by accident. This is the operator interface evolving with customer feedback through time. To an older operator, these alone could be some of the biggest luxury features some of us often overlook."
Technologies
Plenty of high technologies are available on compact wheel loaders today. Britton says that many features, such as rimpull control (to adjust the torque to the tires and therefore the bottom dollar), implement response adjustment (the rate the loader arms respond to joystick input), hystat response adjust (the aggressiveness the machine has when applying throttle, brake or changing direction), throttle lock and creep (great when paired with hydromechanical tools) were options on large machines just one generation back.
"But now," Britton says, "they're essentially considered must-have features — and we're starting to see that same demand on the compact side as well."
Operators have plenty of choices when it comes to high-tech amenities, optional upgrades and differentiating standard features — joystick and wheel controls, parallel lift and return-to-dig functions, creeper and rimpull controls, backup cameras and tires, roading lights and rotating beacons, LCD displays, security features and so much more. There are machines with different lift arm linkages, electric variants, optimized power modes (like power mode, standard mode and eco mode) and limited slip differentials on both front and rear axles. To help save valuable diesel fuel, auto idle and auto shutdown are great features. With the high-lift option, operators gain additional lift height and reach with the boom and attachment. Some units even come with telescoping booms.
"Telescopic wheel loaders are capable of providing extra loading and dumping height," says John Dotto, product application and training specialist with Wacker Neuson. "Drawbacks are few, and a telescopic loader does have a higher price point due to increased mechanics needed to run the telescopic boom. However, when the application calls for higher and longer reach, the improved cycle times and increased overall productivity increase the initial investment and has a very fast return on investment."
Telematics is another technology that owners are adding for a monthly fee or often getting for free for the first couple of years of ownership. Telematics is an umbrella term for a variety of technologies and services that monitor a unit, collecting and sharing digital data on everything from systems analysis (think maintenance) to location (think theft).
Kubota Updates Wheel Loader Lineup with New R540 and R640 Models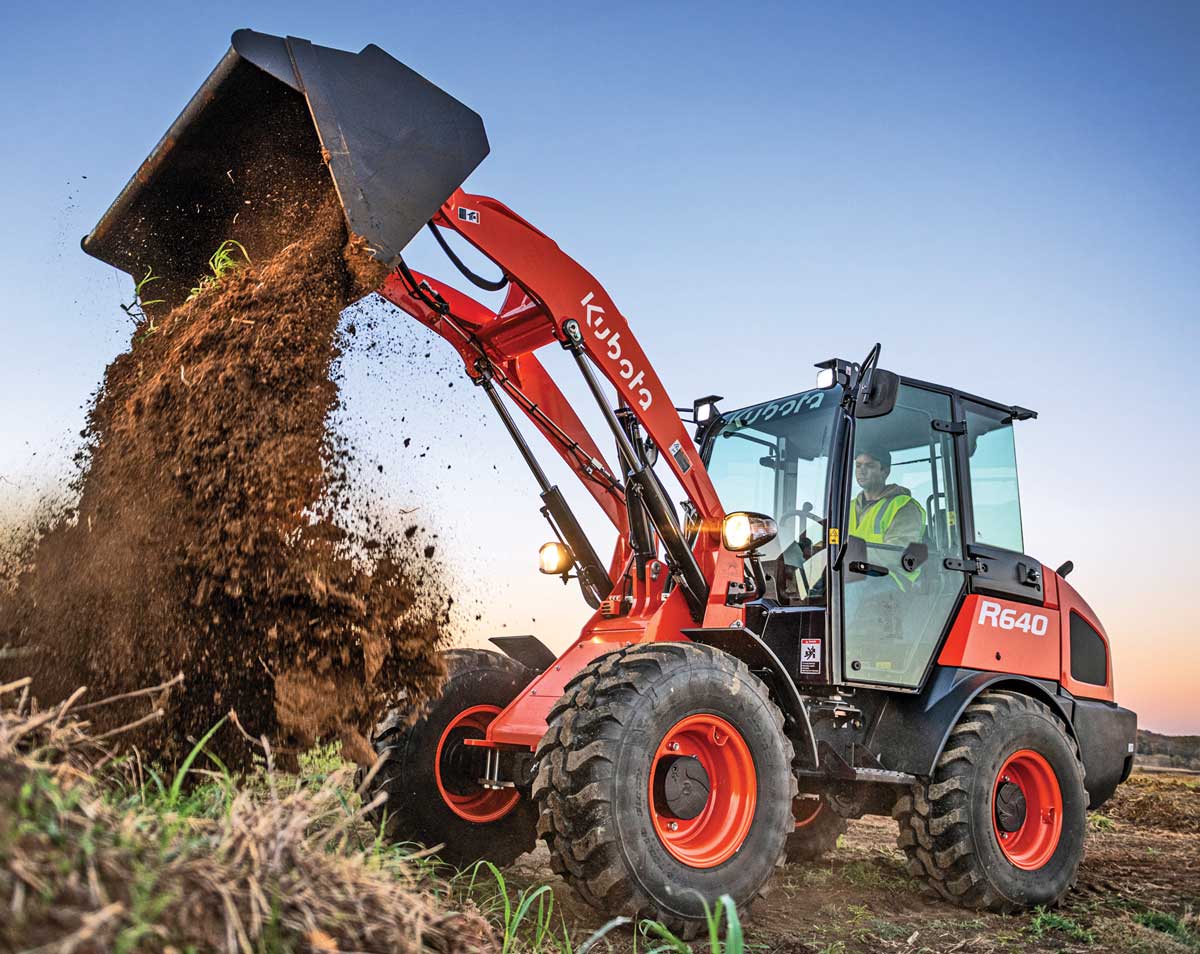 Kubota Tractor Corp. updated its wheel loader lineup with the launch of the new R540 and R640 models. The next-generation wheel loaders are available in both canopy and cab models and feature improved visibility, enhanced operator comfort and increased performance over the previous R30 Series models. Designed with landscape, residential and commercial construction operators in mind, the R540 and R640 provide increased weight and improved lift performance over the previous generation. Featuring a 64-hp Tier 4 Final engine, the R640 boasts an operating weight of 11,563 lbs and delivers a maximum breakout force of 9,869 lbs and 8,161 lbs of lifting capacity. With a 54-hp Tier 4 Final engine, the R540 has an operating weight of 10,285 lbs and delivers a maximum breakout force of 8,183 lbs and 6,767 lbs of lifting capacity. The R540 and R640 also feature standard LED working lights, transitioning from halogen lights, making the equipment well-suited for low light operation. For more info, visit kubotausa.com.
Compact wheel loaders can wield hydraulic attachments (in the 15- to 33-gpm range), with the ability to travel between different tasks at speeds up to 20 mph. Augers, cold planers, grapples, snow blowers — a compact wheel loader has a toolbox full of job possibilities. Machine speeds have increased to quickly transport material, and the introduction of ride control provides operators a shock-absorbing system that allows them to travel faster and maintain the bucket or attachment load. And, many compact wheel loader machines have the option of a skid steer attachment plate to add to the machine's versatility in handling the same attachments.
Manufacturers may also have unique options to upfit your ultimate loader. While the majority of compact wheel loaders articulate, there are some all-wheel steer machines (Wacker Neuson offers the 5055 and 8085 all-wheel units). An articulated loader excels in indoor applications, narrow spaces and on sensitive terrain (like pristine lawns). An all-wheel steer loader is a little less maneuverable but is known to have more stability on uneven grounds such as slopes.
John Deere offers the industry-exclusive Articulation Plus steering feature on three models — the 244L, 324L and 344L. With Articulation Plus, as the operator steers the wheel loader, in addition to articulating, the rear wheels steer as well. That provides a tighter turning radius, improves stability and allows customers to do more on the jobsite because they don't have to steer as much. Plus, those three models have a two-speed hydrostatic transmission with automatic on-the-fly shifting, reaching a top speed of 23 to 25 mph, depending on the model.
Kubota's R430 is unique with the ability to attach a backhoe that provides up to 7 ft of digging depth for trenching projects. The R430 is the only model that has a backhoe option and will be a popular choice when working in extremely compact areas. The bend in the middle articulation design for all Kubota compact wheel loaders allows for less scuffing and damage to tender surfaces compared to compact track loaders or skid steers.
These are all great examples of what a luxury compact wheel loader might look like. Yours, of course, will be unique. Luckily, most models today, regardless of options, are high-class units. Britton says that every unit comes with design elements, standard and optional, that work together on even the most basic machines to make jobs more productive and more comfortable.
"And that," he says, "is my idea of luxury."
Jack Roberts is a freelance writer for Compact Equipment.
For reprint and licensing requests for this article, please click here.
Tags:
Cat
,
Caterpillar
,
JCB
,
September 2021 Print Issue
,
Volvo
,
Volvo Construction Equipment
,
Your Utility Construction Connection