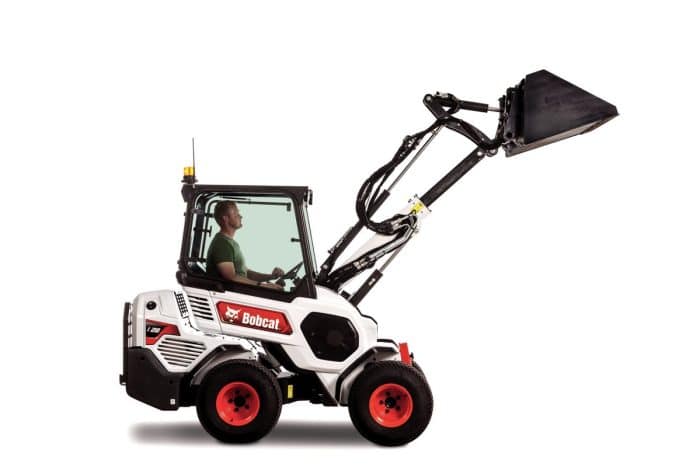 This September, the Compact Equipment crew is putting a spotlight on the smallest tool carriers in the construction, landscape and rental sectors. We've been covering categories like compact tool carriers and small articulated loaders, celebrating how even the most diminutive attachment-takers are still jobsite heroes. When working on a separate story with Bobcat on the emerging small articulated loader market, the company sent us this insanely detailed overview of their product line. We thought it worth a post. Enjoy!
Bobcat launched its two current small articulated loader (SAL) models — the L23 and the L28 — at CONEXPO-CON/AGG 2020. The machines fill a unique need within many industries, including landscaping, as they offer a light footprint, impressive lifting capacity and the ability to navigate small jobsites and other confined workspaces. The L28 and L23 are just 48-in. wide, making them go-to machines for sidewalk snow removal as well as a wide variety of applications on jobsites that are off limits to larger machines.
These machines can lift and transport heavy loads and leave behind less ground disturbance than compact track loaders, skid steer loaders and mini track loaders. They feature an articulation joint for tight turns to navigate obstacles and small jobsites. The L28 and L23 are designed to minimize cuts or tears in turf when turning or hauling a load. Operators can switch to turf safe mode, which stops the wheels from scrubbing on the ground.
The L28 features a telescoping lift arm that can extend more than 8.5 ft — high enough to dump in a trailer. The telescoping lift arm includes an innovative dual-cylinder design that keeps the load level as you move the bucket. The L23 has a fixed lift arm and is small enough to fit on sidewalks, in small lots, backyards and other tight jobsites. A tight-turning articulation joint supports high maneuverability in confined spaces. Thanks to its small size, it has minimal ground disturbance, while still offering impressive lifting ability with a 1,395-lbs ROC to maximize productivity.
Both models feature auxiliary hydraulics and come with the Bob-Tach attachment mounting system. With more than 30 compatible attachments, Bobcat small articulated loaders can complete a wide range of tasks that usually require multiple machines. Compatible attachments include buckets, sweepers, grapples, augers pallet forks and snowblowers. A small articulated loader is a great choice for a variety of applications, particularly landscape and snow removal thanks to the machines' narrow footprint, minimal ground disturbance and maneuverability.
We'd love to keep in touch! Check us out on Facebook, Twitter and LinkedIn!
What Makes Small Articulated Loaders Great?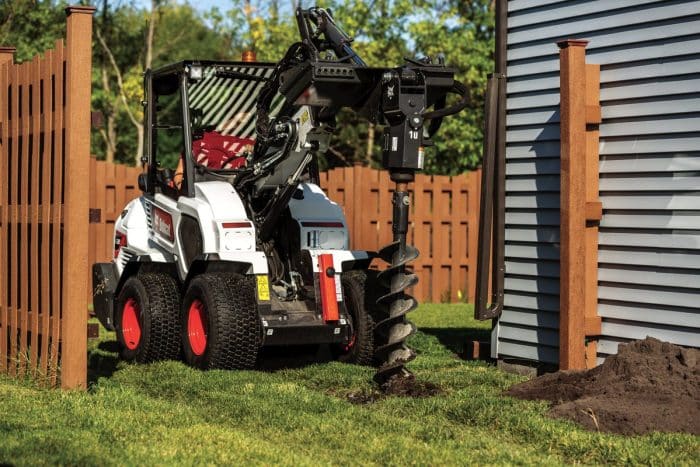 Exceptional lift capacity in a small package: Bobcat small articulated loaders offer impressive lifting capabilities to improve productivity in tight workspaces. They include a standard integrated counterweight for optimal lift capacity.
Minimal ground disturbance: Small articulated loaders feature an articulation joint for tight turns and a light overall footprint to minimize cuts or tears in the turf when turning or hauling a load. This feature makes them a great option on landscaping jobs when compared to a skid steer loader or a compact track loader, as it can reduce time-consuming surface repairs on grass. The drive system has two modes: turf-safe mode and high-traction mode. The machine switches between these two modes automatically so the operator can focus on the task at hand.
Tight-turning radius: An articulation joint enables the rear tires to match the path of the front tires when turning, for a highly nimble machine that navigates around obstacles and works well in tight areas.
Telescoping lift arm (L28 only): A telescoping lift arm on the L28 extends lifting height and keeps the load level.
Ease-of-Use: Operators will use travel pedals and a steering wheel to maneuver the L23 and L28, making these models especially friendly for first-time users/buyers of compact equipment.
What Are the Biggest Market Applications for Bobcat SALs?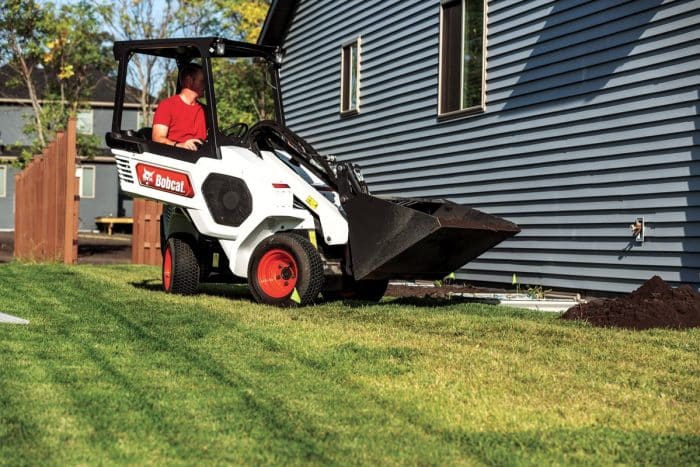 Rental
Small articulated loaders excel at landscape and tree care work, making them a practical choice for the weekend warrior and DIY enthusiast looking to take control of their backyard. The L23 and L28 are equipped with steering wheels, making their operation familiar and easy for less-experienced operators. This makes them a very friendly entry point for people who are new to compact equipment operation. These small articulated loaders are just under 6.5 ft long, so they can easily navigate a regular-sized garage, a 7-ft door or a parking garage, making it easier to store on rental jobsites or homeowners' garages. They are also highly transportable and relatively lightweight, fitting on pan trailers or dump trailers. The benefit of not needing a CDL or special truck is huge for short-term rental projects.
Landscape
Thanks to the features and benefits of the L23 and the L28, these units make ideal jobsite companions for landscaping and turf tasks. Landscaping projects often require working on delicate or established surfaces, and small articulated loaders are well suited for these work environments. Their rubber tires distribute the machine's weight evenly, reducing the risk of damaging the ground or leaving noticeable tracks. For jobsites that have more challenging terrain, operators can automatically enable one of two traction modes — High-Traction mode for control over rough and slippery terrain or Turf-Safe mode for the least possible ground disturbance. The optional traction assist switch enables you to momentarily override the automatic modes to travel through adverse conditions. The maneuverability and telescopic lift arm (L28 only) make it easy to transfer material around or above retaining walls and plant beddings. Small articulated loaders excel at backyard work, where units can carry small pallets of block or landscape materials with minimal turf disturbance because of the unit's articulation. For landscapers who also take on snow removal in the off-season, the small articulated loader's optional heated cab enclosure and a heated seat provide additional operator comfort.
What Are Some Popular Attachments for Bobcat's Small Articulated Loaders?
With more than 30 small articulated loader attachments available, you can get more versatility for your investment and even use some of the attachments you may already use with select Bobcat skid steer loaders, compact track loaders and mini track loaders. Plus, with auxiliary hydraulics, you'll be able to take advantage of even more attachment possibilities. Add the optional Power Bob-Tach system so you can change non-hydraulic attachments without leaving your cab. With the right attachment for your small articulated loader, you'll be able to handle dirt and snow like a champ, dig holes with ease, move heavy pallets in minutes and more.
Bob-Tach Mounting System
Standard or hydraulic-powered small articulated loader attachments can be changed out quickly and easily using the Bob-Tach or Power Bob-Tach mounting systems for even greater versatility and efficiency. A cast-steel system provides a strong connection point with more metal where it's really needed. It has fewer welds overall, plus an opening that allows dirt and debris to pass through.
Log Grapple
Whether felling trees, collecting brush, loading logs onto trailers or transporting material, Bobcat's free-hanging log grapple attachment adds superior force and agility where operators need it most. The log grapple comes equipped with heavy-duty teeth and reinforced tines, providing outstanding grip when managing unwieldy logs and brush. Rope bollards provide an additional anchor point, assisting with stability while at work and directing debris during cutting. The log grapple has a 56-inch opening and rotation in all directions for increased productivity, reliability and ease of use. The design allows for easy clamping of logs and piles of brush, clearing areas — even in confined spaces — more quickly.
Snowblower
The narrow footprint of the L23 and the L28 make these machines excellent for snow removal on college campuses, multi-use commercial and residential areas, narrow parking lots/sidewalks and more. Bobcat's snowblower attachment lineup features a durable direct-drive, sprocket-style chute that operators can rotate to throw snow in virtually any direction.
Pallet Fork
Equipping a small articulated loader with a pallet fork is an ideal way to handle any kind of bulky or bagged material from fertilizer to seed and animal feed. This combination is especially handy when operators need to work in tight areas or along narrow aisles.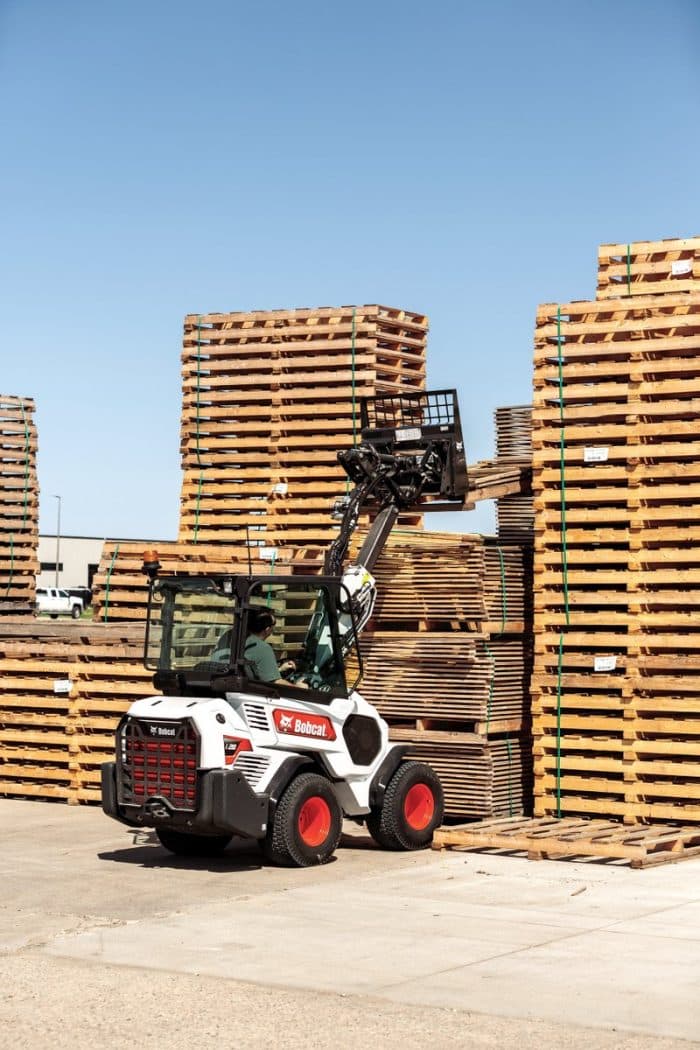 What Are the Specs for Bobcat's L23 and L28 Small Articulated Loaders?
L23 Specs
Horsepower: 24.8 hp
Operating Weight: 3,790 lbs
Tip Capacity (straight / articulated): 2,789 lbs / 2,317 lbs
Rated Operating Capacity (straight / articulated): 1,395 lbs / 1,159 lbs
Auxiliary Hydraulic Flow: 12.1 gpm
Length with Bucket: 122.4 in.
Width: 43.2 in.
Height with Cab: 78.1 in.
Lift Height: 85.4 in
L28 Specs
Horsepower: 24.8
Operating Weight: 3,740 lbs
Tip Capacity (straight / articulated): 3,068 lbs / 2,444 lbs
Rated Operating Capacity (straight / articulated): 1,534 lbs / 1,222 lbs
Auxiliary Hydraulic Flow: 12.1 gpm
Length with Bucket: 122.4 in.
Width: 46.5 in.
Height with Cab: 78.1 in.
Lift Height: 104.3 in.
Kylle DeMar is the senior product specialist at Bobcat Co.
Take a break from reading and check out our Machine Heads video series!