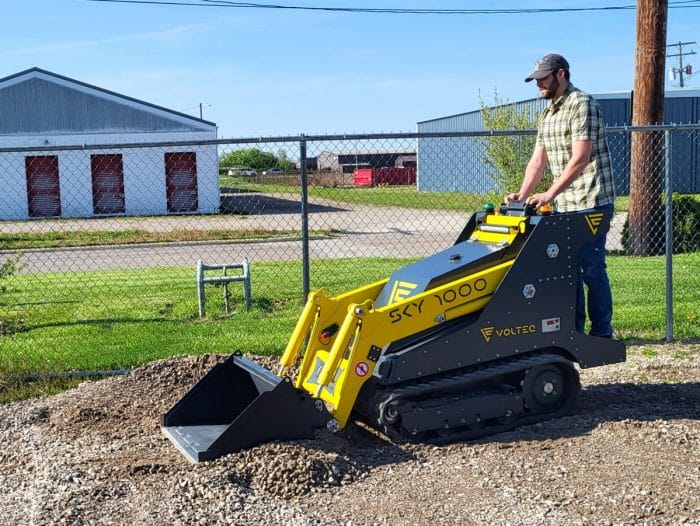 When it comes to selling battery-powered construction equipment, it feels like Europe is leading the (um) charge, but there are still some very cool American-based machine makers working in the electric off-highway sector. A great example is the compact tool carrier (CTC) category of equipment — a machine that goes by many different names depending on the brand (mini skid steers, ride-on track loaders, compact utility loaders and onward). We're talking about these machines here. In this category, there are three interesting American brands making battery-powered CTCs — Toro (which we covered here), Cratos (which is celebrating an amazing 10 years in business in 2023) and a newcomer called Volteq Equipment.
Of course, Volteq is the business venture of Adam Zajac and Patrik Psenak — two founders who met while swimming for the Slovak national team in central Europe — but this new brand of electric construction equipment is based in Miami, emerging at an ideal time in the U.S. market. Volteq initiated a soft launch of its first product in October 2022, offering a sneak peek of its Sky 1000. The official public launch kicked off in January of 2023 at the AED Summit in Chicago followed by a national roadshow across the United States.
So, who is this brand and what are their insights into the battery-powered evolution currently appearing on American dealer lots? We reached out to Mike Slattery, VP of business development at Volteq Equipment, to give us some insight into these questions.
CE: Mike, thanks so much for taking the time to answer a few questions for CE.com. We are always excited to talk about zero emissions machines, so the Volteq brand caught our collective attention pretty quickly. Maybe you can give us a quick background on Volteq.
Slattery: Thanks for the interest, Keith. Let me start by saying that the Volteq team thrives on the idea of delivering alternative powered construction equipment that is financially viable without sacrificing performance. With a vision to introduce a portfolio of battery powered compact equipment, the team draws from its own experience, customer input and strong partners to be fast to market with innovative design and value. In just three years, Volteq designed the Sky Series of stand-on skid steers, launching the Sky 1000 in 2023 while also designing the larger Sky 2000 and a full size skid steer with an enclosed cab and 3,300-lb lift capacity. Simultaneously, dealers have signed on and production plans are underway for first shipments in Q4 of 2023. It's been a fast paced and productive three years with enthusiasm by customer and dealer prospects to join in the momentum.
Give us a summary of your electric compact tool carrier product offering. You're starting off with the Sky 1000, right?
Correct. Volteq Equipment offers the Sky brand of battery-powered compact tool carriers or mini track loaders. We have up to an eight-hour run time. We offer built in chargers, radio remote control, GPS, telematics and a universal mount system compatible with countless attachments. While only 34-in. wide, the Sky 1000 offers a 1,000-lb lift capacity and a 20.48-kWh lithium-iron battery. The SKY 2000 is in development for late 2024 and offers up to 50-kW lithium-iron battery and a 2,000-lb lift capacity. As for our dealer network, we are currently operating in 10 states.
What customers are gravitating toward buying electric CTCs?
It is really interesting to see who is gravitating toward electric equipment. People working indoors are first in line because there are no exhaust emissions and battery-powered machines operate with far lower decibel outputs. Landscaping construction is a strong second, heavily based on the initial idea that quiet operation can mean working earlier or later in the day, thus more billable hours. It also means being more appealing to customers and their neighbors, but operational costs factor in as well. Landscapers, like most customers, have the option to choose gas, diesel or battery power. As they realize how much cost savings can be achieved by eliminating combustion engine maintenance and replacing gas or diesel with electricity, it almost seems too good to be true.
But whether in tree care, landscape construction, farming or demolition, upwards of 70 percent cost savings is a big deal. It is worth mentioning that public entities and governmental customers are embracing battery power as a step toward environmental and sustainability goals [ESG], but we like that our Sky 1000 delivers commercially viable value. The price, lower operating costs and strong performance make it a competitive alternative with the added benefit of zero emissions. Lastly, it is worth mentioning the rental channel because as a customer, rental outlets serve a vast array of industries and applications that can benefit from battery powered CTCs. And for the rental outlets, electric CTCs like the Sky 1000 provide lower maintenance, less daily inspection requirements and a less intimidating solution to renters less familiar with operating construction equipment.
How are your units charged? What charging options are available though your brand or on your unit?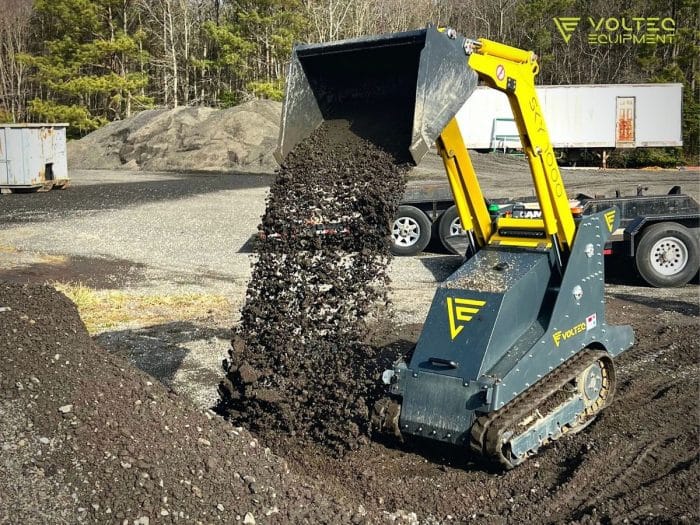 Volteq's Sky 1000 is really simple and convenient to charge. The on-board smart charger is compatible with single phase 90- to 265-V outlets, empowering customers to control where and when they charge the Sky 1000. It can literally plug into a 110-V outlet next to your smartphone and fully charge in up to 8 hours depending on the discharge level and input power. Lithium-iron technology allows opportunistic or partial charging during the lunch breaks without downgrading or hurting the battery. Customers are not forced to use a special connector, find a compatible charging station, have a secondary power bank or do full charge on a single charge. Plug in at the shop, the hotel, the jobsite or even in the back of many newer model pickups equipped with power outlets in the bed.
What steps can you share about setting up the proper charging infrastructure to succeed using electric construction equipment?
In the near term, we believe the logical solution is to design equipment that does not require a new or special charging infrastructure. Public charging stations are nice to consider but availability for the purpose of charging CTCs is not viewed as sufficient to support the current adoption rate of battery-powered CTCs. Instead, Volteq enables customers to charge the company's Sky 1000 on readily available power, using 90- to 265-V single phase circuits that are commonly available, or can be made available with minimal investment by the customers.
The odds of customers investing in higher voltage circuits to speed up charging is likely to be more compelling as more powerful CTCs enter the market. Volteq's Sky 2000, scheduled for Q4 of 2024, offers a lift capacity of 2,000 lbs, twice that of the Sky 1000. To minimize charging time of the larger up to 50-kW battery, it is likely customers without 220-V power will make a small investment to upgrade their service and shorten charge times. The cost for doing this is easily recovered through operational cost savings when compared to similar combustion powered equipment.
Longer term as the benefits of battery power becomes more widely accepted, it is likely some customers will make additional investments toward rapid charging capability at their shop or on the jobsite. For example, the Sky 1000 can take up to eight hours to recharge from empty on a 110-V circuit, but by having a 220-V circuit installed that time could almost be cut in half. Customers might also consider investing in power blocks that are starting to emerge in the industry. Storage solutions such as power blocks can be recharged during off-peak hours and made available to top off or fully charge equipment during the day.
Compact tool carriers, compact utility loaders, mini skid steers. Whatever you call them, we can all agree these machines pack a lot of productivity in a small package. Learn more about them here!
How much can a contractor save on fuel/energy costs going electric? Of course, it varies on local electricity pricing and peak hours and days, but can we share some examples of energy savings?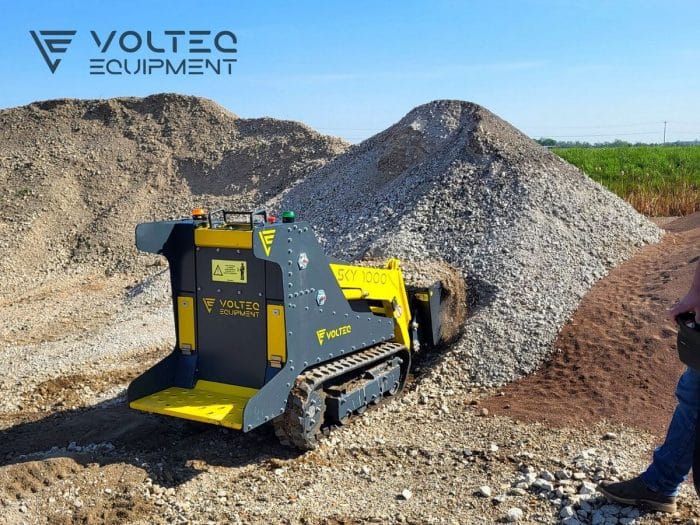 The short answer is that daily estimated savings of approximately $21.79 can be achieved by operating a lithium battery powered CTC vs. a 25-hp diesel powered model. If used for just 120 days of the year, that is an annual estimated savings of $337.45 before considering lower maintenance costs. These estimates are based on six hours of use per day, and national average U.S. energy costs for diesel [4.10/gal] and electricity [$.23/kW] in the second quarter of 2023. Note that diesel powered CTCs continue burning fuel when idling between tasks such as changing attachments or when talking with coworkers. In the same six hours of use, an electric CTC stops consuming battery power when no functions are active. While this was not factored into calculations, it illustrates even greater savings are possible.
There is less maintenance with electric, but what new maintenance is there?
Most leading brands like Volteq are using maintenance-free lithium batteries in their electric equipment, but if a machine is still powered by lead acid batteries, they require recurring inspection and topping off of water before charging. But when using lithium batteries charging is not really viewed as maintenance since it is essentially re-fueling, like must be done with internal combustion engines, only using different fuels. Otherwise, there is little new maintenance that comes to mind. Only removal of countless maintenance items and service points, primarily associated with the engine and related systems including fuel, air intake and cooling.
What operational differences will contractors feel when operating a battery-powered machine? Instant response time? What else?
The absence of a diesel engine eliminates a tremendous amount of vibration and noise stemming from combustion, exhaust and cooling fans. This is physically better and less stressful for those operating the equipment. The efficiency and more immediate availability of power and torque from electric motors can lead to improved performance and responsiveness when compared to hydraulic motors used on internal combustion-powered CTCs. But it is important to recognize responsiveness can be perceived differently by operators based on their experience and preferences. It can also vary between OEMs as a result of component selection and programming of controls. So, it is advisable to demonstrate or rent equipment in order to understand how the equipment aligns with your own preferences.
What is some insider advice for a contractor interested in buying a battery-powered piece of construction equipment?
Buy a solution designed for battery power, not one that has been adapted. It is fairly easy to swap out an engine with a battery and one big motor, but if the machine is still using hydraulics to drive the tracks or wheels there will be losses in efficiency and less performance than should be expected. Higher maintenance costs will also remain for the pump and hoses of the hydraulic track drive.
When evaluating battery powered equipment, ask sales reps about the ratings of the electric motors. Are they properly rated for nominal and peak power for the intended duty cycle of their respective function? You don't need to understand all that goes into this, but know that a motor can be viewed as under sized if it is operating at peak capacity in a continuous duty cycle. Track drives are a good example to explain this further. A motor that operates at nominal capacity under a continuous duty cycle will have the ability to intermittently deliver peak power for short spikes in demand, such as counter-rotating or climbing a steep hill, without over-taxing the motor. But if a motor is undersized and working at peak capacity under continuous loads, it may underperform in more demanding work and lead to excessive heat or shorter component life.
Do you think rental will be the go-to channel for contractors to experiment with electric construction equipment?
The rental channel makes sense for rental outlets as well as end-users of the equipment. End-users and contractors will appreciate the chance to try before they buy and to better understand how different brands are performing since this is relatively new for the industry. The battery powered equipment can also be less intimidating to weekend warriors who are less familiar with operating construction equipment. No struggles with fuel related ignition issues, no engine oil to check or cooling fans to stay clear of under the hood and no loud engine noise to irritate their neighbors.
Rental outlets will appreciate lower maintenance costs, less involved pre-delivery and check-in and fewer systems that can potentially have issues that require troubleshooting. Just consider what can go wrong with an engine fuel system — from the pump to the injector rail, the injectors, fuel sensors or contamination in the tank. Volteq's Sky 1000 goes further for rental outlets by helping reduce the risk of theft and creating accountability regarding machine use and location through standard GPS and telematics. Interest from the rental channel has been incredibly strong, and Volteq will respond through its growing network of stocking service dealers when shipments begin Q4 2023.
Awesome info, Mike. Is there anything else you'd like to add?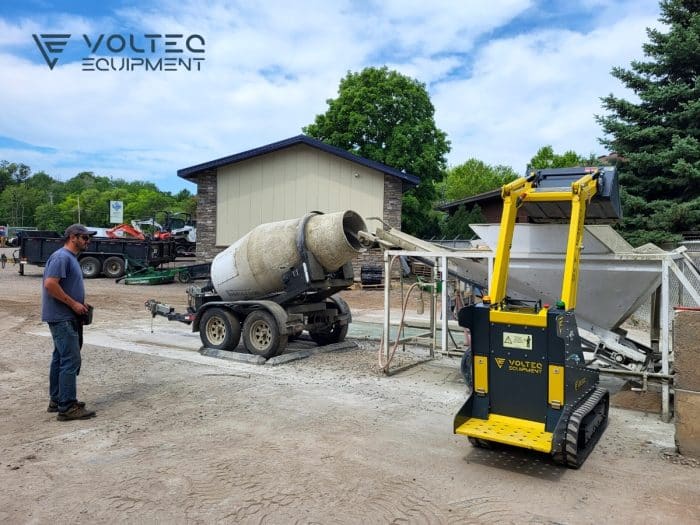 Why not? As a U.S. manufacturer, Volteq makes commercial battery powered CTCs financially accessible while including features not available or only as an option on competing brands. If you are considering a diesel powered CTC with 1,000-lb lift capacity, you'll get more for your money at a price that makes sense with Volteq. Remote control and stand-on operation, GPS and telematics, eight-hour runtime with a five-hour charge time, built-in charger, zero emissions and loader arms featuring self-leveling and float functions. Check it out.
Keith Girbbins is publisher of Compact Equipment.
We'd love to keep in touch! Check us out on Facebook, Twitter and LinkedIn!