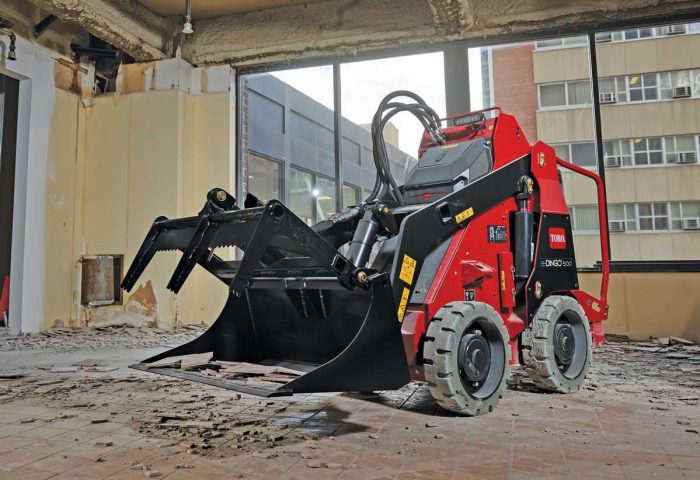 Toro's compact utility loader first arrived on U.S. shores in 1995, and this new category of machine started a revolution as one of the smallest diesel powered tool carriers in the industry. Today, after almost 30 years, the market has expanded to include a variety of manufacturers, options, technologies and brand names (these machines are often called compact tool carriers, mini skid steers or stand-on track loaders, depending on who's selling them). In the last three decades, compact utility loaders or CULs have evolved, starting off as wheeled, medium-power supplemental equipment and morphing into track-driven, spec-heavy jobsite project leaders. Some units are nearly the size of a skid steer (just check out the Toro TXL 2000), and now some units are going electric.
Toro currently offers 13 Dingo compact utility loader models, including its second generation eDingo 500, which is battery powered. With the electric equipment market finally emerging in the United States, we decided to reach out to Sam Dando, product marketing manager at Toro, to discuss these battery units and their attraction in machine sectors ranging from demo to rental. Enjoy our Q&A below.
CE: Hey Sam, big ole thanks for taking the time to talk with us. First off, maybe you can give us a summary of your electric compact utility loader product offering. Size, power, features, options.
Dando: Since the success of the eDingo 500 launched in 2020, we went to work on the next generation of the machine, and we launched the new eDingo 500 in January 2023. Our engineers built the next generation eDingo to allow contractors and construction professionals to reap all the benefits and power of a standard CUL with zero exhaust emissions and a significantly lower cost of operation.
The next generation eDingo 500 is the ideal choice for indoor construction jobs that require heavy or continuous operation, fast completion times and reduced overall costs. Every improvement made to the next generation eDingo was driven by customer feedback. For example, the HyperCell Power System is more powerful and reliable than ever and allows for all-day run times.
The new eDingo design is now capable of fitting through even the tightest of doorways with a narrow width of 30 in., yet still boasts a rated operating capacity of 515 lbs and 6.5-gpm auxiliary hydraulic flow. The high operating capacity allows for the effective use of many Toro attachments. It also boasts a hinge pin height of 81 in., which allows for clearing into most standard dumpsters.
Additionally, electric drive motors make the new machine quiet while still capable of zero-turn maneuvers in tight spaces. A new onboard charger and cord storage, patent-pending traction controls, a powerful 1,200-lumen work light for improved visibility and a comfort mat to fight operator fatigue round out the new eDingo features. Another key benefit of battery-powered machinery is the reduced need for regular maintenance. The powerful lithium-ion battery on the eDingo means it doesn't need engine oil and filter changes, belt adjustments or new air filters.
How is the eDingo charged?
When the eDingo has put in a full eight-hour day and needs charging, the onboard charger plugs into a standard 120V wall outlet and fully charges the machine overnight so it's ready to work first thing the next morning.
We'd love to keep in touch! Check us out on Facebook, Twitter and LinkedIn!
What customers are gravitating toward buying electric CULs? What unique work applications or jobsites are you seeing for electric equipment that you might not have considered at first?
We designed the eDingo specifically with indoor construction and demolition work in mind. In the past, contractors would need to spend extra time and money making sure indoor jobsites were properly ventilated if they wanted to use CULs, many of which don't fit inside anyway. The battery-powered eDingo eliminates engine emissions, allowing it to come inside and make quick work of jobs that were historically accomplished manually. Additionally, the eDingo is suitable for urban jobsites where noise and tight spaces are a concern. The electric drive motors make the new machine quiet. It has zero-turn capabilities, and it maintains a rated operating capacity of 515 lbs and 6.5 gpm of hydraulic flow.
What steps can you share about setting up the proper charging infrastructure to succeed in using electric construction equipment?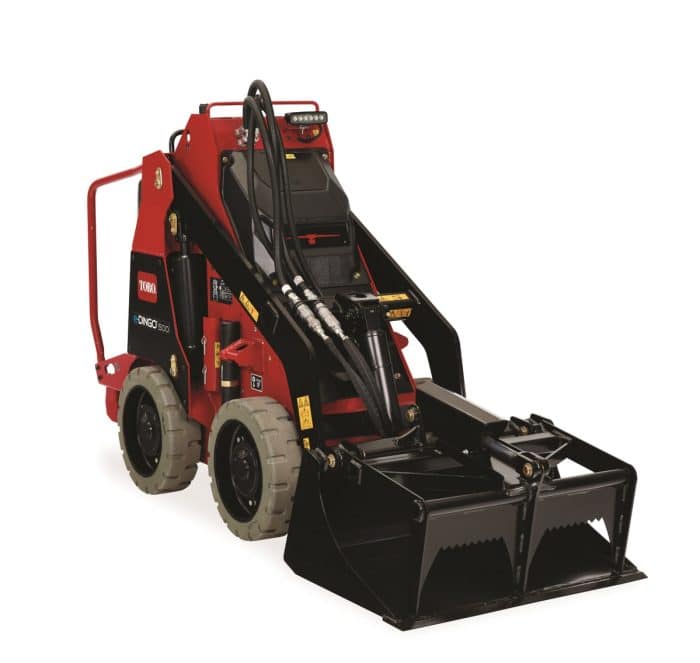 To determine the electrical capacity needed for charging a fleet of battery-powered equipment, there are several steps you can follow. First, assess your current electrical load and identify the peak draw month to understand your facility's maximum power demand. Evaluate your existing electrical capacity, typically measured in kilovolt-amperes (kVA) or kilowatts (kW), which can be found on your electrical service panel or through consultation with an electrician.
Next, calculate the charger load for each piece of equipment in your fleet. Check the power rating (in watts) or current draw (in amps) specified on the charger's serial tag or spec sheet. Divide the power by the voltage to determine the current draw. Repeat this calculation for each charger.
Consider other electrical loads present in your facility, such as lights, computers, microwaves, refrigerators, security systems and any other equipment. These loads should be factored in along with the charger's electrical demands.
Add up the current draw of all the chargers and the current draw from other electrical loads to calculate the total electrical load. Ensure that your electrical service capacity can handle this total load. If it exceeds the capacity, you may need to consider electrical upgrades or alternate solutions.
Consult with a qualified electrician to accurately assess your electrical system, ensure compliance with regulations and determine any necessary upgrades or adjustments to support your battery-powered equipment fleet. Their expertise will help you make informed decisions to meet your electrical capacity requirements effectively.
How much can a contractor save on fuel/energy costs going electric? Of course, it varies on local electricity pricing and peak hours and days, but can we share some examples of energy savings?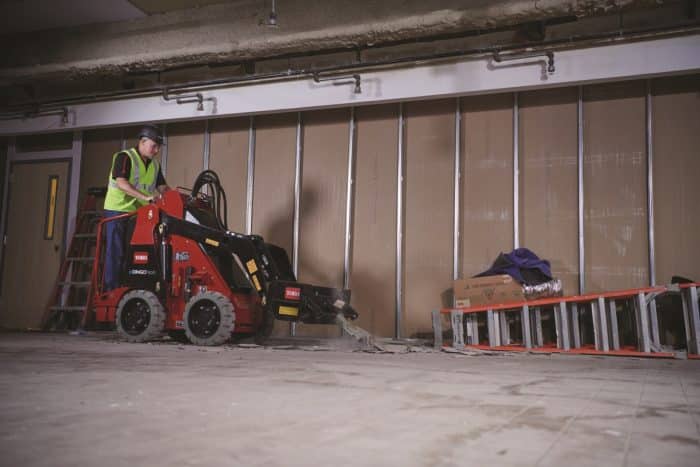 When looking at the return on investment for electric CULs the easiest comparison is that you are purchasing the machine and all the fuel it needs for its lifetime — upfront. The amount of money a contractor could potentially save on fuel costs by switching to electric equipment depends on several factors, such as the type of equipment, the size of the fleet and the cost of electricity in their area. Contractors can typically expect to save a significant amount of money by switching to electric equipment and often even recoup the investment over the life of the machinery. Additionally, battery-powered machines require little to no maintenance which increases their productivity on the jobsite. Contractors can bring in more money by eliminating extra downtime with electric CULs.
There is less maintenance with electricity, but what new maintenance is there?
Batteries eliminate the cumbersome traditional maintenance associated with engines — such as oil, oil filter, air filter, fuel filter changes, belt adjustments and maintaining coolant levels — and essentially require no maintenance to operate. Like any machine, the operator manual should be referenced for specific maintenance requirements.
What operational differences will contractors feel when operating a battery-powered machine?
The eDingo is built to be an intuitive tool on the jobsite, and contractors familiar with operating gas or diesel-powered CULs will find the experience much the same on the eDingo. The patented one-handed traction controls are user-friendly and allow for smooth and precise movements at any skill level. The eDingo features instantaneous torque that electric motors are known for. Contractors generally find that battery-powered equipment will typically meet or exceed the power and performance of similar gas or diesel machines.
Do you have any contractor stories to share that use electric equipment? Give us an example of your units in the wild.
Our eDingo helped solve some hidden challenges that arose during a church renovation project in Burnsville, Minnesota. Prince of Peace Lutheran Church was in the middle of a large, multi-year renovation and the next item on their list was the removal of several large block walls and additional selective demolition to make way for updated finishes. The selective demolition involved removing a staggering 20,000 sq ft of ceilings and flooring within the childcare and education centers. Church renovations are not only about completing the project but minimizing the amount of disturbance to members and staff. While the two centers were located on the lower wing, away from the sanctuary, there was still a chance the next phase of the project could impact their congregation.
To ensure minimal disturbance, Nick Holm, owner of Twin Town Demolition, stepped in as the demolition contractor. Holm's team assessed three main challenges:
Dust, noise and emission mitigation
Recessed demolition area, all equipment needed to fit through stairwells and tight hallways.
Large vertical wall demolition cleanup requires a large crew or heavy machinery
Selecting the right equipment to rise above these difficulties was essential to complete the project in a timely manner. Regarding the wall demolition, Holm said, "Our standard production for hollow core non-load bearing block walls is about 40 sq ft per labor hour, and with the Toro eDingo we achieved approximately 65 sq ft per labor hour, which was considerably faster."
Comparing the Toro eDingo to traditional manual labor yields an even larger increase in production, at 55 percent. Perfect for indoor applications, the eDingo is powered by lithium-ion battery technology that emits zero engine exhaust emissions. The eDingo is compatible with several existing Dingo attachments, allowing Twin Town Demolition to cut down on the amount of machinery used. It was a big player in the demolition process, but a switch in attachments meant it played a substantial part in material removal, too.
What is some insider advice for a contractor interested in buying a battery-powered piece of construction equipment?
Larger municipalities are driving the shift to electric, especially on the coasts and in areas where emissions regulations are in effect. Contractors who incorporate battery-powered construction equipment into their fleets now may gain an advantage when bidding on municipal projects. Many projects are becoming stricter when it comes to emissions and noise generated indoors, which can often be met with battery-powered equipment.
Do you think rental will be the go-to channel for contractors to experiment with electric construction equipment?
As far as industries, we're seeing large rental companies be among the first to incorporate battery-powered equipment into their fleets. These rental operations are citing sustainability and total cost of ownership as driving factors. Plus, electric equipment is generally more approachable. Just like handheld tools, battery-powered equipment is often viewed as less intimidating and easier to use, which makes it especially appealing to rental houses.
Rental equipment is only making money when it's on a jobsite, so the lower maintenance needs of battery-powered equipment is a real advantage that translates to fewer hard costs and less downtime. Contractors looking to explore battery-powered equipment should absolutely consider renting the machine first to get a feel for battery power and the productivity it brings to a jobsite.
What do you feel is Toro's biggest brand differentiator? What does your brand of electric compact utility loaders bring to the market that no one else does?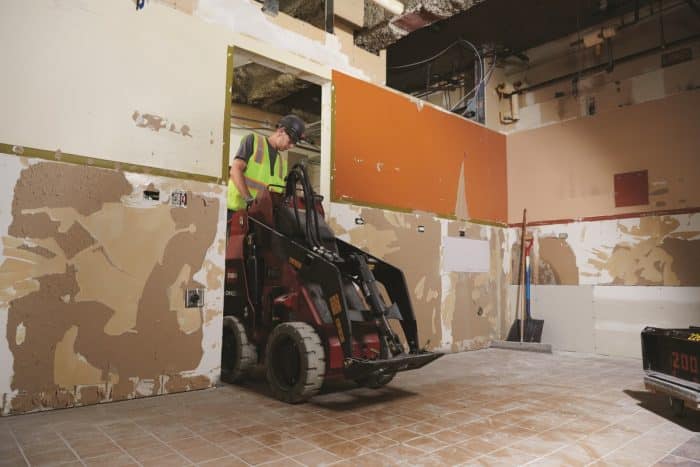 Greater efficiency and reliable performance sets the eDingo apart for higher productivity and greater ROI for rental partners and contractors. That comes from the HyperCell battery system at the heart of the machine. By leveraging lithium-ion battery cells with high-energy density, Toro has successfully created equipment that rivals the performance of gas-powered alternatives. The integration of a Battery Management System (BMS) in Toro's HyperCell batteries helps prioritize efficiency and extended battery life. The BMS allows the batteries to communicate with each other, ensuring optimal performance and longevity.
At just 30-in. wide, the next generation eDingo is one of the most compact utility loaders on the market. It easily clears a standard doorway which is 36-in. wide. This slim redesign also makes it more agile when working in tight spaces. But that small size doesn't mean we compromised on power — the eDingo still boasts a rated operating capacity of 515 lbs and 6.5 gpm of hydraulic flow. The high operating capacity allows for the effective use of several Toro attachments.
Finally, as contractors explore lithium-ion, they can do so confidently with Toro. Contractors can expect the same level of quality and innovative design in our battery-powered equipment as our gas machines. Plus, we offer an extensive dealer and support channel and stand behind all of our products. We're here to help contractors who are interested in transitioning to battery power every step of the way — from answering questions during the selection process, to helping setup the infrastructure to support the equipment to servicing it when necessary.
Any final advice you can throw our way, Sam?
Customers can select the right CUL by first making an assessment on exactly how the machine will be used on the jobsite. Savvy contractors will ask themselves the right questions to ensure they select the right CUL and attachments for the job. Some questions to consider while shopping are:
What tasks will you be performing most often?
Is there a certain lift height that you will need to reach?
How heavy is the material you will be hauling most often?
Questions like these will help contractors decide which attachments make the most sense to add to the fleet.
Keith Gribbins is publisher of Compact Equipment.
Take a break from reading and check out our Machine Heads video series!