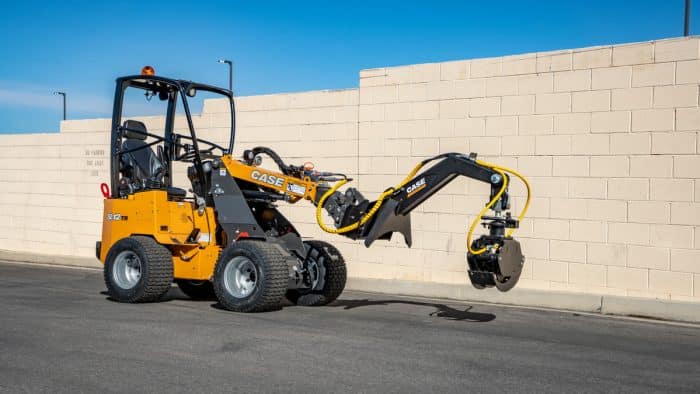 Small articulated loaders are one of the hot new emerging categories of compact equipment. We also call them SALs, which is kind of fun. These wheeled attachment-takers are some of the smallest sit-down tool carriers on the market. These units are like traditional wheel loaders in many ways, including fast travel speeds and articulating steering, but are super small. Compared to a skid steer or mini skid steer that employs zero turn skidding, articulation is easier on tires, easier on turf and better on fuel efficiency. Small articulated loaders offer many attractive features.
SALs are big on farms in Europe (their home market) and are getting big with tree professionals in America, but this category has big potential in a variety of sectors. The machine makers certainly think so. A lot of American manufacturers have entered this market over the last few years — Bobcat, Vermeer, Rayco and just recently Case Construction Equipment (sometimes via OEM agreements) — and that's on top of European brands like Avant Tecno and Mecalac selling machines directly to U.S. professionals.
So, what's all the hype? We decided to catch up with Ryan Anderson, product manager for subcompact equipment, mini track loaders and small articulated loaders, at Case Construction Equipment to discuss this up-and-coming category. Enjoy our conversations below!
CE: Ryan, thanks for taking the time to talk. We're big fans of the Case brand, and I personally had a blast last time I visited you guys and gals up in Wisconsin. At CONEXPO earlier this year, the brand announced its new line of small articulated loaders, which is pretty exciting. Can you give us a brief description of your lineup?
Anderson: Definitely, Keith. Case is launching seven new small articulated models throughout this year and next. We'll have power ranges from 24 to 74 hp, operating capacities from 1,500 to more than 3,000 lbs, options for diesel or fully electric and a full range of construction-grade attachments. Our new lineup will officially launch at Equip Exposition this fall — and will include a wide range of features to drive more productivity and business growth.
Several models have telescopic arms for added reach when loading trucks or moving material from high areas. The SL22EV is a fully electric model, adding to Case's practical innovation approach to developing electric equipment. The common industry interface (CII) coupler makes non-Case attachments compatible with Case units. The larger models are compatible with skid steer loader attachments. Service support of the Case dealer should be an important consideration for the contractor. Case dealers have certified technicians and the agility to limit downtime if there is an issue.
Case dealers also offer a broad selection of attachments for the new small articulated loader model — more than 110 attachment options to get the work done. Attachments for these machines include buckets, trenchers, augers, forks, blades, snowblowers, grapples, brush mowers, concrete breakers, soil conditioners, planers and more.
What customers are gravitating toward buying small articulated loaders? What applications are these units popular in?
Business owners from residential landscaping, nurseries and forestry market segments are turning to small articulated loaders, also known as mini wheel loaders and sub-compact loaders, to expand their capabilities and improve productivity on the jobsite. With small articulated loaders, residential and commercial landscapers can level up from lawn mowers and eliminate manual labor for tasks like material handling, grading, fence/post hole work and more. Contractors who rely on skid steer loaders or mini track loaders in segments like residential construction, agriculture or demolition can also benefit from small articulated loaders. Small articulated loaders do less turf damage than a skid steer loader and are more suitable for use on hard or paved ground. They can also be more productive than a mini track loader, moving faster from point to point.
You mentioned some right there, but what advantages do small articulated loaders offer over skid steers and/or mini skid steers?
Depending on the work you perform, small articulated loaders offer contractors a variety of advantages over skid steer loaders and mini track loaders. Because it has articulated steering, these loaders will do less turf damage than skid steers, which are more suitable for use on hard or paved ground. A side-entry cab also makes it much easier to get in and out of, especially when the bucket is raised. These loaders offer additional visibility, a comfortable cab and increased speeds for roadability onsite or from travelling site to site.
Tell us about your attachment system and options. Do you offer a unique attachment system on your units or a universal skid steer/mini skid steer attachment system?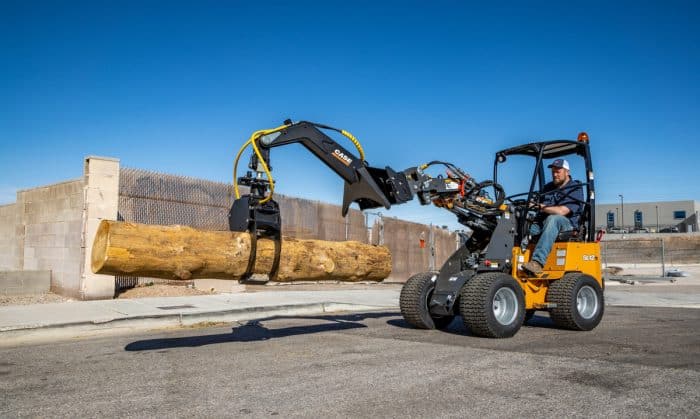 Attachment flexibility is a major strategy for Case. Our small articulated loaders will use CII couplers, making them compatible with a wide range of Case and non-Case attachments. Smaller-sized models will be compatible with the same attachment selection as our new mini track loaders, and our larger models will be compatible with skid steer loader and compact track loader attachments. Case dealers will offer an extensive selection of attachments for the new small articulated models.
Tell us about the auxiliary hydraulic power to the attachment for your lineup. What is the aux gpm and pressure to the attachment on your units? Do you have high-flow options?
The auxiliary hydraulic systems on our small articulated loaders range from 7.4 gpm and 2,200 psi on small models to 35 gpm and 3,600 psi on larger models. High-flow systems are optional for some models, while others have continuous flow circuits for constantly driven attachments. With over 110 attachments available for our small articulated loaders, and an industry-standard coupling system, contractors have all the tools they need for virtually any application. Our factory-certified portfolio of attachments also includes high-power options like our mower and snowblower attachments, both of which offer versatile performance for a wide range of conditions.
Case is one of the few manufacturers to offer a battery-powered electric model. Can you share some details.
The electrified SL22EV is a fully electric model to further build out Case's practical innovation approach to its EV offering. This clean-running machine offers an ideal solution for indoor jobsites or close-quarter outdoor sites where noise and emissions are a critical factor. The SL22EV provides operators a quiet and comfortable loader solution while eliminating emissions and maintenance related to diesel engines.
What are the big options when choosing a small articulated loader? Size, brand, price, yes, but what are the big choices most folks will offer? Tires? Cab? Heat and air? Lighting? What else?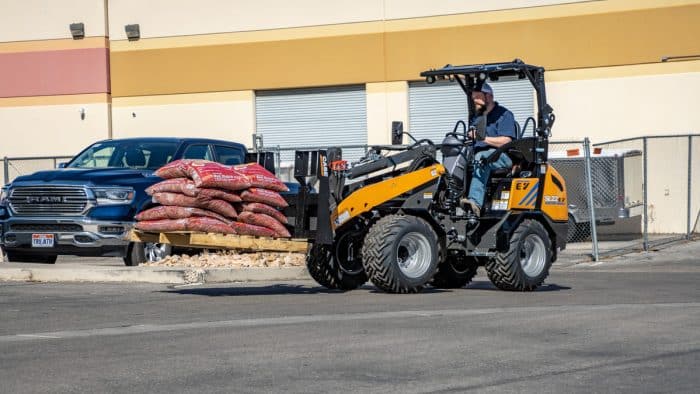 The tires, the cab and extras like heat and air are all important options for contractors to consider. But, contractors should also think about what they'll need from the loading arm — reach or lifting capacity? A telescopic loading arm can extend to give small machines an extra-long reach.
They should also consider the articulation joint. There are two styles in the industry, one that positions the operator at the joint and one that places the operator behind it. Case models position the operator behind the articulation point, which results in better maneuverability and visibility as well as a smaller machine footprint. The articulation and oscillation functions add comfort to the ride and more stability to the load being carried. As the front section articulates, it stabilizes better to prevent losing or dropping the load. Case offers optional oscillation lock-out to maximize stability and operator preference.
That's a cool technology, which is a good segue. What other cool technologies are emerging on this category of equipment?
Loader arm leveling systems will be available on most of our machines to automatically keep loads level throughout operation, improving productivity and safety on the jobsite. There is also a lot of innovation happening in the attachment space, with standard couplings to give users more choices for attachments. Fully electric small articulated loaders also provide a low-noise, emissions-free solution for a broader range of environments, such as indoor spaces or close-quarter residential jobsites where noise needs to be minimized. Our electric model has fast-charging capabilities and can reach full charge in one hour.
Are small articulated loaders popular in rental?
The compact size, versatility and ease of use of small articulated loaders make them a popular option in rental markets. As a rental machine, these units are very convenient for any type of business owner who needs a low-cost, easy-to-use solution for a one-off job. These units can also be remarketed at a high value, making them a good investment for rental companies.
What advice would you give a customer looking to buy a small articulated loader? What things should they know? What questions should they be asking? What insights can you share about the purchasing process?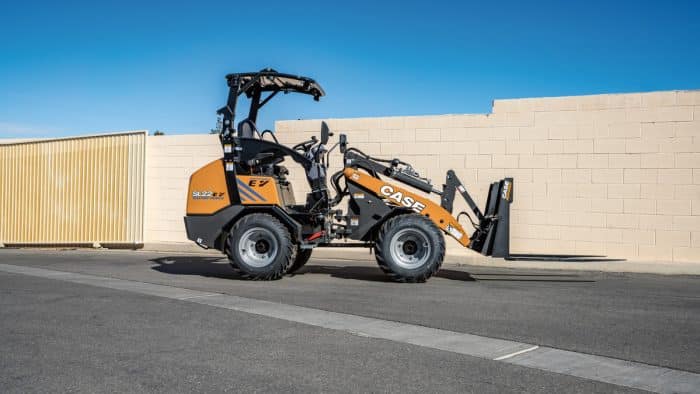 It's critical that contractors interested in small articulated loaders ask these two questions: What's the application, and where will it operate? The first question will determine which size machine and which attachments a contractor needs. It's important to look for a small articulated loader backed by a robust and flexible attachment system that offers expanded applicability and versatility that can grow with the business. Case offers 110 attachments, which allows contractors to take full advantage of the versatility of the machine and doesn't limit it to just one type of job. By scaling up an attachment inventory over time, contractors can increase their offering.
Where will it operate? It's important to understand the operating environment, if it's indoors or outdoors, and if there are noise restrictions. The new EV model from Case can work both inside and outside and offers quiet operation for close-quarter environments where noise reduction is important.
There are also a few key features to look for that increase reliability, productivity and safety to maximize contractor investment. It's important to choose a construction-grade machine with robust parts and an all-steel design that is built to last. Equipment with an operator-first focus includes an ergonomic cab with a clear line-of-sight and easy-to-use joystick controls that offer safer, more productive operation. And, equipment backed by extensive, expert dealer and manufacturer support ensures contractors have what they need, when they need it to minimize downtime.
Awesome insights, Ryan. We really appreciate you taking the time. Any last words?
You bet. Just remember that Case is bringing construction-grade small articulated loaders to market with the support of a full-line manufacturer and an established dealer network throughout the U.S. and Canada. We have more than 180 years of experience helping contractors get their work done faster, easier and more profitably than ever before. We're going to be the brand to turn to when it comes to small articulated loaders.
Keith Gribbins is publisher of Compact Equipment.
We'd love to keep in touch! Check us out on Facebook, Twitter and LinkedIn!