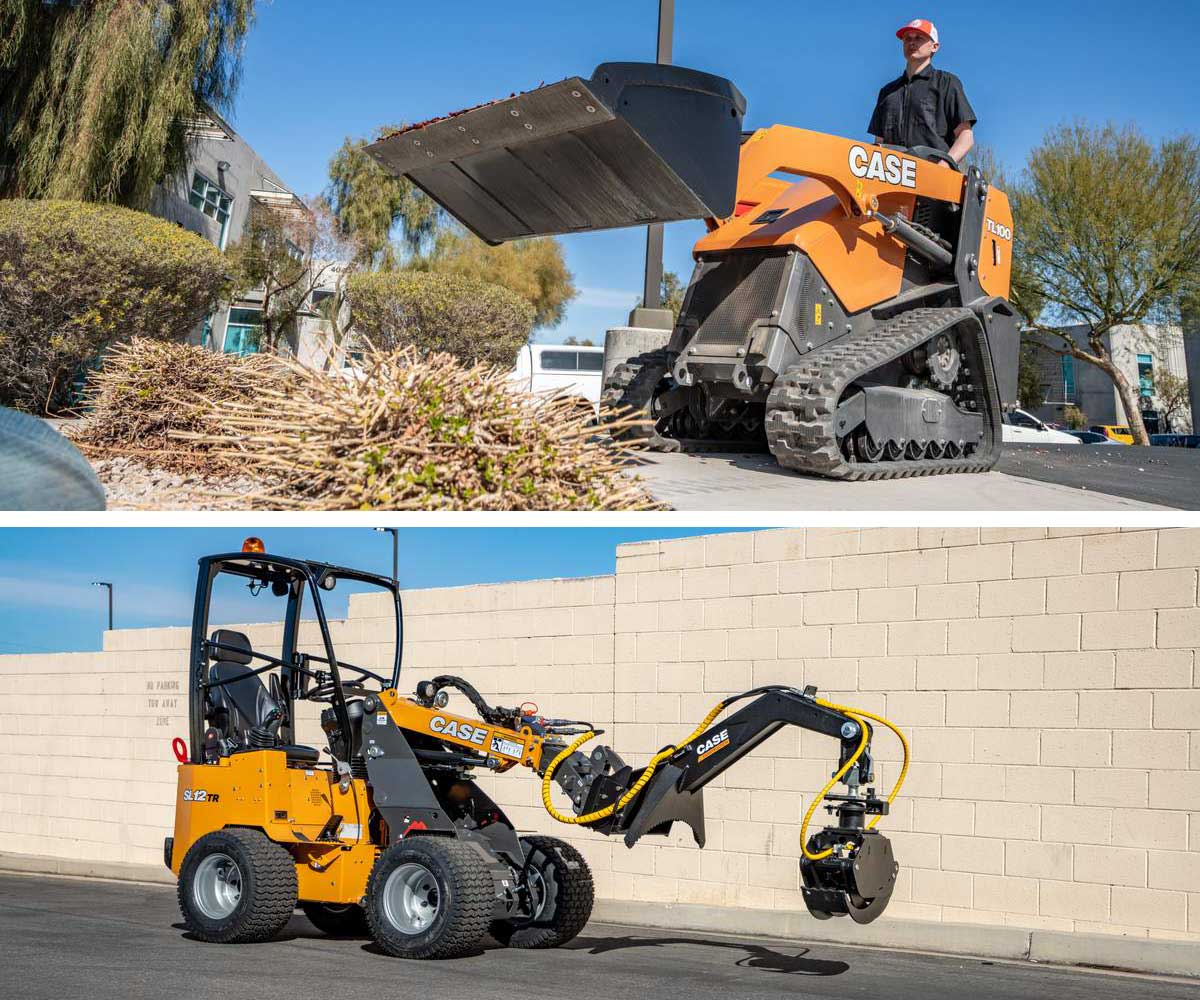 CONEXPO cometh. We're talking about the biggest tradeshow in America by physical size. It only happens every three years, and it's all centered around construction equipment. CONEXPO-CON/AGG will happen again March 14-18, 2023, in Las Vegas. We'll be there. So will everyone else. Follow our coverage right here. Here comes more important CONEXPO news…
CASE Construction Equipment had a pre-CONEXPO virtual press event yesterday where it announced a lot of big news for Compact Equipment fans. First off, CASE is getting into the mini track loader and small articulated wheel loader markets, which pretty much completes one of the most diverse lineups of small tool-carrying construction equipment on the market. CASE now offers skid steers, compact track loaders, mini excavators, compact wheel loaders and now small articulated wheel loaders (these things) and stand-on compact tool carriers (sometimes called compact utility loaders, mini skid steers or mini track loaders — but these things). CASE is working with Giant by Tobroco to supply the small articulated wheel loader line, so here's a recap of some of Giant's offerings.
That's just the beginning of the big news for CASE at CONEXPO. All next week, the company will be showcasing these two new products lines and other impressive highlights like two new electric mini excavators, an electric wheel loader and new sideshift backhoes. We'll get into those other announcements in future posts. We're here to talk specifically about…
CASE's All-New TL100 Mini Track Loader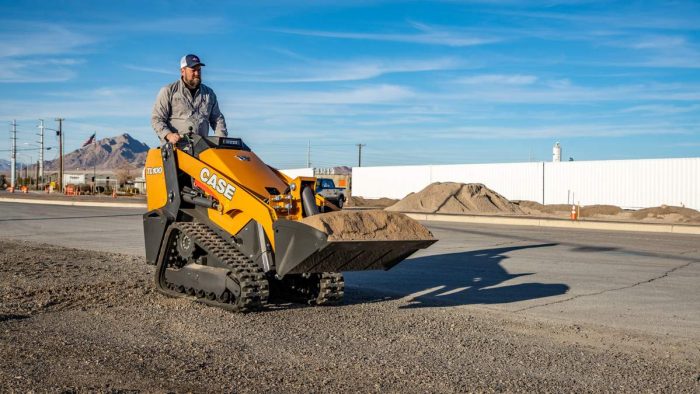 The stand-on mini track loader market is anticipated to grow exponentially over the course of the next 10 years as there is greater demand for landscaping, tree removal and other jobs that require traveling over existing lawns and turf without causing damage. CASE Construction Equipment has stepped up to meet industry demand and is further growing the compact equipment market in a powerful way with the introduction of the CASE TL100 mini track loader (MTL). The TL100 features a rated operating capacity of 1,000 pounds (35 percent of tipping load) and will be available with countless attachments and premium features that set it apart from other units in the industry.
"We're entering the MTL market with the weight and power of a global full-line manufacturer who has taken its time, researched the product demand, and engineered a machine that is ready to deliver serious performance for landscapers, residential services contractors, utilities and farms — we also expect this to be extremely hot with rental businesses," says Brady Lewis, product manager, CASE Construction Equipment. "The compact size, ease of transportation and excellent attachment compatibility makes this an extremely dynamic addition to the CASE product line and dealer network."
The 25 horsepower CASE TL100 features hydraulic pilot controls (ISO pattern) and a powerful standard auxiliary hydraulic setup (13 GPM, 2,700 psi) that delivers excellent attachment performance. Attachments connect through a Common Industry Interface (CII) compatible with most major manufacturers of MTL attachments.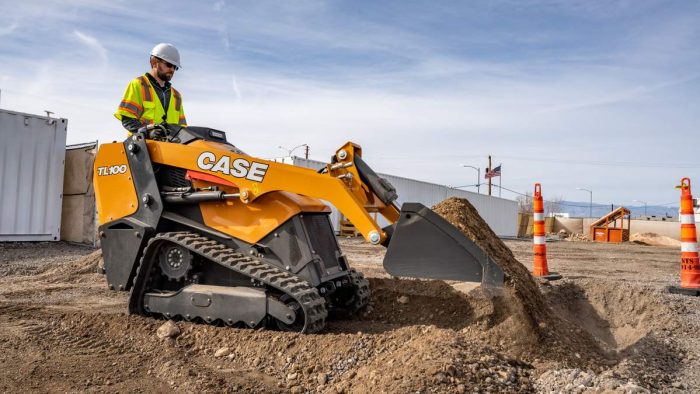 "We've also brought our commitment of hip pocket support that's never more than a phone or tablet away with a five-year CASE SiteWatch telematics subscription on each machine," says Lewis. "Making these technologies available as a standard offering to compact and sub-compact equipment owners brings their fleet management game to another level and opens the door to a deeper collaborative service and support relationship with their CASE dealer."
Optional equipment on the all-new CASE TL100 will be a 14-pin front electric connector that includes a hydraulic case drain circuit, multiple track widths, additional counterweights, environmentally friendly hydraulic oil and multiple bucket options.
The CASE TL100 MTL will hit equipment yards later in 2023.
"We are fully committed to this market, and are excited to work with our dealer network to share these new, premium MTLs with fleet managers and business owners who thrive with compact equipment," says Lewis."
We'd love to keep in touch! Check us out on Facebook, Twitter and LinkedIn!
CASE's All-New Small Articulated Loader Line Includes 3 Models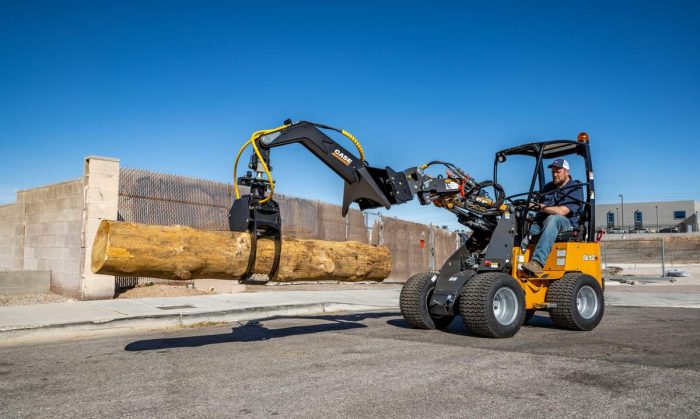 As noted above, CASE Construction Equipment enters CONEXPO-CON/AGG 2023 with a commitment to shaking up many of the markets the company serves — from landscaping and ag to tree services and material handling. One of the strongest proof points of this strategy is the unveiling of seven new small articulated loader models throughout 2023 and 2024, entering a growing and dynamic new market for CASE. CASE is showcasing three of these new models at CONEXPO: The telescopic SL12 TR, the electrified SL22EV (photo below) and the telescopic SL35 TR.
"The articulated design matched with light weight and turf tires allows for excellent agility that doesn't tear up existing turf or other surfaces, all while still operating in a very compact footprint. And with a wide range of attachment options, these loaders are the ultimate support machines both for work in the yard and on site, on turf and on improved surfaces," says Brady Lewis, product manager, CASE Construction Equipment. "The new small articulated loader lineup represents a very intentional bridge between our existing lineup of skid steers, compact track loaders and compact wheel loaders, and the new mini track loader line we're also introducing at CONEXPO."
Attachment flexibility is a major strategy for CASE as it expands and fills out its compact and sub-compact loader fleet. The smaller sizes of the new small articulated loader line will share attachment commonality with the new mini track loader (MTL) fleet, while the larger models in the range will share compatibility with standard skid steer and compact track loader attachments.
The addition of telescopic booms on rubber-tired loaders also offers a whole new dimension of versatility and performance to the CASE product lineup. And the electrified SL22EV further builds out the CASE electric vehicle portfolio, delivering solutions that work indoors or outdoors while providing operators with a quiet and comfortable loader solution — all while eliminating emissions and maintenance related to diesel engines.
The new lineup features machines spanning 25-75 horsepower withrated operating capacities (50 percent of tipping load) ranging from 1,200 pounds up to 5,000 pounds, and cabs that include both ROPS and foldable open ROPS configurations. Units will hit CASE dealers later in 2023 and into 2024.
"We're bringing these solutions to market with the support of a full-line manufacturer and a mature dealer network that reaches coast-to-coast," says Lewis. "No one will outwork CASE in meeting the demands of loading and material handling applications — and this new product line ensures a comprehensive range of options for businesses of all shapes and sizes."
For more information on the entire lineup of CASE products, solutions and services, visit CaseCE.com.
Keith Gribbins is publisher of Compact Equipment.
Mini excavators are making big waves on jobsites all over North America. Click here for the latest news on these machines and the companies that make them.