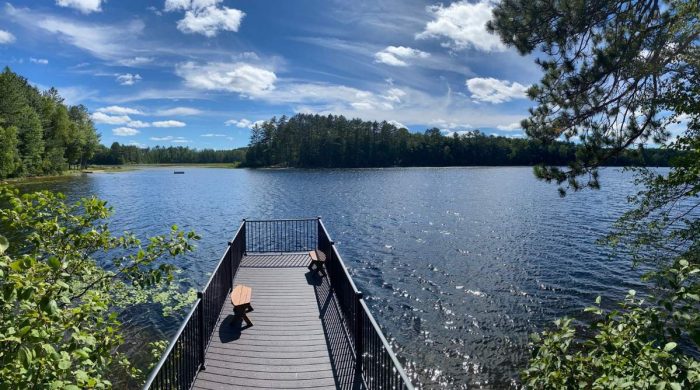 The Tomahawk Customer Center sits on more than 500 acres in Wisconsin's Northwoods. It's a beautiful backdrop to showcase Case Construction Equipment. A Midwest vacation magnet, the Northwoods boasts 3,200 lakes and streams and over half a million acres of public forest. Surrounded by these boreal woods and glacial lakes, the Tomahawk Customer Center has been attracting Case customers, dealers and occasionally trade journalists for the last 60 years, hosting hands-on equipment demos, testing and education with a cabin-in-the-woods vacation feel.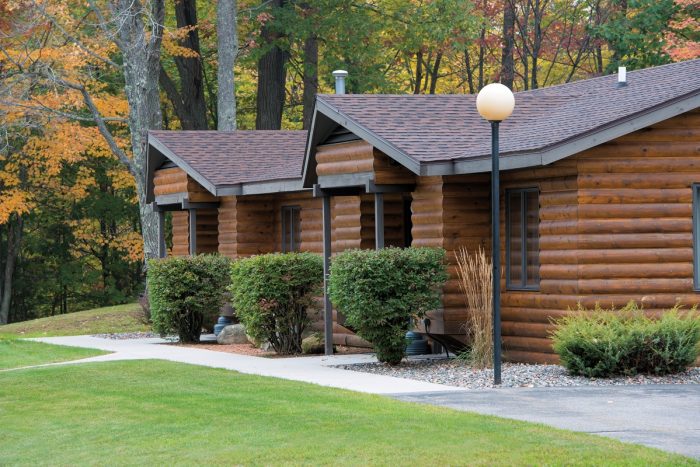 Last week, the Racine, Wis.-headquartered machine maker invited Compact Equipment to a trade press event up at its Tomahawk facilities, teasing the launch of a wild new machine. The Case Minotaur DL550 is the industry's first compact "dozer loader," and I got the opportunity to inspect this unique earthmover in the Northwoods. The size of a large compact track loader, the DL550 is focused on grade control and dirt work but with the added versatility of wielding skid steer and track loader attachments and a vertical-lift boom design. Just don't confuse the Minotaur with a CTL.
"It's a dozer first," emphasized Terry Dolan, head of Case Construction Equipment-North America at the Minotaur press launch last week. "It looks like a compact track loader. It shares basically the same skin, but it's what's inside that's very different. I really want you to make sure you look at the controls. Get in the cab. Those are dozer controls inside. The integrated C-frame is different than putting a small dozer blade on a compact track load or skid steer. This is truly a dozer first, but you can also quickly and swiftly drop that C-frame blade and enable it to be a loader. So small contractors, large contractors, contractors looking for a nimble, powerful product, the Minotaur is going to deliver that for them."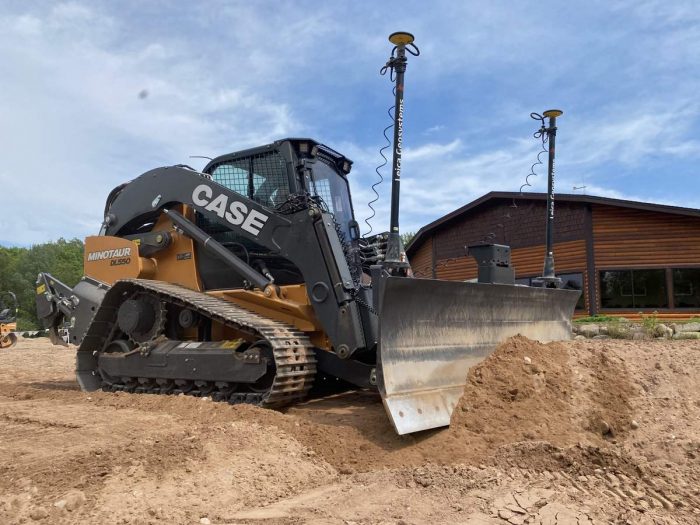 Immediately catching your attention, the Minotaur's C-frame blade shines brightly. It's as big as the blade on Case's 650M dozer. It's a chassis-integrated six-way dozer blade, and it attaches to the DL550 via two enormous C-shaped metal hooks that merge to the unit's frame. It's just the beginning. The DL550 can be outfitted with a five-shank ripper on the back for tearing up tough terrain to simplify dozing and grading. There are a variety of grade control options (2D, 3D), multiple track choices (including two steel tracks with single or triple grousers) and the use of dozer-style paddle joysticks (with 16 virtual gears). But once that big C-frame blade is dropped (see the video below), the DL550 can attach to and power any skid steer or track loader attachment with its high-flow auxiliary hydraulics (standard), delivering up to 41.6 gpm.
The appropriately named Minotaur harkens back to another Case hybrid invention — the backhoe loader, launched way back in 1957 — which combined the digging prowess of an excavator with the bucket expertise of a wheel loader.
"This machine is rooted in a similar innovation," explained Brad Stemper, North American construction equipment product manager at CNH Industrial. "There are 29 patents on this machine that we differentiated over 10,000 field test hours. That's in addition to the virtual lab and manufacturing test hours that go into these machines routinely to make sure that they go to market ready. Those 10,000 hours are there to qualify what we were doing to validate what customers thought, gain feedback and evolve that design to be the best and to bring it to what it is today. Case is doing things differently."
That seems to be the big message here.
A Quick Look at the C-Frame Blade
The hallmark advancement of the Case Minotaur DL550 is the chassis-integrated C-frame with six-way dozer blade. The C-frame hydraulically couples into both the chassis of the machine, as well as the attachment coupler. This design provides the stability and smooth operating plane of a small dozer while ensuring that all operating power is channeled through the whole body of the machine. This establishes greater performance and long-term reliability than the simple combination of a dozer blade attachment to a traditional compact track loader.
Years in the Making
I first saw the concept of the Minotaur in 2017 at CONEXPO-CON/AGG. The idea actually won an Innovative Iron Award that year. Can it win two? I'm checking with the judges. Six years later, the company is finally releasing the unit, and in that time it's definitely evolved. Weighing in at more than 18,000 lbs and working with a 114-hp FPT diesel, the Minotaur is one of the most powerful pieces of compact equipment in almost any category in the industry. It features a 5,500-lb rated operating capacity (50 percent of tipping load) with 12,907 lbs of breakout force and 41.6-gpm of auxiliary flow to the attachment. It's built with a dozer-style undercarriage that pushes with more than 25,000 lbs of drawbar pull. It also reaches very high.
Interestingly, the DL550 is engineered as a vertical-lift pattern dozer loader, but in the beginning, the unit was designed as a radial-lift machine; radial designs are typically better at ground-engaging apps while vertical lift excels at high dump and pick-and-place work. It's one example of how the unit has changed over the years.
"We worked through the development and all of our customer interaction was that once you disconnect the dozer blade, you're using it as compact loader, so customers really wanted that vertical-lift performance," said Brady Lewis, program manager for the Minotaur project. "The tradeoff that you have with the radial lift, of course, as you get higher, your load starts to come back over the top of the cab, and we're at 140 in. high, so we're very high up in the air. As that radius swings around, you lose reach. So, from the digging performance, radial was good enough, but we really wanted more performance at full height, so you can get to the center of a truck. As we sat with our customers, that's the feedback they give, and we were able to make that change."
The Minotaur is being manufactured in Wichita, Kan., on a dedicated line purpose-built for the machine. It's another representation of the more than six years of development and collaboration between numerous Case plants, personnel, testing facilities and departments.
"The Case Minotaur DL550 embodies our dedication to practical innovation — real world, customer-driven solutions," says Jeff Jacobsmeyer, product manager at Case. "Through this, we created a whole new equipment category, and we're delivering the integrated technologies that drive improvements for operators in the field and for business owners at their bottom line."
Tracks, Blade, Cab, Ripper, Attachments
The Minotaur has many interesting options and accoutrements. The machine is available with three different track choices to meet operator preference and jobsite profiles: 14-in. single-grouser steel tracks, 18-in. triple-grouser steel tracks; and 17.7-in. rubber tracks. That aforementioned integrated C-frame comes in the choice of a 90- or 96-in. six-way blade. The machine's electro-hydraulic controls also deliver responsiveness like a Case dozer, with the ability to adjust blade, steering and shuttle sensitivity to smooth, moderate or aggressive to meet the operator's preference. Blade responsiveness can be further dialed in to operator preference by independently setting the speed of the blade tilt, lift and angle. That unit's joysticks also switch between two different modes (dozer or loader).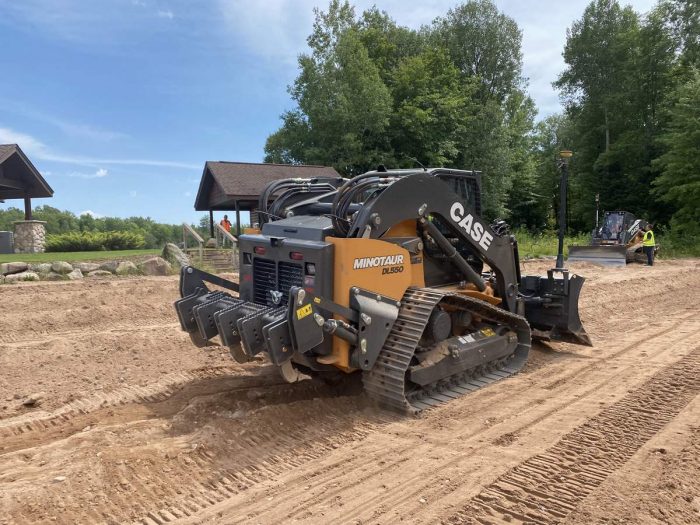 "We wanted to make it easy for customers," said Jacobsmeyer. "Simply push a button, and you can switch the Minotaur from dozer mode to ISO, which is loader operation. When you do that, the machine actually remaps itself, making all the controls different. So, it's going to operate as two separate machines."
There's an 8-in. LCD multi-function display that serves as the command center, including a rearview camera visible in a split screen display with machine data. The integrated rear ripper is easily controlled with buttons just below the right joystick. The ripper comes standard with three shanks and can be expanded to five shanks for more aggressive ripping. The rear ripper feature must be selected when ordering as it cannot be added after the time of purchase. The ripper adds balance to the vertical-lift unit and is engineered with a clever platform to stand on while accessing the engine compartment.
"What's nice about the Minotaur is before you drive off, it actually gives you a little general reminder to raise that ripper," said Jacobsmeyer. "You don't want to go through a parking lot with that ripper down, so it never hurts to have a little bit more intelligence on the jobsite."
Case builds the Minotaur standard from the factory with enhanced high-flow auxiliary hydraulics, preparing it to run aggressive implements like mulching heads and cold planers. Minotaur's enhanced high-flow hydraulics can deliver up to 41.6 gpm at 4,100 psi via the 3/4-in. hydraulic quick-couplers. At the event, there was talk of a brush cutting DL550 package. I imagine with the proper armor, high-flow aux and a highly-engineered oil cooling system, the Minotaur can easily clear a wooded lot in brush cutting operations.
"With the unit, you're going to be the first on the jobsite," said Jacobsmeyer. "Maybe it's going to pull into a place like this [pointing to the wooded jobsite of the customer center]. You put the mulch head on, clean things up, start ripping, dozing, transforming your landscape or your site. It can do it all. That's why we wanted to give it maximum horsepower."
The machine also allows operators to harness "hydraulics on demand," allowing easily selection of the percentage of auxiliary hydraulic flow to the attachment via the machine's multi-function display. This allows the operator to dial in attachment performance to their preference or the recommendation of the attachment manufacturer. The Minotaur can also be ordered with a heavy-duty, 1.25-cu-yd bucket to dig and load dirt into trucks with its vertical-lift pattern boom.
Grade Control and Telematics
The Minotaur comes standard with Case Universal Machine Control, which makes the unit ready for any of the major three providers of machine control technology (Leica, Topcon and Trimble), which are sold separately. Case has a partnership with Leica, utilizing its machine control systems on everything from excavators to dozers, so the company can provide both 2D and 3D Leica options to the DL550. Both Leica 2D and 3D solutions come with a second screen that's installed onto the inside of the cab door.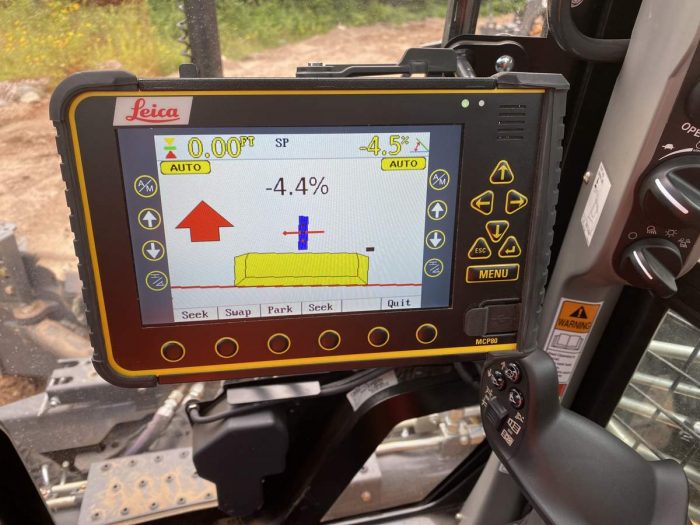 Case's SiteControl 2D systems (the Leica iCON iGD1 CoPilot Solution or the Leica iCON Grade iGD2 Dozer System) allow the Minotaur and its C-frame to work in two different dimensions — plane and slope. These systems can be both indicate-only or automatic and are ideal for any type of grading or work where basic plane construction is required. 2D grading systems are designed to regulate elevation and cross-slope with the aid of lasers and reference points set for the worksite.
"Precision machine control allows you to get to grade faster, reducing work and rework, which saves time and reduces fuel costs and wear," explained Josh Belmont, Case product specialist.
"Precision machine control helps reduce the overall materials, saving money and material costs. Precision machine control technology also allows for inexperienced operators to learn the trade faster, reducing time spent on training. This is particularly true for the brand-new Case DL550. We offer 2D solutions with the co-pilot single and dual laser. We also offer 3D solutions, which include single and dual GNSS and total station solutions. Exactly the same as our M Series dozers."
Case's SiteControl 3D systems (the Leica iCON Grade iGD3 3D Dozer System and Leica iCON Grade iGD4SP 3D Dozer System) are designed to place the machine precisely within a three-dimensional site plan and provide the highest degree of accuracy. This accuracy of the grade can easily be scaled to the need of the jobsite within thresholds as large as a golf ball or as small as a pencil diameter. In automatic mode on 3D, the DL550 takes over complete control of the blade to ensure that the machine is cutting directly to plan.
Of course, grade control is not the only cool tech on this dozer loader. Ride control and parallel lift are standard, and the Minotaur comes with this cool dozer tech called blade shake, which allows operators to easily shed materials from the blade (watch it here). Case's SiteConnect Module — a device that improves the volume, flow and integration of data to the Case SiteWatch telematics platform — is installed on the unit. Minotaur customers also get SiteWatch telematics free for a year.
"Our DL550 offers a number of technologies that really improve fleet management, creating a greater connection between the machine in the field," noted Belmont. "As the business owner or fleet manager, this all helps to ensure uptime and gives you and your dealers some really powerful tools to make sure you're getting the most out of your machine."
Case and customers achieve these remote service capabilities through the Case SiteManager App (iOS and Android). This app pairs the operator's phone or device to the machine to enable remote analysis by a certified Case technician, which allows them to diagnose the health of each connected machine through various parameter readings and fault codes. The technician decides as to whether the issue can be addressed remotely — such as clearing codes or updating software — or if it requires a trip to the machine.
The Machine Control Trend Continues
The Minotaur DL550 is another example of how popular machine control systems have become on compact equipment. Compact excavators and compact track loaders specifically are increasingly being outfitted for grade control earthwork. Almost every manufacturer of compact track loaders is making their CTL grade control ready, and six-way dozer blades can be paired with a CTL machine control system. John Deere has even released a specialty CTL variant called the 333G SmartGrade compact track loader that comes with factory-integrated grade control (2D and 3D), dozer mode and a six-way dozer blade. Just don't confuse the Minotaur with these CTL grade control iterations, says Case.
"I really want you to make sure you pay attention. There's a number of different style units out here," advised Dolan. "I think people need to understand the difference between a DL550 Minotaur and a CTL. It's a very different experience."
How? For starters, that C-frame blade, dozer joysticks, ripper and dozer undercarriage. Here's another example:
"We have a little anecdote," recalled Stemper. "We had a lot of conversation about how much stumping time we need to do for validation on this unit. [Stumping is when a dozer uses its blade to uproot stumps.] We set our bar high to go ahead and make sure that we understood what this machine would act like and how it would perform in the long term in those stumping applications. It stumps as well as a full-size dozer. Compact track loaders are not made to do stumping, but there again, that makes site clearing and that right-of-way-access type of application another key focus for this unit."
Case's Minotaur DL550 compact dozer loader is now available for order. Just visit your local Case Construction dealer.
Keith Gribbins is publisher of Compact Equipment.
Catch the Minotaur on Tour
In its 180th year in business, Case has proven to be a company on the move — and the development of the Case Minotaur DL550 compact dozer loader is proof of that in both iron and technology. To celebrate the launch of this first-of-its-kind machine, Case is launching a tour of the United States and Canada with more than 30 stops where the machine will be showcased at Case dealer locations. Stay tuned to Case social media, as well as CaseCE.com/Minotaur for the full schedule and more information.
"We are bringing the excitement of this industry-changing launch to every corner of North America," says Terry Dolan, vice president-North America, Case Construction Equipment. "We have more than 180 years of experience in the field, but we're making moves like a startup, dedicating more time and resources to the field, and spending more time where it counts — with the men and women who run businesses and operate this equipment every day. We can't wait to see you on tour."