The Coolest and Most Creative Compact Equipment of the Year
Exploration is the engine that drives innovation, so let's go exploring. Let's search through a year's worth of creative ideas in the off-highway equipment industry and see if we can benchmark the innovative exploration of the American machine market. Over the last 12 months, global manufactures from Case to Kubota have released compact machines that have set new standards for power, versatility, efficiency and design. Our editors have traveled across the country to meet these manufacturers, operate their new products and give detailed reports and opinions both in print and on our website (compactequip.com). We sifted through the hundreds of models and brands released in 2017 and picked 25 units that set the new bar for innovation. With this article, we salute those companies that have changed the commercial equipment market over the last year with their unique, interesting and innovative machines, engines and technologies.
Case Creates a Whole New Category of Compact Equipment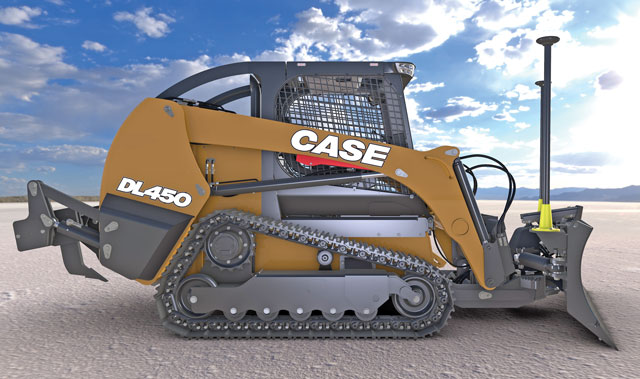 Equipped with a dedicated track undercarriage and extra weight compared to a skid steer, compact track loaders make great dozing units. That's exactly what Case thought with its DL450 compact dozer loader — a.k.a. Project Minotaur. With more than 30 new patents pending, the one-of-a-kind DL450 integrates a small dozer in a platform with a track loader's ability to take a zillion attachments. The DL450 main body was born from the base frame of a TV380 track loader (the largest and most powerful in the Case family). It operates with track loader controls but uses dozer features such as blade shake and pitch adjustment. A counterweight has been added, and the undercarriage features steel tracks and grousers, a fifth roller for better traction and greater clearance. The design even includes a rear, integrated ripper. Plus, the DL450 can be outfitted with a Leica Geosystems 3D grade control system. The DL450 is not yet available, but the concept was released at CONEXPO-CON/AGG 2017. For more info, visit casece.com.
Bobcat's New 5-Link Torsion Suspension Undercarriage Enhances Performance, Uptime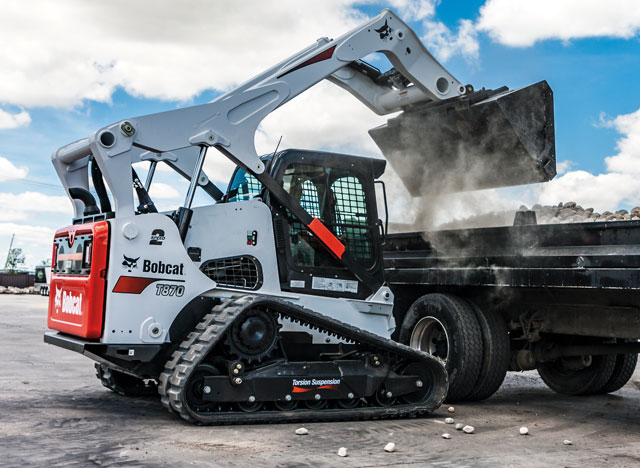 Torsion suspension systems look like the future of track loaders. Torsion-axle suspensions isolate the track-roller frames from the chassis on a track loader, providing a smooth ride for the operator and absorbing shock loads. Now, Bobcat Co. is entering that sector with the introduction of the new compact track loader 5-Link torsion suspension undercarriage, providing increased performance, operator comfort and serviceability. M2-Series T870 compact track loaders are the first Bobcat loaders manufactured with the new 5-Link torsion suspension undercarriage. Another new feature is an automatic hydraulic track tensioning system. The hydraulic tensioning system automatically ensures the proper track tension, thereby increasing machine uptime protection. The undercarriage's new drive motor is easier to maintain, while the drive motor's outer bearing is more durable because it receives continuous lubrication from oil within the loader's hydraulic system. A 15 percent increase in diameter to the drive shaft inside the gearbox also increases the component's durability. For more info, visit bobcat.com.
ASV's First Mid-Frame, Vertical-Lift Compact Track Loader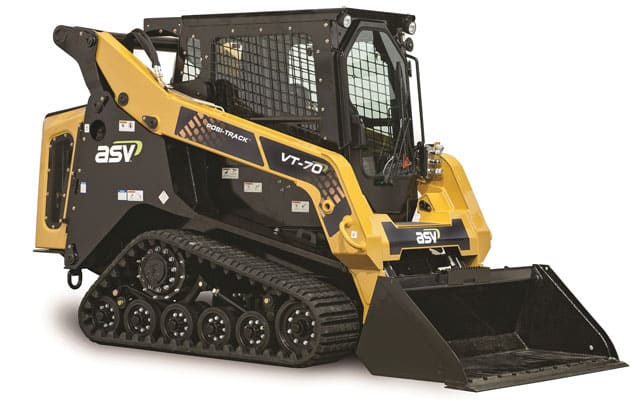 When it comes to loader work, the Posi-Track VT-70 (ASV's first mid-frame, vertical-lift compact track loader) is ready to work harder than anyone else. The machine features a vertical-lift loader linkage for applications requiring extended reach and level loads, such as loading pallets and handling hay bales. The VT-70 features best-in-class rated operating capacity, cooling systems and hydraulic efficiency. The machine's single-level suspension is made up of two independent torsion axles per undercarriage, allowing for a smooth ride over every type of terrain and speeds as fast as 11 mph. The VT-70 also includes ride control that dampens the load in the bucket to limit material loss and improve operator comfort. For more info, visit asvi.com.
Want more innovation? We have plenty more Innovative Iron Awards here.
Tags:
ASV
,
Bobcat
,
Case Construction Equipment
,
Innovative Iron Awards 2017
,
November December 2017 Print Issue