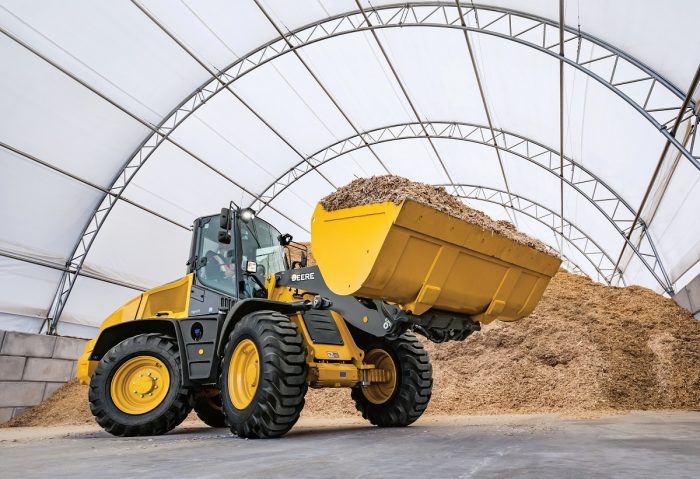 Whether you're in landscaping, general construction, site development or snow removal, compact wheel loaders have proven their ability to excel in a variety of applications. These powerful machines can move all types of materials and help you work in tight spaces. And don't forget their excellent visibility, versatility via attachments and high transport speeds.
To help find the right wheel loader for you, we've gathered advice from 15 manufacturers from John Deere and Takeuchi to Cat and Wacker Neuson. Want to know more about wheel loaders? Just click here.
Takeuchi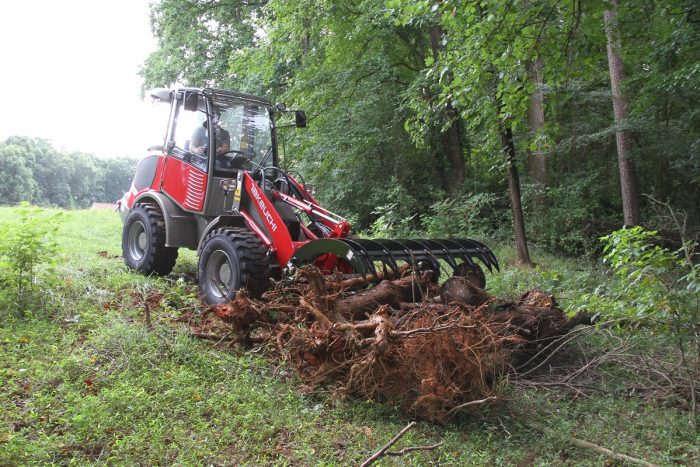 "If you're trying to decide whether to purchase a wheel loader or a different type of machine, keep in mind that wheel loaders can complete many of the same tasks as a compact track loader or skid steer," says Lee Padgett, product manager for Takeuchi-US. "However, wheel loaders provide better visibility from an elevated operator's station with a panoramic view of the work area, higher ROC and lift arm forces in most cases, better fuel economy and faster travel speeds to cover longer distances more quickly when on larger jobsites. Automation features are helping wheel loaders and their operators achieve more in less time."
Yanmar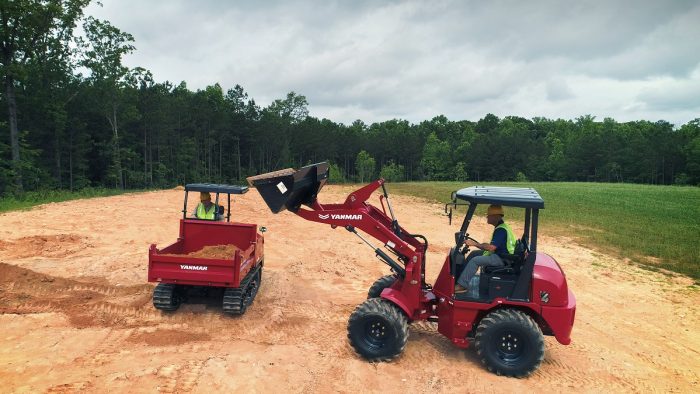 "Look at your application to determine the size and features you'll require on your compact wheel loader," says Frank Gangi, CWL product manager for Yanmar Compact Equipment North America. "For example, if you are primarily moving bulk material, consider a larger bucket capacity. If you plan to move lots of pallets, consider a compact wheel loader with parallel kinematics or the option to keep the forks level during lifting. If you plan to do many different jobs with your compact wheel loader, consider a hydraulic skid steer style coupler for quick change over and auxiliary hydraulics to power attachments."
John Deere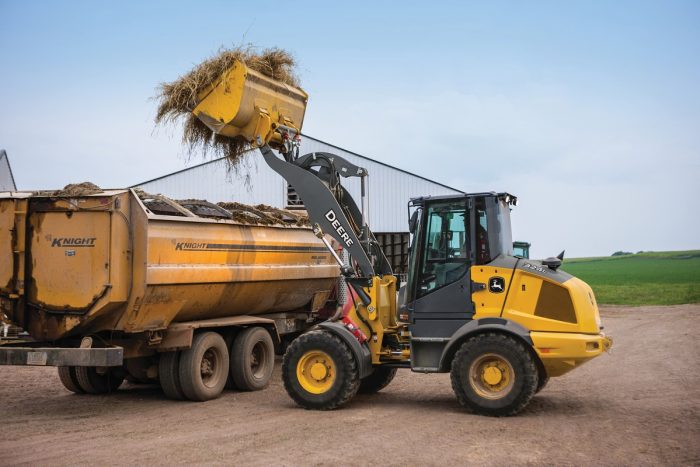 "Look for compact loaders that offer ground level service to enable a more simple and straightforward daily maintenance routine," says Luke Gribble, solutions marketing manager at John Deere. "This is important to customers because it makes it much easier to keep the machine in a great working condition without cutting into precious working hours."
Case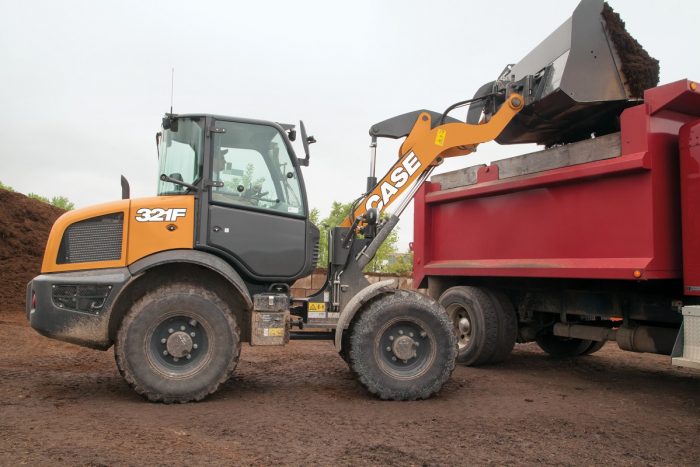 "When right-sizing a compact wheel loader, business owners and fleet managers need to know the weight and density of the material being moved. They need to know what size bucket they plan on using, what size trucks/hoppers they'll be filling, etc.," says Andrew Dargatz, product manager, Case Construction Equipment. "It's also important to consider things like visibility and operator comfort. Your cycle times will be dependent on what the machine is capable of. There are a lot of factors that go into it, and it's important to remember that bigger isn't always better."
Kubota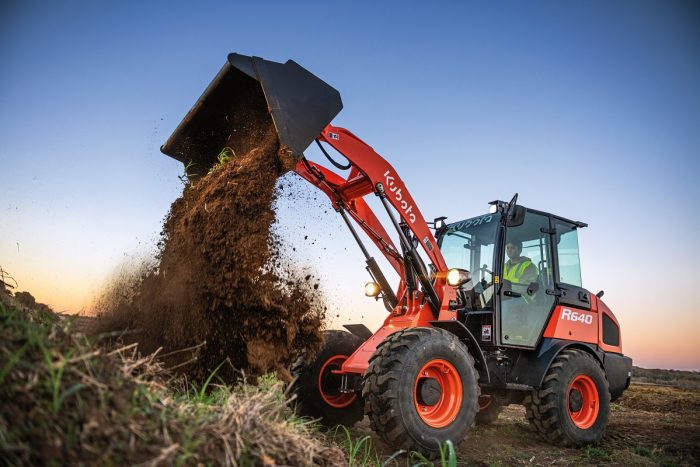 "Choosing the right wheel loader comes down to what work needs to be completed," says Patrick Baker, product manager at Kubota Construction Equipment. "Look for wheel loaders that are compact, productive and reliable. Some are ideal for landscaping and agricultural work, leaving a small footprint and being extremely productive. Some are slightly larger and more likely to be seen on residential and commercial jobsites, loading gravel into a tandem axle dump truck or moving pallets of granite."
Caterpillar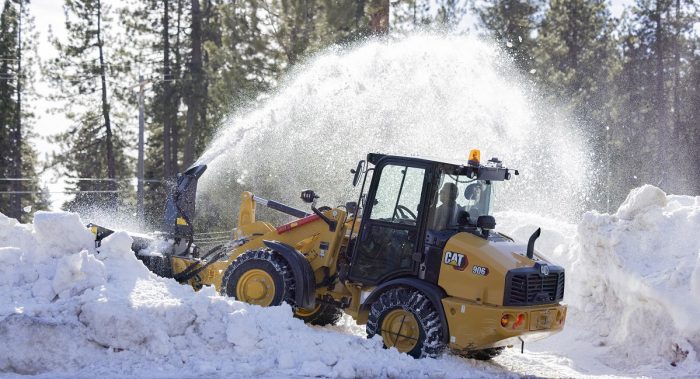 "It is important for the customer to weigh out what machine features are needed for the application to maximize productivity and profit," says Robbie Southerland, North American compact wheel loader product application specialist for Caterpillar. "Look for the highest degree of machine features that offer real jobsite solutions at a lower cost over machine life. This concept is called total cost of ownership. Look for a dealer that has the tools to use industry data to help the customer make a powerful informed purchase based on that total cost of ownership, that in the end will be a better benefit to the customer's bottom line and product satisfaction."
Gehl
"Different applications need different configurations. This is why travel speed options and different hydraulic possibilities are becoming increasingly important," says Frederik Crul, global product manager for Gehl wheel loaders. "These are rather expensive options but can improve the ROI of the overall investment drastically. Higher top speed will shorten the travel time while high-flow hydraulics or an additional set of hydraulic lines will open the list of available attachments specially built for your applications."
Wacker Neuson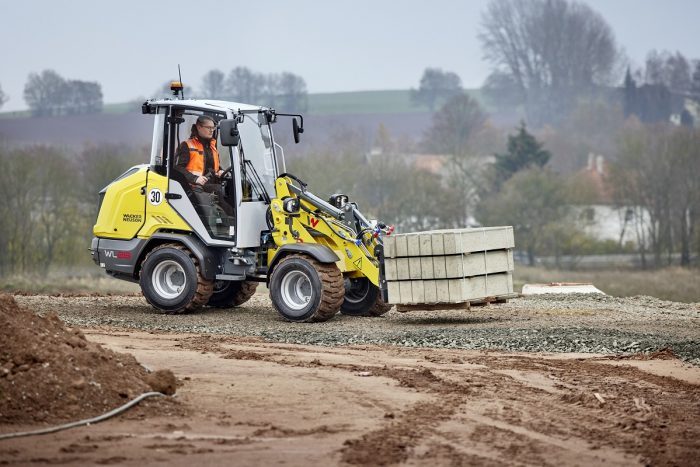 "Newer wheel loader models bring features to the market that are designed for productivity and convenience that can help the purchasing decision," says Jay Quatro, commercial product manager at Wacker Neuson. "An example might be an electronically regulated drive system. This allows for multiple drive modes, including a dedicated attachment mode which is especially useful for snowblowers. The electric park brake also adds additional safety and convenience with automatic and hill-hold functions."
Bobcat
"Compact wheel loaders are a great choice for contractors who need to work in tight spaces without sacrificing power or productivity," says Mike Fitzgerald, marketing manager at Bobcat. "When looking for a new compact wheel loader to add to your lineup, consider the speed, operating capacity and size of the machine and right-size accordingly to the job. And, don't forget about expanding your operating capabilities through attachments."
JCB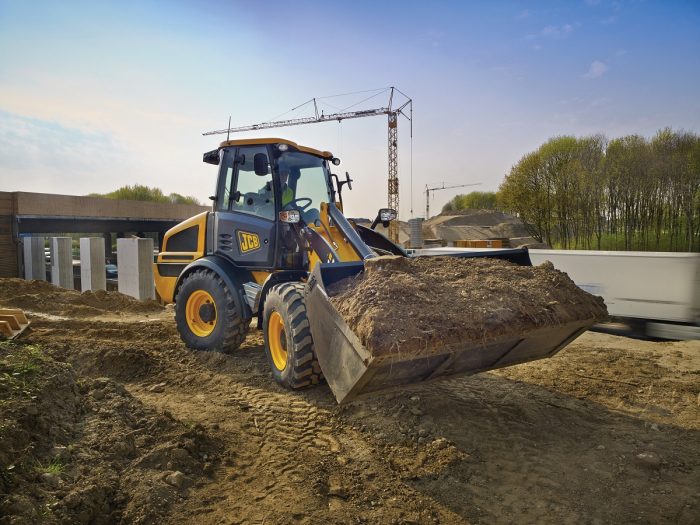 "Wheel loader operators can spend an entire day inside the cab of their machine making operator comfort a top consideration when purchasing a wheel loader," says Ethan Clowes, JCB product manager of skid steers, compact track loaders, wheel loaders and backhoe loaders. "Look for a cab that offers best-in-class comfort and visibility, allowing an operator to be comfortable and happy while operating their machine. And as the saying goes, a comfortable and happy operator is a productive operator."
New Holland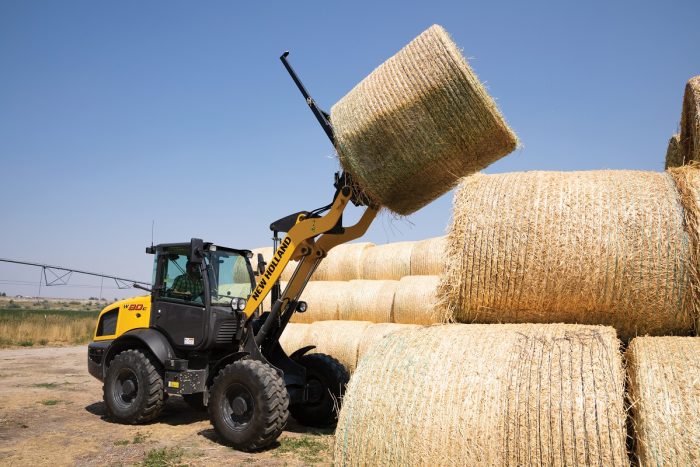 "Compact wheel loaders have started to gain popularity," says Ryan Anderson, NHCE product manager. "Compared to a skid steer, they are faster and can lift more. Like a skid steer they can be easily serviced from the ground. Preventative maintenance is paramount for these hard-working machines. When considering a purchase, look at how easily daily maintenance items can be accessed and replaced. The engine compartment should be easy to open and have generally unimpeded access to components like filters."
Hitachi Construction Machinery Americas Inc.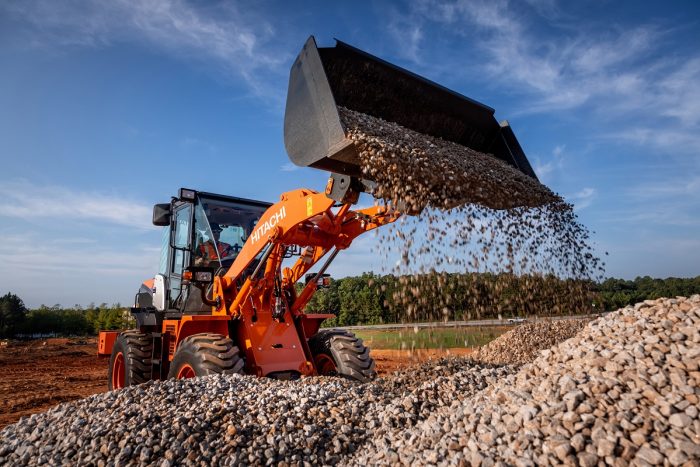 "The compact wheel loader market continues to expand as skid steer owners realize the benefits these machines bring to the jobsite," says Sam Shelton, communications manager for HCMA. "Wheel loaders can offer as much as 10 times the tire life of skid steer loaders and compact track loaders. Furthermore, these compact wheel loaders save a third on fuel cost."
Volvo Construction Equipment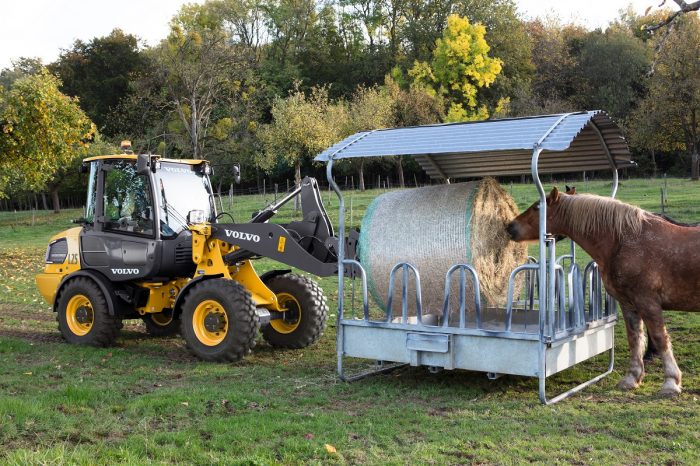 "Some people only picture CWLs utilizing buckets or forks, but their main advantage is their versatility, including the number of attachments they can support," says Darren Ashton, product manager, Volvo Construction Equipment. "Their longer service life, all-around visibility, comfortable ride and higher travel speeds make them an operator favorite too. Compact wheel loaders have a lot of advantages that skid steers and CTLs just don't."
Giant by Tobroco
"When bringing in new equipment make sure to consider the weight and footprint of the machine," says John Bostwick, territory sales manager, USA West Coast, at Giant. "With new jobsites shrinking in size with increased urbanization across North America these factors will weigh heavily into how you move these machines around and who can utilize the machines. Don't forget ease of access either. While skid steers have become one of the most rented machines, compact articulating loaders beat them on average in reach and weight handling, in addition to being easier on operators as they enter and exit the machine."
Manitou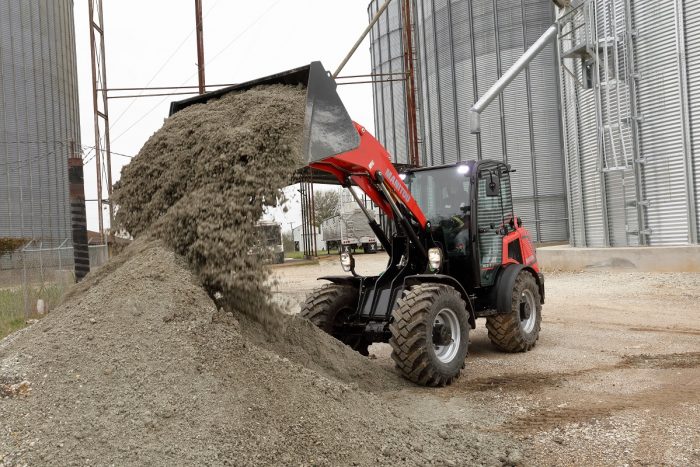 "Different applications need different configurations. This is why travel speed options and different hydraulic possibilities are becoming increasingly important," says Frederik Crul, global product manager for Manitou wheel loaders. "These are rather expensive options but can improve the ROI of the overall investment drastically. Higher top speed will shorten the travel time while high-flow hydraulics or an additional set of hydraulic lines will open the list of available attachments specially built for your applications."
Take a break from reading and check out our Machine Heads video series! Tags: Bobcat, Case Construction Equipment, Caterpillar, Gehl, Hitachi, JCB, John Deere, Kubota, Manitou, New Holland, Takeuchi, TOBROCO-GIANT, Volvo Construction Equipment, Wacker Neuson, Yanmar