Winter work in your utility vehicle is fun (like most things in your UTV), but you still need to be well prepared to operate your all-terrain UTV in the snow — safely and effectively. The versatility of utility vehicles makes them a great addition for plowing snow in areas where full-size plows can't reach due to space limitations or rough terrain. Here are a few tips to help convert your off-road vehicle into a super-efficient tool for snow removal and to ensure your ongoing plow operation goes easier.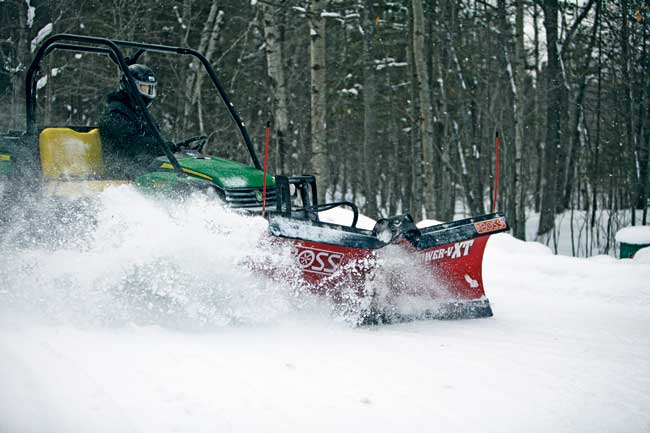 Choose Your Plow Carefully — Look for a plow that is feature-rich and offers the durability and dependability you'd expect from a full-size model. Is the plow easy to attach and detach? What type of warranty does it have? Does the plow have sufficient ground clearance? Can it stack snow easily? Evaluate your options carefully to ensure a quality purchase and smart equipment choice for your utility vehicle.
Be Prepared — Become familiar with the snowplow owner's manual. It provides valuable information including maintenance procedures, operation guidelines and tips about taking your plow out of storage.
Plan for Emergencies — Keep an emergency parts kit handy that includes extra hydraulic fluid, hydraulic hoses, a pump solenoid, extra cutting-edge bolts and a trip spring.
Check Your Vehicle — Look at your vehicle's tire pressure, fluid levels and oil pressure. Make sure the battery is working properly. Never venture out without an adequate fuel supply.
Check Your Plow — Make sure that all bolts on your snowplow are tight and well fastened. Look for cracked welds and hydraulic fluid leaks. Make sure the plow lights and turn signals are aligned properly and are in good working order.
Know the Area — Take a little time to make yourself familiar with the area to be plowed. Walk around the area to check for obstacles that will become hidden after it snows. This important step can prevent unnecessary damage to your plow and off-road vehicle.
Plowing Deep Snow — Raise the plow several inches off the ground to shear off the top layer. You should push just enough snow with each pass to get the job done efficiently without overloading your equipment.
Plowing Wet Snow — Once you start plowing, finish the job. Wet snow can freeze overnight and frozen snow is harder on your plow and your vehicle.
Know Where to Pile — Determine in advance the best place to pile the snow. Make sure to choose a location large enough to allow snow to be piled there throughout the winter. Avoid piling snow on sidewalks, water drains, catch basins or structures, next to mailboxes, dumpsters, electrical boxes or fire hydrants or on other people's property.
Mark Klossner is the marketing director at The BOSS Snowplow, based in Iron Mountain, Mich.
Tags:
Plows
,
Snow
,
UTVs