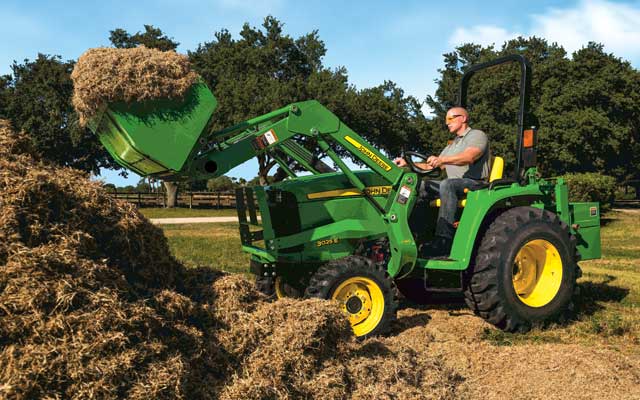 Compact utility tractors are known for their power and versatility. These hard-working machines offer farmers, large land owners and even contractors the ability to diversify their operations by taking on different attachments for every task that comes their way. Thanks to new models, updates and technologies, there's been quite a bit of news coming out of the compact tractor market. To learn more, we talked to five major manufacturers about buying trends, customer demands and what's new for potential buyers.
The companies we surveyed agreed that comfort and ease of use were two of the biggest concerns among customers looking to purchase new tractors. Manufacturers have kept these demands in mind to offer comfy, hard-working machines.
"Compact tractor customers have more buying power than they have had historically, and brands are listening to their wants — incorporating features that prioritize comfort and ease of use," says Joel Hicks, senior product support manager at Kioti Tractor. "For example, Kioti has expanded its CK10SE Series and introduced its DK10SE Series models to fill customer requests for heat and air conditioning to address extreme cold in the Midwest and extreme heat in the Southeast. As more first-time buyers of compact utility tractors enter the buying market, we are starting to see more user demand for equipment that gets the job done for them. In other words, the more automated, effortless and dependable the tractor, the more attractive it is for a first-time buyer."
Hicks also points out that as younger generations move to more rural areas and purchase compact utility tractors for their property, these buyers want the same features they're used to in cars. He says that includes more storage, chargers for electronics and illuminated dashboards.
Easy attachment or implement hookup is also a feature customers are eyeing in new tractors. This allows operators to stay productive and not spend excess time putting on or removing their tools. John Deere has been actively addressing this need for some time.
"Our industry-leading, drive-over Autoconnect mower deck makes attaching and detaching the mower deck quick and easy," says Jeremy Unruh, marketing manager of small tractors at John Deere. "Additionally, many of our compact utility tractors offer Quik-Park loaders, allowing the operator to quickly remove or install the loader implement."
Speaking of attachments, compact tractors have the awesome ability to use them on their front, back or rear. Some of the most popular implements include loaders, mowers, rotary tillers and backhoes. Operators can also dive into options such as front snowblowers and blades, box blades and rotary cutters.
Maintenance and warranties are also important, especially to buyers who may be purchasing their first compact tractor. Easy access to maintenance points and good customer service and dealer support are a must.
"Many buyers are first-time buyers, and if they expect to perform their own maintenance, all dipsticks, fill points, filters, etc., it should be easy to find and access," says Brandon Bozarth, product manager at Mahindra USA. "Others, who expect their dealer to service the unit, can expect a small servicing bill because the routine maintenance is also easy on the dealer. Customers also like having a lengthy warranty with their product. Again, many of our customers are unfamiliar with tractors, including servicing. Knowing the dealer is backing the product for a long time gives them peace of mind that their investment will last."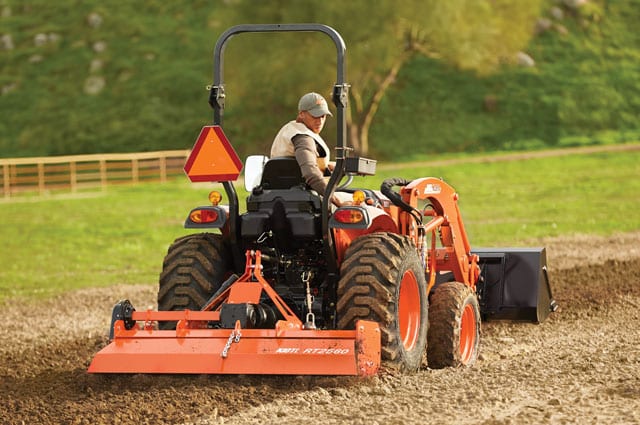 What's New?
With both first-time buyers and seasoned owners looking for machines, manufacturers have been busy designing tractors that fulfill the needs and wants of their potential customers. Luckily, there's no shortage of new models in the market, so let's take a look at what's out there.
Last year, Kioti expanded its DK10 Series with the addition of eight new compact tractor models. Each new tractor in the lineup comes standard with a Daedong common rail diesel engine (CRDI) that Kioti says offers excellent fuel efficiency and low noise levels.
"While this eco-friendly Tier 4 engine offers operators a quieter work environment, the range of 40- to 58-hp in the DK10SE Series delivers plenty of power to get any job done," says Hicks. "All models feature performance-proven, heavy-duty hydrostatic [HST] drives that deliver additional power and efficiency. The three-range transmission — offering hi/mid/low settings — with twin pedal operation makes the operator's job easy, smooth and safe. Features such as factory-installed cabs with air conditioning and heat can be found on four models and enable operators to perform tasks comfortably year-round."
Hicks also says that the DK10SE Series boasts an external three-point control lever that allows operators to easily raise and lower the lift arms when attaching one of Kioti's many implements. For even more convenience, each unit also includes an illuminated dashboard, toolbox and a high lift hood that offers direct access to maintenance components. In addition to the DK10SE Series, Kioti introduced four new models to its popular CK10SE Series last year. Check out the sidebar on page 31 to learn more.
In summer 2018, Massey Ferguson introduced its new 1700M Series premium compact tractors to the market. The company says that sales for the new models have outpaced its expectations and credits the peace of mind that comes from meeting Tier 4 compliance without using or worrying about a diesel particulate filter (DPF).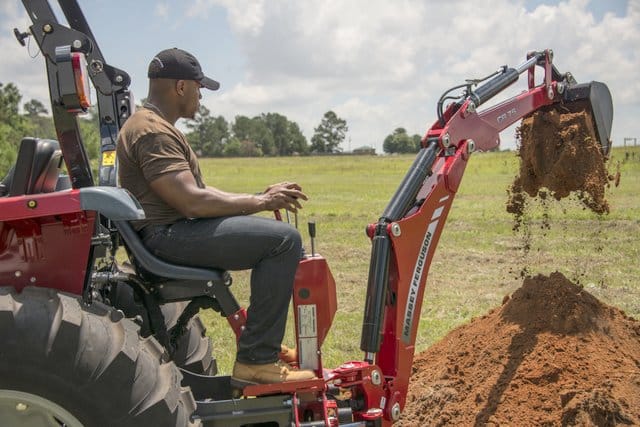 "The 1700M Series features clean-burning, Tier 4-compliant turbocharged diesel engines," says Jeffrey Ratliff, tactical marketing manager, compact tractors at Agco. "There are five models ranging from 36 to 60 hp. The MF1735M and MF1740M are equipped with a Shibaura three-cylinder diesel. The MF1750M, MF1755M and MF1760M are equipped with Shibaura four-cylinder diesel engines. All models meeting Tier 4 emissions standards use an exhaust gas recirculation valve [EGR] and a diesel oxidation catalyst [DOC], which are maintenance-free emissions systems. No expensive diesel particulate filters are needed."
Ratliff also mentions that the 1700M Series tractors available with Massey Ferguson's new deluxe cab with air-ride seat and LED lights have been selling very well.
John Deere recently announced four redesigned and updated compact utility models: the 2025R, 3025E, 3032E and 3038E. The 2025R features TwinTouch foot controls which reduce fatigue by allowing the operator to select speed and direction of travel with the touch of a toe, as well as a redesigned operator station. The company says that the 3E Series compact utility tractors offer customers reliable machines that are powerful and easy to use.
"Providing a tight turning radius, the 3E machines are extremely maneuverable and increase wheelbase and weight for improved machine stability," says Unruh. "Easy-to-use, color-coded controls increase overall comfort and convenience during operation. The independent power take-off [PTO] system eliminates the need to stop and clutch to engage or disengage the PTO. An easy-to-use, two-range hydrostatic transmission increases tractor performance while eliminating clutching for fast and easy direction changes. Additionally, TwinTouch foot controls provide an automobile-like experience while reducing operator fatigue."
Comfort is key with Kubota's newest model — the L3560 Limited Edition Cab tractor. Kelcey Cockrell, Kubota product marketing specialist, says the L3560 provides unmatched industry-leading features and comfort at an affordable price.
"As the total package, operators enjoy comfort in the deluxe, Grand L factory-installed cab while optimizing productivity with Kubota's best-in-class HST Plus Transmission and many other industry-leading features the L3560HSTC limited edition has to offer," she says.
Mahindra released its 19-hp eMax 20S in late 2017. The company says it's a nimble, powerful small tractor complete with an easy-to-use HST transmission and mComfort seat.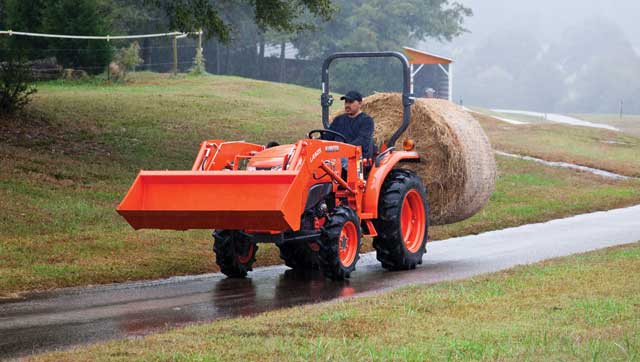 "The hydrostatic transmission is the closest system Mahindra has to an automobile automatic transmission and is perfect for a first-time user. Push on the forward pedal to go forward and on the back pedal to go backward," says Bozarth. "Our new mComfort seat has large molded cushions, a high back, water drain, armrests and a retractable seat belt to keep you comfortable and safe."
The eMax 20S can also accept an optional loader, backhoe or mower. Bozarth says the optional loader has a 680-lb lift capacity at the pivot pins and the bucket is a skid-steer quick-attach type, making it easy to quickly remove.
"The whole loader comes off with one person in about a minute," he says. "The backhoe has a 6-ft dig depth, and you spin the mComfort seat to the rear to use it, so you keep the same comfort while using the tractor or the backhoe. Lastly, the 54-in. mower deck is powered by the standard mid-PTO and is a drive-over type, making connection easy."
Keeping Up with Kioti
Learn More About the Company's CK10SE Series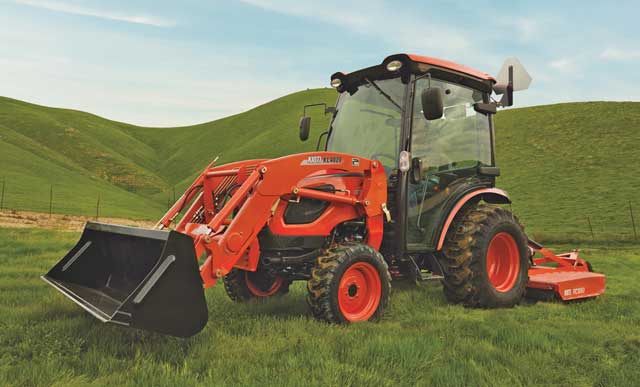 The Kioti CK10SE Series offers six premium models that range from 35 to 40 hp and feature a three-cylinder, in-line vertical, water-cooled Daedong diesel engine. With synchronized shuttle and hydrostatic (HST) ROPS models and hydrostatic cab model options, operators can find the ideal machine to fit their needs. The premium CK10SE tractor series contains many standard features such as telescopic lower link and stabilizers and dual remote hydraulic valves. HST models boast standard cruise control and a linked pedal for simplified tractor operation for a variety of utility and loader applications. Cab models featuring a factory-installed cabin with heat and air conditioning create a comfortable operating environment throughout the year. For more info, visit kioti.com.
---
Brandon Bozarth, Product Manager for Mahindra USA, Offers Advice for Operating a Compact Tractor
"Watch out for anything that could cause your tractor to become unstable," he says. "Some ways to do this are to avoid sharp turns and reduce speed in turns, avoid driving on steep embankments, near ditches or around holes, properly ballast the rear end of your tractor when using the loader, ensure the ROPS is fully up and lastly wear the seat belt while using your tractor. When you park your tractor for the day, lower all attachments or implements such as your loader or backhoe to the ground. When working on your tractor, make sure the engine is off, the parking brake is set and the wheels are chocked to keep the tractor from moving. Lastly, don't try to tackle tasks that are too big for the machine you have. Talk your needs over thoroughly with your local dealer to make sure you select the correct product for your needs."
Tags:
home
,
John Deere
,
Kioti
,
Kubota
,
Mahindra
,
Massey Ferguson
,
May 2019 Print Issue