Wacker Neuson launched a ton of new equipment at CONEXPO. Here are three that you might find most intriguing.
New all-wheel steer compact loader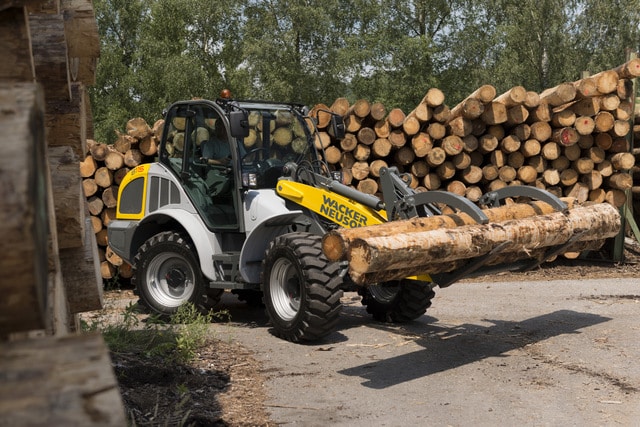 The newest all-wheel steer loader is the 8115L, offering the power and capacity for larger jobs, but has a compact design to access hard to reach areas. Wacker Neuson offers the broadest selection of all-wheel steer (AWS) compact wheel loaders in North America. The unique feature of the AWS wheel loader includes a rigid one-piece chassis that prevents shifts in the center of gravity even at full turn. This ensures unparalleled stability, even when working on uneven ground and maintains a constant payload. The AWS has a 40-degree steering angle on each axle that allows the high degree of maneuverability which helps to reduce transit and cycle times.
The new 8115L is powered by a class-leading, 100-horsepower Deutz turbo diesel engine that delivers maximum power to the lift arms, drive system and attachment. The standard hydraulic universal attachment plate provides versatility with the ability to use most skid steer attachments while the Faster block and 14-pin harness makes changing attachments quick and easy.
The 8115L is capable of loading high-sided trucks and bins with a hinge pin height of 12 feet, and with an industry leading 25 mph travel speed, transport time increases efficiency. In addition, the unit features three steering modes that are electronically synchronized that further enhance productivity. Changes in steering modes can be made while the machine is in motion allowing for smooth transition. The 4-wheel steering mode features a tight turning radius and is ideal for maneuvering in confined areas and job sites with obstructions. The 2-wheel mode operates like a car with only front wheels steering. This is excellent for applications where pushing is required and for faster forward travel times. In Crab-steer mode, both the front and rear wheels turn in the same direction allowing for lateral operation. This is ideal for areas where tight access such as against walls is needed.
New skid steers
OK, so we cheated here because this is more than one product. So sue us. Anyway, the company is releasing a new line of medium frame skid steer and compact track loaders that are the ideal fit for a variety of applications.
The new skid steers and compact track loaders are built for performance, versatility and convenience. Class-leading hinge pin height on the vertical loaders provide maximum loading and unloading capabilities. An engine torque of 221 foot-pounds provides the power needed for improved ground-engaging performance in all kinds of terrain. The Kohler diesel engine features a maintenance-free, regeneration-free aftertreatment system, eliminating the impact of extreme heat or of the need for filters.
Versatility comes standard with every Wacker Neuson loader. The universal skid steer attachment plate enables attachments to be switched out easily, accomplishing more in less time. Category-leading hydraulic horsepower is standard and high-flow enables these machines to handle high-performance attachments like rakes, movers, tillers and augers with ease. The 30-gallon fuel tank gives operators more time in the cab and less time refueling.
Wacker Neuson created a cab environment with operator comfort and convenience in mind. Access in and out is easy, there's no restrictive lap bar and controls are intuitively placed. Mechanical Hand-Foot and selectable Electric-Hydraulic options (ISO/H-Pattern) ensure operators with a variety of experience can efficiently operate these machines. Additionally, these machines offer the only one-piece pod style cab that fully tilts forward with the arms down, providing complete access to all maintenance components.
New light towers in a smaller package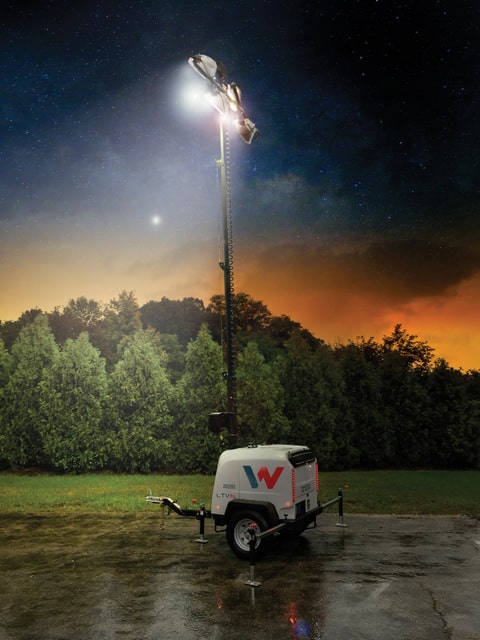 Wacker Neuson's new line of light towers offer big benefits in a smaller package. The LTV series features a compact-body design and vertical mast that allows for more units to be transported on a single trailer; 18 units will fit on a 48-foot flatbed truck. But don't let the size fool you. These light towers are designed for long hours of lighting and industry leading 750 hour service intervals. The LTVs provide plenty of light for general job sites, site prep, concrete pours, special events, parking lots and road/bridge work.
Designed for productivity, versatility and convenience, the LTV6 and LTV8 models can be set up quickly and run for more than 95 hours of lighting time due to the 45 gallon fuel tank. The adjustable vertical mast extends 23 feet and can rotate 360 degrees for optimum lighting flexibility. The ground level mast rotator provides for faster light positioning.
Three models are available. The LTV6 is offered with the choice of a 12.2 horsepower Kohler engine or a
13.1 horsepower Kubota engine. Both units are available with an industry-leading 6 kW Mecc Alte generator. The LTV8 is powered by a 15.4 horsepower Kubota engine and has a Mecc Alte 8 kW generator. Leading the way for more time on the job, service intervals for Wacker Neuson's light towers is extended to 750 hours, optimizing performance and lowering the total cost of ownership. When the machines are ready for service, it's fast and straightforward with easy access to all service components, including the ballasts that are located in the control box.
Telehandler lineup expands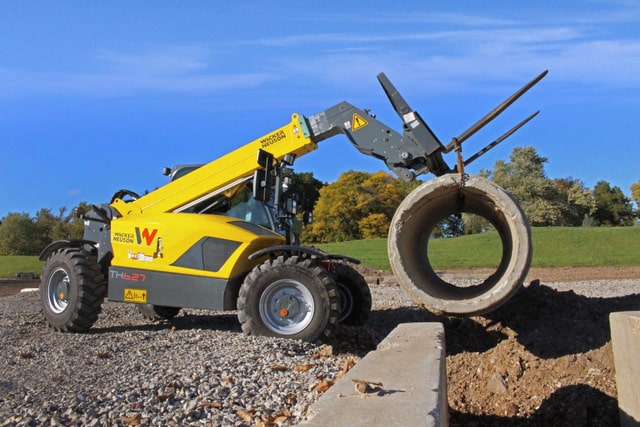 Wacker Neuson is expanding its telehandler line with the addition of the TH627. The TH627 is the second model in the manufacturer's line to offer a unique ground-engaging telehandler that is a versatile three-in-one machine concept. Designed with a hydraulic universal attachment plate (SSL), the TH627 can be used with ground-engaging attachments and work like a (1) wheel loader to dig and carry, (2) a skid steer with a compact foot print capable of using multiple attachments and (3) a telehandler with a lift height of 18-feet, 7-inches and 5,500 pounds lifting capacity.
The TH627 features a Load Management System (LMS) that maximizes performance and minimizes tipping situations by automatically adjusting the position of the load. The bucket mode, is used for loading and unloading materials with a bucket and operating in more open areas. When raising the load in bucket mode, the boom functions are controlled manually by the operator. When the boom is lowered, the LMS automatically retracts the telescopic arm to keep the load as close to the front axle as possible. In stacking/fork mode, when raising the load, the boom raises and telescopes at the same time, keeping the load on a vertical plane. The operator does not need to self-adjust the load in a tight situation. When lowering the load in stacking/fork mode, the LMS retracts and lowers the boom at the same time, to keep the load on a vertical plane.
Wacker Neuson's newest telehandler is powered by a Tier 4 Final, 74-hp Kohler engine with Diesel Oxidation Catalyst (DOC) aftertreatment with no diesel particulate filter, no regeneration and no maintenance. The TH627 offers industry-leading service and maintenance access, reducing downtime and significantly shortens daily maintenance checks.