Like its utility construction cousin ICUEE (the International Construction and Utility Equipment Exposition, which happened in early October), GIE+EXPO is an enormous machine trade show that calls Louisville, Ky., its home this fall (Oct. 21-23). Its castle is the Kentucky Exposition Center, which has a big enough outdoor area for global manufacturers to show off their next-generation of commercial equipment. But instead of utility machines, GIE+EXPO is focused on the landscape industry, hosting educational seminars, hobnobbing with green associations and exhibiting landscape equipment (maintenance machines like mowers, trimmers and outdoor power equipment, and design/build construction equipment like skid steers, mini excavators and compact tool carriers).
GIE+EXPO (the Green Industry and Equipment Expo) and Hardscape North America (HNA) will co-locate once again in 2015. GIE+EXPO is sponsored by the Outdoor Power Equipment Institute (OPEI), the National Association of Landscape Professionals (NALP) and the Professional Grounds Management Society (PGMS). HNA is produced by the Interlocking Concrete Pavement Institute (ICPI) and endorsed by the Brick Industry Association and National Concrete Masonry Association.
GIE+EXPO offers participants a long list of features and benefits together in one centrally located venue. More than 750 exhibitors will showcase their latest innovations in 700,000 sq ft indoors and out. The 19-acre Outdoor Demonstration Area will be open Thursday and Friday during the show. That's where you can operate equipment. A Dealer Day preview for dealers, distributors, retailers and media will be on Wednesday.
Just don't miss out on the three free concerts featuring chart-topping entertainers Grand Funk Railroad with From Paris on Wednesday, Kellie Pickler with The Crashers on Thursday and The Rigbys with Lyndsey Henken on Friday. For more info, go to gie-expo.com.
Caterpillar D Series Loaders
Four new D Series small-chassis models are the latest additions to the Cat skid steer loader (SSL) and compact track loader (CTL) ranges: SSL models 226D and 232D and CTL models 239D and 249D. These all incorporate the design innovations of larger D Series machines, including a sealed/pressurized cab, electro-hydraulic controls, redesigned lift arms, premium seat choices and optional Advanced Display (available with rear-view camera). All use an electronic Cat C2.2 engine that meets Tier 4 Final emissions standards. The D-Series cab (Cab One) is completely modular and self-sealing, leaving no part of the cab attached to the chassis when the cab is tilted. A redesigned HVAC system supplies 20 percent more airflow and an approximate 50-percent increase in heating and cooling rates. For more info, visit cat.com.
Case SV280 Skid Steer
Rated at 74 hp and weighing 8,090 lbs, Case says its vertical-lift SV280 Tier 4 Final skid steer delivers a best-in-class torque of 232 ft-lbs, a bucket breakout force of up to 8,680 lbs and standard (24.2 gpm) and high-flow auxiliary hydraulics (37.6 gpm) for power and attachment versatility. The Tier 4 Final solution featured on the machine is maintenance-free, with no costly DPF filters to maintain or replace, and incorporates a particulate matter catalyst and diesel oxidation catalyst to meet emissions standards. Case says the SV280 offers one of the widest cabs in the industry at nearly 3 ft and has 360-degree visibility. Also, the SV280 will be included in the limited availability of a three-year, 3,000-hour, complete factory warranty at no additional cost to buyers. For more info, visit casece.com.
JCB 3CX Compact Backhoe
JCB's brand-new 3CX Compact Backhoe is designed to deliver versatility and performance on more confined jobsites. Its 6-ft wide by 9-ft high footprint makes it 35 percent smaller than JCB's standard 3CX backhoe model. Developed from the ground up by JCB design engineers, the 3CX Compact is a result of extensive market research. Its intuitive control layout delivers utilization and productivity. Pod-mounted, ergonomically designed excavator pilot controls come standard, offering maximum comfort during operation. Powered by a JCB Diesel by Kohler 74-hp Tier 4 Final engine, the 3CX Compact needs no diesel particulate filter or aftertreatment, minimizing maintenance costs. For more info, visit GIE+EXPO booth No. 7822D or jcbna.com.
LHD Machinery Tracked Dumpers
LHD Machinery now sells three different series of skid steer dumpers (4000, 4500 and 8000), and each will transform the productivity of the end-user. Through the combination of a front-end loader, skid steer and concrete buggy, the LHD machines allow one user to load, haul and dump bulk material without the use of a shovel. With simple intuitive controls, strong engine, tough treads, large capacity bucket and compact design, these machines will allow its end-user to navigate in confined spaces and get jobs done faster. All LHD machines have durable construction and are virtually maintenance free, but are lightweight enough for a single axle trailer. For more info, visit lhdmachinery.com.
Toro Side-By-Side UTVs

Toro Co. recently launched a new line of side-by-side utility vehicles (UTVs) designed to tackle tough jobs and demanding terrain. This includes two gas-powered electronic fuel injection (EFI) models — the 500 EFI and 700 EFI — that support more than 40 different accessories for year-round project needs. These four-wheel-drive vehicles offer hard-working hauling and towing capabilities, as well as seating for three. They can also be customized with a wide range of accessories, including windshields, cabs, plow blades, light kits, winches, a stereo and more. Toro and its family of brands have built a legacy of excellence by helping customers care for golf courses, landscapes, sports fields, public green spaces, commercial and residential properties and agricultural fields. For more info, visit toro.com.
RockHound FX36 Defender Forestry Mulcher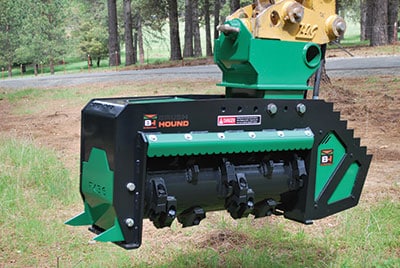 The FX36 Defender Forestry Mulcher by RockHound and BrushHound is the latest in the Defender line of mulchers. Engineered to work efficiently with mid-sized excavators, it is the perfect tool for property maintenance, to clear a right-of-way, open up a view or to create a defensible space in areas where wildfires are a threat. Equipped with Quadco knives, the FX36 is capable of handling tough tasks, including material up to 8 in. in diameter. Valley Tool created its RockHound Attachments as an equipment company focused on contractor and forestry equipment. RockHound's innovative EX Series of excavator brush mowers has also been a gem in the compact attachments industry. For more info, visit booth No. 254 or rockhound.com.
Kioti CK2510 HST Tractor
Featuring a Daedong eco-friendly Tier 4 diesel engine, Hi/Low speed ranges and a 24.5-hp engine, the Kioti CK2510 HST provides a friendly option for operators looking at the low-maintenance Kioti CK10 tractor series. Along with a quiet, low vibration experience that is trademark of the CK10 Series, Kioti says its CK2510 HST engine meets the requirements for Tier 4 compliance while improving fuel efficiency and increasing output. Outfitted with standard four-wheel drive, single-lever joystick, foldable ROPS and an adjustable three-point hitch, the Kioti CK2510 HST delivers rear PTO speeds of 540 rpm, as well as a 1,203-lb lift capacity. For more info, visit kioti.com.
Steiner SB648 Professional Snow Blower
Steiner, a manufacturer of heavy-duty articulating tractors and attachments, has added an all-new, dual-stage snow blower to the company's winter attachment lineup. Together with the Steiner 440 tractor, the 48-in. SB648 Professional Snow Blower is designed to blast through winter's toughest snow conditions. Constructed of cast iron and heavy-gauge steel, the snow blower is equipped with an 18-in. four-blade impeller, a sawtooth auger and 243-degree chute rotation, resulting in snow clearing performance. The Professional Snow Blower's 48-in. wide clearing path moves snow up to 27 in. deep, making it ideal for use on large residential driveways, parking lots, walkways and other thoroughfares. For more info, visit steinerturf.com.
Loftness Snow Blower Attachments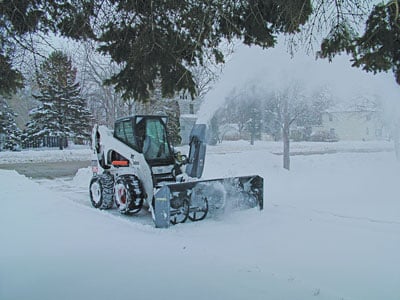 Loftness' line of snow blowers accommodates many makes and models of skid steers and tractors. Each unit is built with heavy-duty construction for maximum reliability and high performance, says the company. Skid steer snow blowers are offered for a wide variety of flow rates, starting as low as 15 gpm. Seven models are available in 72- to 84-in. widths. They come with a universal coupler, a single motor design and an electric spout rotator. A total of 11 rear-mount, PTO-driven tractor models are also offered with one-, two- or three-auger configurations. Available in 60- to 108-in. widths, they accommodate tractors with 540- or 1,000-rpm PTO drives and 16- to 200-PTO hp. The units feature two-stage designs for highly efficient operation. For more info, visit loftness.com.
Honda Power Equipment Snow Blowers
Honda Power Equipment, a division of American Honda Motor Co., based in Alpharetta, Ga., and its operating unit, Honda Engines, will have a dynamic presence at GIE+EXPO 2015. At the Honda company trailer on display in the outdoor exhibit area, the Honda Power Equipment team looks forward to discussing the new HSS snow blowers. The new HSS724, HSS928 and HSS1332 two-stage models deliver performance and enhanced control and handling for both residential and commercial users. Ten all-new U.S. HSS snow blower models, each equipped with enhancements, are replacing the existing HS Series snow blower model counterparts. For more info, visit Honda's indoor booth (No. 3118) and outdoor display area (No. 6040D) or powerequipment.honda.com.
SnowEx Pro Spreader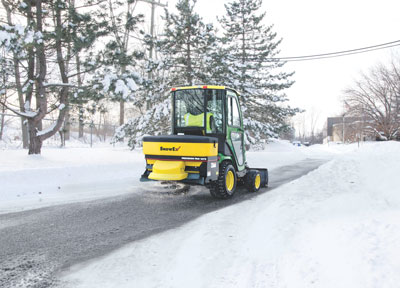 SnowEx offers its new SP-1675 Precision Pro spreader. Featuring the ability to accurately spread any bulk or bagged ice melting material from 4 to 12 ft wide, the unit is designed to accommodate varying sidewalk widths, which cannot be easily treated with drop spreaders. The SP-1675 Precision Pro has a 6-cu-ft capacity. A volumetric vane feed system provides consistent material flow to the spinner, while eliminating the need for a gate, since no material can leak out when the spreader is turned off. To ensure even material distribution, the spinner is located in the center of the unit, and the feed rate and spread width are independently adjustable for maximum material control. For more info, visit snowexproducts.com.
HammerHead Sidewalker Piercing Tools

Installing short utility runs beneath landscapes, driveways and sidewalks can be done even more efficiently — and faster — with newly redesigned Sidewalker earth-piercing tools by HammerHead Trenchless Equipment. Both 2 ½- and 3-in. Sidewalker models received upgrades, which include the patented HammerHead quarter-turn Power Port Reverse feature and patented Debris Free Tailcone. The 3-in. Sidewalker now has a uniform profile along its entire length, increasing striker size and boosting impact power. The HammerHead Sidewalker has been relied on for decades by contractors to install 15- to 20-ft underground runs of gas, water, cable, irrigation, fiber and electrical lines in tight urban environments. For more info, visit hammerheadtrenchless.com.
Ultimate Tool Carriers
Ditch Witch SK752 Mini Skid Steer
To help landscapers and renters stay comfortable and productive on any jobsite, the Ditch Witch SK752 mini skid steer features an improved operator station with customer-driven control placement and ground clearance for better visibility. The machine's design leverages construction-grade components, delivering long-lasting performance on tough jobsites. The SK752 features an efficient, low-maintenance Kubota diesel engine, providing power to the attachment for a wide range of utility, landscaping, plumbing and other underground construction tasks. For more productive loading, the SK752 features an 860-lb rated operating capacity and an 83-in. hinge-pin height. For more info, visit ditchwitch.com.
Vermeer S725TX Mini Skid Steer
The new Vermeer S725TX mini skid steer can accommodate a wide range of attachments enabling landscape contractors to handle an array of projects, from irrigation systems and hardscape projects to tree care removal and fiber-optic installations — making the S725TX a versatile machine for any landscape business. The S725TX has a 750-lb SAE-rated operating capacity with a 2,145-lb tipping capacity. A 24.8-hp (18.2-kW) Kubota Tier 4 Final engine features four cylinders producing more torque than models with three-cylinder engines for improved productivity in tough ground conditions. For more info, visit vermeer.com.
Subsite Electronics UtiliGuard Utility Locating System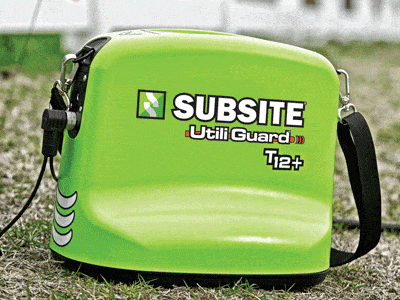 The Subsite Electronics UtiliGuard utility locating system includes industry-first features to meet workers' needs for faster, more accurate locates of underground utilities. The system's AIM automatically scans the surrounding area for noise and recommends the best frequency among its 70 options. Subsite says its UtiliGuard is the first locating system that measures distances (depth) both horizontally and vertically to the utility. To ease use, the system has an six-button, multi-language operator interface and a high-contrast LCD display to ensure visibility in all conditions, including direct sunlight. A dual-output feature allows users to connect the transmitter to two utilities at once and the system is Bluetooth-enabled to simplify data transfers. For more info, visit ditchwitch.com/utility-locators.
For more coverage of GIE+EXPO, click this link!!! What are you waiting for? 
Tags:
Case
,
Caterpillar
,
Ditch Witch
,
GIE+EXPO
,
Hammerhead
,
home
,
Honda
,
ICUEE
,
JCB
,
Kioti
,
LHD Machinery
,
Loftness
,
October 2015 Print Issue
,
Rockhound
,
SnowEx
,
Steiner
,
Subsite
,
Toro
,
Vermeer