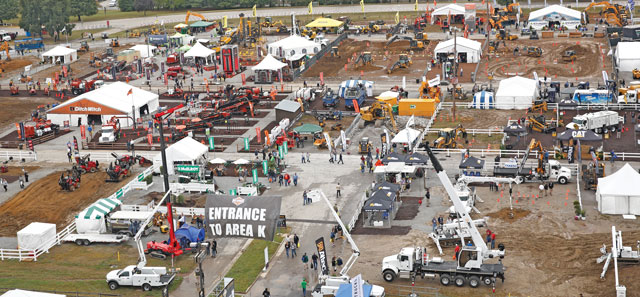 ICUEE is dubbed the Demo Expo. Why, you ask? Well because the Kentucky Exposition Center in Louisville, Ky., is maybe the best convention center in the United States for operators to actually get into machinery and operate units. If you're looking to get hands-on with utility construction equipment and services, the International Construction and Utility Equipment Exposition (ICUEE) is set for October 3-5. This show only happens every two years, so don't miss out on your chance to attend.
Plus, let us insert this self-serving plug: Compact Equipment's publishing house, Benjamin Media Inc., is the platinum media supporter and sponsor of the show's Demo Stage. The indoor ICUEE Demo Stage expands the show's popular outdoor equipment demonstration component. More than 20 fast-paced, 20-minute exhibitor presentations will feature product innovations and best practices in action. The CE crew will also be canvasing the indoor show floor and outdoor demo area with live coverage.
It will definitely be the biggest show yet. Strong exhibitor support has pushed ICUEE to a record size with 28 acres of the latest utility and construction equipment, products and technologies for attendees to explore — from more than 900 exhibitors (20-plus percent new to the show). Wow, right? ICUEE 2017 will feature specialized exhibit pavilions for fleet management, safety and green utilities, China and Korean exhibit pavilions and the Lift Safety Zone from the National Commission for the Certification of Crane Operators (NCCCO).
"ICUEE comes around only once every two years, and record exhibit space translates to more product innovations on the show floor, so don't miss out," said show director Tricia Mallett. "We've got plenty of transportation to get attendees around all the lots, a streamlined layout and plenty of rest areas."
The event focuses on the business and professional needs of utilities and utility contractors in the electric, telecommunications/cable, natural gas, water and wastewater sectors. More than 75 expert-led sessions at ICUEE 2017 will help utility and construction industry professionals from novice to veteran enhance their safety knowledge, increase efficiencies and reduce downtime on the job. Attendees at ICUEE 2017 will be able to see industry best practices illustrated first hand with equipment on the show floor during new "field classroom" education sessions. These walk-around sessions will use the show floor instead of PowerPoint presentations to provide an overview on topics geared for those new to the industry.
Of course, one of the coolest ICUEE accoutrements is the benefit auction with the Call of Duty Endowment. Read our preview on page 22. The ICUEE 2017 benefit auction will take place Oct. 5 (Thursday) from noon to 2 p.m. at the ICUEE Demo Stage on the show floor. Online bidding will be open to all prior to Oct. 5. Check the show website for the latest details. All proceeds will go to the endowment, which notes that every $619 raised helps a veteran obtain a good job. For more info on all these interesting ICUEE programs, visit icuee.com.
Caterpillar 304.5E2 XTC Mini Hydraulic Excavator
The Cat 304.5E2 XTC mini hydraulic excavator is the first model in the Xtra Tool Carrier (XTC) lineup. Built on the reliable E2 platform, the 304.5E2 XTC offers the same level of quality, performance and operator comfort expected from a Cat mini hydraulic excavator. In addition, the machine has an innovative skid steer coupler interface for added versatility and work tool integration. This manual coupler allows for the use of compact loader tools including: general purpose bucket, multi-purpose bucket, forks, dozer blade, brooms, power box rakes and trenchers. Coupler operation is controlled through a flick of the XTC switch on the right-hand console in the operator station. For more info, visit cat.com or ICUEE booth K135.
John Deere 30G
John Deere continues to upgrade its G-Series excavator lineup with the introduction of the 30G compact excavator, ideal for customers looking for a solution in the 3- to 4-metric-ton class. This new model offers numerous performance features, such as increased lift capacity and improved breakout forces. The 30G incorporates all current G-Series features — including the standard pattern changer and standard hand-controlled proportional auxiliary hydraulics — as well as the reliability and durability customers expect from John Deere. A redesigned cab with heat and air conditioning and a seat with adjustable wrist rests provides ultimate operator comfort in any climate. For more info, visit johndeere.com or ICUEE booth K245.
Volvo Construction Equipment
Volvo is pushing boundaries with solutions for utility and construction at ICUEE 2017. The company will have eight operable machines in the booth — including four new models making their North American debut: the EC27D compact excavator, L20H compact wheel loader and a D-series skid steer loader and compact track loader. Learn about ActiveCare Direct, the 24/7/365 telematics monitoring and reporting service offered directly from Volvo, and enjoy some fun and games with an excavator simulator and virtual reality experience. For more info, visit volvoce.com or ICUEE booth K335.
Case C Series Mini Excavators
Case Construction Equipment offers six new mini excavators: the CX17C, CX26C, CX33C, CX37C, CX57C and CX60C. This new offering expands the Case mini excavator lineup to its broadest range of sizes ever and provides a more comprehensive and feature-driven compact excavator solution to the construction, utility and landscaping markets. The CX57C and CX60C offer best-in-class horsepower and provide greater power and performance than any previous Case mini excavators. Each new model features a variety of standard features designed to improve productivity and performance. The new machines feature a zero tail swing, short-radius or conventional design. For more info, visit casece.com or ICUEE booth K277.
Hyundai R35Z-9A Excavator
The R35Z-9A zero tail swing excavator from Hyundai Construction Equipment Americas is one of seven Tier 4 Final-compliant Series 9A compact excavator models. The Hyundai R35Z-9A excavator is powered by a Yanmar engine delivering 23.7 hp. Its maximum digging depth is 10 ft, 3 in., and its maximum reach at ground level is 17 ft, 1 in. Bucket breakout force is 6,900 lbf. In its standard configuration with a canopy, the R35Z-9A has an operating weight of 7,800 lbs. When specified with an optional cab, the machine's operating weight is 8,470 lbs. Standard bucket capacity is .14 yd3. For more info, visit hceamericas.com or ICUEE booth K345.
JCB Teleskid Loaders
JCB offers the world's only skid steer and compact track loader with a telescopic boom. The revolutionary JCB Teleskid has a forward reach of 8 ft — 60 percent better than the nearest competitor — and a lift height of 13 ft — 8 percent higher than the competition. In another industry first, the Teleskid can also dig 3 ft below grade. The Teleskid is the only skid steer to combine vertical lift — for greater lift capacity and lift height — and radial lift — for improved excavating and grading — in a single machine. Teleskid offers unmatched versatility. Load high-sided trucks without a ramp. Unload both sides of an 8-ft trailer. Lift and place over silt fences and barriers. For more info, visit jcb.com/teleskid or ICUEE booth K175.
ASV RT-75 Compact Track Loader
ASV Holdings Inc. will feature the large-frame, radial-lift Posi-Track RT-75 compact track loader at ICUEE. The RT-75 includes ASV's patented Posi-Track rubber track suspension, featuring both suspended wheels and axles for maximum traction in the roughest conditions. The machine comes standard with 18-in.-wide tracks, resulting in a ground pressure of only 3.6 psi. In addition, the unit features nearly 15 in. of ground clearance and a 1,500- to 2,000-hour track life. The RT-75 features a 75-hp Cummins 2.8-liter turbocharged diesel engine that produces 221 lbf of torque. The machine includes a rated operating capacity of 2,650 lbs. For more info, visit asvi.com or ICUEE booth 1341.
Ditch Witch Mini Skid Steers and Utility Tractors
The Ditch Witch organization will showcase a variety of new underground construction equipment and technology to help operators remain productive and profitable on a variety of jobsites. ICUEE attendees can experience the RT125 utility tractor, showcasing the model's new cab option. The full updated line of Ditch Witch mini skid steers will be showcased at ICUEE, offering attendees the opportunity to see a variety of models to match unique jobsites. From small, compact units to the largest model in the company's lineup, the family of Ditch Witch mini skid steers provide performance and productivity for today's diverse landscape and utility jobsites. For more info, visit ditchwitch.com or ICUEE booth K155.
Toro Horizontal Directional Drills
Toro will showcase its entire family of underground products at the 2017 ICUEE show. In addition to featuring the full lineup of horizontal directional drills (HDD), trenchers, compaction products, vibratory plows and Toro Dingo compact utility loaders, the company will also showcase the brand-new TDOS-1 with SmartTouch drill operating system which streamlines pipe handling operations for improved HDD cycle times. TDOS-1 with SmartTouch also provides a more visually appealing and intuitive interface for accessing drill functions and information on the drill display. Features include the ability to select single- or dual-joystick mode on the fly. For more info, visit toro.com/dealer or ICUEE booth K150.
Yanmar Wheel Loaders
Yanmar America's Construction Equipment Division recently added three new, larger wheel loaders. Yanmar added the V8 (61 hp, 1.05-1.57 yd3 bucket), the V10 (74 hp, 1.31-2.03 yd3 bucket) and the V12 (1.57-2.35 yd3 bucket) to its product offering. The loaders feature parallel kinematics, a choice of quick-couplers, a rear non-rigid axle, automatic self-locking differentials on both axles, multifunction joysticks and fingertip controls to provide excellent operability, maneuverability, productivity and precise control. The engines are Tier 4 Final and offer lower displacement and fuel consumption with more torque and power. For more info, visit yanmar.com/us/ or ICUEE booth 1906.
Miller EnPak A28GBW All-in-One Truck Solution
The EnPak A28GBW from Miller delivers 28 cfm of compressed air for jobsite tools, a 5,500-W generator for electrical needs, battery charging and crank assist, plus versatile stick welding capabilities for field repairs. Service technicians can turn their trucks off and use the EnPak A28 to get virtually any job done in the field, saving on costly fuel and maintenance expenses associated with running a Tier 4-compliant truck engine. The remote panel with simple, straightforward controls eliminates the need for technicians to climb into the truck bed to start and operate the unit, saving time and reducing risk of injury. For more info, visit millerwelds.com/enpaka28 or ICUEE booth 2706.
Doosan Portable Power P185 Air Compressor
The utility mount P185WDOU from Doosan Portable Power offers a free-air delivery of 185 cfm and rated operating pressure of 100 psi to meet a variety of applications, including powering handheld air tools, sandblasting, cable laying, pipeline testing and paint striping. The above deck portability provides towing capacity for larger machinery. The utility mount P185 air compressor was designed with the operator in mind by offering easy access to all major service points, leaving more time for the job at hand while spending less time spent on maintenance. The model is equipped with full-sized locking end doors that make for faster inspections of fluid levels and filters. For more info, visit doosanportablepower.com or ICUEE booth K385.
Camso Mini Ex Track and Skid Steer Tires
Knowing that productivity and profitability are all about choosing the right tire or track for any application, Camso will be displaying some of its best performing products for construction and utility applications. Camso's newly launched mini excavator track, featuring unique stepped tread pattern and patented curbshield technology, will make its first appearance at the show. Track products for compact track loaders and over-the-tire tracks for skid steers will also be on display. Last but not least, visitors will have the chance to learn more about the Camso SKS 753, SKS 793S and SKS 732, all part of the toughest range of skid steer tires in the industry. For more info, visit camso.com or ICUEE booth 4763.
Hatz Three-Cylinder 3H50 Diesels
Through an innovative downsizing approach, Hatz made its new three-cylinder 3H50 engines the lightest and most compact in their class. With a maximum output of 62 hp, these liquid-cooled engines have great power-to-weight ratio. They also feature Bosch common rail technology and the new Intelligent Hatz Advanced Combustion Strategy (iHACS) for power and fuel economy. And they meet every U.S. and overseas emission regulation, including future EU Stage V, without losing power. The new Hatz 3H50 is just one more example of how Hatz is creating power solutions. For more info, visit hatzusa.com or ICUEE booth 4833.
---
Get Attached: Vacuworx and Loftness Offer Awesome Implements at ICUEE
Vacuworx AMC Series Vacuum Lifting Systems
With a lighter weight, smaller size and brand-new attachment options, the Vacuworx AMC Series Vacuum Lifting Systems offer versatility and functionality to contractors who handle trench plates, various types of pipe, concrete slabs and other materials. AMC Series lifters can load and unload materials while maintaining a compact overall footprint and their lightweight, self-contained design is hydraulically powered to eliminate fuel costs, emissions and noise, making them the perfect solution for work in urban areas. The AMC 6 has a lift capacity of 13,200 lbs and comes standard with a pin adapter to mount on an excavator. For more info, visit vacuworx.com or ICUEE booth K185.
Loftness Battle Ax Mulching Attachment
Loftness has introduced the Battle Ax mulching attachment for 7- to 15-ton excavators to its VMLogix line of products. Featuring a new rotor, exclusive two-stage cutting chamber and direct-drive variable displacement piston motor, the heavy-duty Battle Ax is designed for highly efficient vegetation management, including right-of-way maintenance, land clearing, forestry applications and more. The Battle Ax is available with 41-, 51- and 61-in. cutting widths. Its 17-in.-diameter rotor features built-in depth gauges, which function similarly to raker teeth on chain saws to prevent the attachment from engaging too much material at one time. For more info, visit loftness.com or ICUEE booth N2217.
Tags:
ASV Holdings Inc.
,
Call of Duty Endowment
,
Camso
,
Case Construction Equipment
,
Caterpillar
,
Ditch Witch
,
Doosan Portable Power
,
Hatz
,
home
,
Hyundai Construction Equipment
,
ICUEE
,
ICUEE 2017
,
JCB
,
John Deere
,
Loftness
,
Miller
,
NCCCO
,
September 2017 Print Issue
,
Toro
,
Vacuworx
,
Volvo Construction Equipment
,
Yanmar America