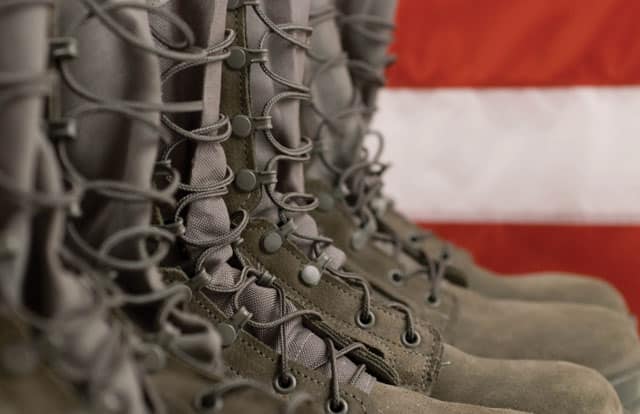 The construction industry and job creation go hand in hand, and this year the International Construction and Utility Equipment Exposition (ICUEE) is furthering that connection in an even deeper, more meaningful way with a Benefit Auction on Oct. 5 from noon to 2:00 p.m. on the ICUEE Demo Stage, presented by Benjamin Media Inc. ICUEE will be held at the Kentucky Exposition Center in Louisville. All proceeds raised during the auction will once again be donated to The Call of Duty Endowment, which raises money for organizations that place returning veterans in high-quality jobs — like construction — and raise awareness of the value that veterans bring to the workplace.
"We are very pleased to welcome back The Call of Duty Endowment as our charitable partner. Unemployment among post-9/11 veterans is 2.6 times greater than the national average, so the work of the endowment is more critical than ever," said Tricia Mallett, ICUEE show director.
ICUEE and The Call of Duty Endowment first teamed up in 2015 for the show's Benefit Auction. The event was met with generosity and enthusiasm, raising more than $29,000 (which is around 47 job placements). This year's ICUEE Benefit Auction will include products and prizes from Altec Industries, Forbest Products Co., the Louisville Convention and Visitors Bureau, Terex and other ICUEE 2017 exhibitors, as well as vacations and other goodies. The auction has no minimums and no reserves (all items will be sold). Online bidding will be open to all prior to the October 5 auction. The event is presented with the support of Benjamin Media and J.J. Kane Auctioneers.
The Call Of Duty Endowment
In 2009, ActivisionBlizzard CEO Bobby Kotick was chatting with former Veterans Affairs Secretary Jim Nicholson. During the conversation, Kotick mentioned that a philanthropic foundation was planning to build a performing arts center on the grounds of the VA facility in West Los Angeles that would offer special benefits to veterans. Nicholson's response was, "That's stupid. Our real priorities are finding jobs for veterans and improving their healthcare. I think if we could redirect people's energies and efforts for job creation that would be a better use of capital and better for veterans."
That's when The Call of Duty Endowment was born. With the mission of placing veterans into high-quality careers, the endowment has distributed millions of dollars to non-profits that have used these funds to place more than 37,000 veterans into jobs. The endowment has increased its goal to placing 50,000 veterans by 2019.
Sending grant money to the best non-profits in this space is the endowment's core philosophy. The endowment's Seal of Distinction process assesses the effectiveness and efficiency of grantees' placement efforts, benchmarking them against best-in-breed non-profits and also examining their financial strength, ensuring reasonable expenditures, performing background checks on their key leadership and making certain their strategy is aligned with placing veterans into high-quality careers.
"We work with Seal winners to find the best way to maximize their impact through funding, PR, networking, etc.," said Dan Goldenberg, executive director of the endowment. "Grantees sign up to performance targets, and we work with them to ensure goals are met on a quarterly basis. Organizations that do not meet their commitments do not receive subsequent funding."
More than 80 percent of grantees do hit or exceed their targets. Some of the top organizations that receive endowment funding include:
• Operation: Job Ready Veterans
• Hire Heroes USA
• Corporate America Supports You (CASY)
• Veterans Inc.
• AMVETS
• Easter Seals of DC, MD and VA's Veteran Staffing Network
• Still Serving Veterans
• U.S. VETS
• Salvation Army HAVEN
• JVS
If you're heading to ICUEE, be sure to check out the auction and bid to support such as great cause. "The construction industry has an incredible opportunity to join together to help transform the lives of veterans in our communities," said Sandra Mason, public relations director for AEM. "I want to challenge you to help change the veteran unemployment statistic and get our nation's veterans back to work. The endowment has doubled down on its mission and set a new goal of placing 50,000 veterans in jobs by 2019. Together, we can give back to the people who have sacrificed so much for each of us. Let's show our military men and women how much our industry appreciates their service and help The Call of Duty Endowment reach their goal."
Chris Crowell is a contributing editor to Compact Equipment.
---
Cool Tools : Check Out Hilti's Innovative Solutions for Utility Contractors at ICUEE
Hilti's expanded cordless portfolio of solutions and services just got a major upgrade with the introduction of the new Hilti 22 V CPC Li-ion Batteries — the first and only backwards compatible battery technology in the industry. Hilti is also introducing several new 22 V tools that harness the performance, reliability, productivity and efficiency of these new batteries, including the Cordless Hammer Drill/Driver SF 6H-A22 ATC, Cordless Impact Driver SID 4-A22, Cordless Drill/Driver SF 10W-A22 ATC and Radio Charger RC 4/36. Using Hilti's 22 V batteries, these new tools and existing 18 V tools will deliver more work per charge — up to 20 percent more. For more info, visit hilti.com or ICUEE outdoor booth N1013 or indoor booth 1806.
Tags:
Call of Duty Endowment
,
Hilti
,
home
,
ICUEE
,
International Construction and Utility Equipment Exposition
,
September 2017 Print Issue
,
Veterans