The quality of concrete can be significantly improved by vibration. The savings achieved and the improved quality of concrete are now so well established that vibration is an accepted jobsite practice. Concrete pours are typically never the same from job to job. Some pours may be 40-by-2-ft columns while some may be 100-ft long walls that are 20 ft tall and a foot thick. Some jobs may have a high reinforcing steel density that won't allow for internal consolidation. There are several different options for contractors to choose from to successfully pour and properly consolidate these structures with good results. Below is a chart highlighting some recommendations for these structures.
Internal vibrators are the most common for concrete consolidation of thick slabs, walls and columns. Because of their design, size, weight, maneuverability and price, they are a very practical means of vibration. Head sizes can range from 1 in. to over 3 in. One-in. heads are used for grouting concrete block and narrow walls typically 10 in. or less. Typically for slab consolidation you want to use a short head sized as large as possible to get the maximum consolidation diameter. This diameter varies with the vibrator size and concrete slump, so it won't be consistent unless the concrete slump is. This process can be measured by the operator for maximum efficiency when inserting the head into the concrete, judging the proper overlap for effective consolidation.
High frequency internal vibrators also called high cycle vibrators are commonly used on larger commercial projects and DOT jobs. They are unique in that they convert single phase (1~) energy into three phase (3~) for more consistent power while immersed in the concrete.
Internal gas vibrators offer versatility when electricity is unavailable or cords are a hazard on a jobsite. They work well for shorter walls, thick slab consolidation with reinforcing, vibrating around dowels at construction joints and curb and gutter piece work.
External vibrators are ideal for any vertical and some precast applications but can be a great tool for walls that require heavy reinforcing and odd inserts that can't possibly be consolidated internally. These tools also reduce poor handling techniques of internal vibrators and operator error.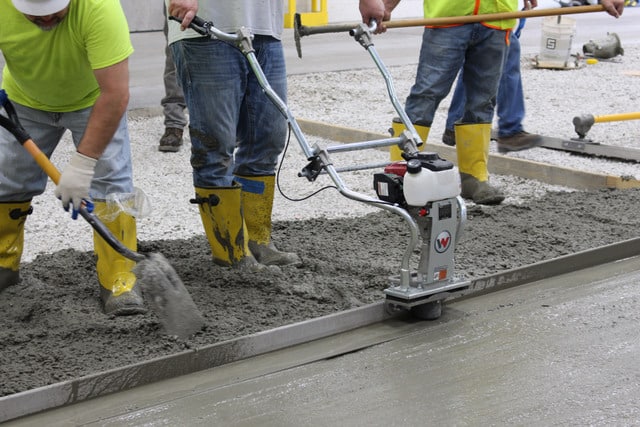 Vibratory screeds are useful for screeding slabs and consolidating the surface at the same time. They can be used on exterior slab work like patios and driveways and also on interior commercial slabs. They are lightweight and allow the operator to remain in an upright position when screeding the concrete.
Choosing the right vibrator type for the application depends on several different factors:
Type of pour: wall, floor, column, curb and gutter, etc.
Height of the wall or structure
Width of the wall or structure
Electrical availability on the jobsite
Electrical source distance
Amount of reinforcing steel
Job specifications
Concrete slump
Concrete mix design
The process of consolidation is when the vibrator is immersed in the concrete, and the amplitude (circular motion) of the vibrator converts stiff concrete into a fluid, flowable mass. There is a noticeable movement of the concrete under the influence of the vibration, however it must be remembered that movement of concrete is not the primary objective, removing air is. The concrete should be placed as near as possible to the final position and not moved along the forms with the vibrator. This will avoid segregation of the concrete mix.
Once the concrete is in place and a fairly level surface has been attained, a systematic pattern of vibrator insertion and removal needs to be done to rid the mix of the remaining entrapped air. The entire area of placement must be consolidated. Under-vibration (withdrawing too fast) coupled with hit and miss vibrator placement is very common and does not get the job done properly. It is very important that the operator sees to it that all the concrete is vibrated, that form corners are reached and overlapping is done if necessary. The distance between insertions should be about one and one half times the head's effective consolidation radius or radius of influence. The vibrator's area of influence is determined by observing the air bubbles breaking the surface surrounding the head.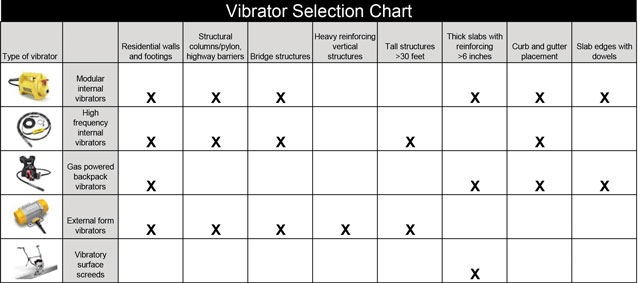 Proper vibrator handling entails quickly submerging the vibrator into the fresh lift, then withdrawing it at that rate of 1 in. per second (never more than 2 in. per second). This is because air bubbles naturally rise at the same rate in normal concrete. The hole must close completely behind the vibrator after total withdrawal. If not, the mix is too stiff or the vibrator frequency is incorrect. The vibrator has done its job when a thin film of glistening "cream" appears on the surface of the concrete, cement paste rises where the concrete meets the forms and large air bubbles are no longer surfacing.
Luke Sevcik is a product application and training specialist with Wacker Neuson Corp. He is a ACI-certified flatwork finisher and ACI 309 consolidation committee member.