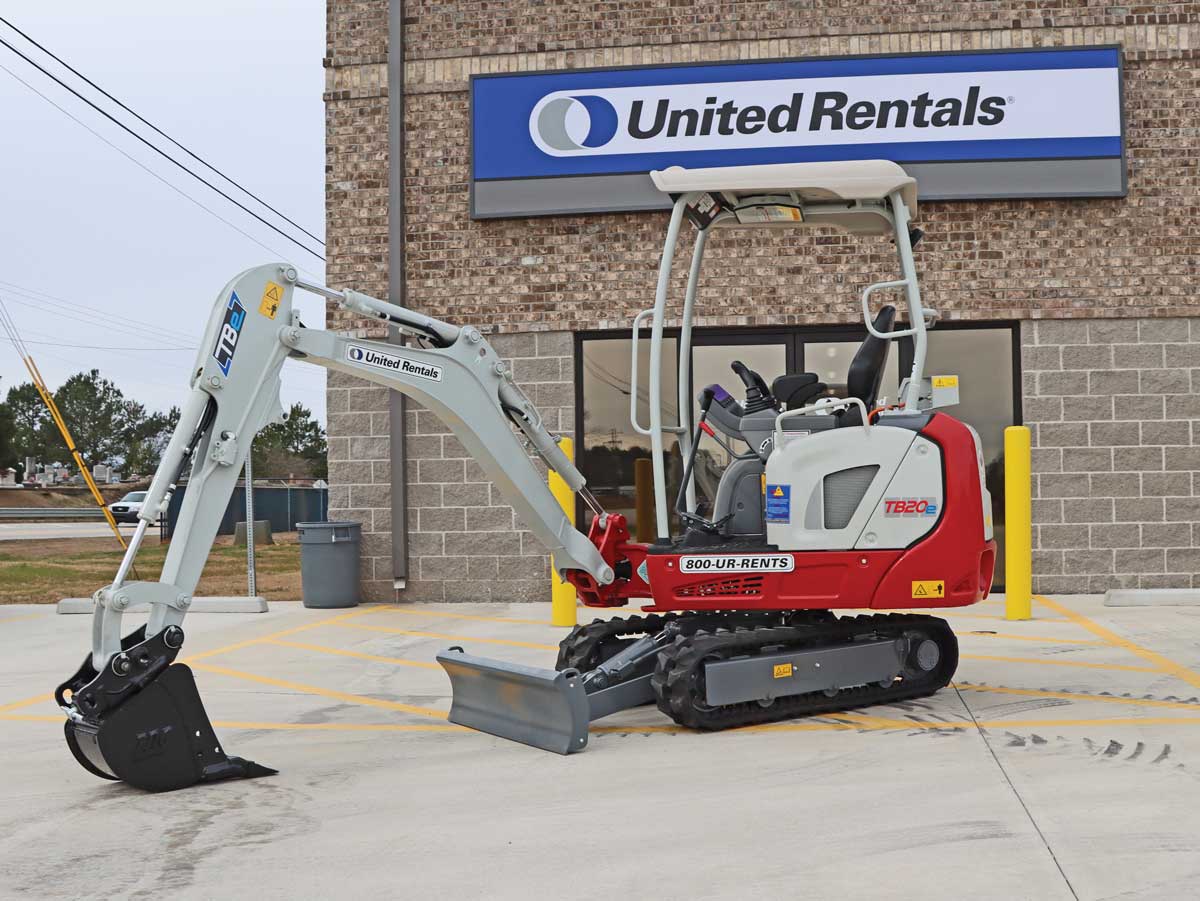 Jobsites are populated by more electric equipment than ever before, driven largely by increased demand for a smaller carbon footprint and sustainability goals. Electric equipment is generally quieter than diesel-powered machines and offers the benefit of zero emissions. These characteristics nominate electric machines for urban and indoor applications, nighttime work, food, school, hospital and agricultural settings, high-dust environments where sparking is a concern and jobsites with environmental requirements. Lower vibration improves the operator's experience, while lower noise levels increase safety by permitting workers to communicate more easily.
As with most new technology, costs for electric-powered machines are initially higher than their diesel-powered counterparts. Thus, Brent Coffey, director of product line management for Sunbelt Rentals, says he believes "rental will be the channel that drives most of the adoption of electric equipment into the market." Sunbelt's relationships with multiple OEMs and extensive territory help it introduce a variety of electric equipment to the construction industry.
"Rental as an opportunity is key because a rental house can get higher utilization out of a machine relative to a typical contractor," says Justin Odegaard, acceleration manager for Doosan Bobcat North America.
Renters/Rental Houses Are Familiar with Electric MEWPs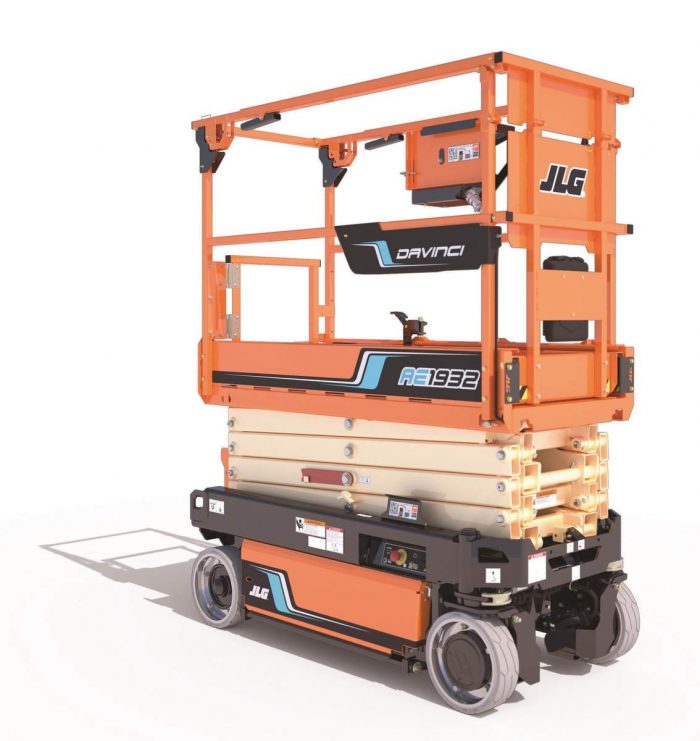 Electric mobile elevating work platforms (MEWPs) have been available from rental houses for quite a while — from scissors to boom lifts. "That's helped familiarize some contractors with the concept of using an electric machine," says Lars Arnold, electromobility product manager for Volvo Construction Equipment.
"What we've gleaned from the MEWP rental side of the business is that while electric equipment is not new to us, it is new to the market by way of an excavator or skid steer," Coffey observes.
David Caldwell, national product manager with Takeuchi, thinks contractors who have worked with MEWPs are likely to be more comfortable with other types of new electric equipment. "Once they experience electric equipment for themselves, see the benefits and understand its requirements, they'll be able to make an informed decision about what type of machine is the best match for their needs and applications."
MEWPs, track loaders and excavators aren't the only electric equipment found in rental houses. Odegaard points out that electric hand-held tools have been gaining popularity, thanks to lithium-ion batteries with a flatter voltage drop-off curve than early batteries. These batteries provide closer to 100 percent maximum power until they're nearly dead, he says, as opposed to older battery technology that had a much steeper ramp-down. "It used to be that a power drop was very apparent if a battery-powered drill was used for 10 minutes or 30 minutes, but that isn't the case with lithium-ion technology."
I hate to be the bearer of bad news, but sometimes you can't have it all… unless you rent. From finding the right dealer to scoring the perfect rental machine, we have you covered!
What Is the Cost Difference when Renting Battery- vs. Diesel-Powered Construction Equipment?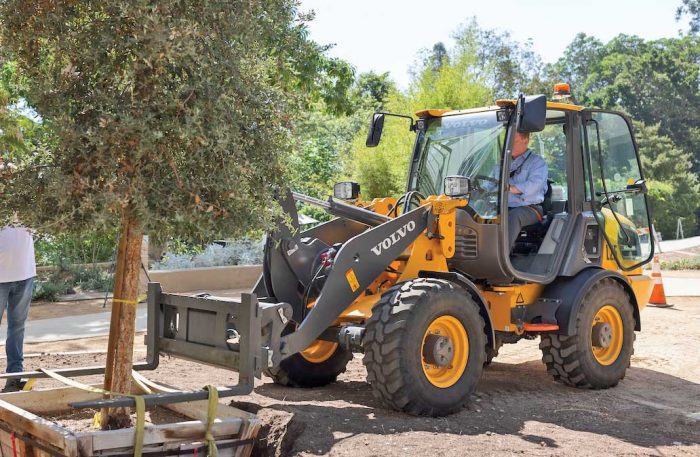 Improving technology is one factor driving the acceptance of electric equipment, but all too often, it comes down to money. Odegaard says customers are beginning to recognize the lower overall cost of ownership of electric machines.
Rental prices are often higher for electric versus gas or diesel equipment, Coffey says, because the purchase price is higher. However, that cost is typically offset by not having to pay as much for fuel, although the amount of savings depends on fuel prices. Nevertheless, he says in most cases, the rental rate plus the cost of energy to charge electric equipment is less than renting and fueling a traditional machine.
Fuel savings vary greatly depending on the application and machine load, how long the machine is used and in what conditions. Tougher applications put a much higher load on the machine, which increases fuel consumption. Operating a machine in muddy, rough or otherwise difficult conditions will also increase fuel consumption.
Fuel savings comprise only one part of the operational cost savings. Lower maintenance costs contribute to cost of ownership. Volvo conservatively estimates 35 percent savings in maintenance costs and time over the life of their electric machines. Most rental houses pass along those savings.
Coffey calculates 50 percent fewer parts in electric machines compared with traditional equipment. "That means less downtime and more productivity for our customers — as well as a cleaner environment."
"Certainly, the new electric models like our TB20e compact excavator have very low maintenance requirements," Caldwell points out. He says the TB20e's battery and electric motor are "virtually maintenance-free," with no engine oil, engine oil filter, fuel filter, fuel water separator, coolant or air cleaner to replenish. Thus, the costs associated with those items are eliminated.
Substituting an electric for a diesel engine eliminates a lot of routine maintenance items, such as engine oil, filters (air and oil) and cooling systems, Odegaard emphasizes. "Bobcat T7X takes this one step further by eliminating hydraulics [and] more maintenance items such as replacement fluids and filters." In addition, he says, because electric-powered machines have fewer components, there's less potential for component failure, resulting in a reduction in repair costs.
Taking fuel and maintenance into consideration, Odegaard says operating costs for electric equipment is approximately 50 percent less — or "up to 90 percent in case of the all-electric Bobcat T7X loader."
Battery-Powered Compact Equipment that Is New to the Market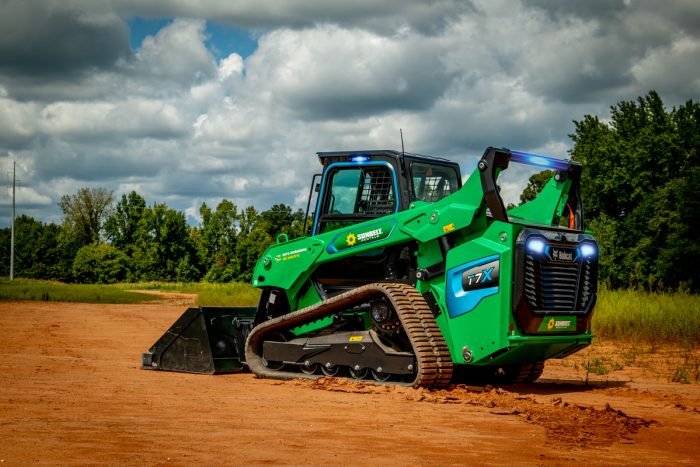 Bobcat's new T7X compact track loader is the first fully electric machine of its kind — no hydraulic systems, components or emissions, limited vibrations and lower daily operating costs. Fully battery-powered, it's designed to be productive, with electric actuators and motors that use only one quart of eco-friendly coolant, as compared with 57 gal of fluid in diesel-equivalent models. In addition, its lithium-ion battery and intelligent power management system support daily operations and automatically back off power when not needed.
Sunbelt Rentals has an exclusive agreement to co-brand and offer Bobcat T7X all-electric compact track loaders and Bobcat's electric compact excavators to its customers. Coffey says Sunbelt also features new battery-powered tracked dumpsters and excavators from JCB, electric walk-behind skid steers from Toro, as well as energy storage solutions to charge them.
Takeuchi introduced its first electric machine, the TB20e compact excavator, in August 2021. "It's our first designed-and-built, battery-powered machine in our expanding line of compact excavators," Caldwell confirms.
When fully charged, the TB20e offers a continuous working time from four to eight hours, depending on the application and environment. The excavator has a max digging depth of 7 ft, 10.1 in. and max reach of 13 ft, 5 in., as well as a spacious and comfortable operator's station. Caldwell says the environmentally friendly TB20e is a sustainable choice that doesn't sacrifice power or performance.
United Rentals recently purchased some of these Takeuchi mini excavator units, as well as JCB electric dumpsters, notes Grant Zoldowsk, director of environmental management for United Rentals. Volvo has also been a big player in this small market too.
"There are very few fully electric earthmoving machines on the market right now," Volvo's Arnold surmises. He adds that Volvo has "the industry's largest lineup, with five electric compact machines available, and we are working on more, including a mid-sized crawler excavator." Volvo's first two models — the ECR25 Electric compact excavator and L25 Electric compact wheel loader — arrived in North America this summer.
While some OEMs are designing all-new electric machines, Odegaard says most are replacing the engine, mechanically driven hydraulic pump and associated components of diesel machines with a battery pack and an electric motor. "The rest of the system is still hydraulic/hydrostatic, so it operates very similarly and is maintained similarly." He expects to see an increasing number of manufacturers and model lines in this space.
For example, all of Volvo's compact models will have electric variants by 2040, according to Arnold, who says that production of new diesel models will end, although they will continue supporting those still in use since machines can work for 20 to 30 years.
What Is the Rental Potential for Electric Construction Equipment?
With environmental restrictions being added to project specs, contractors have to become familiar with zero-emissions machines in order to win bids, Arnold comments. Some customers are already asking for electric equipment, Zoldowski notes. Renting provides an opportunity for contractors to try out new machines without commitment.
Carrying electric equipment allows rental companies and their customers to be good stewards of the environment and practice sustainability. "We have a responsibility to do what we can to reduce the emissions of our own fleet, as well as support our customers who are trying to do the same," Coffey reflects. He adds that Sunbelt truly believes in electric equipment's ability to improve productivity and safety, along with the "significant benefit" of zero emissions.
As Caldwell states, electric equipment can provide performance on par with their diesel equivalents. "They can provide the same working ranges and operate a wide range of hydraulically driven attachments."
Tips for Renting Electric Construction Equipment
Caldwell remains confident that the rental market will lead the industry in integrating electric equipment into their fleets, particularly as he believes electric machines retain their resale value. He also urges rental companies to inform their customers how to charge the equipment. "Renters who are more accustomed to diesel-powered equipment may need additional reminders to charge equipment at certain points of the day, during breaks and overnight."
To assist their customers with charging electric equipment, Coffey says Sunbelt Rentals has "invested heavily in the operational support products of electrified equipment, such as chargers and portable energy storage."
While both Arnold and Odegaard insist that electric machines perform as well as or better than diesel machines, the Doosan manager acknowledges that electric equipment isn't the best fit for every job. "Talk with the rental company about your needs," he advises, adding, "Don't let it scare you. There is far less to go wrong with electric equipment than there is with diesel or hydraulic equipment."
Cold Weather Challenges for Battery-Powered Compact Equipment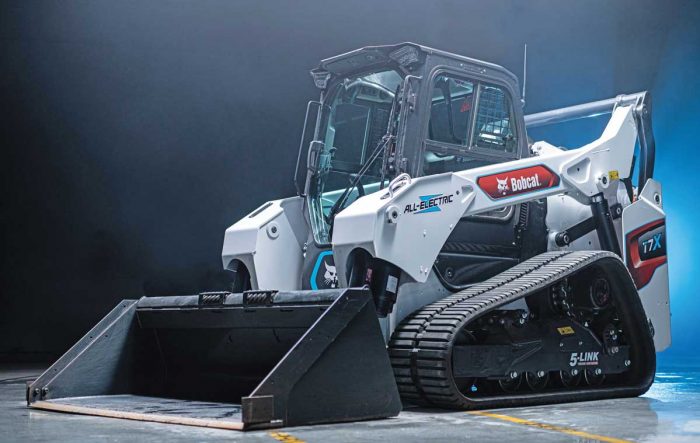 Another challenge electric equipment faces is cold weather. Batteries can be sensitive to temperature. While Grant Zoldowski, director of environmental management for United Rentals, says customers may experience less operation time in cold temperatures, Coffey says Sunbelt Rentals has tested its electric equipment in extreme cold and found consistent performance. "These machines feature technology that keeps the batteries warm, so customers will have no issues with charging, either."
Nevertheless, Caldwell says Takeuchi recommends following OEM-proscribed warmup procedures in cold climates to allow the hydraulic oil to warm up for optimal performance. Lithium-ion batteries lose less power than a 12-volt lead-acid car battery, Arnold states, pointing out that even gas- and diesel-powered equipment has a harder time in severe cold.
Wanna know all about aerial lifts? You're in luck! Click here for a whole lotta articles on these high-reaching machines.
"Lithium-ion batteries will lose some of their capacity in single-digit temps," Odegaard interjects, "but will gain that back as the system is used." However, he warns, if the battery core temperature is allowed to fall too far below zero, it won't function.
"Ambient temperature is not a good indication, as it may take several days of sub-zero temperatures to lower the battery core temperature to a level where it will no longer function." A minor draw on the battery will keep its temperature up, Odegaard continues. "If a machine fires up in extreme cold weather, it will continue to function."
A benefit of using electric equipment in cold weather is that heat from an electric source is instant, as opposed to a system that requires engine coolant for heat, which can take 20 minutes or more to heat up a cab.
Lori Lovely is a freelance writer for Compact Equipment.
When You Rent, How Do You Charge Electric Equipment?
Charging electric equipment is a challenge, United Rentals' Zoldowski admits. "Ideally, renters will have utility service at the jobsite." If there's no service, a generator can be used, but that offsets the emissions and noise benefits of electric machinery.
"Most jobsites are not so remote that power connections aren't available," Odegaard observes. Charging can be as simple as plugging in. In fact, the electric equipment Sunbelt Rentals offers is chargeable off normal power, Coffey says. "Certain equipment, like the Bobcat T7X, can also use an EV charger at any recharging station." Sunbelt also offers rapid off-board charging solutions that require a larger power source, such as 480 volts. These have the advantage of charging equipment from 0 to 100 percent in 90 minutes.
Takeuchi's TB20e compact excavator can be charged using a 110- or 220-volt onboard charger or an off-board charger that requires 400 to 480 volts. Caldwell says the onboard charger is easier for renters and doesn't require extra equipment. To achieve optimal charging time on Volvo machines, Arnold recommends a 240-volt, 32-amp Level 2 AC-charging setup that utilizes an SAEJ1772 charging adapter or J plug. As complicated as it sounds, he explains that it's the same setup recommended for electric vehicles. A regular 120-volt outlet will work but will take longer.
Off-grid solutions being introduced include large battery packs that transfer power to other battery packs. To offset the high cost, these may be charged at a power source during off-peak times for cost savings, Odegaard advises. Solar-powered battery packs are another option. Early adopters have had success with a solar fast charger, Arnold reports. This is an off-grid, no-connection, freestanding solar charger with battery pack.
"There is also a DC rapid charger," he notes, but it needs to be wired into a 480-volt, three-phase power grid.
Many of the latest lithium-ion battery-powered machines can run for four to eight hours on a charge and can be fully charged in four to 10 hours, depending on the power source. "Some can even work while tethered," Caldwell indicates.
"Most of these machines can perform on one charge all day during a typical application, like utility work," Arnold says. In harsh environments, they may require a quick charge over the lunchbreak. "Charging requires a bit of a mindset shift," Arnold summarizes. He advises rental companies to discuss options with their customers.
Tags:
Bobcat
,
Doosan Bobcat North America
,
November December 2022 Print Issue
,
Rental
,
Sunbelt Rentals
,
Takeuchi
,
United Rentals
,
Volvo Construction Equipment