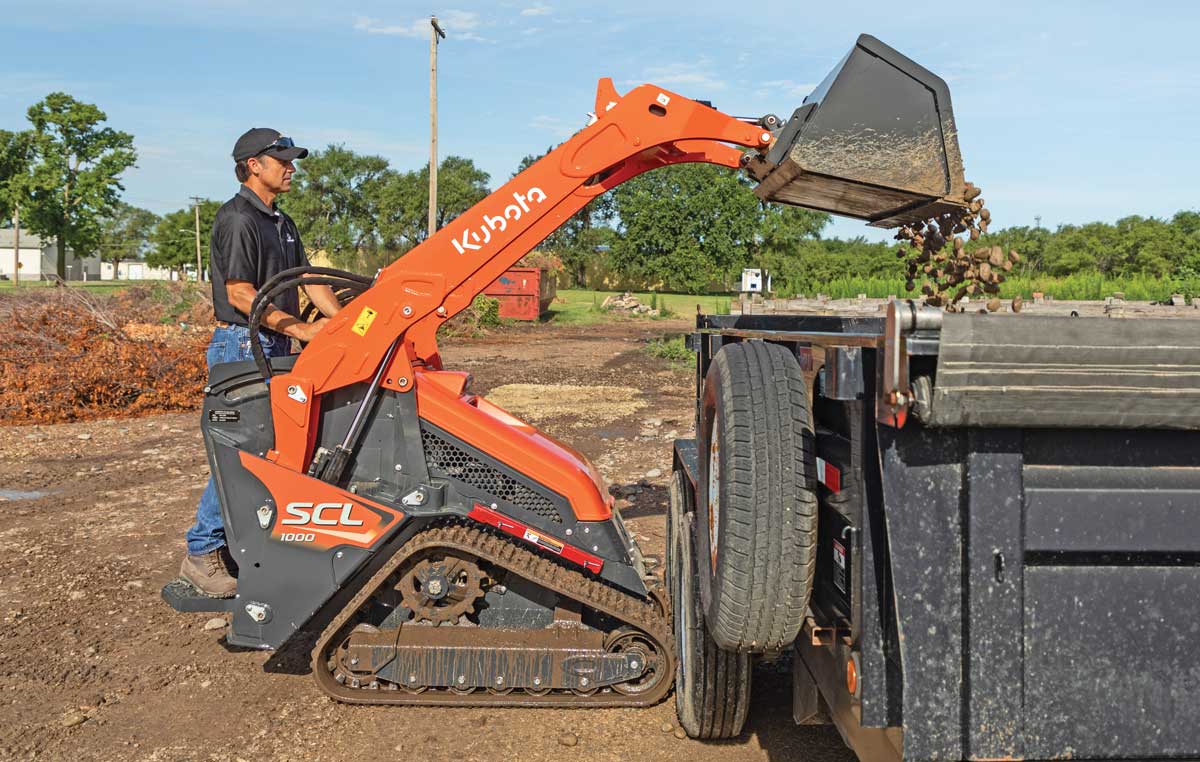 The Famed Equipment Maker Enters the Market with the New SCL1000
Kubota officially announced its entry into the stand-on compact loader (SCL) market in March of 2020. The new stand-on track loader is well positioned with wide tracks, a narrow body and a rated operating capacity (ROC) of 1,000 lbs to meet the demands of landscape contractors and rental yards alike. The introduction further diversifies Kubota's construction offerings and signals continued commitment and innovation within the compact equipment market.
The new SCL1000 features a wide 9.8-in. track that comes standard on the overall narrow, 36-in. machine. The integrated track design is engineered for durability with the undercarriage welded to the mainframe of the body. The grease track tension design includes sealed oil bath rollers for less maintenance and greater durability. The wide track design, with a rating of 4 psi, is low impact and minimizes damage to grass and landscaping.
Kubota's SCL1000 boasts a powerful 24.8-hp turbocharged Kubota diesel engine with quiet operation, high altitude performance and has no diesel particulate filter requirement. A hydraulic pump directly connected to the engine reduces maintenance. The loader arms reach high and far with a hinge pin height of 84.7 in. and a reach of 25.9 in. at a 45-degree dump angle. The SCL1000 has a best-in-class travel speed of 4.9 mph.
Kubota's SCL1000 is engineered with cushioned loader boom cylinders and an adjustable platform suspension system that increases operator comfort for maximum productivity. The loader comes standard with a keyless start with passcode protection, 12-volt charging port and a 4.3-in. LCD color dash monitor that provides easy-to-read consolidated machine monitoring.
Kubota also announced a new line of attachments now available for its SCL1000 stand-on track loader. The line includes compact buckets, pallet forks, a power rake, a trencher and a skid auger.
There are six compact buckets available for the new SCL1000, including both standard and high capacity options. Standard capacity buckets include the CL136L, CL142L, CL236L and the CL242L, which are either standard 36- or 42-in. bucket options and available with bare edge, bolt-on edge or bolt-on teeth. High capacity buckets include the CL148H and CL248H, both of which offer 48-in. bucket options with bare edge, bolt-on edge or bolt-on teeth.
The CPF12 pallet fork comes in 36-in. and 42-in. fork length options and helps contractors and material handlers in a variety of industries efficiently move loads from trailers, flatbeds or racking systems. The pallet fork boasts a 1,200-lb capacity, Category II hitch and spill guard.
The CTR compact trencher is available in three sizes with 30-, 36- and 48-in. trenching depths, and ranges in chain widths from 4 to 10 in. A compact mount for breakers is also available and is performance-matched for the BR360 and BR460 breakers for optimum efficiency. This unit is ideal for demolition of concrete and rock and as a rental tool where optimum power is required.
The SCL1000 and attachments are available at Kubota authorized dealers now.
Advice to Buyers
"Understanding your organization's needs is a critical part of a machine purchase," says Blane Burroughs, product marketing specialist, Kubota Construction Equipment. "Some customers utilize stand-on compact loaders to replace a wheelbarrow and shovel, while others are heavily dependent on the machine's hydraulic capabilities in order to power skid rakes, concrete breakers or trenchers. No matter what side of the spectrum you are on, comparing machine features and specs is always a good place to start."
Tags:
July August 2021 print issue
,
Spec Guide
,
Spec Guide 2021