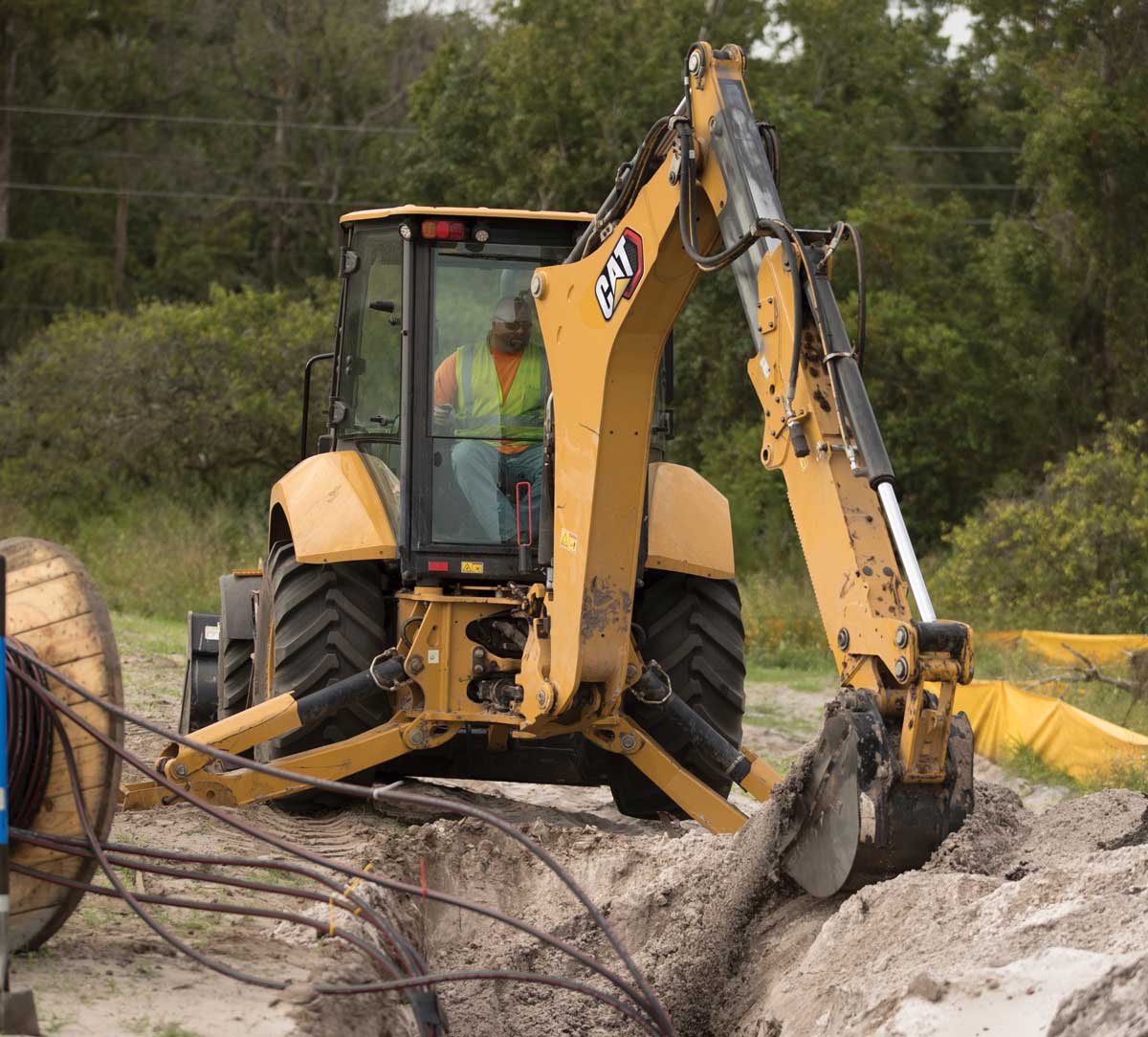 The backhoe loader is an iconic category of off-highway construction equipment — especially when considering versatility — being able to both dig and load with one unit (two classic construction tasks). Multiple companies worked on its inception. In 1947, Vaino Holopainen and Roy Handy, Jr. developed the first backhoe swing frame for Wain-Roy Corp., which would be mounted to Ford tractors. In 1952, JCB launched its first integrated backhoe loader in the United Kingdom with the MK 1 excavator. Four years later, J.I. Case would introduce the first backhoe loader with a factory warranty in the United States. Since then, the backhoe has become one of the most recognizable pieces of construction equipment in the world, but recent years have witnessed a slowing of sales as new machine categories have emerged. Luckily, there are still strong markets for the backhoe loader combo. Let's take a closer look at what's trending.
Evolution of the Market
"Fifteen years ago, the market was bigger," confirms Ethan Clowes, product manager at JCB, which claims the title as the biggest maker of backhoe loaders in the world. That said, he believes the market has stabilized over the past five years, and that sales have possibly even increased in the last two.
"It's not new," Ryan Anderson, product marketing manager at New Holland, says of the sales slump. "[Backhoes] have seen low sales for 10 to 15 years." For instance, he elaborates, sales averaged 20,000 a few years ago, but today, it's closer to 9,000 to 10,000 per year. He thinks backhoe sales were hurt by advancements in other products, such as the compact track loader and compact excavator. "You can get one of each for the cost of a backhoe, and they are more versatile." Anderson explains that the smaller equipment has the advantage of size to maneuver around tighter jobsites. With auxiliary power and more attachments all the time, compact equipment sales have eclipsed backhoes in recent years. "But," he adds, "you can't take a mini down the road at 3 mph."
"The industry is not what it used to be," Anderson continues, "but I don't think it will dip much further than where it's at now." He believes backhoes still have a place in the market. "They're versatile, too. They work as a loader, excavator, snow removal … and there's no trailer needed."
Features Drive Price Increases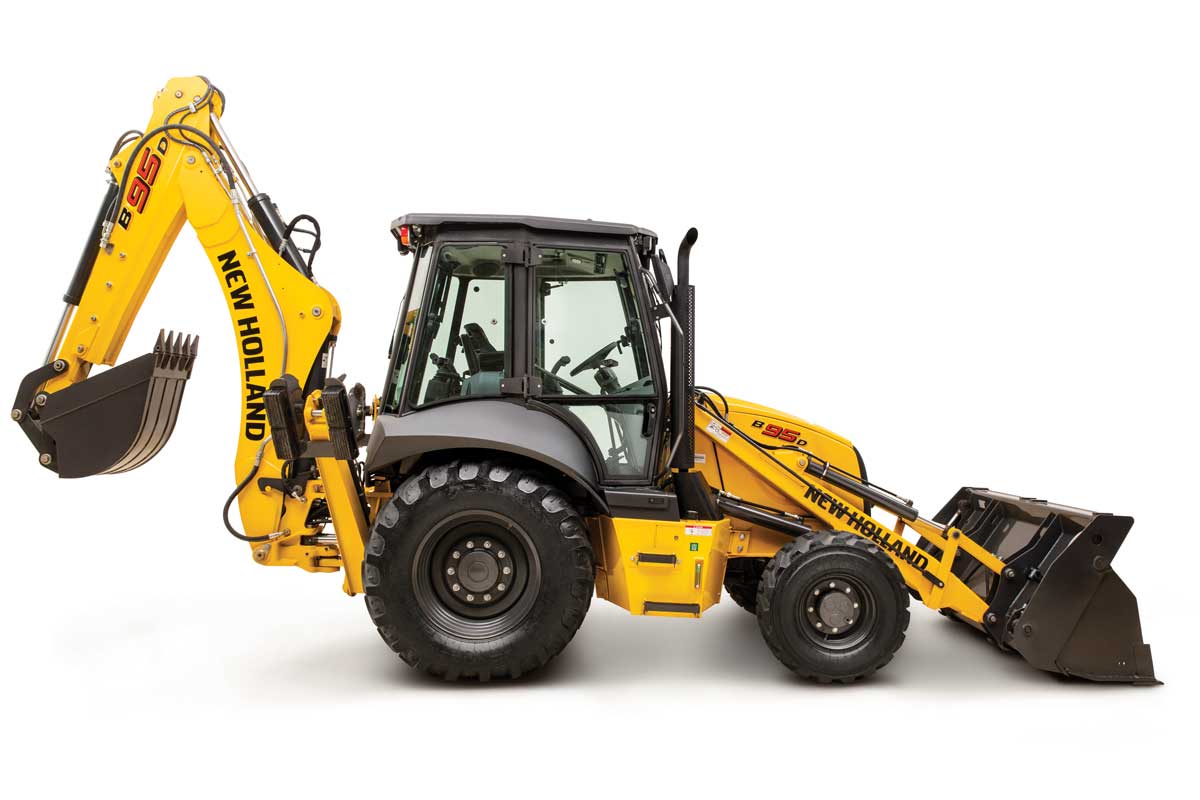 Despite flagging sales, backhoe prices are up, Anderson reports. A 2021 Market Trends Report by Ritchie Bros. supports his assertion, citing a 15 percent increase in price, even in older, used backhoes sold in the United States. Anderson attributes the cost increase to feature enhancements, such as improved ergonomics, with the control layout within the operator's field of vision, rising material costs, more glass for increased visibility and improved technology that enables operators to be "more productive, less destructive."
Automation and attachments will range from ride control and bucket kickouts to breakers and snow buckets. Anderson says 70 percent of New Holland's customers prefer hydraulic-over-hydraulic design for feel and precision, while 30 percent like the "heritage" mechanical control with two "wobble sticks." Units may even offer a pattern switcher, going from traditional to excavator pattern when digging with the backhoe.
Brands will have unique technologies too. JCB offers Automate, a suite of eight automated features that help reduce operator fatigue, including auto boom lock, auto stabilizers and auto smooth ride system (auto SRS) for use at pre-set speeds. To further ease operations and boost operator comfort, Clowes says JCB offers auto check to monitor fluids and an auto pre-heat option.
We'd love to keep in touch! Check us out on Facebook, Twitter and LinkedIn!
In the Caterpillar backhoe loader world, a new seat-mounted control setup is what they talk about most, according to David Young, product application specialist. "Instead of two control systems, you have a single pair of joysticks mounted to the seat that travel with the operator as they turn front to back or vice versa."
The technology behind this control provides a dual mode feature, which allows the operator to manipulate or control the implement they are not facing. For example, Young explains, when facing the hoe, the operator can use the feature to change the RH joystick to become the loader control, allowing the operator to reposition more efficiently while running the hoe. In the same way, operators can face forward and use the feature to control all functions of the hoe. Lastly, Young adds, "the feature allows you to dig with the hoe anywhere in the wing arc of the seat, so, at any point between being latched forward or rearward, you can use both implements."
Who are Backhoe Customers?
Whether you consider backhoe sales slowed, stalled or stabilized, who exactly is buying them? According to David Young, product application specialist for Caterpillar, the top segments are municipalities and governments, followed by utility contractors and general construction. New Holland's biggest base of buyers includes the government for snow removal and material handling and ag. "We have two other customers," says Ryan Anderson, NH product marketing manager. "Contractors and cemeteries." He goes on to add small municipalities and farmers but says they're looking to "drive forward into true construction: utility and storm drain work." General construction is already JCB's No. 1 customer, according to Ethan Clowes, product manager, although they also serve municipalities and their 1CXT model is popular with hobby farms and ranches.
Economy, Electric and Hydrogen Models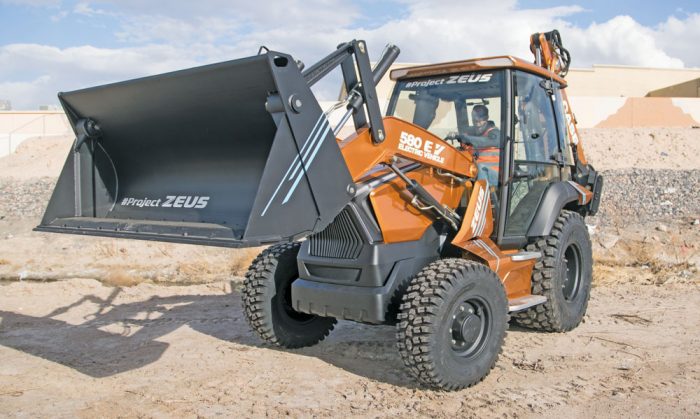 Big manufacturers continue to release new models with both high and low tech. New Holland added a model in 2022 — the B75D — providing lower horsepower and fewer features in a less souped-up version for less cost. Although it's the company's smallest, this economy class backhoe loader still offers an impressive 18-ft digging depth. "It is mechanically controlled with fewer features to help keep the cost of the machine down," Anderson details. While New Holland's D-Series recently benefited from cab enhancements, Anderson says a series upgrade is coming in the next 15 months, with power boost, power lift and more.
Cat offers three side-shift models in North America: the 428, 432 and 434. Big in Europe (sales still slow in America), side shift allows the backhoe boom to shift side to side without repositioning the machine. "Going forward, I expect we will see further advancements for backhoe loader products in the marketplace," Young predicts. Areas of development he foresees include more electro-hydraulic functionality and alternative power.
Mini excavators are making big waves on jobsites all over North America. Click here for the latest news on these machines and the companies that make them.
Some manufacturers are already looking at alt propulsion. The Case 580 EV is the industry's first fully electric backhoe. JCB has invested £137.8 million in zero-emission hydrogen engines that are now in a prototype backhoe and telescopic handler in Europe. These efficient and affordable high-tech hydrogen motors are the industry's first and are expected to help to drive down CO2 emissions.
"Beyond our own commitment to looking after the planet, major legislation and ESG commitments require manufacturers to look at how we can achieve air quality objectives with technology that is practical for equipment with high power demands," said Clowes. When it comes to alternative energy choices, he says it "depends on infrastructure." Despite passage of the $1 billion Infrastructure Investment and Jobs Act, infrastructure to support electric vehicles is lagging in the United States. And, although JCB does offer "the biggest range of 27 electric machines," he says "batteries are not a practical solution for all machines due to battery weight and charging times."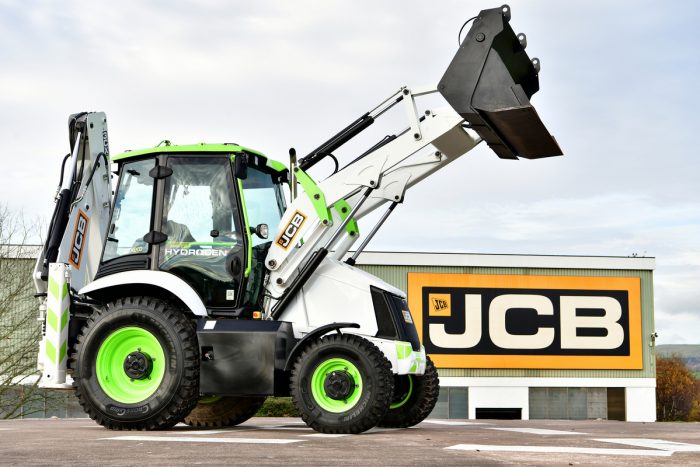 JCB chairman Lord Bamford puts it more bluntly, explaining that they're investing in hydrogen because "it's naturally abundant, cost-effective and can be integrated into all forms of powertrain, while electric is ideal for equipment within a specified power band."
Conversely, Anderson says that CNH Industrial is working on development and validation of its electric backhoe. "It will be the next big foundation-shaking development." Areas of focus include run time, power delivery, servicing of equipment, solid-state-style batteries — depending on the availability of lithium — and cost, both initial and charging.
While the 14-ft size class remains the most dominant in the industry due to its versatility, the JCB 1CXT is fast becoming a rival. This compact machine offers the versatility and maneuverability often associated with a compact track loader. Because of its size and low weight, it can trailer and tow easily, in many cases without a CDL. But, Clowes says, in the Northeast, the 4CX is appreciated for its power, four-wheel steering, smaller turning radius (even though it's not articulated) and more pushing power.
Expert Advice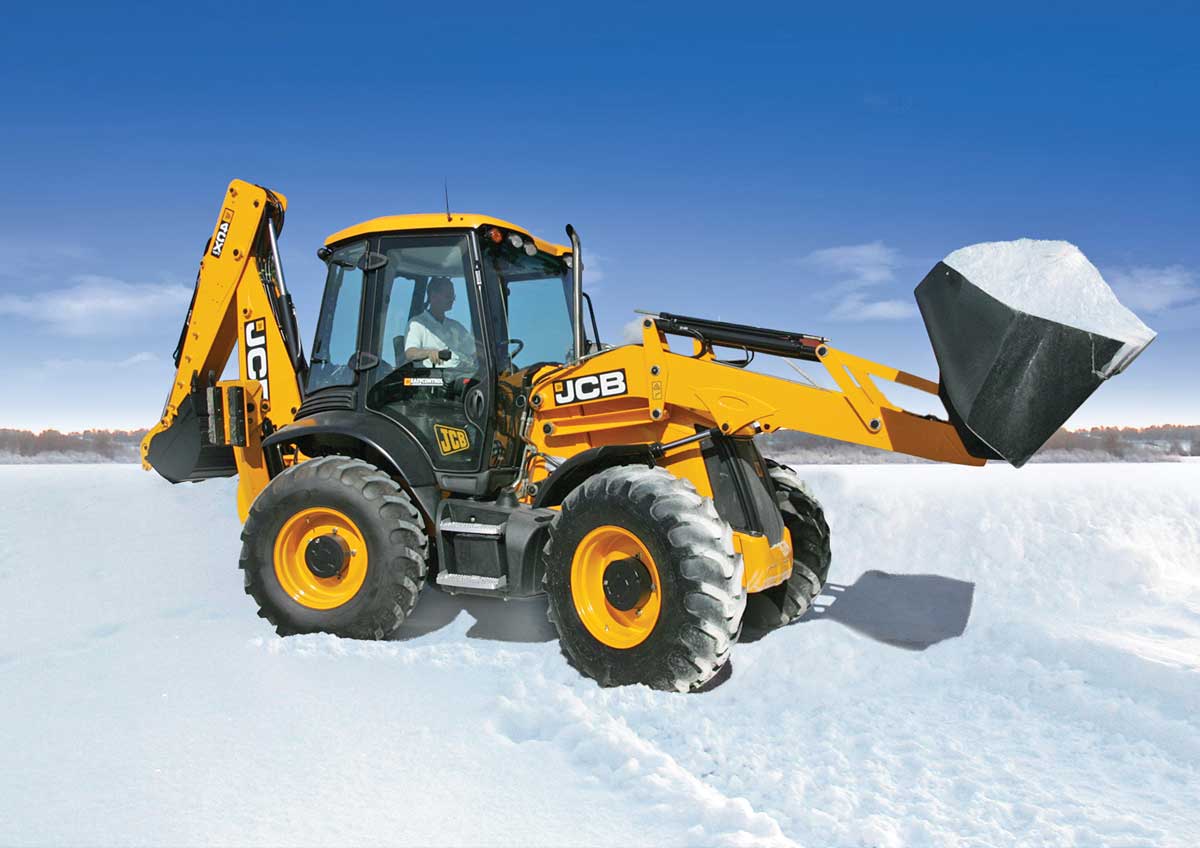 With so many options available, Clowes advises customers to "spec the right size — dig depth, dump height, horsepower, transmission … If you're unsure about what to spec, over spec." He explains that it's wise to add features at the factory as opposed to later, and that additional features add to resale value.
Anderson agrees. "Outfit with more enhanced features. It costs less now than later. Add a one-way combo on the diff even if you don't need it — for resale." The field for this high-dollar item is very competitive. "Strong dealers have inventory, support and financial backing," Anderson lists. That's why he advises buyers to schedule a test drive. Next, he suggests taking a good look at the machine's ergonomics. Comfort level and serviceability are additional aspects to consider when purchasing a backhoe. Before making a purchase, he says, "Don't think just about the first life. Consider resale."
If there's any confusion, Young urges buyers to work with the dealer to determine the best equipment solution. "Caterpillar has a large portfolio of machines," he says. "Understanding each machine's capability will go a long way in determining the best customer solution." Business model, application, fleet size, current machines in the fleet, operator pool and hauling resources all contribute to figuring out which piece of equipment is right.
Lori Lovely is a freelance writer for Compact Equipment.
Attachments and Extended Booms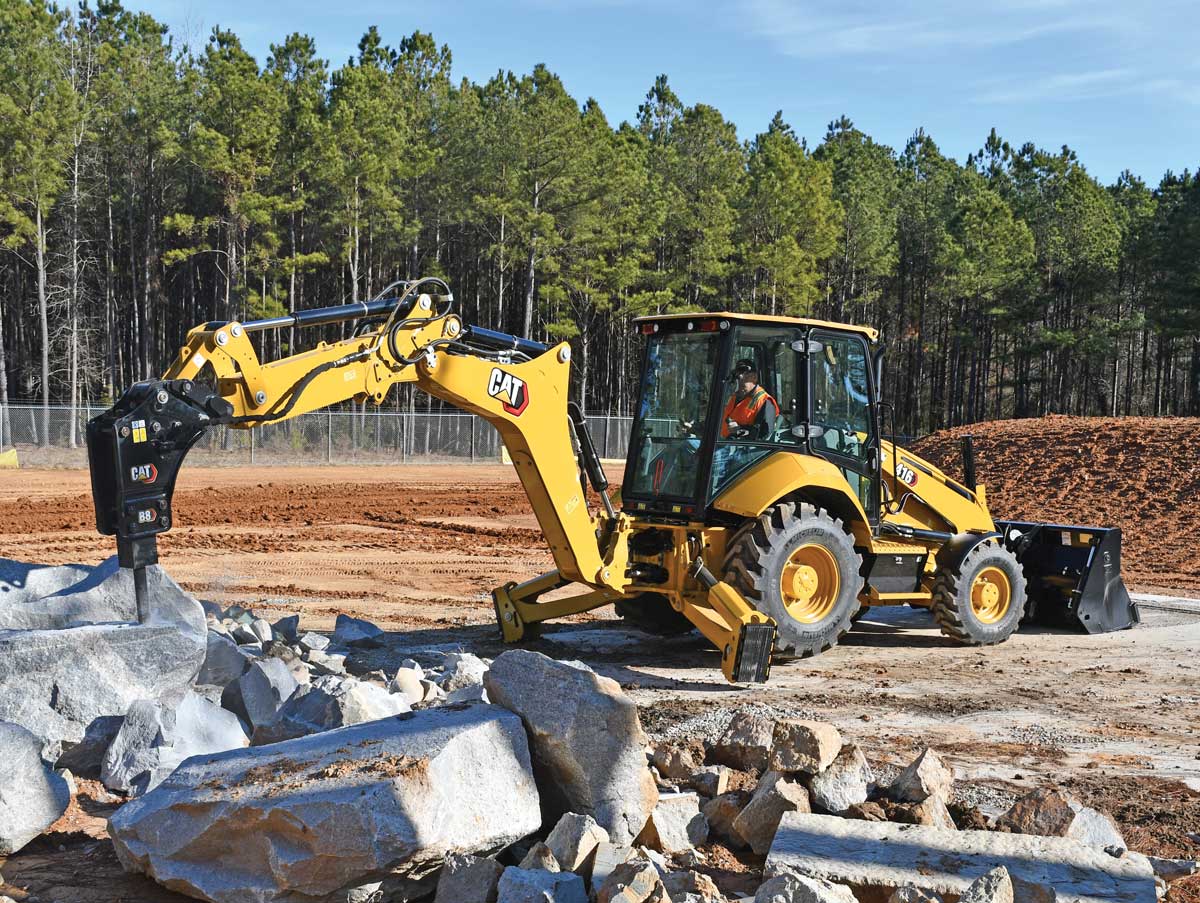 While attachments are the main attraction for skid steers, they're less common on the backhoe loader. "The backhoe already does so many things," says JCB product manager Ethan Clowes. It can be used as a plow, snowblower or brush hog.
That's not to say that backhoes don't use attachments. Ryan Anderson, product marketing manager, New Holland, says popular attachments for their models include a 4-in-1 bucket and a thumb on extensions for grappling, object handling and material handling. These attachments enhance the backhoe's well-known ability for heavy lifting and precision placement of objects.
Extended booms are also popular as a deep dig option. "Digging depth is very important," Anderson states, although he says there are "not a lot of applications that require 18 ft of digging depth, but the longer length of the arm and dipper can be used for more than depth. It's about reach, precision dumping and object handling." He notes that most OEMs are "lined up at 18 ft to 19 and half ft with a long-arm design."