What a long, busy month it has been. The CE crew has spent the past four weeks putting together a very special July issue for you (which you can get a sneak peak at on our home page, if you missed it). Between dissecting a new market (military) within the compact equipment industry, travelling to catch up with Bobcat and John Deere and keeping up with the tons of news on The Machine Works Blog, we have hardly any time to load up on the Web.
Never fear faithful CE reader! Loading up on the Web – June Edition – is here! As always, follow us on http://twitter.com/compactequip, leave us a comment or send us an email.
The CE office will be closed on Monday, but we'll see you back here first thing Tuesday morning. Have a Happy July 4th Weekend!
Five Days of New Bobcat Products: On Thursday June 3, Bobcat invited Compact Equipment down to its annual construction magazine media day — this time at its big Bobcat Atlanta dealership (within earshot of Hartsfield-Jackson International Airport). While the event was only one day, we've extended our coverage into a five-day blog on all the new Bobcat products, which includes new utility vehicles, mini excavators, attachments and a few cool machines that are currently embargoed (but we'll cover those in early July).
The Evolution of the Gator: The Gator 825i XUV held steady at 44 mph before I let off the gas to take the next corner. Luckily, the sports-tuned suspension and (optional, forthcoming) power-steering compensated for my novice driving as I avoided a spinout. I let out a chuckle and glanced over at my white-knuckled riding partner who refused to take his eyes off the path. But I wasn't worried — the 825i had the power to rip through the terrain at the Carolina Adventure World, where John Deere held its Gator XUV press event.
The Compact Wheel Loader Industry Inventory: When a forklift is too awkward, a skid steer is too small and a compact tractor is too cumbersome, what's a contractor to do? Choose a compact wheel loader. Known for their ruggedness and maneuverability, compact wheel loaders are quickly becoming the new catchall machines for contractors who want it all from one unit. Check out the first two installments of the on-going Web series.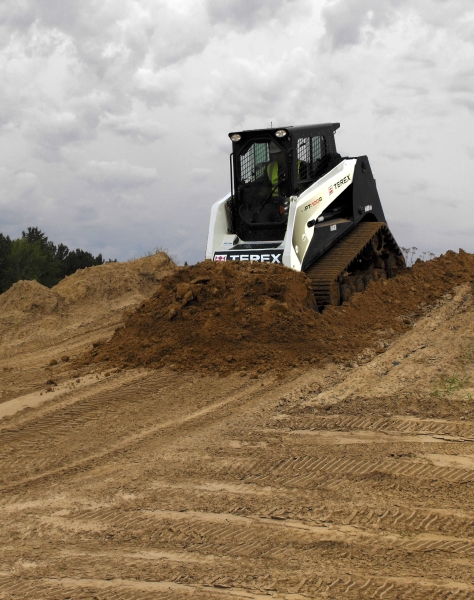 Terex Launches Two New Compact Track Loaders:Friday, June 18, journalists got a personal tour of two new Terex compact track loaders (the PT-100G and the PT-100G Forestry) right from our office chairs. Terex hosted an online press event, showcasing the biggest growing line of tracked loaders on the market (a product purchased, reengineered and expanded with Terex DNA in 2008 and 2009).
JCB Fields a Squad for World Cup Duties in South Africa: A team of nine JCB Teletruks have been called up for general materials handling duties during the final construction and fit-out stages of hospitality suites and visitor facilities in and around the six principal 2010 World Cup tournament venues in time to welcome thousands of fans from around the world in South Africa.
JLG Receives Order Valued at $85.7 Million from U.S. Army: Waving the red, white and blue, JLG Industries Inc. just announced it has received an order to build 492 All Terrain Lifter Army System (ATLAS II) telescopic forklifts for the U.S. Army.  The order has a value of $85.7 million, with units scheduled for delivery beginning in the fall of 2010.
Private! The Story of Public Activity Bonds and Infrastruction Construction Funding: In the past, whenever the word "private" was included in the same sentence as "water infrastructure," many in Congress would immediately wince, according to Eben Wyman, NUCA Vice President of Government Relations. Some municipalities have feared that entering into a public-private-partnership (PPP) is little more than a one-way ticket to privatization of their public utility. In recent years, however, because of the increasing economic challenges facing state and local budgets, private sector participation in funding these projects has become much more palatable.
Case Produces Its 250,000th Skid Steer: A special ceremony was held at the company's global skid steer manufacturing facility in Wichita, Kan., on June 17. Case presented the 250,000th skid steer to its new owner, Dino Folino of A. Folino Construction, a paving contractor from Oakmont, Penn. The milestone unit – a Case 430 Series 3 model — is Folino's fourth Case skid steer in a fleet of equipment that includes a total of nine Case machines.
John Deere Opening Tractor History Museum in Waterloo, Iowa: Construction on the John Deere Waterloo Tractor and Engine History Museum will begin in late 2010 with opening of the facility scheduled for late 2011. The museum will be an addition to John Deere attractions in Iowa, Illinois and Germany as well as visitor centers at John Deere factories around the world.
Tags:
JCB