Preventive maintenance is the most significant way to extend the life of any piece of equipment. To get the most out of your compact wheel loader, here are five tips to help you keep it running strong all year round.
Tip No. 1: Weatherproof It
A compact wheel loader can work year-round. Depending on the climate, these machines may be outfitted with an "open" roll-over protective structure (ROPS), a heated cab or a fully air-conditioned cab. During the warm weather months, if your wheel loader has an AC system, some items need to be periodically checked, such as compressor belt tension and condition, refrigerant charge, condenser fan cleanliness and the recirculation filter. When the cold winter months set in, you need to take the same care and precautions for your wheel loader as you would any other vehicle you own. Winterizing preparation can help prevent long-term damage and costly repairs, whether you operate in the cold or set your fleet in storage.
First, your wheel loader's engine, transmission, axle, hydraulic oils and fuels must be correctly matched to ambient temperature ranges. You need to consult your wheel loader's operation and maintenance manuals for details specific to each make and model. Next, follow good, general tips and techniques to keep your wheel loader up and running at peak efficiency in cooler temperatures:
Be sure fuel supply tanks are free of dirt, water and microbial sludge.
Make sure the drive belt and pulleys are in good condition to drive the alternator.
Make sure batteries are fully charged and the charging system produces full voltage and current.
Check battery terminals for corrosion. Clean and cover them with dielectric grease.
Antifreeze and DCA levels must be maintained for conditions.
Check the following HVAC system components:
Filters.
Blower and evaporator fans — are they working properly?
Evaporator box — is it clean?
Check the defroster vents to ensure a steady flow of air.
Check and change wiper blades as needed.
Use antifreeze windshield washer fluid to prevent freezing.
Perform any diagnostics and minor repairs in early fall before cold weather sets in.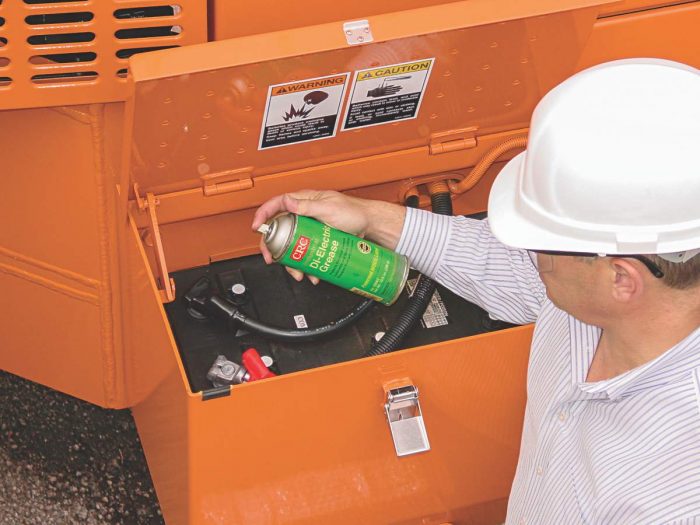 It is important to note that machines equipped with DEF/Ad Blue are designed to deal with freezing and thawing. Freezing does not affect the DEF. DEF freezes at about 12˚F (-11˚C), and DEF tank heaters are often standard components on these machines. In addition, many manufacturers offer optional cold weather aid packages designed to warm the engine, fuel, transmission and hydraulic reservoirs. Also, crucial to reducing the risk of weather-related downtime are these preventive maintenance procedures by temperature range:
32˚F to 45˚F (0˚ C to 8˚C)
Check the fluids and greases to ensure you are running the right type for the conditions. Refer to the equipment manufacturer's recommended lubricants chart for oil viscosity selection.
Be sure any starting aids, intake manifold heater grids or ether injectors are operating properly.
0˚F to 32˚F (-20˚ C to 0˚C)
Use engine coolant heat elements for more manageable cold-weather starting.
Provide a short warmup period before operating the machine.
You may need to change the grade of fuel you're using. Consult your local fuel distributor for more information.
-40˚+ F (-40˚ C to 20˚C)
Check your fluids and greases. Refer to the equipment manufacturer's recommended lubricants chart for correct oil viscosity selection. Synthetic fluids may be required.
Use engine coolant heat elements for antifreeze.
Add heater elements for the fuel, hydraulic and transmission reservoirs if necessary.
Recheck tire pressure.
Keep the machine parked out of the mud, as tires can freeze to the ground. In addition, any hydro-inflation MUST be cold-weather friendly.
When possible, store the machine indoors.
Provide a more extended warmup period before operating the machine, as components are typically much colder.
Fuel grade change must be made: Treatment is required to prevent waxing. Consult your local fuel distributor.
Tip No. 2: Take Care of the Axles
Axles and tires are the link for getting power to the ground and carrying a load. Axle maintenance is simple: Make sure the mounting bolts to the chassis and wheel rims are retorqued as required in the owner's manual and remember to change the axle oil. Over time, the axle oil will also accumulate some wear metals and contaminants from the air. Changing the oil is the only way to purge the contaminants and replace the necessary additives in the axle oil. Axle oil changes are straightforward, but be sure to use high-quality oil as recommended in the manual.
Winter is coming! I mean, it's here. You need to be prepared. For more snow-focused articles, click this link. You can click, right?
Tip No. 3: Use the Right Products
As engines and hydraulic systems have become more sophisticated, they have also become more exacting in the products they require, and using the wrong product can have negative consequences. For example, there are four current diesel engine oil categories (CH-4, CI-4, CJ-4 and CK-4) for engines designed to meet various non-road emissions standards, plus another, FA-4, that is meant for on-highway vehicles meeting 2017 greenhouse gas emissions standards. While there is some backward compatibility in the C Series oils, it's not universal, and FA-4 is absolutely the wrong choice in any engine not specifically designed for it. You'll find the oil category plus other information, including viscosity, in the API "donut" on the oil container.
Tip No. 4: Choose a Suitable Lubricant
There is an almost endless array of greases based on consistency, thickener type, application (chassis fittings versus lift linkage, for example) and other factors. Choices in hydraulic fluid are as numerous as those for grease. The loader's owner's manual will detail product information, but unless you're a dealer, you might not have the latest updates. Using the wrong product can result in excessive wear and premature failure.
Tip No. 5: Keep It Clean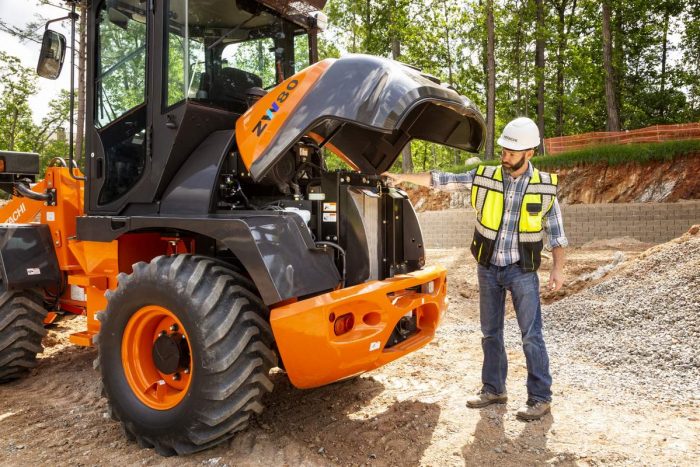 Wash your compact wheel loader frequently. Remove any dirt, dust, sand or other jobsite material that could accumulate and contaminate your machine. Operators can use a shop-vac to remove any water and debris in hard-to-reach areas, and they should use a pressure washer or compressed air nozzle to blow debris out of the radiator and oil cooler. During the wash-down process, it is a good time to check the reversing fans, swing-out coolers, water separators and filters.
Because loaders typically work in extremely dusty conditions, it is also important to keep the hydraulic oil clean. Most loaders' hydraulic systems are sealed and pressurized to prevent the entrance of airborne dust particles. Typically, the oil from the HST system has an easy-to-change, spin-on filter; the hydraulic system also has a spin-on return filter. And finally, there is a suction strainer in the bottom of the hydraulic tank. These three items combine to stop any particles that came in with the oil, come from the hydraulic components or may have gotten in with the air that occurs when the system is opened.
Sam Shelton is the communications manager for Hitachi Construction Machinery Loaders America Inc.
For reprint and licensing requests for this article, please click here.
Tags:
Hitachi
,
Hitachi Construction Machinery Loaders America
,
September 2021 Print Issue
,
Talking Shop