Small wheel loaders come in a confusing variety of sizes and configurations. It begs the question: What is really a compact wheel loader? Take a quick look at Caterpillar: It offers both "compact wheel loaders" (like its nimble 42-hp 903D) and "small wheel loaders" (like it's much larger and impressive 168-hp 930M, upfit friendly with specialty application packages ranging from ag to aggregates). This smallish perception probably comes out of the American market's idea of "small" compared to Europe or Asia, where wheel loaders have shrunken to a tiny category we're calling small articulated loaders (pioneers include Euro companies like Italy's MultiOne and Finland's Avant Tecno).
Different ideas of small wheel loaders are arriving on American jobsites and rental lots in record numbers, but which units are the smallest and how are they different? Companies like Bobcat, Caterpillar, Yanmar, Vermeer, Avant Tecno, Kubota and beyond are all offering tool-carrier style wheel loaders as an alternative to skid steers and track loaders, but let's examine some of the differences here.
Pros and Cons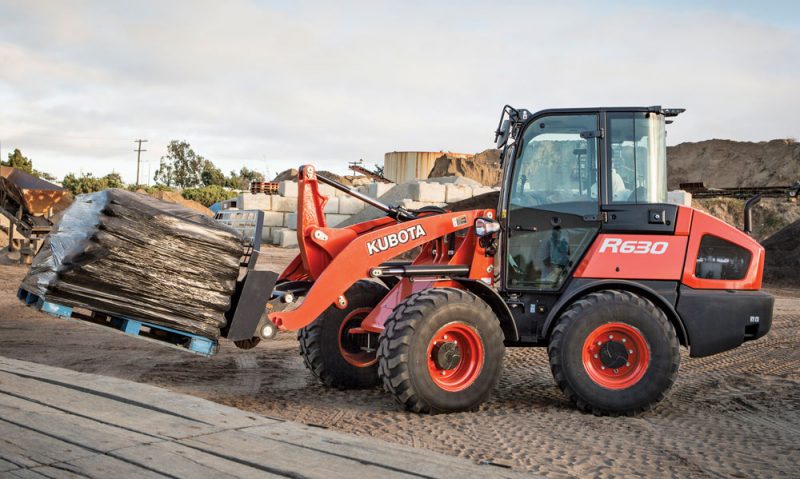 Compact wheel loaders are big overseas. Man, Germans go crazy for them. Also, they don't use skid steers or track loaders very much. Compared to those machines, small wheel loaders have many advantages over skid steers. Compact wheel loaders articulate or use all-wheel drive which is: A) easier on tires; B) easier on turf and other surfaces; and C) better on fuel efficiency. Other advantages include ground speed, ground clearance, longer wheelbases for better ride quality, greater lift capacities and higher lifting ability. Plus, compact wheel loaders take a ton of attachments just like skid steers or track loaders.
"Compatibility of front attachments is very popular with today's new compact wheel loaders," says Patrick Baker, Kubota's construction equipment product manager. "Many of the same attachments for compact track loaders and skid steer loaders can be shared with wheel loaders if the wheel loader is equipped with a skid steer-style coupler. Specialty buckets, pallet forks, sweepers, snow pushers and grapple buckets are just a few examples of what can work on both product lines."
With pros come cons: Disadvantages include the overall height of each unit and their ability to work under low overhead obstacles. Skid steers offer more hydraulic power to the attachment and more attachment variety, they are easier to transport and they have a zero-turn radius. Also, traditional compact wheel loaders are usually 20 to 25 percent higher in initial cost than a similarly sized skid steer. But what about these new ultra-small wheel loaders called small articulated loaders? How do they compare to both a skid steer and traditional wheel loader?
Small Articulated Loaders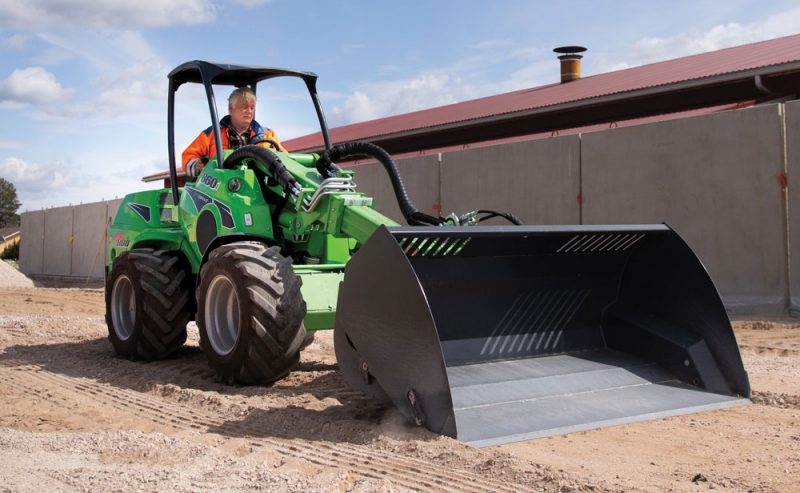 Small articulated loaders are the smallest breed of sit-down wheel loader on the market. The category is not new. Companies like MultiOne and Avant Tecno have been producing these cool articulating tool-carriers since the 1990s, and both brands have been selling the category of equipment to Americans for just as long. Fast forward to 2021, and suddenly there's a lot of talk about this unique sector.
For starters, one of the biggest names in American machinery — inventor of the skid steer — Bobcat introduced its small articulated loader line in 2020. The company sees potential customers in landscaping, tree care, snow removal and facility maintenance. These units are like traditional wheel loaders in many ways, including fast travel speeds and articulating steering. The latter is (as mentioned) easier on tires, easier on turf and better on fuel efficiency. How do these units differ from smaller wheel loaders? For starters, different jobs. Small articulated loaders excel at backyard work, where units can carry small pallets of block or landscape materials with minimal turf disturbance because of the unit's articulation. They are also sized to fit on most sidewalks and walking paths for snow removal and general debris cleanup. They are super easy to transport compared to a compact wheel loader, and the smaller variety definitely sports a more economical price tag.
"Small articulated loaders from Bobcat Company — the L23 and L28 — provide customers in landscaping, tree services, light construction and grounds maintenance a solution to minimize workload and complete projects quickly and efficiently," says Jason Boerger, marketing manager – small articulated loaders at Bobcat Company. "Bobcat small articulated loaders have a nimble, ground-friendly design with excellent lifting capacities. Not only do they lift and handle heavy loads, they deliver precise maneuverability thanks to the articulation joint that enables the rear tires of the loader to match the path of the front tires as they turn. This results in a highly nimble machine that navigates around obstacles with ease and works well in enclosed yards and small work zones."
While Bobcat only offers two models, these small articulated loaders come in a variety of sizes. Avant Tecno USA has seven different series and 13 models of loaders, including its "e series" battery-powered electric variant, aimed at indoor use with zero emissions, extremely low noise, integrated battery charger and the "Optidrive drive circuit." Avant Tecno offers a tiny 25-hp gas model in its 200 Series that owns a modest 55.1-in. lift height and 772-lb lift capacity. Then its 800 Series — the largest and most powerful loader series pushing the limits of small articulated loader performance — boasts 4,188 lbs of lift capacity and a 11.4-ft lift height on the Avant 860i, which has a telescoping boom. So yeah, some of the biggest models have telescoping booms for high reach work, and we're also seeing some of that in compact wheel loaders.
Like skid steers and track loaders, small articulated wheel loaders are focused on attachments. Small wheel loaders take a variety of attachments too, but usually wheel loaders are working with a bucket. Bobcat's bigger L28 unit has 12.1 gpm (2,900 psi) of auxiliary hydraulic horsepower to the attachment. Avant Tecno's large 800 Series impresses with 21.1 gpm (3,260 psi) of auxiliary power to the implement. That's big power for the small units. These small articulated loaders can power everything from trenchers to augers to tree spades. Being smaller machines, they also excel at more on-and-off work compared to a traditional-style compact wheel loader.
Compact Wheel Loaders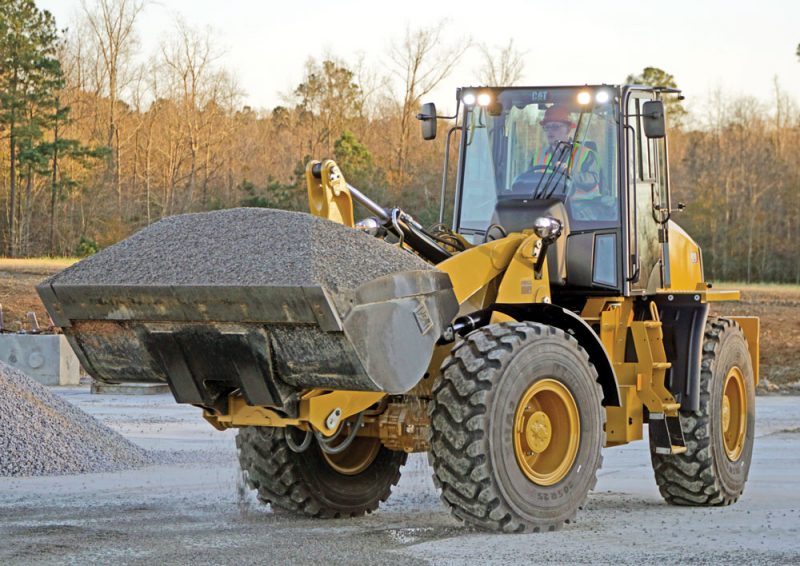 Ok, small articulated wheel loaders are cool, but they are awfully small. Most units go out with ROPs (though cabs are available), and the operator station isn't nearly as comfortable or highly perched as a compact wheel loader. Small wheel loaders offer amazing visibility, bigger lift heights, more power and a damn fine operator station (especially compared to a skid steer, climbing in and out over that attachment).
Caterpillar's compact wheel loader line includes models from the 903D through the new 920. The company's smallest unit, the 903D, is perfect for tackling landscaping applications, both on the install side and at nurseries or landscape supply yards. Scott Britton, Caterpillar's compact wheel loader product application specialist, says the 906M is the company's most popular model — and for good reason.
"At only 6 ft wide and 8 ft, 1 in. tall, the 906M can get into many tight locations with no issue," he says. "Being well balanced with 7,500 lbs of full turn static tip load, it packs a lot of punch in a small package. Other deluxe cab options such as ride control, creeper and rimpull control all make this an excellent machine in all types of work. In applications such as snow clearing, the 906M is small enough to fit in parking spaces but big enough to clear the roads or parking lots without being intimidating to the average passerby. It's also small enough to be easily trailered or can be roaded to the next site. Whether it's performing basic bucket and fork work or equipped with high-flow hydraulics for high demand work tools, the 906M is a real stand out for us."
Oh yeah, compact wheel loaders also come with a lot more tech: adjustable speed control (creeper control); electronic throttle lock; ride control; rimpull control; adjustable high stat response settings; and 100 percent differential lock on both axles, selectable on the move.
"The R630, Kubota's largest model, is currently the most popular in the Kubota compact wheel loader lineup," says Baker. "Customers purchase the loader for uses ranging from agriculture to recycling applications. The R630 has an Attachment Mode feature that allows the operator to creep the transmission while powering the front hydraulic auxiliary at full throttle. Attachments like a front rotary broom work very well when operated in the Attachment Mode setting because the full auxiliary flow to the attachment is possible at slower ground speeds."
Wheel loader cabs are all-day workspaces. Cabs can be decked out with an optional heated, air suspension seat with lumbar and seat back tilt adjustment, Bluetooth radio, speakers and air conditioning with defrost/demist. Clearly, compact wheel loaders are a higher grade of loader with more power, size and luxury.
"Our compact wheel loaders are designed and built to provide operator comfort and minimize operator fatigue," says Erik Coyle, product specialist for Yanmar. "Comfort and reliability combine to offer maximum jobsite efficiency. All of our wheel loaders are backed by a three-year/3,000-hour warranty and supported by an unrivaled dealer network."
Let's do some power comparison. Yanmar America offers four compact wheel loaders — the V4-7, V8, V10 and V12. The V4-7 is Yanmar's most compact and lightweight model weighing in at 10,549 lbs with a 40.9-hp engine and a lifting capacity of 7,451 lbs. Yanmar's 100-hp V12 is the largest and heaviest model weighing in at 15,432 lbs.
Kubota's R Series compact wheel loaders, which includes the R430, R530 and R630 wheel loaders, features great visibility, high power and productivity. The three models boast standard four-wheel drive and rear frame oscillation to provide excellent traction and stability. The R430, which is the newest and most compact of the R Series, features a 48-hp engine and is equipped with a large bucket and a maximum bucket breakout force of 5,215 lbs and a lifting capacity of 2,298 lbs. The R630 is powered by a 64.4-hp engine and delivers a maximum bucket breakout force of 10,415 lbs and lifting capacity of 3,229 lbs.
Conclusion
Small articulated wheel loaders are a welcome variant to the small wheel loader market in America. They offer some interesting advantages over traditional compact wheel loaders. They are ultra-small and nimble enough to fit through a gate and not tear up a backyard. They have huge attachment power for their size, and they're great for on-off work where a lot of attachment changes occur. Traditional compact wheel loaders offer better visibility with a higher perch. Compact wheel loaders are usually bigger machines with more horsepower, lift height and bucket capacity. Also, highly optional cabs are complemented with higher automation and comfort on small wheel loaders. Luckily, both units will appeal to customers who need exact-sized machines for their applications. Talk to your dealer about those. Happy hunting.
Pam Kleineke is managing editor of Compact Equipment.
Tags:
Avant Tecno
,
Bobcat
,
Caterpillar
,
January 2021 Print Issue
,
Kubota
,
MultiOne
,
Vermeer
,
Yanmar