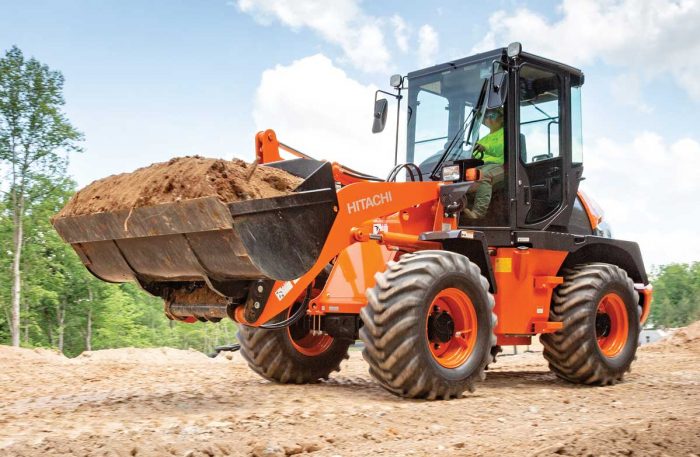 Small tool-carrying wheel loaders continue to gain popularity in the American marketplace. In our upcoming July/August print magazine, our annual Spec Guide, we summarize and give specs for 15 different brands. Make sure you sign up today for your copy of the Spec Guide right here.
Landscape, agriculture, commercial building and rental are large segments for compact wheel loaders. Landscape includes residential and commercial landscape development as well as landscape supply yards, and many of these customers are using machines for snow removal in the winter. Ag continues to grow as customers are replacing other machines with compact wheel loaders and can still have the flexibility with a skid steer-style coupler to use attachments. Rental is heavily driven by snow removal but in general is an opportunity to also support seasonal demand. We are also seeing growth in the quarry and road building segments.
Compact wheel loaders offer numerous benefits over competing categories of compact equipment. Wheel loaders are easier on tires, easier on turf and other surfaces and better on fuel efficiency. Other advantages include better visibility, faster ground speeds, serious ground clearance, longer wheelbases for better ride quality, greater lift capacities and higher lifting ability. The market offers lots of units with varying sizes, technologies and amenities. Which one is right for you and your operations? We reached out to manufacturers, asking for their tops units, and this is what they shared.
Hitachi ZW80 T4F
The ZW80 T4F wheel loader is proving to be a safe, reliable wheel loader for several applications and environments. From snow removal and landscaping to site work and loading/unloading, it is easy to operate with great visibility and excellent control in tight environments. Outfitted with a universal quick-coupler, attachments can be changed without the operator leaving the comfort of the cab. Several features work collectively to provide a smooth and stable operation. The rear axle oscillation provides stability, easily conforming to various terrains. The HST System enables smooth performance, and the wraparound counterweight lowers the center of gravity, increasing stability. For more info, visit hitachiwheelloaders.us/products.
Kubota's R540 and R640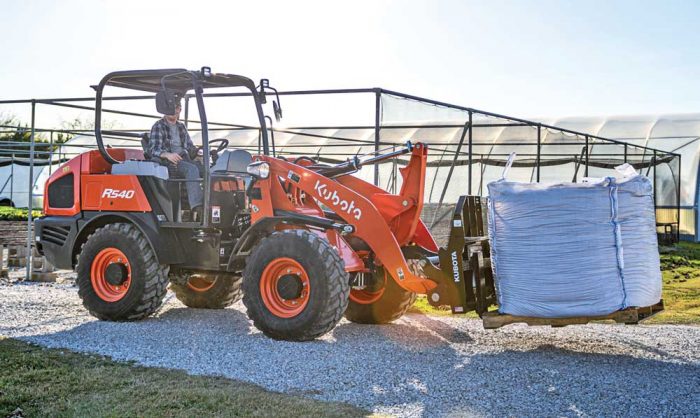 Kubota Tractor Corp. updated its wheel loader lineup with the launch of the new R540 and R640 models. The next-generation wheel loaders, which are available in both canopy and cab models, feature improved visibility with in-cab panoramic views, enhanced operator comfort and increased performance over the previous generation. Featuring a 64-hp Tier 4 Final engine, the R640 boasts an operating weight of 11,563 lbs and delivers a maximum breakout force of 9,869 lbs and 8,161 lbs of lifting capacity. With a 54-hp Tier 4 Final engine, the R540 has an operating weight of 10,285 lbs and delivers a maximum breakout force of 8,183 lbs and 6,767 lbs of lifting capacity. For more info, visit kubotausa.com.
What can we say? We love rental. So much so that we published a Digital Rental Guide covering everything you need to know when renting a machine. Check it out here!
Takeuchi's TW60 Series 2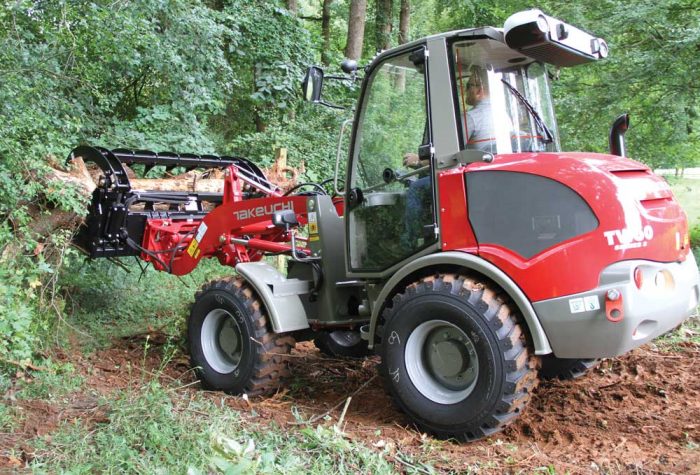 Compact and nimble, Takeuchi's TW60 Series 2 wheel loader is designed to handle a wide range of applications. Operators can use the machine's universal hydraulic skid steer coupler to connect with various Takeuchi attachments, increasing its versatility. The TW60's quiet, turbocharged, 61-hp Tier-4-Final engine delivers outstanding power and fuel efficiency. The machine's 100 percent differential lock can be engaged at low speeds on both the front and rear axles for outstanding traction even on the toughest terrains. A durable Z-bar loader linkage delivers powerful breakout forces and heavy-lifting capabilities, making the TW60 ideal for excavating and stockpile loading. For more info, visit takeuchi-us.com.
Yanmar V4-7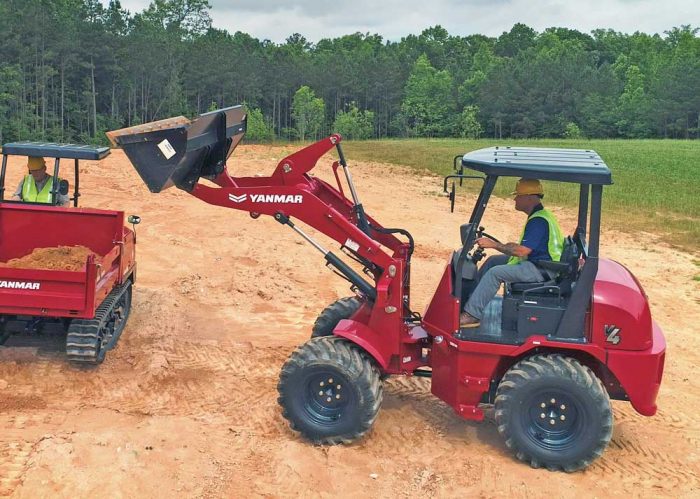 The V4-7 is powered by a 39-hp Tier 4 Final Yanmar engine. It is packed with power combined with exceptional performance whether you are moving mounds of rocks or dirt or moving piles of fertilizer. With the V4-7 Rear Axle Oscillation feature, you can work quickly and more efficiently on uneven ground because the traction force is transmitted securely to the ground. This ensures the bucket or load remains level. The V4-7 comes standard with Eco Mode, two-speed operation, fully automatic mode, fixed speed mode and a joystick bucket control incorporated right into the operator's station. Plus, you get an innovative LCD monitor, showing key operating information and maintenance notifications. For more info, visit yanmar.com.
Mecalac AS600 Swing Loader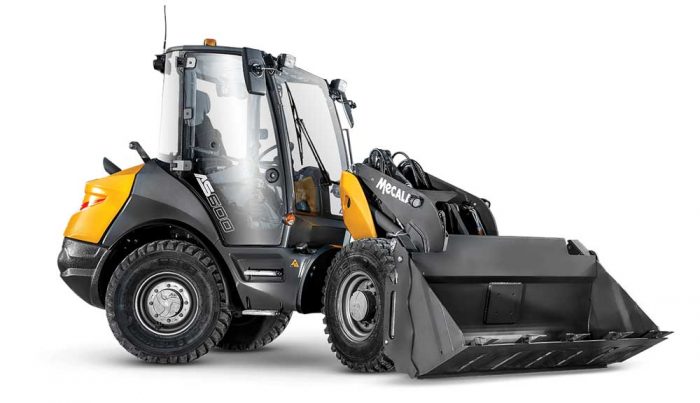 Mecalac offers the cool AS600 swing loader. With the unique ability to pivot its bucket 90 degrees to either side, the AS600 represents a departure from traditional wheel loader designs for superior performance on any jobsite. A rigid frame and four-wheel steering provide industry-leading productivity and stability while driving, operating and unloading in virtually any condition or terrain. The AS600 provides game-changing space management, requiring only half the space of conventional loaders for tasks such as loading trucks or discharging materials into trenches with a standard .78-cu-yd bucket. The equipment features three steering options — two-wheel, four-wheel and crab. For more info, visit mecalac.com.
One of the best parts of small equipment is the variety of attachments. From buckets and breakers to mowers and plows, click here to see what's out there.
Case 321F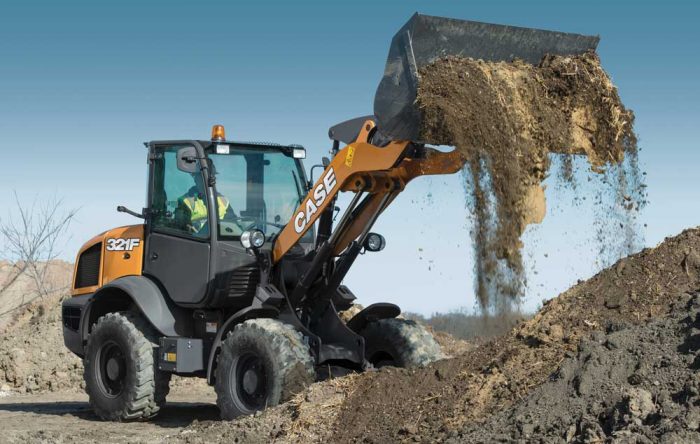 The Case 321F compact wheel loader is designed for improved maneuverability, versatility and performance. The 74-hp 321F features a maintenance-free Tier 4 Final emissions solution and offers a more compact design while simultaneously increasing breakout force (11,000 lbs) and lift capacity (over 8,000 lbs) with its lower center of gravity and Z-bar linkage. Available with standard or optional high-flow auxiliary hydraulics, the 321F features a horizontal pin coupler that provides the ability to use a greater range of attachments. An enhanced suspension with a 20-degree oscillating rear axle works independently of the cab for greater operator comfort and load control. For more info, visit casece.com.
Wacker Neuson WL95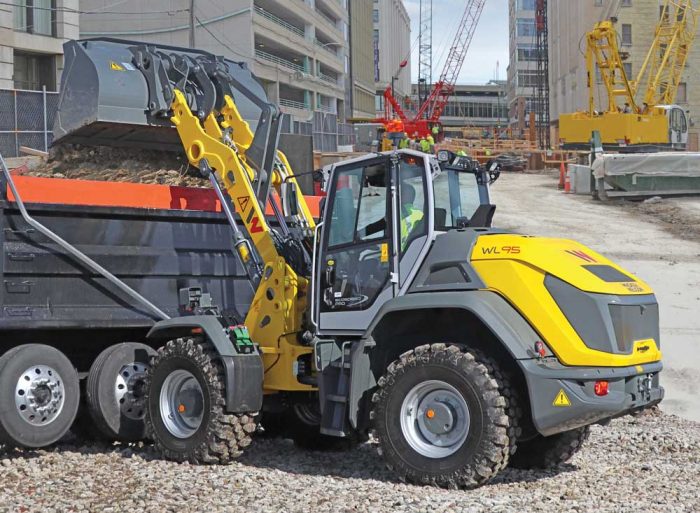 Wacker Neuson's newest and largest articulated wheel loader model is the WL95. The WL95's variable hydrostatic transmission provides excellent traction and high travel speeds (12.4 mph). With a standard 2-cu-yd bucket and straight bucket tipping load up to 14,394 lbs, the WL95 is capable of moving greater material loads quickly. The compact design, for a loader this size, enables a tight turning radius and generous steering angle. The WL95 is powered by a 136-hp Deutz 3.61 engine with a DOC and SCR aftertreatment system, providing a standard auxiliary hydraulic flow of 31 gpm. The WL95 offers return-to-dig function, ride control and a reversing fan as standard, ensuring optimal productivity. For more info, visit wackerneuson.com.
Keith Gribbins is publisher of Compact Equipment.
Tags:
Case
,
Hitachi
,
June 2021 Print Issue
,
Kubota
,
Mecalac
,
Takeuchi
,
Wacker Neuson
,
Yanmar