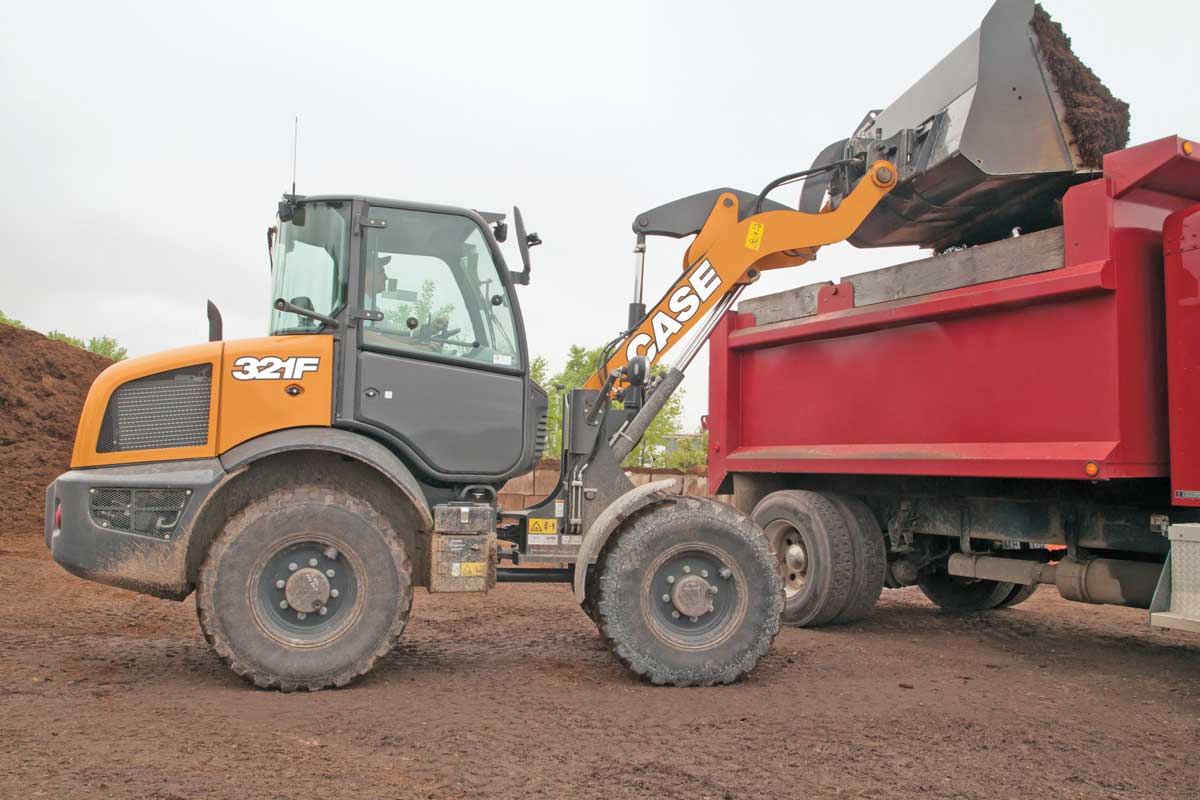 Four Loaders with Variants Offer Power, Speed and Maneuverability
This post is a part of Compact Equipment's annual Spec Guide. View other brands' product and spec info by clicking this link. View the magazine version of these summaries by clicking right here. Sign up for the print edition right here. Now enjoy!
Case recently upgraded its F Series compact wheel loader lineup with new adjustable electro-hydraulic controls. This added functionality allows operators to adjust the responsiveness of the lift and tilt bucket functions with two new three-way rocker switches (high, medium and low) on the side console for improved control and efficiency on the jobsite. The new electro-hydraulic controls offer automated bucket metering functionality, providing operators more precise and consistent movement of the bucket edge while metering or sifting material into a truck.
A new ergonomically positioned E-inching pedal uses an electronically-controlled inching valve to provide greater response and control in precision applications. The attachment coupler works with a wide range of attachment brands for flexibility and convenience, and a robust and compact frame provides stability and improved breakout forces and power to the ground with a maintenance-free Tier 4 Final engine.
A solid compact frame provides a tighter turning radius, better clearance into barns and outbuildings and better maneuverability on constricted jobsites and narrow passageways, while the Z-bar linkage provides stronger breakout force for tough jobs. The inch and brake pedal progressively disengages the transmission in the decelerating phase while progressively engaging the brakes, allowing power to be diverted to the loader's hydraulics without disconnecting the drive yet still maintaining constant engine rpms. Optional creep speed allows the operator to independently set engine rpm and ground speed for greater control and performance with various attachments.
The high-flow option comes with creep speed, which provides maximum hydraulic flow at constant speed in the 0- to 3.1-mph range, ideal for tasks such as snow plowing and cold planing. A front electrical socket and case drain complete the package. The F Series compact wheel loaders are designed to provide easy access to all daily and routine service points. A skid steer-style coupler and auxiliary hydraulic connections make attachment hookups fast and easy. The rear axle on the F Series oscillates to a maximum angle of 20 degrees, allowing the rear wheels to maintain contact with the ground in undulating terrain, enhancing overall safety and load retention.
All F Series compact wheel loaders offer a roomy ROPS-/FOPS-certified cab with a spacious width of nearly 5 ft. It's fully sealed and pressurized to keep out noise, dust and fumes and offers an optional radio and upgraded climate control system. All models are also available with a rugged four-post ROPS/FOPS-compliant canopy option. The 121F and 21F are available in both XT and Z-bar models. The 221F and 321F are available with a high-speed axle configuration, providing forward and reverse speeds up to 19 and 21 mph, respectively.
Case notes that these are compact machines with super-sized features. These compact wheel loaders pick up where its skid steers leave off in lift capacity, ground clearance, cab height/visibility and application versatility. Multiple linkage, a hydraulic coupler and axle options combine with ride control and a maintenance-free Tier 4 solution, adding versatility and performance capacities when you need them the most.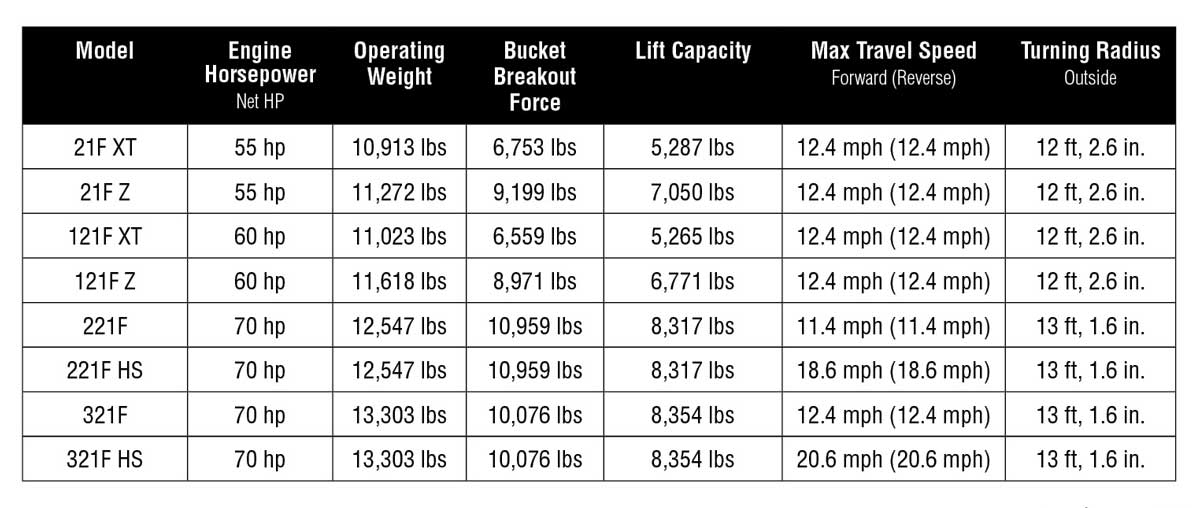 Advice to Buyers
"When right-sizing a compact wheel loader, business owners and fleet managers need to know the weight and density of the material being moved. They need to know what size bucket they plan on using, what size trucks/hoppers they'll be filling, etc.," says Andrew Dargatz, product manager, Case Construction Equipment. "It's also important to consider things like visibility and operator comfort. Your cycle times will be dependent on what the machine is capable of. There are a lot of factors that go into it, and it's important to remember that bigger isn't always better."
For reprint and licensing requests for this article, please click here. Tags: Case, July August 2022 Print Issue, Spec Guide, Spec Guide 2022