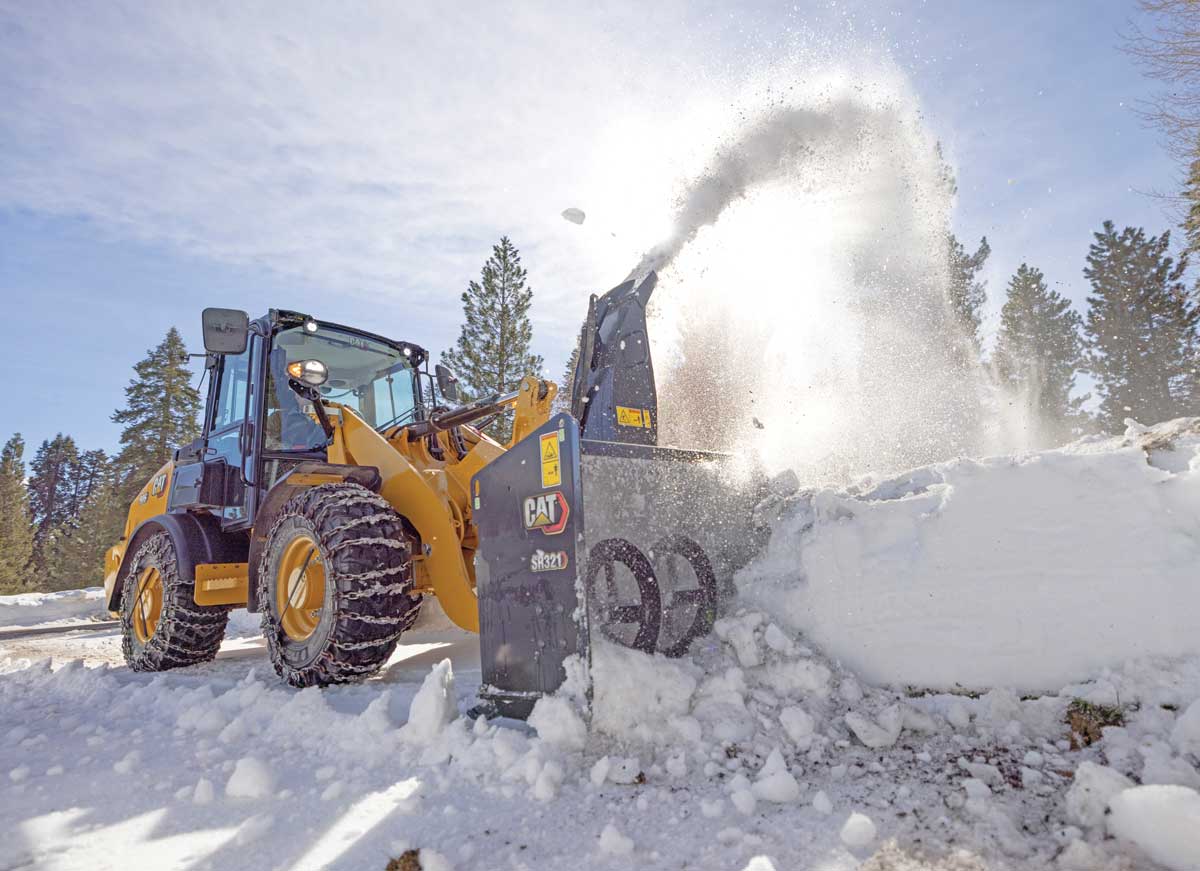 Wheel loaders do a lot of bucket work. It's the reason this category of equipment has "loader" in its name. When it comes to confined space work or smaller jobs, a compact wheel loader can spearhead high-volume bucket work better than almost any other machine and in a variety of industries and applications — landscape supply yards, snow removal, general dirt work and then, well, they can move beyond buckets. Compact wheel loaders are also tool carriers, which means they can handle and power a variety of attachments, often using the same attachment system as a skid steer and track loader. Pallet forks, wheel saws, snow pushes, brooms and specialty buckets of all types can be attached to a small wheel loader, depending on the job at hand. With the help of industry experts, we've pulled together this attachment dictionary to showcase the most popular implements contractors are employing on compact wheel loaders today. Thanks to all who participated.
Attachment Couplers
Attachment systems on compact wheel loaders are not necessarily universal. Most manufacturers offer two styles of compact wheel loader couplers: ISO or hook-style or skid steer-style couplers. Depending on the definition of a compact wheel loader, manufacturers may also offer IT, fusion or pin-on couplers. The ISO-style coupler provides the highest bucket breakout force and operating capacity because the ISO-style coupler design positions the bucket close to the end of the boom, similar to a pin-on bucket. With the skid steer-style coupler, the bucket is positioned out a few extra inches, however the skid steer-style coupler is widely popular for the numerous attachment possibilities that can be shared with skid steer and compact track loaders. Regardless of the coupler style, the type and density of the materials that will be handled should be considered to determine the appropriate bucket or attachment. There may be choices in mechanical or hydraulic coupler options, controlled from the operators seat. The host machine may also offer an additional electrical harness for controlling more complex tools. — Scott Britton, attachments marketing manager, Caterpillar
Augers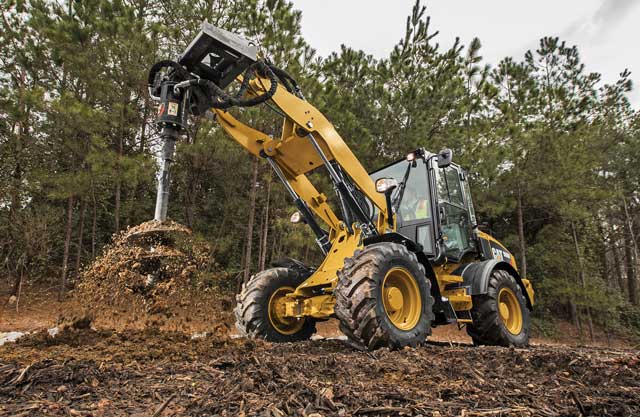 A compact wheel loader can wield an auger attachment to dig fencing, plant trees or install footings. Understanding your prime mover's hydraulics is paramount to maximizing your auger attachment's potential. Hydraulic pressure and flow will vary greatly — just like the sizes of compact wheel loaders — ranging from auxiliary hydraulic minimums of 6 gpm to maximum outputs of 44 gpm. Auger attachments consist of a prime mover mount, a drive head and an auger bit. For augers specifically, understanding your ground conditions and what type of auger bit to use is highly important, as augers maybe be offered with different speeds and torque options for work in a variety of soils. Bit names will vary from brand to brand but may include dirt, rock, heavy-duty, extreme-duty, tree or combination bits. As an example, dirt bits are an economical option and can corkscrew through easy-to-moderate soil conditions like black dirt or compacted sand. Rock bits are for rock, asphalt and concrete, using carbide-tipped teeth that can drill holes in hard surfaces. Direct drive and planetary drive systems will be something to consider. A direct drive auger is a balance of price and power, torque and rpm, and a gear-driven planetary auger is for high-powered applications that require tons of torque (like coral or clay). There will be options for various extensions and adaptors, allowing for digging deeper and adapting to round or hex shaft bit designs, and there will be multiple bit types and teeth to match your digging conditions. Pro tip: Make sure replacing those auger teeth is easy. — Keith Gribbins, publisher, Compact Equipment
Buckets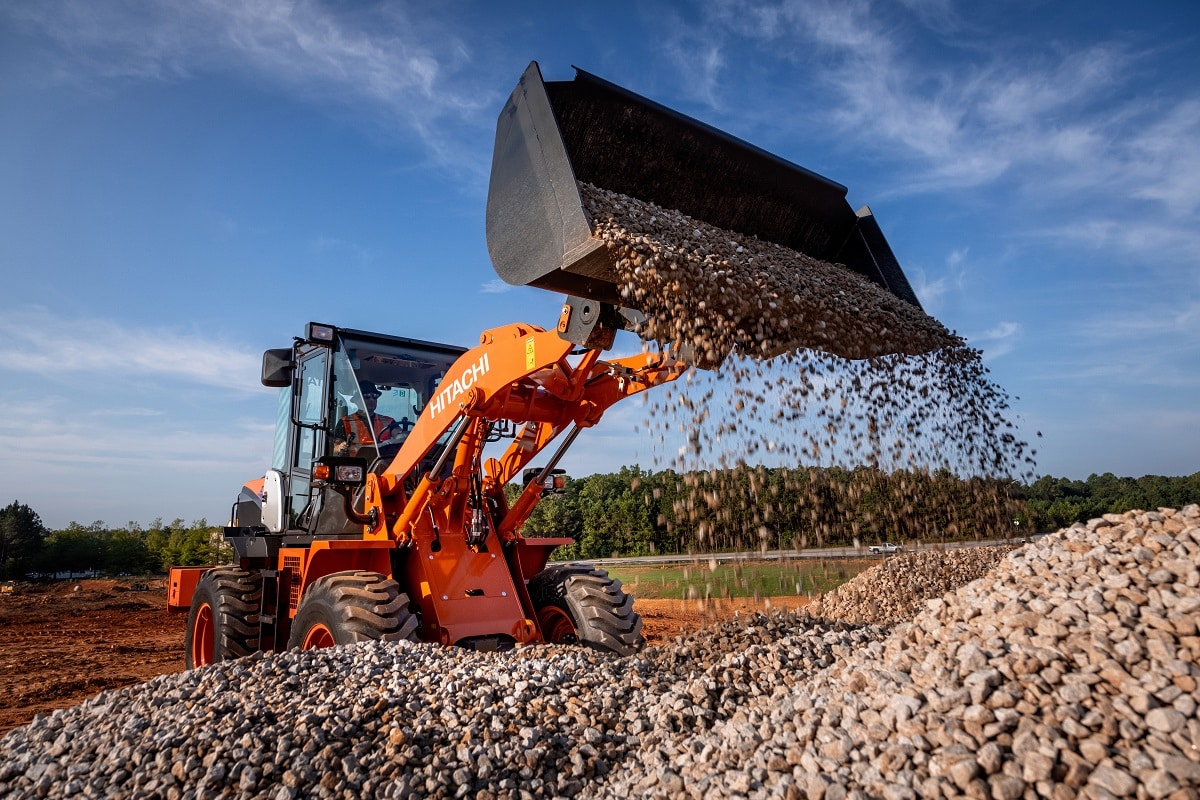 Buckets allow compact wheel operators to dig, lift, load, doze, scrape, spread and level materials on a jobsite. It's difficult to find an attachment more versatile. A compact wheel loader comes with a bucket, so you're probably sure to already have one, but there are so many options today beyond generic bucket. A compact wheel loader can be fitted with an earth bucket for better digging, side-dump bucket for filling trenches and a quarry bucket for working in rocky material. There are many different types of buckets that range from light material and snow to flat floor and multipurpose buckets. There are also grapple buckets for handling bulky materials like brush or demo. Specialty bucket options range from coal and sand buckets to gravel and woodchip buckets. Waste handling buckets are purpose built to meet all the demanding needs of the waste and recycling industries. The side discharge bucket is designed to collect and transport loose materials such as sawdust, sand, mulch and topsoil and then discharge these materials via a belt-type conveyor from adjustable openings (doors) on either side of the bucket. Regardless of size or type, picking the right wheel loader often boils down to the right bucket, the right amount of material (measured in cubic yards) that needs to be moved per hour, the weight of the material and the area that the loader will operate in. Correct bucket choice is paramount for this category of equipment. — Keith Gribbins, publisher, Compact Equipment
We'd love to keep in touch! Check us out on Facebook, Twitter and LinkedIn!
Forks and Pallet Forks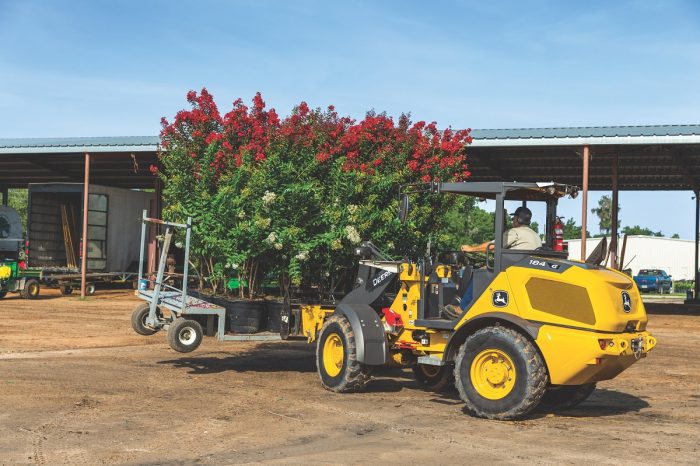 The two most popular attachments on a compact wheel loader are usually No. 1) a bucket and No. 2) a set of pallet forks. Pallets forks are great for carrying pallets and other stacked material across jobsites. Compact wheel loaders are the perfect machine to use forks thanks to their high reach, long wheelbase and great visibility. Small wheel loaders can use pallet forks to move palletized loads on construction sites, handle bagged fertilizer and seed at landscaping and nursery sites or deliver brick on a hardscape job. Knowing your load type and weight are important when selecting a fork attachment. Understand the maximum and minimum weights they are working with to ensure they are using a machine and pallet forks that are able to support the necessary load. Pallet forks come in a variety of widths such as 42, 48 , 60 and 72 in. wide and onward. They are often categorized as light, standard and heavy-duty. Class 2 forks are designed for smaller, lighter loads and Class 3 forks are for heavier ones. Options might include adjustable tines, brick guards or, on bigger units, hydraulic angling and side shifting. There may also be other types of fork attachments — like utility forks for handling loose straw and manure or nursery forks for picking up trees. All of these forks work well on compact loaders, especially those with parallel lift, making them extremely useful for loading onto the sides of trailers with ease. — Luke Gribble, solutions marketing manager, John Deere
Grapples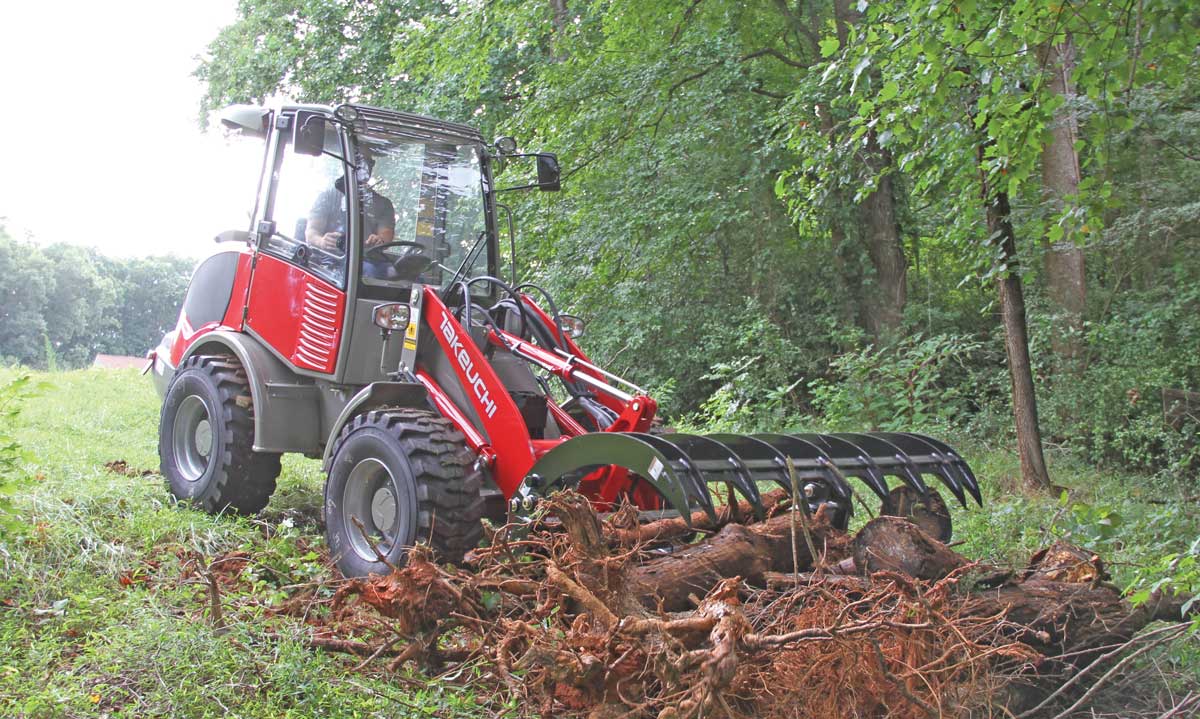 Equip your compact wheel loader with an iron fist and grab logs, demo, trash and other debris with a grapple or grapple bucket attachment. These attachments are ideal for gathering debris and keeping the load secure while in transit. Grapples have become a great asset for disaster cleanup and initial land clearing since they can move large amounts of material in less time. Like buckets, grapples come in a variety of styles, and names will vary depending on the brand. Utility grapple forks are designed to handle light, hard-to-handle materials on farms and landscaping projects (loose hay, straw, bedding or dry compacted livestock waste). Grapple buckets (solid bottom) are engineered to handle bulky, irregularly shaped objects found in demolition, industrial, construction and recycling (railroad ties, trees, large rocks or scrap). Grapple rakes or root rakes are ideal for storm debris cleanup and land clearing applications due to their open bottom design which allows unwanted material to filter through the work tool. On bigger wheel loaders, log grapples or sorting grapples/forks are designed for applications in log and lumber handling industries. Wheel loader manufacturers and attachment makers may sell grapples with names like scrap, rock, feed lot, pipe and garbage — each one specialized for various applications. — Keith Gribbins, publisher, Compact Equipment
Knock-Around Grapples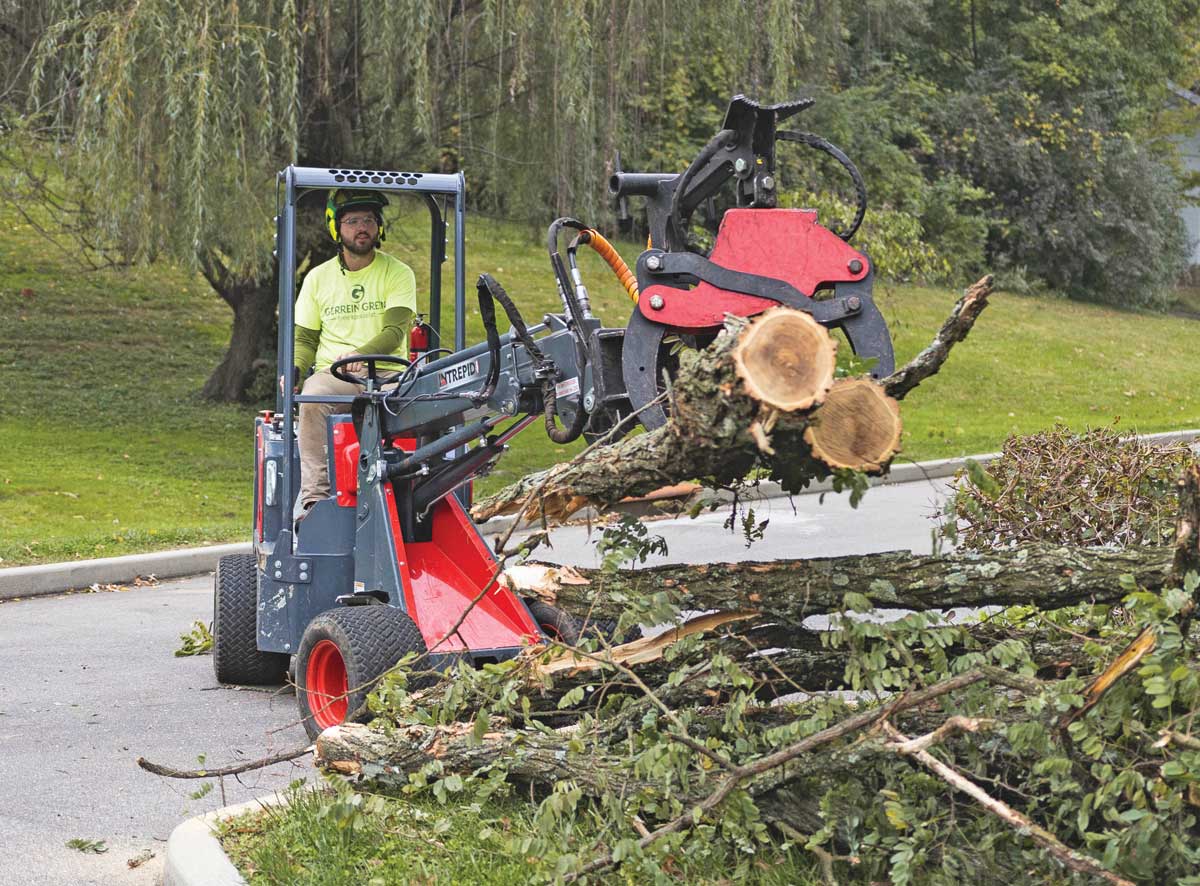 A knock-around grapple is an attachment used by arborists and landscapers to move brush and logs from jobsites in order to feed a chipper or trailer. The tool may look awkward at first glance, but do not let looks deceive you. Also referred to as a bypass log grapple, this attachment is an extremely efficient and versatile tool. As opposed to horizontal grapple attachments, the knock-around grapple allows you to drag brush and pick up logs in line with small wheel loaders or skid steer/track loaders. Bypass grapples feature openings of up to 61 in. and, depending on type and size, capacities of up to 10,000 lbs. Manufacturers offer extra features such as hydraulic rotation, winches, rope bollards, chainsaw scabbards and tree pushers. Some even offer optional clamshell scoops and a rake that can be mounted on the grapple claws, turning it into a multi-functional debris-clearing tool. Branch Manager Attachments developed the first knock-around grapple in the early 2000s. — Chris Sleurink, company manager, MiniLoaders.com
Pusher Plows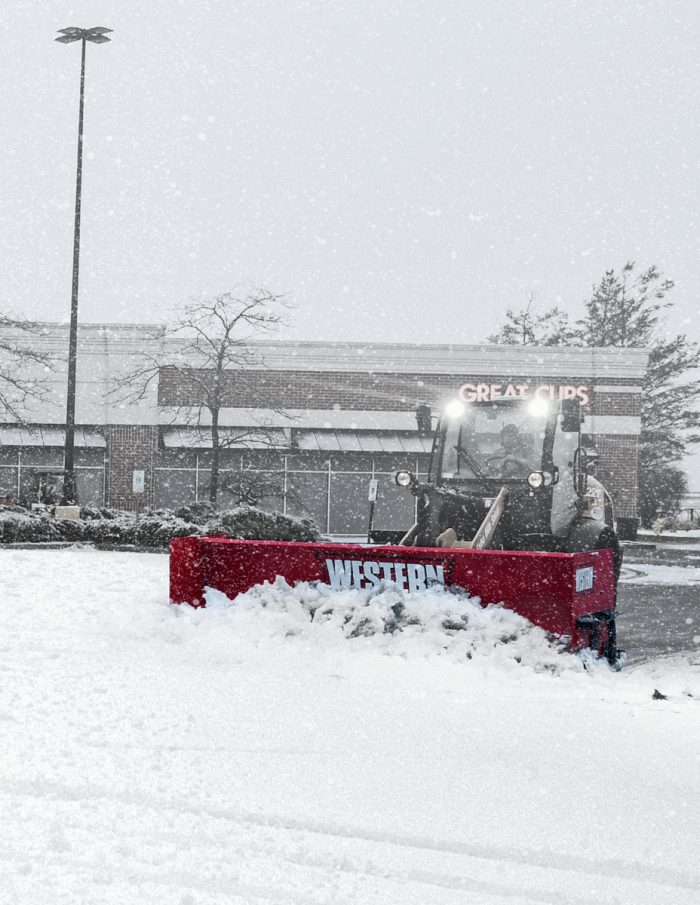 Pusher plows (also known as box plows) are a versatile and efficient attachment for wheel loaders. Typically, available in 8-, 10-, 12-, 14- or 16-ft widths, these plows can accommodate most loader models. They also come in varying heights and feature common attachment systems, making them compatible with various other types of equipment. When attached, pusher plows give contractors the opportunity to maximize efficiency while earning additional revenue through snow removal. When selecting a pusher plow, it's important to consider the size and power of your equipment, along with the size of the area you need to clear. These large boxes can move an incredible amount of snow and are perfect for clearing large open areas like airports, manufacturing facilities, retail spaces, parking lots and other jobsites with an expansive footprint. Given their size and effectiveness, pusher plows can eliminate the need to find multiple drivers, thereby reducing labor costs. Many manufacturers offer various types of blade technology with pusher plows, including independent sections that oscillate, move vertically and trip to accommodate any contours or obstacles in the plowable surface. Some models may also have additional features, such as replaceable wear parts, which help extend the life of the attachment. — Erin Hunt, product manager, Douglas Dynamics
Snow Blades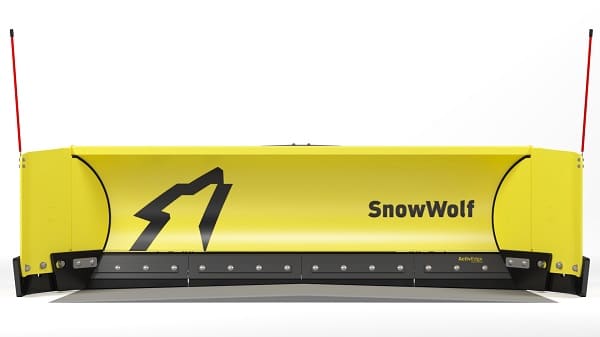 With big buckets, big blades, high reach and great visibility, wheel loaders can tackle winter work at airports, malls and even on streets with high roading speeds. Compact wheel loaders bring even more versatility and nimbleness to snow work, utilizing a variety of attachments from plows to snow throwers while articulating around congested jobsites with agility. A simple straight snow or dozer blade can be set to the ideal height and angle to push and clear snow. A complex V-blade can be adjusted in five or more different plowing configurations for the exact job at hand. A snow pusher (detailed above) can clear large volumes without leaving windrows or allowing snow to spill over the top. These snow blades can be as narrow as 3 ft or as wide as 16 ft, depending on the size of the loader. These blades might be constructed of steel or polyethylene and come with options like adjustable skid shoes, compression trip springs, blade guides, deflector kits and beyond. There are also hybrid blades that might be fitted with optional wings or angled extensions that allow the blade to transform from straight to pusher and beyond. Regardless of style or brand, it's critical that any snowplow be equipped with mechanical float, allowing the plow to move up and down over contours in the pavement. Without float, the wheel loader will lose steering when the plow rides over humps, or the plow will leave snow in the dips. — Keith Gribbins, publisher, Compact Equipment
Snowblowers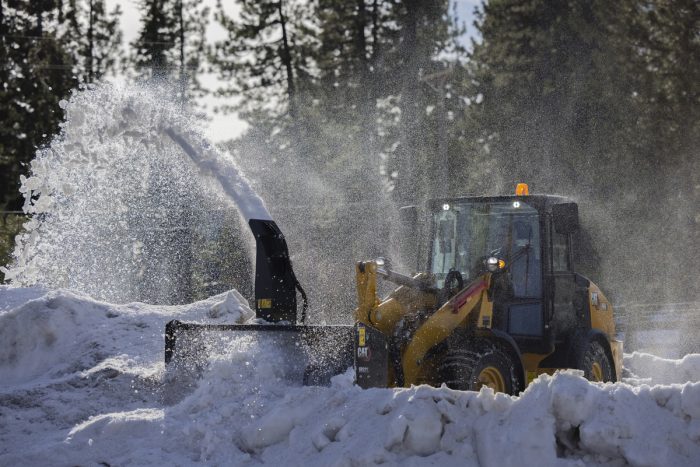 Finding a spot to place all of that heavy snow can be difficult. Luckily, a snowblower allows compact wheel loader operators to easily move large amounts of snow and direct the snow into precise locations. Especially for snow depths larger than 2 ft, snowblowers create the best solution to relocate the material so the path can be cleared (up to 45 ft away). The typical in-cab electrically controlled adjustable chute rotates left and right, and the deflector controls the height of the discharge. Most compact wheel loader snowblowers are two-stage snowblowers (vs. one stage), which means steel augers break up the snow and ice and feed it into a high-speed impeller (stage-one). The impeller then throws the snow up and out of the discharge chute (stage-two). Direct drive hydraulic fans and augers are a big selling point vs. chain and sprocket or shear pin designs. There will be a wide variety of intake widths (ranging from 30 to nearly 100 in.) and varying model sizes and operational weights that will configure to certain size compact wheel loaders. Look for a poly-lined chute to ensure that it will not become clogged with packed snow. Additional features might include replaceable tapered wear edges, adjustable skid shoes, truck loading chutes (with the ability to place snow high into the truck) and maybe motor options (like a single auger motor for standard flow and a dual auger motor for higher flow units). Because keeping travel speed slow and steady is imperative with snowblowing operations, speed control and creep control on a wheel loader can help operators automate snowblower applications more efficiently. — Keith Gribbins, publisher, Compact Equipment
Spreaders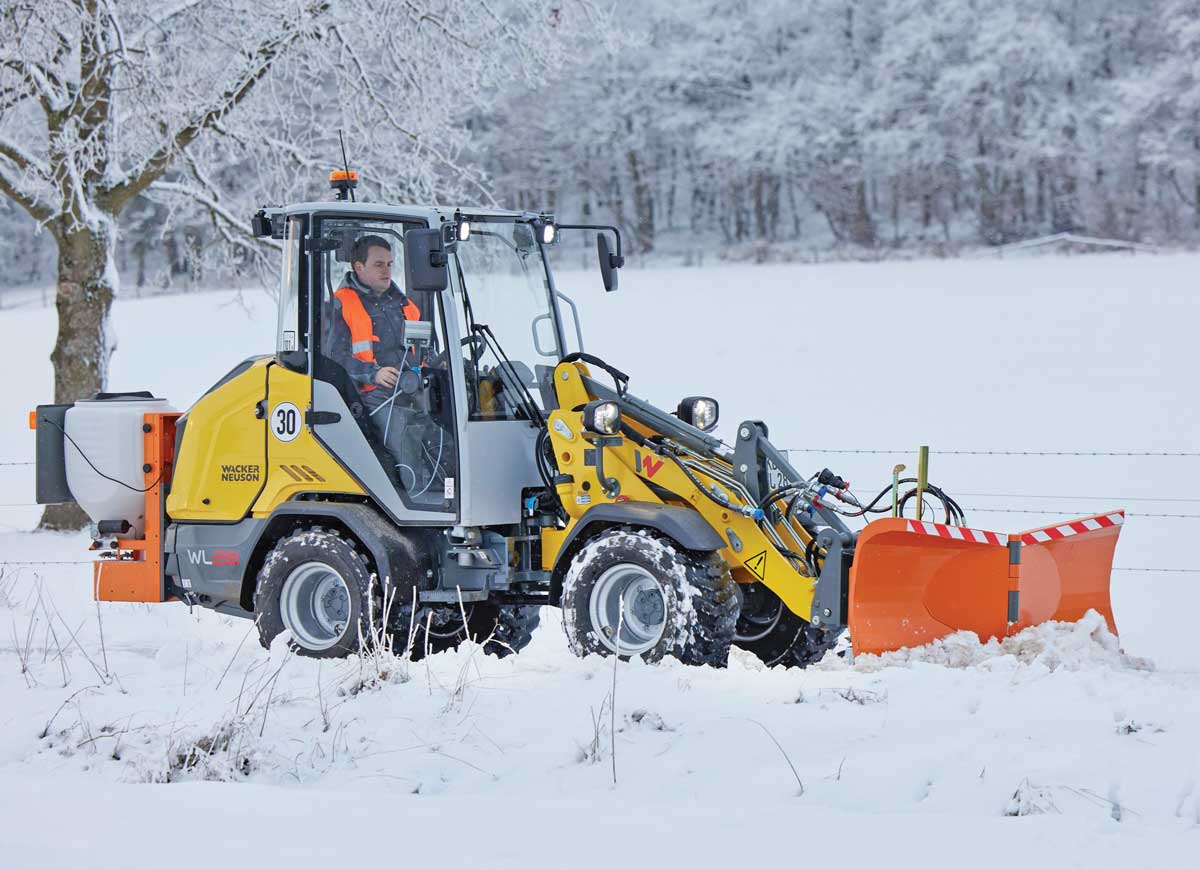 Compact wheel loader spreaders aren't just for winter work. These spreader attachments can apply salt, sand or even wood chips for a variety of applications — melting ice and snow, creating safe walking areas and disrupting materials for trails or landscape beds. Spreader options might include drop vs broadcast, single vs. double spinner units, rear mounting vs. front attaching and beyond. A good first step is to determine what surfaces you are going to be salting or sanding, whether it be parking lots, driveways or sidewalks. Broadcast-type spreaders are good for spreading material in a wide pattern and are ideal for parking lots and driveways. Drop spreaders lay a precise spread width, which is good for sidewalks because the material won't reach the turf and potentially cause damage. It's important that the spreader is made from quality materials like stainless steel or poly that won't corrode due to salt exposure. Because materials are expensive and there is concern for environmental impacts, maximum spreader control and precision are imperative. Look for a spreader that gives exacting control of the broadcast spinner, rotor speed and the material gate. — Keith Gribbins, publisher, Compact Equipment
Keith Gribbins is publisher of Compact Equipment.
Wheel Saws, Nursery Forks & Big Brooms
A Trio of Up-and-Coming Attachments for CWLs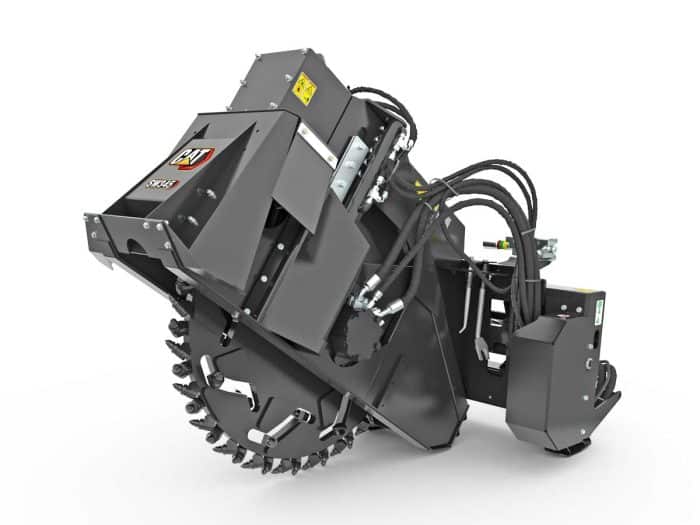 When people think about compact articulating wheel loaders (CWLs), they often refer to them as high-speed wheelbarrows, typically equipped with buckets and/or forks to move material from point A to point B. While that is not incorrect, today's CWL is capable of using a variety of attachments. Auxiliary hydraulics and integrated controls make for a very capable tool handler that would rival a skid steer or compact track loader.
An often-overlooked tool is the wheel saw for creating small trenches through pavement or concrete, typically for underground utility installation. Hydromechanical tools should be matched up to the host machine's hydraulic system for flow and pressure. Wheel saws are no different. A wheel saw on a CWL really benefits from stability while transporting due to the longer wheelbase over a skid steer or compact track loader. A key feature for wheel saws is the depth and width of the trench. The main wheel/hub is really what you're looking for here. Up to a 3-in. width and 18-in. depth is ideal for most needed cuts. Cat wheel saws feature a Maxpro gauge to make sure you're cutting at optimal speed. Pair that with the new Cat utility mode on the new 906 to 908 and you have the most comfortable cut you can make.
A new tool for Caterpillar are nursery forks. While also commonly seen on its cousin the skid steer or compact track loader, the big advantage of using a CWL is keeping the site clean and well organized. High turn around nurseries need to move supply trucks in and customer trucks out in the most efficient manner possible. Keeping the site from being rutted out makes for less maintenance at the end of a long day. Having a nursery fork that can load up to five 24-in. root balls or one 54-in. tree at a time makes for the least passes as possible to keep trucks moving.
Often overlooked or at least underutilized on the larger spectrum of CWLs (Cat 910 to 920) are large brooms. Nearly every working highway project has a loader on site for general support already. Pair up a correctly matched width broom and make for quick cleanup of the site. Utilizing the hydrostatic transmission to its full potential, you can set the machine's creep speed to not outrun the broom, nor do you have to hold back the loader with the brakes. Lock in continuous flow and just steer. With some pickup brooms, you may also have onboard water to help keep dust down. Angle brooms are great attachments in applications that simply require dirt or debris to be pushed away or off a surface such as roads or parking lots.
Scott Britton is the attachments marketing manager for Caterpillar.