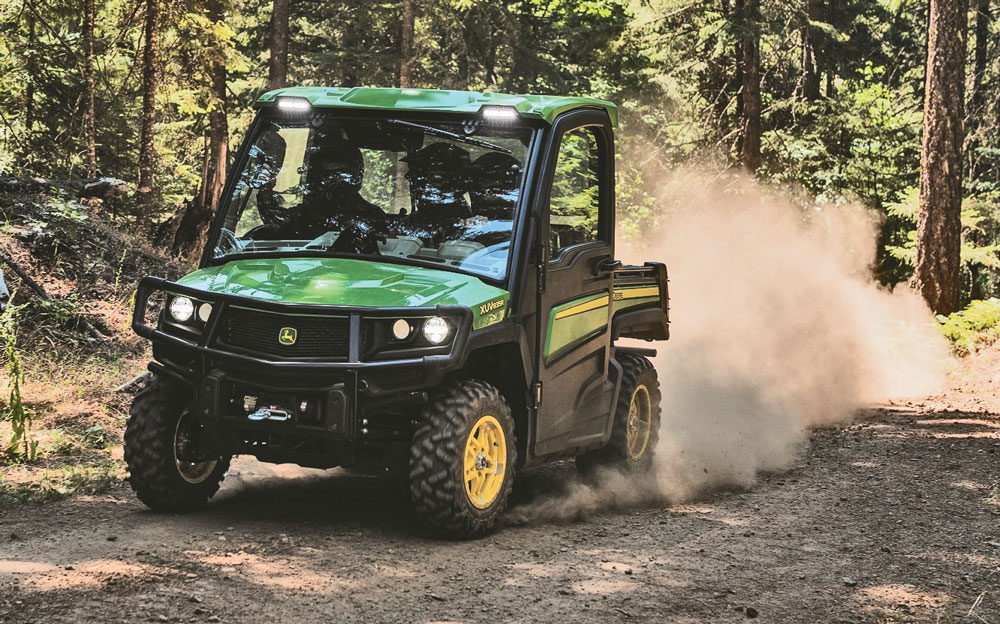 When thinking of utility vehicles (or UTVs for short), it's easy to picture weekend warriors zipping around to their next adventure. However, when packed with the right power, payload and attachments, UTVs transform into the ultimate workhorses. Quick and compact enough to fit into jobsites but cheaper than a pickup, these vehicles are the perfect compromise for contractors.
"Utility vehicles pack a lot of power in a small package, offering numerous benefits when used on a jobsite," says Kevin Lund, product line marketing manager for utility vehicles at John Deere. "Unlike large trucks, utility vehicles, with their lighter ground pressure and terrain capability, are able to travel on widely varying terrain, including sand, turf, dirt and mud, getting a crew, their tools, generators, construction materials or loose material, like mulch or gravel, to the worksite. A productive and efficient tool, utility vehicles can help workers complete more work throughout the day. While some people may overlook utility vehicles, we consistently hear from our customers that utility vehicles are one of handiest tools in their fleet."
Just like any piece of equipment, the search for the right UTV begins with understanding what applications it's expected to perform. With options from classic UTV manufacturers such as John Deere, Polaris, Kubota, Kawasaki and Cushman, there are plenty of models and features to choose from. Lund offers five questions contractors should ask to help narrow down which model is best for their business:
How much will you need to carry in the cargo box?
Where do you need to travel?
How many people do you need to carry?
How fast do you want the vehicle to go?
What type of fuel do you want to use?
"With answers in hand, contractors should meet with their dealer, who will help them determine the best model," says Lund. "Utility vehicles are designed for a variety of applications — some are equipped to power through rugged, rough terrain, whereas others are designed with the basic features for turf areas. If the job requires crews to travel long distances off road, a four-wheel drive utility vehicle that can travel at higher speeds may be best. Depending on the size of the crew, a four-passenger model may be necessary. The dealer will help navigate through all available options and select the right model."
Engineered with a cargo bed, tow-hitch, racking for tools and even PTO- or hydraulic-fueled attachments, UTVs are now being specifically engineered for work applications in construction, landscape, agriculture and other applications. Roger Gifford, Kubota's product marketing manager for utility vehicles, recommends that contractors consider a gear-box driven PTO, quick-attach system and attachments from brooms to blades.
"Kubota offers the four-point K-Connect system, offering the ability to put down one implement and go to the next in under a minute, without the use of any tools," he says. "For our worksite utility vehicles, this is a very popular option."
Besides attachments, engines (gas and diesel) and two- or four-wheel drive, there are a number of big options to consider. Six-wheeled units are offered from the likes of John Deere. A two-row, multi-seating unit can be the best of both worlds for contractors needing to get a group of workers and payload to a certain location. Certain units will have the ability to limit speed for work applications.
Also, think about operator and passenger comfort with options such as a stereo kit, Bluetooth speakers, cab heater or hydraulic dump. Think overall functionality and choose items like a winch, tool rack or trailer hitch, and don't forget about protection and safety, which includes accessories like windshields, enclosed cabs and bumpers.
"When looking at extra features for a machine, contractors need to consider their applications and environments," says Lund. "If dealing with colder weather, cab comfort may be important to consider. Utility vehicles can be equipped with cabs and heater and air conditioning. If working early in the morning or late in the evening, LED front and rear light kits can be beneficial for increasing operator visibility."
Looking at UTV Lineups
John Deere launched the UTV market back in 1987 with the introduction of the five-wheeled AMT 600/622. Five years later, in 1992, the company brought its first Gator 4×2 and 6×4 models to market. Today, John Deere offers 19 models across three categories: Work, Crossover and High-Performance.
"With a variety of options, John Deere strives to offer a utility vehicle solution for any application," says Lund. "Most recently John Deere unveiled its newest addition to the Gator lineup, the XUV835 and XUV865 utility vehicle models. The gas-powered 54-hp Gator XUV835 and diesel-powered 23-hp Gator XUV865 utility vehicles feature a quiet cab, three-wide seating, improved ergonomics and exceptional heating and air conditioning, ideal for operators working in winter conditions."
One of the most popular models in John Deere's current lineup is the XUV825 Gator UTV.
"The XUV825 offers best-in-class ride quality and terrain capability with a 50-hp, 812-cc engine," says Lund. "With a top speed of 44 mph, the four-wheel-drive, heavy-duty XUV825 features a 16-cu-ft cargo box that can convert to a flatbed and has numerous attachment options and storage."
Kawasaki joined the UTV game in 1988 with the Mule 1000. Since then, the company has evolved its lineup to the Mule Pro Series which includes four models — two diesel and two gas. Introduced in 2014, the company says that its latest series features the fastest and most powerful Mule side by sides ever built, and they're perfect for any ranch, jobsite, farm or fleet. According to Kawasaki, the Mule Pro Series takes full advantage of the company's speed-sensitive Electric Power Steering (EPS) system on nearly all of its models. It reduces steering effort at low speeds and provides optimal steering feedback to enhance handling as speed increases.
Minnesota-based manufacturer Polaris first entered the UTV market in 1998 with the introduction of the Ranger product line. Today's lineup of Rangers is comprised of 17 current models, with engines ranging from 32 to 82 hp and rider capacities from two to six people. Operators even have the choice between gas, diesel and electric power options.
"One of the more popular models is the Polaris Ranger 570 due to its class-leading power and payload, as well as more than 100 accessories available, such as full cabs, plow systems, lighting and bed accessories, allowing the customer to create the exact vehicle to meet their demands," says Nick Snidarich, Polaris' product specialist for work vehicles.
Cushman has more than 110 years of experience in manufacturing material handling and personnel transportation solutions for a variety of industries. Its current UTV offering includes the Cushman Hauler line of UTVs, which offers a range of models, in both 4×4 and 4×2 to meet customer needs. Its popular Hauler 4×4 Diesel Crew is equipped with a 22-hp, 1,007-cc, three-cylinder diesel engine, user-selectable four-wheel drive, four-wheel independent suspension and a large cargo bed — perfect for work and hauling people and supplies.
Kubota entered the UTV market in 2004 with its first RTV. Since then, the company has evolved and expanded its product line to include diesel, gas, general and worksite models. Kubota recently introduced the new Sidekick, which the company calls its "fastest gas-powered utility vehicle yet."
Kubota currently offers two different sizes of RTVs: mid-size (which included the RTV400Ci and RTV500) and full-size (which includes the RTV-X900, RTVX1100C, RTV-X1140 and RTV-X1120 diesel models and new RTV-XG850 Sidekick gas model).
"The new RTV-X1120 models are Kubota's most well-equipped utility vehicles at the best price among its competition," says Gifford. "Designed for the commercial customers who use these machines for heavy-duty work every day, the Kubota RTV-X1120 general purpose model combines Kubota quality with enhanced power, torque and performance at a starting price point of $13,999 MSRP.
"The RTV-X1120 features a dependable 24.8-gross-hp diesel engine and is ready for any jobsite," Gifford continues. "The engine and VHT-X transmission provide a top speed of 29 mph as well as plenty of hill-climbing power. With the increased speed comes an increased dynamic load, so the RTV-X1120 comes equipped with three-point seat belts for safety."
Tags:
April 2018 Print Issue
,
Cushman
,
home
,
John Deere
,
Kawasaki
,
Kubota
,
Polaris