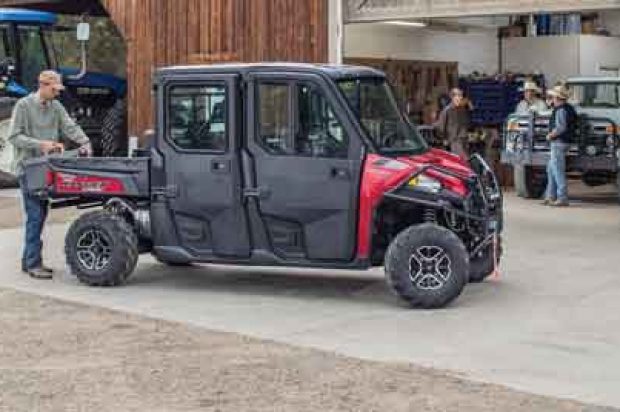 13 Models from the Famed Minnesota Off-Roading Trailblazer
The Polaris Ranger utility vehicle line was introduced in 1997 and has evolved greatly since that time. What started as one vehicle is now a family of vehicles offering midsize, full-size and multi-passenger options with gas, diesel and electric choices. Ranger is a big part of Polaris' product strategy when it comes to commercial off-highway vehicles.
Polaris' Ranger Series offers 13 base models (not all listed below) within the midsize, full-size and multi-passenger categories with several iterations within each, such as power steering, color options and accessory packages. Within those models, Ranger also offers gas, diesel and electric options to cater to a wide variety of operator needs. The diversity of the Ranger line is one of the reasons the family is a leading utility lineup, says Polaris. Ranger vehicles are known in the marketplace thanks to their independent rear suspensions, on-demand true all-wheel drive, high towing and payloads and accessory integration, says Polaris.
One of the most popular Ranger vehicles is the Ranger XP 900. With seating for three, 68 hp, towing of 2,000 lbs and payload at 1,500 lbs, the Ranger XP 900 is the ultimate work partner. Along with hard-working attributes, the Ranger XP 900 is easy on the operator with its smooth and robust suspension and comfortable ergonomics, says Polaris. To ensure it is ready for any job, the vehicle offers accessory integration with Lock and Ride accessories and Lock and Ride Pro-Fit cabs that install quickly and easily.
For alternate power vehicles, the Ranger EV is popular. The vehicle features a single 48-volt, high-efficiency, AC-induction motor and a 25-mph top speed. The vehicle boasts a 1,500-lb towing capacity, 500-lb cargo box and 1,000-lb total payload. For mobility over a diverse amount of terrains found at a worksite, the vehicle features high-pressure 20 psi, 25-in. turf-friendly tires. The vehicle also has the accessory integration found on all Ranger vehicles. For attachment offerings, Polaris Engineered Accessories has a wide variety of cabs, plows, cargo boxes, winches and everything in between available for Ranger utility vehicles. For the jobsite, Polaris offers the Boss Lift and Carry system that attaches to the front of the vehicle and has attachments available such as a brush grapple, V-plow and bucket. The company also carries sprayers and spreaders.
Advice to Buyers
"Make sure to research capabilities and understand what specific features are needed for your application," says Donna Beadle, public relations with Polaris Industries. "It helps to test drive several machines to understand which ergonomics work best, especially if it will be a main tool on the worksite."