The heart and soul of a good company is the creativity it brings to a marketplace.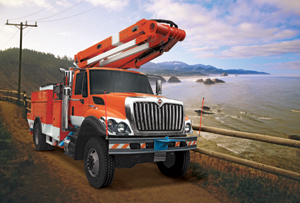 Innovation is not necessarily the knowledge a business bestows to an industry, but the imagination in which it approaches its products and customers. Trucks like International's WorkStar Hybrid (a sophisticated diesel-electric hybrid ready to deliver fuel savings up to 60 percent) are inspiring contractors to save money and keep the environment clean. Machines such as Vermeer's S800TX mini skid steer (with its rated tip capacity of 2,400 lbs and its lift height of 84.5 in.) are pushing the boundaries of power and flexibility when it comes to contracting with small equipment. And attachments like Loftness's KWIK-TRIM right-of-way trimmer (which uses a mini excavator platform to carry a 53-ft boom with a circular saw blade) are changing the way crews and tool carriers work.
This is some of the visionary equipment that has changed the commercial equipment market over the last 12 months. Every year around this time, we honor these innovative inventions as the best compact machines released in 2009. In many ways, 2009 has been one of the toughest years in recent history for contractors and manufacturers, so now is a time to celebrate some success stories — contractors who have become leaner and more agile, companies that have diversified and gained market share and manufacturers that have kept trailblazing with even more efficient and innovative equipment.
With this article, we salute the companies (the Bobcats, Readings, KIOTIs and Griffins of the industry) by honoring these products as some of the most unique, interesting and innovative machines, attachments or technologies launched this year. If we missed something you as a reader feel should be included, send us an e-mail (kgribbins@benjaminmedia.com or pstask@benjaminmedia.com) and we'll see about covering even more inventive products in our 2010 issues of CE.
Pam Stask is assistant editor and Keith Gribbins is managing editor of Compact Equipment, based in Peninsula, Ohio.
Navistar — Green Machine
The International WorkStar Hybrid 4×4 Offers Clean and Cost-Effective Operation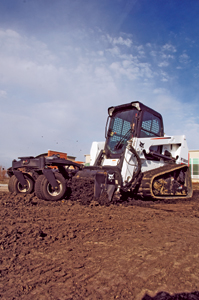 In tough economic times, any way a contractor can save money is advantageous. Having a lighter footprint on the environment is a plus too. With Navistar's International WorkStar Hybrid 4×4 — the industry's first four-wheel drive diesel-electric hybrid commercial truck — operators can experience a fuel savings of 60 percent, adding to their bottom line.
The Class 7 WorkStar Hybrid 4×4 is powered by a hybrid-electric system that utilizes a regenerative braking system to recover energy lost during braking, stores the energy in batteries and adds power back into the driveline during starts and acceleration — making the truck more efficient in standard driving, particularly in city and stop-and-go driving. At a worksite, the hybrid system can power booms, aerial devices and other tools needed at the location for up to 90 minutes without the engine running — significantly reducing noise, emissions and fuel costs. The four-wheel drive capability of the truck is ideal for customers like utility companies, who need a truck to operate in off-highway conditions but are also looking to save energy and project a green image.
The International WorkStar Hybrid 4×4, part of the International severe service lineup of trucks for heavier-duty applications, adds to Navistar's industry-leading lineup of diesel-electric hybrid vehicles. Navistar also produces the medium-duty International DuraStar Hybrid, as well as IC Bus brand diesel-electric hybrid passenger buses, for both school bus and commercial bus applications. RS#50 For more information, go to www.ceunbound.com/info.
Bobcat — Fully Loaded
Bobcat M-Series Loaders Bring New Meaning to Power, Efficiency and Comfort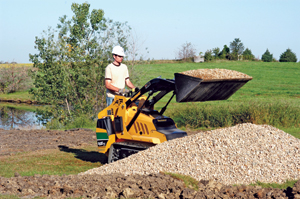 Bobcat first introduced the compact loader more than 50 years ago, establishing one of the core categories of tool carriers in the North American market — skid steers. In 2009, the company reinvented that line of compact loaders with new levels of comfort and power on the new Bobcat M-Series. Best-in-class cabs, ease of serviceability and increased power and performance, the Bobcat M-Series loaders represent the next generation of equipment wizardry. The unique cab-forward design brings the operator closer to the work area, the size of the cab overall has been increased by 10 percent and now pressurized cabs keep operators and the interiors clean. The noise levels in the cab have been reduced by more than 60 percent and various operators can be accommodated with the numerous seat options, control adjustments and even sweet satellite radio.
M-Series loaders are not only designed to keep operators comfortable and working longer, but also to make operators more efficient and productive. The M-Series loaders feature: higher standard flow and pressure on the hydraulic system; increased tractive effort by 15 to 20 percent for great pushing and digging power; holes for frame-mounted counterweights to increase lifting performance; and a larger fuel capacity. The first four models of M-Series loaders were launched in June 2009. The loaders include two new models of skid steers, the S630 and S650, and two new models of compact track loaders, the T630 and T650. RS#51 For more information, go to www.ceunbound.com/info.
National MSRP: The M-Series loaders range in base price from $32,895 to $48,026; actual prices will vary depending on options, accessories, freight and dealer preparation.
Vermeer — Little Wonder
Vermeer's S800TX Mini Skid Steer Packs More Power into the CUL Package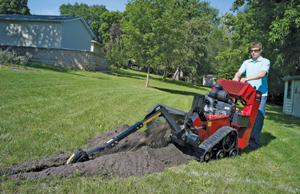 Machines are shrinking in size, but growing in power. In 2009, Vermeer Corp. reached a new echelon of big strength in a compact category with its S800TX mini skid steer, which has the highest rated operating and tip capacity in the stand-on mini skid steer class. The innovative engineering design allows the S800TX to lift and transport large loads of material at an increased tip capacity tolerance of 2,400 lbs with greater maneuverability and less of a footprint. The 35-hp engine provides exceptional power and the high hydraulic flow rate (14 gpm) helps effectively fuel demanding attachments. In this size class, no other mini skid steer matches the performance and productivity of the S800TX. The unit debuted at the ICUEE trade show in October and went into full-scale production in mid-November. Operating on a dedicated ride-on platform, contractors can harness the flexible power of the S800TX in as many different markets as applications. RS#52 For more information, go to www.ceunbound.com/info.
National MSRP: $28,000 to $29,000, not including attachments.
Toro — Pure Earth Eater
Toro Introduces the TRX-26 — the Most Powerful Walk-Behind Trencher on the Market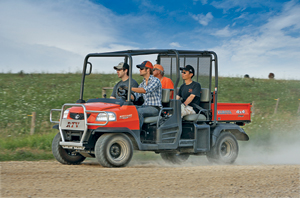 This page is dedicated to new power levels in small utility equipment, and Toro's TRX26 definitely fits into a new stratum of concise mechanical digging machines. Toro extended its line of dedicated walk-behind trenchers this year with the TRX-26, the most powerful dedicated walk-behind trencher on the market. Boasting a 26-hp Kawasaki engine, the TRX-26 is ideal for utility workers, irrigation contractors and plumbers looking for the power of a ride-on trencher, with the maneuverability and control of a walk-behind. Dedicated tracks match nicely with operator-friendly controls to make the TRX models more productive and easier to learn, and a lower center of gravity means more stability on hills and uneven terrain. The TRX-26 can be outfitted with Toro's 2-, 3- or 4-ft boom attachments, allowing it to trench up to 8 in. wide and up to 48 in. deep. RS#53 For more information, go to www.ceunbound.com/info.
National MSRP: $14,649.
Kubota — Room for More
Kubota's RTV1140CPX Offers Additional Space for Crews and Cargo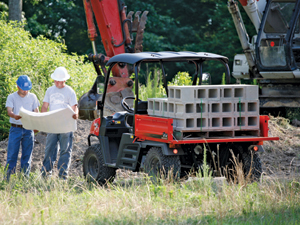 Utility vehicles have filled a void in transporting supplies and crewmembers, allowing contractors to carry materials to remote jobsites without the use of a pickup. With Kubota's RTV1140CPX, now you can move even more. Introduced in April 2009, the RTV1140CPX features an innovative new transformation system that quickly converts from one- to two-row seating options — allowing the operator to choose between additional passenger capacity or best-in-class, 18.4-cu-ft cargo space. The RTV1140CPX utility vehicle is powered by a three-cylinder, 24.8-hp Kubota diesel engine, four-wheel wet disc brakes and hydraulic power steering. Hydraulic bed lift is standard. The new RTV is offered in either Kubota Orange or Realtree Hardwoods Camouflage. RS#54 For more information, go to www.ceunbound.com/info.
National MSRP: $15,675 (RTV1140CPX-A).
KIOTI — Joy Ride
KIOTI's MECHRON UTV Provides Smooth and Stable Transport for Both Work or Play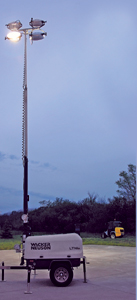 Everyone needs to have a little fun — after the work is done, of course. With KIOTI's new MECHRON UTV, contractors and weekend warriors have the best of both worlds, combining work and recreation in one reliable unit. Driven by a fuel-efficient, 22-hp, three-cylinder Daedong diesel engine, the hard-working MECHRON offers superb power and excellent fuel economy.
With one of the widest tracks on the market and four-wheel drive, the MECHRON delivers stable operation and superior traction over challenging terrain — making it easier to get to an isolated jobsite or favorite fishing hole. Front limited slip differential and rear differential lock are standard. Available in spring 2010, the MECHRON offers a 56-in. wide dump bed — the widest on the market for a 1,600-lb payload capacity — 23 percent higher than the market leader. An industry-leading 12-in. ground clearance creates a smoother ride on bumpy roads, while helping to maintain the chassis even under the heaviest of loads. RS#55 For more information, go to www.ceunbound.com/info.
National MSRP: NA
Wacker Neuson — Durable Design
Wacker Neuson's LTN 6 Series Boasts Robust Features in Tough Conditions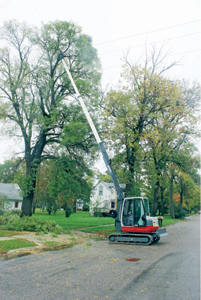 Protecting equipment investments can be tough, especially in work environments that don't let up. Between debris, spotty weather conditions and general wear and tear, machines certainly take a beating. Wacker Neuson found a solution to the elements with its new series of LTN 6 light towers (light towers with narrow bodies and 6-kW generators). Introduced in February 2009, the LTN 6 Series is designed with a stamped 10-gauge steel tub to provide superior strength and full protection from ground debris, as well as high impact polyethylene doors that are both dust and rust proof — making these units tough enough for rental applications. The LTN's sleek design provides for quieter operation, with sound levels as low as 67 dBA at 23 ft, compared to an industry average of over 70 dBA. The LTN 6 comes standard with distinctive elliptical light fixtures that offer a diffused, even illumination. The 30-ft adjustable tower rotates 360-degrees for light adjustment. RS#56 For more information, go to www.ceunbound.com/info.
National MSRP: $11,680 to $14,805, depending on options.
Loftness — A Cut Above
Loftness Introduces the Long Reach of the KWIK-TRIM Right-of-Way Trimmer
In tough economic times, clever contractors adapt. They modify resources for new markets and expand their portfolio with assets they already have. For example: Mini excavators are typically used for digging, but did you know they could also be used for high-reach, right-of-way work? Well, Loftness did. The company just released the Loftness KWIK-TRIM compact right-of-way (ROW) trimmer. The unit is changing the way ROW contractors and electricity providers look at handling the non-stop job of trimming back the trees that continue to crowd electric distribution lines.
The Loftness KWIK-TRIM uses a popular mini excavator platform as a dedicated power unit, carrying a 53-ft nonconductive boom with a 24-in. circular saw blade. This agile, 38-hp, self-propelled trimmer is extremely productive on distribution line work, which can account for up to 90 percent of ROW maintenance. An industry first "retractable boom carriage" shrinks boom overhang for transport, allowing the 10,700-lb KWIK-TRIM to fit on a standard skid steer trailer and pickup. The compact size and smaller hauling rigs will allow contractors to fit into jobsites closer to populated areas where larger units may seem intimidating to the land owners and their neighbors. It will also help expand professionals' operations and job abilities, which is great news in this turbulent economic climate. It comes standard with a ROPS, FOPS and TOPS enclosed cab, including heat and A/C. RS#57 For more information, go to www.ceunbound.com/info.
National MSRP: The Loftness KWIK-TRIM is expected to be available in late December with an estimated list price of $100,000.
Caterpillar — Smooth Operator
Cat's Selective Hydrostatic System Response Creates a Level Playing Field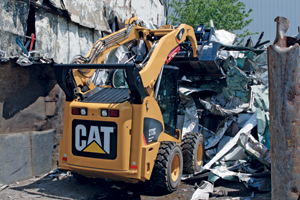 The utilitarian nature of compact loaders means that everyone on the crew will likely be in the seat at one time or another — from the novice to the expert operator. With this thought in mind, Caterpillar engineers developed a new control feature for the hydrostatic drive/steer system in its C-Series skid steers and compact track and multi-terrain loaders — the new Hystat Response Control System. The HRCS uses software that permits the hydrostatic system to be adjusted to one of three response rates — standard, intermediate or maximum. The chosen response rate determines how rapidly the machine accelerates and decelerates and how quickly it responds to steering commands. Each successive setting results in a more aggressive response, thus permitting skilled operators to use the machine to its full potential, but also accommodating operators of lesser experience. RS#58 For more information, go to www.ceunbound.com/info.
National MSRP: The HRCS system has been included as a standard, no-cost feature on C-Series loaders since April 2009.
Komatsu — Feature Presentation
Komatsu Packs Its WA50-6 with High-Tech Solutions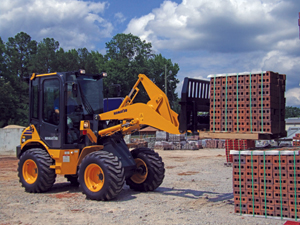 Technology does not drive change — it enables change. The technologies in Komatsu's WA50-6 compact wheel loader actually allow contractors to change their inefficiencies into productivity. First of all, it is the only machine in its class that has three mode traction control and speed control as standard equipment. The traction control system can be set to: P mode, which provides maximum traction for excavating and grading; N mode, which is used for aggregate loading and load-and-carry applications; and S mode, which adjusts traction to minimize wheel slip for slippery conditions. The WA50-6 also comes standard with KOMTRAX, a wireless machine monitoring system that comes with telematics. RS#59 For more information, go to www.ceunbound.com/info.
National MSRP: A WA50-6 with a canopy, mechanical skid steer compatible coupler and bucket is $59,970; with a cab, air conditioner, mechanical skid steer compatible coupler and bucket it's $70,650.
JCB — Triple Play
JCB's Light Equipment Lineup Makes Its North American Debut with Three Product Categories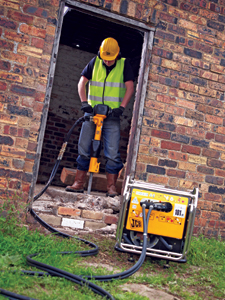 A winning team of contractors needs the right tools to get the project done. With JCB's Light Equipment line, crews can choose from 32 products representing three distinct categories — light compaction, hydraulic power packs and hydraulic hand tools.
The light compaction products include forward and reverse plate compactors, rammers and a single drum roller. The VMF forward plate compactors have been specifically designed for easy, effective compaction of asphalt, soil and other non-cohesive (or less-cohesive) materials. The VMP reversible plate compactors provide a choice of models to suit every type of compaction application. All units are hydrostatically operated and designed to effectively compact granular and cohesive material.
The VMR Jumping Jack Rammers Series features a low-maintenance design that allows the machine to operate for longer periods of time, resulting in greater productivity. The VMS Series single drum roller is ideal for use in confined spaces that cannot be accessed by traditional larger rollers. Compact and maneuverable, these drum rollers are popular with maintenance contractors for small asphalt reinstatement and ground care applications.
JCB's hydraulic power pack lineup includes four models — HP200, HP300, HP400 and HP500. The hydraulic power packs (pictured) feature a power-on-demand system that reduces off-load engine speeds to idle, resulting in lower noise levels, less engine wear and decreased fuel consumption.
JCB's hydraulic hand tools are designed to run off JCB power packs or the handheld tool circuits (HTC) available on a number of JCB machines. The new range of hand tools includes breakers, pumps, saws, drills, wrenches and augers. Designed for a long trouble-free life, each tool offers an impressive power-to-weight ratio, while at the same time being light, manageable and quiet to operate. RS#60 For more information, go to www.ceunbound.com/info.
National MSRP: NA
Miller Electric — Smart Power
Miller Electric's EnPak Mechanic Series Keeps Contractors Working Out on the Road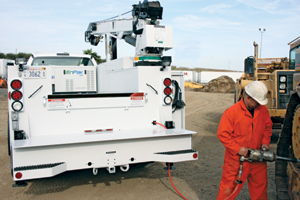 On-the-go contractors need power to run their tools without burning a hole in their budget. Introduced at this year's Work Truck Show in Chicago, Miller Electric's EnPak Mechanic Series offers a cost-effective solution to get tough jobs done. EnPak is the world's only truck-integrated, diesel-engine-driven air compressor, generator and hydraulic pump. Its 27-hp Kubota diesel engine eliminates the need for a PTO and integrates seamlessly into its electrical and fuel systems — allowing contractors to run all their tools with the truck turned off. This lowers fuel costs up to 30 percent, reduces truck engine hours up to 60 percent, lowers workspace noise by as much as 10 dB and substantially reduces exhaust fumes in the work area. EnPak's variable speed rotary screw air compressor, Miller's Air Pak 40, allows mechanics to use air tools without having to stop work and wait for pressure to build. Its Eaton variable displacement piston hydraulic pump offers smooth, fast and accurate crane operation. Additional power from the unit is available to run extra tools and electronics such as welders, lights and laptops. RS#61 For more information, go to www.ceunbound.com/info.
National MSRP: NA
Reading Truck Body — Weight Watchers
Reading Truck Body's Aluminum Classic II Service Body Weighs Less, Saves Fuel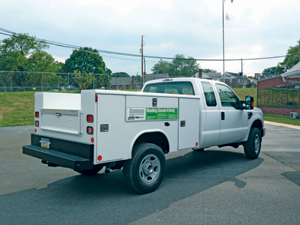 By trimming down the pounds, Reading Truck Body loaded up on savings. The company's new 8-ft Aluminum Classic II service body weighs 45 percent (500 lbs) less than comparable steel service bodies, providing a fuel savings of up to 12 percent, depending on vehicle application. The Aluminum Classic II also offers improved payload capacity and reduced wear and tear on chassis components. It is fully recyclable. Priced just 15 percent higher than a standard steel body, the new Aluminum Classic II features stainless steel rotary locks, hidden hinges, the Dual Pro door seal system, LED lights and a slam-action tailgate. Reading provides a 10-year, limited warranty on the body, which is available in 8-ft single wheel and 9-ft dual wheel models. RS#62 For more information, go to www.ceunbound.com/info.
National MSRP: Pricing begins around $5,000 for an 8-ft single wheel open body to $8,000 for an 11-ft dual wheel open body. Enclosed bodies can run an additional $3,000 to $6,000.
Iowa Molding Tool Co. Inc. — Small Package, Big Performance
Maneuver in Tight Spaces and Get to Work with IMT's DSC12 Mechanics Truck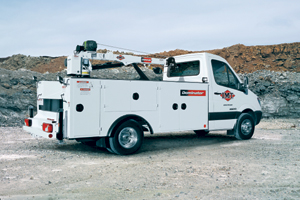 Space restrictive jobsites require compact vehicles that can fit in, but still offer similar power as the big guys. Iowa Mold Tooling Co. Inc.'s (IMT) new DSC12 mechanics truck is the perfect option for customers looking to get maximum fuel economy out of a vehicle that can easily maneuver in tight, urban environments. At only 2,150 lbs, the DSC12 unit is the most compact of all the trucks in the Dominator Series. The DSC12 package can be mounted on a Dodge or Freightliner Sprinter chassis and burns about half as much fuel as a full-sized mechanics package mounted on a traditional Class 4 chassis. This increased fuel economy means the smaller truck also produces fewer emissions, making the DSC12 more environmentally friendly. The DSC12 is equipped with an IMT 3203i electric telescopic crane, which has 3,200 lbs of maximum lift capacity and a maximum 15 ft of horizontal reach. This new body incorporates all the key features of the Dominator lineup that give the operator more comfort and mobility around the vehicle and make the truck easier to use. RS#63 For more information, go to www.ceunbound.com/info.
National MSRP: NA
FAE's Rock Crusher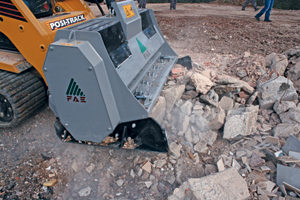 Sometimes a project requires the fine art of crushing. When those projects are in hard-to-access urban areas, road projects, driveway jobs, farms or parks, FAE USA's rock crusher attachment is designed to crush rock, stone, concrete and cement material into a reusable size. Engineered for the agriculture and construction sectors, the rock crusher gives customers the ability to compress, crumble and crunch aggregate in place for road construction and reclamation or optimize land use in farming and agriculture applications. The heavy-duty, tungsten-carbide hammers reduce rock or stone material to a size that can be used or left in place, thus eliminating the need for picking, hauling and headaches. Build or maintain service roads, paths, trails or reduce and remove unwanted rock or demolition material; all can be done with FAE's innovative attachment. Available in hydraulic or PTO drive, FAE USA's rock crushers are suitable for a wide range of carriers including tractors, skid steers and prime movers. RS#67 For more information, go to www.ceunbound.com/info.
National MSRP: $29,000.
TrunkPump
Dewatering Attachment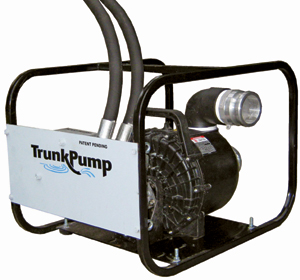 The coolest attachments often come from small inventors. Just take the tiny company of Lowell Scott Enterprises Inc., based in Wilmington, N.C., with just a few employees. They've applied their big knowledge of water pump technology into a clever skid steer and tractor implement that transports water. The manufacturers of the acclaimed PTO-powered TrunkPump just announced the addition of a new line of hydraulically powered dewatering pumps for skid steers. The new HYD-3D provides the same low-maintenance, one-person operation conveniences as other TrunkPump models, with the added benefit of being powered by skid steer remote hydraulics and other hydraulic power sources. The HYD-3D provides a new dimension in pumping for construction companies, farmers and municipalities who need to move water or irrigate. The HYD-3D may be purchased manufacturer-direct currently, and will soon be available through a host of domestic and international suppliers. RS#69 For more information, go to www.ceunbound.com/info.
National MSRP: $2,099 for a 2-in. model and $2,399 for a 3-in. model.
Atlas Copco's SBU 340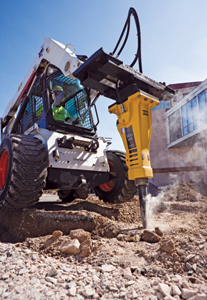 With one of the highest performance-to-weight ratios on the market, features that make it easy to service and the ability to work underwater, the SBU 340 is a great hydraulic hammer for compact carriers in a wide variety of applications — road work, trenching, general demolition, primary and secondary breaking and (our favorite) underwater breaking. The SBU 340 combines the best features of its predecessor with improvements such as a 3 dBA reduction in noise and a 40 to 53 percent reduction in vibration levels. Plus, blow performance (AEM) has been increased by 35 percent. The SBU 340 features an energy recovery design that captures reflected energy when breaking very hard rock. This design also reduces internal vibrations, which protects the carrier, reduces noise and makes for happy operators, while still achieving a 48-percent faster impact rate than its predecessor, the SB 300. Atlas Copco's SBU 340 solid body hydraulic breaker fills the need for a highly productive yet compact breaker for carriers in the 9,920- to 19,840-lb weight class. RS#68 For more information, go to www.ceunbound.com/info.
National MSRP: $12,075.
EDGE Mini Backhoes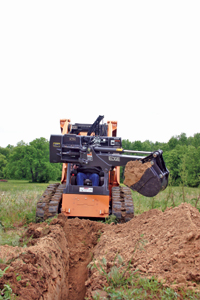 Sculpting earth often requires delicate tools that are precise and flexible. CEAttachments Inc., an international distributor of attachments for compact equipment, just released two new backhoe attachments (one with an ingenious swing boom) that allow skid steer operators to carve earth like an artiste. The two new EDGE mini backhoes for skid steers are extremely versatile and economical attachments and feature replaceable hardened bushings and grease fittings on all pivot points. High-strength pins are also featured, resulting in greater durability and less maintenance. The new EDGE fixed mini backhoe features a digging depth of 73 in. with an overall reach of 75 in. and a bucket dig force of 3,895 lbs. But the real marvel is the new EDGE mini backhoe swing model, featuring in-cab electric controls, a 140-degree rotation cushioned swing cylinder for smooth operation and improved bucket breakout force. This model has a 76-in. digging depth with a 78-in. reach and a 3,800-lb dig force. RS#70 For more information, go to wwww.ceunbound.com/info.
National MSRP: The EDGE backhoe is $1,910, and the swing model is $3,895.
Griffin — Pump It Up
Griffin Non-Clog Pumps Power Through Both Water and Debris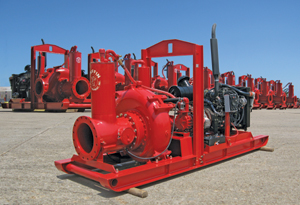 Siphoning, supplying or draining water has its challenges — especially when that liquid is full of obstructing debris. The big brains at Griffin Pump and Equipment have been overcoming dewatering hindrances and hurdles since the 1930s. In 2009, they applied those decades of experience to an innovative, non–clog impeller pump capable of handling stringy materials and solids up to 4 ½ in. and a large cleanout port for hassle-free removal of large debris over 4 ½ in. without removing suction pipe or hose. These pumps are capable of delivering flow over 17,000 gpm and head capacities of 240 ft. Griffin non-clog pumps are an ideal solution for sewer bypasses, flood control, sumping or any other application requiring high volume and the ability to move trash laden effluent. These units are available in vacuum-assist, diaphragm prime or compressor prime with engine choices that include electric or diesel power plants. RS#66 For more information, go to www.ceunbound.com/info.
National MSRP: $85,000.
Meyer — Snowing the Competition
Meyer Multi-Position Wing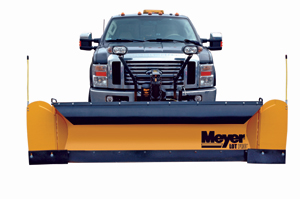 It sounds like some Star Wars attack fighter, the EZ-Wing MP, and you might actually feel like you're in an icy Hoth snow battle when you use these industry-first, multi-position wings, designed for snowplow professionals. Introduced by Meyer Products LLC, the EZ-Wing MP provides nine different plow configurations while adding nearly 2.5 ft of overall length to an existing Meyer Lot Pro commercial straight blade, giving your plow Jedi-like powers. Meyer EZ-Wing MPs are full moldboard height and have an adjustable reinforced rubber cutting edge that eliminates snow trails. Removing the quick disconnect pin and pulling the pivot pin with the integrated handle allows the wings to be completely removed if needed. An easy access grease port keeps them operating smoothly when they are adjusted to different angles. RS#64 For more information, go to www.ceunbound.com/info.
National MSRP: NA
Tags:
backhoes
,
Caterpillar
,
JCB
,
Trenchers
,
UTVs