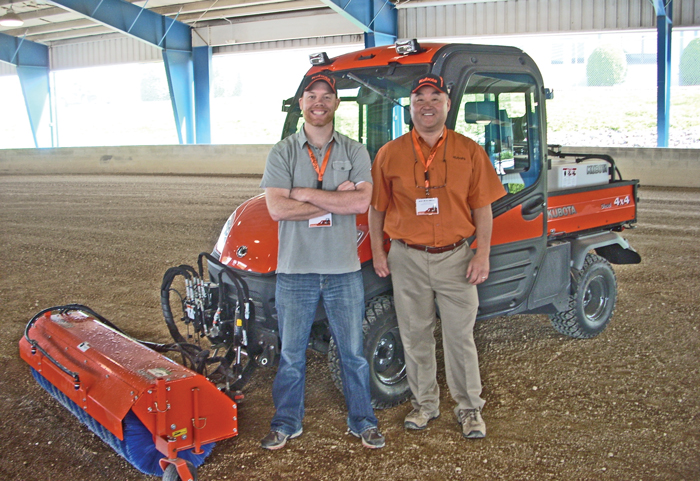 Outfitted with four-wheel drive, a gas or diesel engine,  big back bed and a few of your friends or hunting buddies, a utility vehicle can be a full-time, all-terrain toy. These quick, off-roading trucks (called UTVs for short) are one of the best ways for trail-riding enthusiasts to traverse the great outdoors with cargo. But what many professionals don't realize is that these go-anywhere trucks are also great tools for navigating jobsites. This is becoming more and more evident as manufacturers engineer more useful attachment systems for the commercial utility vehicle marketplace.
For simple transportation purposes, the benefits are obvious. A UTV can easily haul a couple of co-workers and supplies to out-of-the-way projects quickly and safely. All types of UTVs are engineered to carry cargo over rough terrain, but not all vehicles are engineered to take commercial accessories or attachments.
In the past, most manufacturers just offered a rear hitch or a hard-working winch, giving a UTV the ability to pull tools, materials and spoils using wagons, sprayers, trailers and ballfield finishers. But recently, some big names in the industry (Polaris, Bobcat and Kubota) have been putting extra focus on implements. Last year, Kubota invited CE out to test ride itís RTV Series of utility vehicles in Tennessee, showing off new front-mounted, hydraulically operated attachments like rotary brooms, straight blades and V-blades.
In February, Polaris introduced its BRUTUS Series and the Pro-Tach attachment system. The front-end PTO system on the BRUTUS HDPTO draws power directly from the vehicleís engine, powering angle brooms, finishing mowers, snowblowers, snowblades, pallet forks and material buckets. Polaris and Bobcat are manufacturing partners, so Bobcat is employing the same technology on its new 3600 and 3650 hydrostatic drive UTVs. Of course, Bobcat's Toolcat utility work machine is the ultimate attachment-driven mini truck, engineered with a hydraulic arm that can wield loads of easy-to-change attachments. It should be noted that Bobcat is not included in our UTV spec guide because it was essential to include pricing in print and we could not get those numbers.
Both construction equipment manufacturers and off-road vehicle specialists are realizing the more versatile and hard-working you can make a UTV, the more professionals will be using their utility vehicle for work as opposed to play. Just make sure you're careful with these fast-moving cargo trucks on the jobsite. Quick tips: Drive at safe speeds; limit loads to never exceed weight capacity; evenly distribute cargo in the bed; keep the front tires straight at the crest of hills or bumps; always brake when going down slopes; do not stack material in the bed; always read the ownerís manual; and always wear seatbelts.
High safety and operational standards are paramount to professional tradesmen. Now a work-focused utility vehicle with attachment capabilities should be just as big of a consideration.
Keith Gribbins
Managing Editor