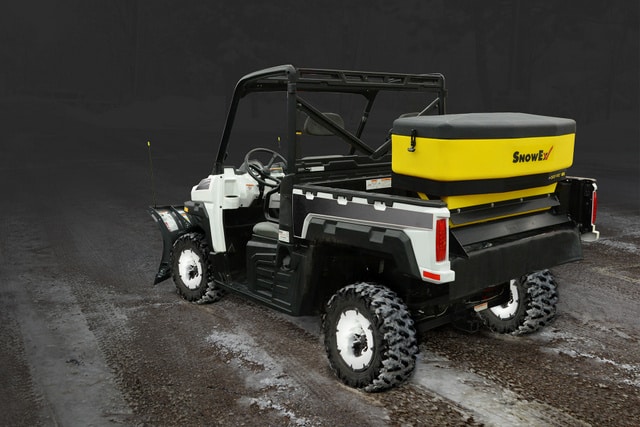 The new SnowEx Drop Pro 600 drop spreader features an all new, intuitive variable-speed digital control with minimal wiring for simple installation. With a 6-cubic-foot material capacity and a 36-inch spread width, the drop spreader offers controlled application of bagged ice melters and bulk rock salt, making it the ultimate sidewalk spreading solution for use with UTVs, tractors and other compact vehicles.
The new variable-speed digital control features a compact design and allows for precise adjustment of the spreader's material feed rate, letting the operator drop only the amount of material necessary for the job. LED indicator lights and a digital diagnostic display make it simple to accurately set the spread rate and monitor spreader functionality from the cab. A redesigned electrical system uses fewer wires, providing more flexibility when mounting, and requiring little or no modification to the receiving vehicle.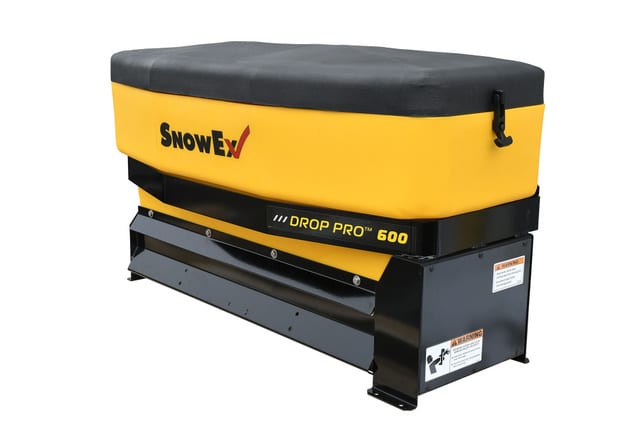 All SnowEx Drop Pro spreaders are built with low-maintenance, highly durable polyethylene hoppers supported by corrosion-resistant steel frames. They are electric powered with sealed auger drive transmissions mounted in weather-resistant enclosures to help prevent corrosion. To maximize material flow and consistency, the spreaders are equipped with unique material distribution shaft vibrators and feature patented vibrating baffle. Other standard features include a vibrator, top screen and fitted lid.
For more info on SnowEx Snow and Ice Control Equipment, click this link. We promise quality content.