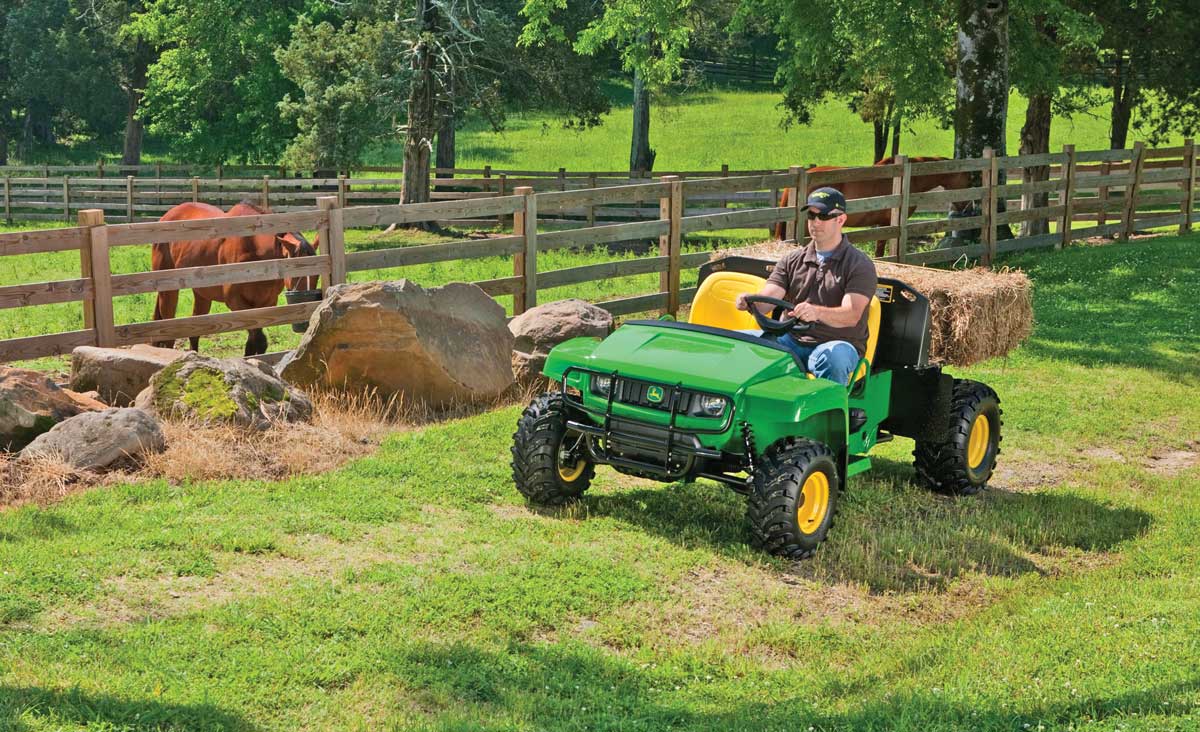 Large properties and utility vehicles go hand in hand. UTVs are the perfect small, hard-working vehicles to zip around acreage whether it's for work or play. They're packed with enough power and payload to tackle tough terrain and your to-do list, as well as transport you and a couple buddies to your favorite fishing hole. Companies like John Deere, Polaris, Kubota, Gravely and more are building UTVs that are designed for both production and fun — making them the ideal investment for large property owners. Accessories and attachments add even more value and further a UTV's capabilities.
"A utility vehicle can benefit a large property owner by doing a multitude of various property maintenance jobs, especially utilizing many of the attachments available, such as a liquid sprayer for herbicides and pesticides, a broadcast spreader for overseeding or spreading salt or sand, as well as a plow for clearing snow," says Justin VanderHeyden, product line marketing manager for John Deere Gator utility vehicles. "Many utility vehicles have a dumping cargo box that can assist with clearing brush around a property, hauling firewood or planting a garden. Once a customer uses it for a variety of tasks, they will always find many additional uses for them."
Since there are many options for UTVs available today, it's important to identify what you need and want out of the vehicle before purchasing one. VanderHeyden says potential buyers should understand how fast they want to go, how much they want to haul and what kind of terrain they want the vehicle to traverse.
Speaking of terrain, manufacturers offer models with 2-, 4- and all-wheel drive to tackle various landscapes. Pay attention to payload and towing capacities so you have enough power to haul heavy loads, whether it's a cargo bed full of mulch or a small trailer packed with camping gear. Comfort should also be considered.
"For harsh and hot environments, vehicles with full cabs plus heat and air conditioning offer a valuable proposition for getting work done all year round regardless of the weather," says Kyle Crosley, director at Polaris Commercial. "Additionally, you'll want to ensure the vehicle is right sized for you and your crew or family, with the right power, payload and towing to get the job done. Lastly, purchasing a vehicle that can be multi-purpose — from putting the docks in, to towing watercrafts from storage, to moving firewood and plowing snowy terrain."
Depending on how rough you'll be loading and unloading the UTV, as well as the materials that will be transported, an all-steel cargo bed can be a better option than plastic. Many manufacturers offer steel beds, such as Gravely, and even powered ones to make unloading easier.
"The Gravely Atlas 3400SD is very popular for us as the fabricated all-steel cargo bed is very durable and doesn't buckle or bend," says Angie Ansorge, Gravely commercial product manager. "It's also able to dump cargo with the touch of a button and haul a fully loaded pallet, thanks to its generous 18 cu ft of cargo space."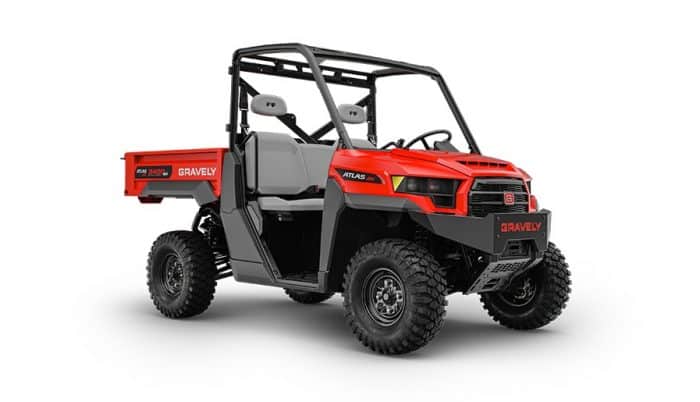 As for the engine, gas and diesel options make up a large portion of UTV offerings but companies like John Deere and Polaris both have electric options. Deere's TE 4×2 Electric boasts an impressive 900-lb payload capacity and 600-lb towing capacity while producing zero emissions.
Other important considerations include stability, ease of maintenance and single or multi-row options. If you need space to move more than two to three people, consider a multi-row model. They offer extra room but do come at a higher price.
Whether you're using a UTV for work, fun or both, speed is an important consideration when selecting a machine and operating it safely. While most jobsites limit speed to 25 mph for UTVs, large property owners often want to go faster. Manufacturers offer their own speeds and limits depending on particular models. For example, John Deere offers utility vehicles with top speeds ranging from 15 to 50 mph. All of Gravely's Atlas JSV models boast a top speed of 35 mph. If you need operators to stay below a certain speed, many manufacturers offer speed limiter kits that can limit the top speed of a UTV with a speed key.
One of the best parts of buying a UTV is customizing it to meet your needs. From picking out the perfect shade — from original manufacturer colors like John Deere's trademark green to a stealthy camo (a must-have for hunting) — and any accessories or tools needed to maximize the UTV's potential.
"For large property owners there are multiple attachment options," says Chris Hurd, director of utility product planning for off-road vehicles at Polaris. "Winches provide an essential option for tough situations or moving large objects, while additional lighting can turn night into day as we all know work doesn't happen on a schedule. For my personal property, a four-way power lift and angle plow, 4,500-lb winch, additional exterior lighting, lock-and-ride storage box, chainsaw mount, Rhino tool grips and a headache rack are essential for year-round work and property maintenance."
Hurd adds that rock sliders and additional front and rear guards can be a great add depending on the property and terrain. Backup cameras are beneficial for operators who move trailers frequently. VanderHeyden mentions that popular attachments for property owners include sprayers, cargo box side extensions, cargo box power lifts, snowplows and broadcast spreaders for ice/snow melt. Fun fact: John Deere offers more than 75 attachments for its line of UTVs.
"With a lineup of 14 models across two categories — work and crossover — there is a solution for any application," says VanderHeyden. "It is highly recommended to work with your local dealer, test drive a vehicle and demo it on your property.
Safety First! Tanner Blaschka from Polaris Shares UTV Safety Resources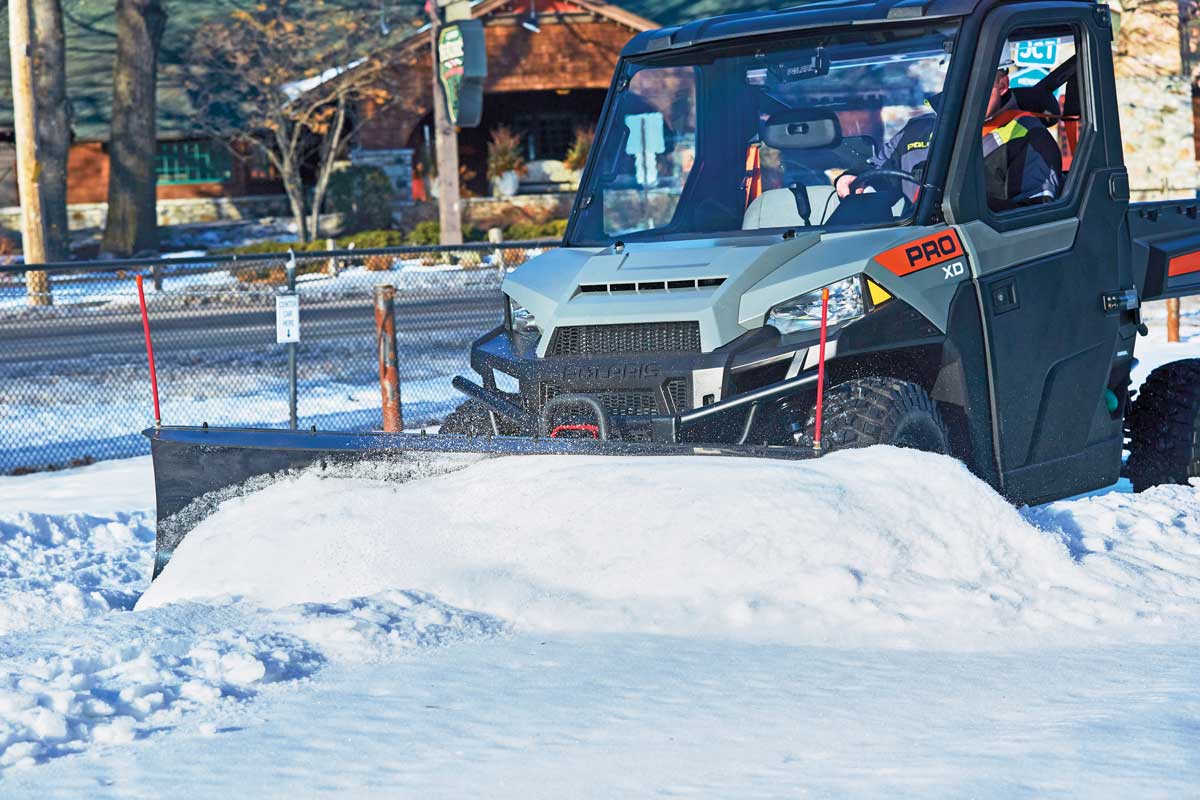 Part of safety starts with education. This means understanding your machine, the terrain, conditions and more. There are many groups and organizations dedicated to safer riding regardless of your machine of choice. These groups provide training, tips and more:
All-Terrain Vehicle Safety Institute
The All-Terrain Vehicle Safety Institute (ASI), a not-for-profit division of the Specialty Vehicle Institute of America (SVIA), was formed in 1988 to implement an expanded national program of all-terrain vehicle (ATV) safety education and awareness.
Recreational Off-Highway Vehicle Association
The Recreational Off-Highway Vehicle Association offers many things, one of which is a two-hour safety course that helps develop safe driving habits, but it is not a "learn to drive" course. It is intended to improve awareness about ROVs and inspire a safety-minded approach to off-road recreation.
National Off-Highway Vehicle Conservation Council
The National Off-Highway Vehicle Conservation Council is a national body of OHV recreation enthusiasts. It develops and provides a broad spectrum of programs, materials and information to individuals, clubs, associations and agencies to further a positive future for responsible OHV recreation.
Tread Lightly!
Tread Lightly! and its partners lead a national initiative to protect and enhance recreation access and opportunities by promoting outdoor ethics to heighten individuals' sense of good stewardship.
Pam Kleineke is managing editor of Compact Equipment.