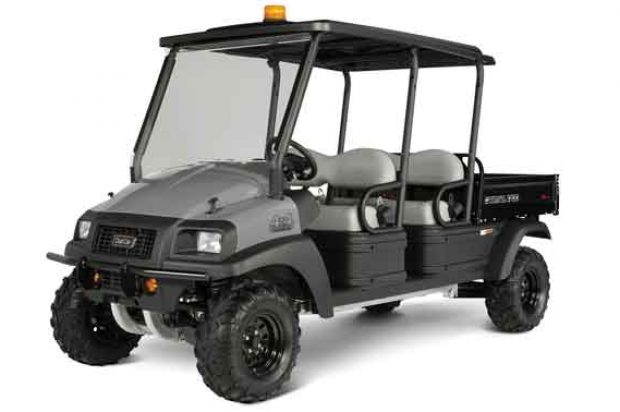 Carryall Utility Vehicles with Automatic All-wheel Drive
Club Car was founded in 1962 and introduced its first Carryall utility vehicle into the U.S. market in 1984. According to Club Car, the current lineup includes the industry's only automatic all-wheel-drive utility vehicles: the two-passenger Carryall 1500 and the four-passenger Carryall 1700. Both are engineered to withstand rugged conditions such as construction sites, industrial settings and refineries. They are available for purchase or lease. Rental-ready options are available at rental houses, with service provided by the industry's only dedicated rental team.
Carryall 1500 and Carryall 1700 utility vehicles are available with gas or diesel powertrains with sealed intake systems and a maximum vehicle capacity of up to 1,750 lbs, depending on the model. The Carryall 1700 is popular on construction sites and with rental houses. It comfortably transports two crews and their gear and has a full-size cargo bed. Yet, it costs just 20 percent more than a two-passenger vehicle. The company's exclusive IntelliTrak automatic all-wheel-drive system senses the ground it's on and moves from one- to two- to three- to four-wheel drive to match conditions, with no levers to pull or buttons to push. IntelliTrak also has fewer moving parts than traditional 4x4s, which reduces the chance of damage.
Club Car's aircraft-grade tubular aluminum frame is rustproof and engineered to resist impact better than the steel frames on other UTVs, says Club Car. The vehicles' four-link, semi-independent rear suspension system combines independent system performance with solid-axle strength. The Carryall 1700 carries bed loads up to 1,050 lbs over rocky terrain and maintains its axle ground clearance of 8.3 in. while delivering a comfortable ride. Club Car also offers electric and gasoline 4×2 utility vehicles in compact, medium and large sizes. Gas models feature EFI engines and accommodate an optional automatic limited slip differential that lets them travel on terrain that usually requires a 4×4, says Club Car. The vehicles carry a two-year, 2,000-hour limited warranty, and their maximum speed is a safe 25 mph.
Advice to Buyers
"Don't buy vehicles designed for recreation for use on constructions sites. These vehicles don't have the frames or suspension systems needed for heavy work, can reach higher speeds than are safe on worksites and aren't supported by a portfolio of commercial accessories," says Jerod McDowell, Club Car's 4×4 program manager. "Look for vehicles that are built from the ground up for work and have four-link, semi-independent rear suspension systems and well-designed rustproof aluminum frames that can withstand rough terrain, water and chemicals."