When you buy a car, you might kick the tires, maybe peer into the wheel well to look at the leaf springs or torsion bar, perhaps push down on the trunk lid to test the firmness of the suspension. Do shoppers pay as much attention to a compact track loader's undercarriage? Well, probably not as much as they should.
"Our construction industry customers more often than not ask how easy it is to service, how much horsepower it has and how much it costs," says Randy Tinley, skid steer/track loader product manager at JCB. "The undercarriage and track system are sometimes not as important a consideration."
Yet the undercarriage should be a main attraction in any track loader sales transaction — partly because there are a variety on the market to choose from — rigid, roller and torsion. A rigid system, of course, is affixed directly to a loader frame, a roller system suspends rollers to minimize vibration and jolts and a torsion axle system lets the main frame move somewhat independently from an undercarriage.
The two non-rigid systems are mostly about operator comfort. "The biggest benefit of suspension is going to be an enhanced ride for the operator," acknowledges Mike Fitzgerald, Bobcat loader product specialist. "The person in the seat feels less vibration and impact." In addition, a loaded bucket is spared some of the ups and downs experienced with a rigid system.
Bobcat's smallest track loader, the T450, comes only with a rigid undercarriage because it is too small to incorporate suspension components, but the 500, 600 and 700 series Bobcats can be rigged with either rigid or suspended roller systems. The larger Bobcat model, T870, comes only with a torsion system. It features a fifth link in the rear axle that mitigates the rocking sensation and allows some forward and backward undercarriage movement.
Caterpillar finds that once a customer is educated about the benefits of torsion suspension they see how it directly improves productivity and reduces operating costs.
"A comfortable operator is a more productive operator," states Jeff Brown, Caterpillar loader product specialist, "but the benefits don't end there. The rubber in the torsion bars dampen vibration which improves material retention and increases track life. Tracks are costly to replace on any track loader, so savings here can amount to thousands on a machine with torsion suspension over the life of the machine."
Caterpillar, which first introduced torsion suspension for a compact track loader in 2008, uses it as standard on all seven of its models. "Our design offers the best of both worlds, full suspension on a very durable, rugged roller frame with steel rollers and idlers that are sealed for life," says Brown. In fact, Caterpillar also offers a unique bar tread track that reduces ground disturbance, improves traction in snow or slippery conditions and further improves ride.
Over at JCB, all track loaders are rigidly mounted on undercarriages. The manufacturer believes a rigid mount produces better traction, delivering more ground-bearing pressure on the tracks. "We have always used a rigid system and have not changed the track design in more than eight years. We are very happy with the system we have and feel there's no reason to change it," says Tinley.
He acknowledges that golf course users and some turf customers prefer gentler suspension systems on their loaders because they cause less damage to caretaker surfaces. "But that is a very small group of customers. In forestry work or in construction, you'll see mostly rigid systems because they are more rugged and shed materials better."
Takeuchi loaders feature a ridged mounted undercarriage for much the same reason. "The undercarriage is fully welded with integrated cross members for superior strength and rigidity," notes Lee Padgett, Takeuchi's product manager. "The machines are well balanced with a solid footprint that allows us to transfer all of that power to the ground."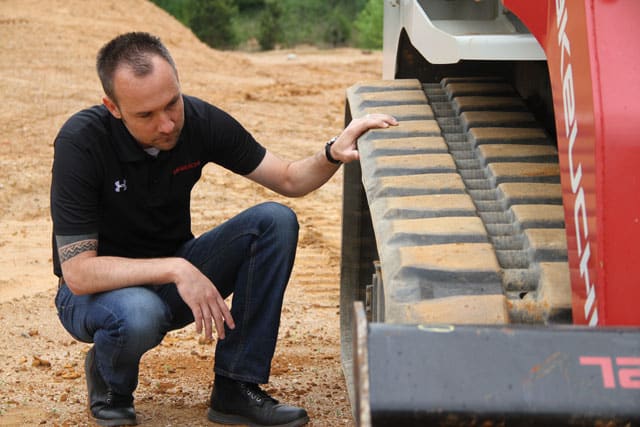 On the other hand, most Takeuchi loaders now have what the manufacturer calls "a quiet track design" that benefits the person operating it as well as the surface the machine is crossing. The design incorporates larger tread pads to increase flotation across delicate turf as well as a rubberized interface pad between the roller and track to reduce vibration.
ASV Posi-Track loader engineers were the first to design a suspended undercarriage back in the mid-1980s. All ASV loaders roll on torsion axles that smooth out the ride while also improving traction. One of the benefits, according to Buck Storlie, ASV testing and reliability leader, is that the loaders hold up better over the long haul. "The torsion suspension system reduces impact on the machine and improves track life. The system absorbs some of the shock that the loader or track would otherwise have to absorb itself."
Durable rubber coated UHMW rollers on ASV loaders flex more than the steel wheels on some rival machines, additionally cushioning the loader, and more rollers are incorporated to spread the weight and increase flotation. "The torsion system is beneficial in all loader applications," says Storlie.
So … rigid or suspended: Is there a final verdict on a superior system? It can come down to brand bias and operator preference. Fitzgerald notes that Bobcat customers don't decidedly favor one system over another. "At this point, we probably sell a few more solid mount machines than suspended types."
Maintaining rollers and sprockets and other undercarriage components is a fact of operation, and the more parts there are in a system, the more often something will wear out. Yet a component's durability and an overall system design are reliability factors as well. JCB's grease tensioner, for example, "is the only item on the track that you have to do anything with," says Tinley. "Our rollers are sealed. There's nothing to be done on the sprockets or the front idler. Only the grease tensioner."
Tinley says a JCB sprocket may display some wear after 2,000 hours but not need replacing. "Other than that, the rollers, sprockets and tensioner will last the life of the machine. I've seen some systems still operating with 5,000 hours on them." Long life is engineered into the machines. Takeuchi loaders use oversize bearings in their undercarriages, according to Padgett. "That allows for slower shaft speeds resulting in less wear, less maintenance and less downtime."
Inevitably, dirt and debris will build up on/in the undercarriage and keeping that area as clean as possible is critical to maximize life of the components.
"We have the only undercarriage where hoses are serviced from inside the chassis," explains Brent Coffey, product manager for loaders at Wacker Neuson, which makes six track loaders (all rigid mounted). "Having hoses and other components exposed to debris on the outside of the chassis increases the likelihood of unwanted damage and/or failure. Since our hoses and motors are serviced inside the chassis, critical components are protected and thus a significant reduction in wear and tear. Additionally, when service is needed, the technician does not have to clean out dirt and debris from the undercarriage to access the hoses. Everything is easily accessible inside the chassis."
Storlie says the move toward more undercarriage access began more than a decade ago at ASV. "The older designs were more enclosed, like a bathtub over the top of the wheels. Materials tended to get in there and get trapped. Now debris falls in and can fall out again. The design lets the machine clean itself and that means less operator cleaning."
One development in track loader undercarriages eliminated a maintenance routine — track tensioning. Bobcat's T870 taps into the machine's hydraulic system to tension the track, instead of an operator regulating tension through a grease fitting. The T870's track tension is automatically adjusted at every startup of the engine, so an operator doesn't need to get out a grease gun. A valve on the tensioner can be adjusted to set for a desired tension.
And, of course, how well a track loader undercarriage holds up is partly dependent on how well a loader is operated. Not cleaning out debris shortens component life. Spinning a loader on jagged rocks tears up tracks. And when an operator is tensioning track, he or she should lift the front end of the loader with the bucket so that the track actually is tensioned, rather than stretched. "Doing that will guarantee longer track life," advises Tinley.
Giles Lambertson is a freelance writer for Compact Equipment.
Tags:
ASV
,
Bobcat
,
Caterpillar
,
home
,
JCB
,
May 2018 Print Issue
,
Takeuchi