Many equipment users are leery of commitment. They can't envision a long-term relationship with a beautiful piece of construction machinery (at least not today), yet they cannot deny their attraction and need for it. This is where rental companies come in, pairing tentative professionals with reliable mechanical partners. Telehandlers are a great example. Those dune buggy-looking vehicles are always attracting contractors on the rental lot, their multi-stage booms extended high in the air, brandishing different attachments on the end. Because telehandlers are not cheap and aerial work equipment in general is very rental-focused, manufacturers of small telehandlers acknowledge that compact two-stage boom telehandlers — which can lift 5,500 lbs 18 to 20 ft in the air — are built with the rental market in mind.
"The primary application for most Genie telehandlers is rental," says Josh Taylor, Genie's product manager, who terms it a "core business." The Genie GTH-5519 is the company's usual rental model. "Our machines are designed to withstand the challenges of life in a rental fleet. Genie does rigorous component and machine testing to ensure the telehandlers will perform up to the demands of the rental industry."
Which is a polite way to say equipment renters can be abusive. Not on purpose, of course, but short-term users of a piece of equipment can be more demanding than when the relationship is more permanent. For example, haphazard maintenance or careless operation is easy when an operator knows a telehandler will be dropped off at a rental yard at the end of the week. Rebecca Yates, JCB product manager for material handling equipment, says all of the company's telehandlers are built strong, but the popular rental model JCB Loadall 505-20TC telehandler was specifically "designed and engineered for the rental market. We know it is going to be put through the wringer."
Durability then is a requirement for any telehandler destined for a rental equipment yard, which is most of them. Yet the ability to take a beating is only one reason rental offices like the machine. Other characteristics that endear a small telehandler to rental store managers include…
Versatility
"A small telehandler, especially the GTH-5519, is really the Swiss Army knife of construction equipment," says Taylor. "It is compact enough to be transported easily, and it can be fitted with attachments to tackle a wide variety of tasks. It can be the first machine on the jobsite, unloading trucks and staging materials, and the last machine off the site, doing cleanup and loading out equipment and material."
This versatility works for the person renting the machine, but rental yards benefit too. Because a multi-tasking telehandler is a solution to many customer needs, it doesn't sit idle in the equipment yard. "One of the highlights of the 505-20TC is that it is fitted with a universal skid steer coupler," says Yates. "So, once it's rented out, it can be kept on a site a little bit longer because it can use other attachments a contractor already has."
She adds that the compact telehandler is a proven good product for both national rental franchises and mom-and-pop outfits with one store. "It is so small that it can work anywhere — clean up on big jobs or perform small jobs on its own. It's one machine that rental companies have definitely picked up."
Jay Quatro, a dealer support specialist for Wacker Neuson, describes the machines as "ground-engaging telehandlers." By that he means they are engineered not just to lift but to utilize attachments at ground level, such as buckets, brooms and blades. "In colder climates, the compact machine is used for snow removal, as opposed to traditional telehandlers that were designed only for lifting assignments. Rental houses often look at the compact handler as two machines in one."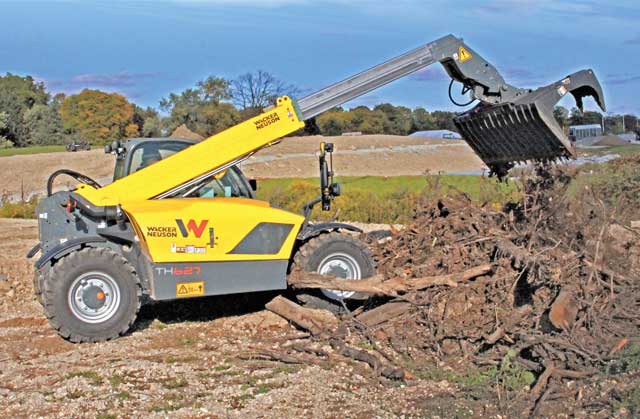 Safety
The Wacker Neuson TH522 — which is a slightly smaller model than the others, with a lifting height of just under 17 ft — and TH627 each were targeted to rental customers who are generally unfamiliar with the machines. To help the inexperienced, an audio and visual safety feature was incorporated in both compact machines — Wacker Neuson's "load management system."
When a load in any position exceeds the capacity of the machine, an alarm sounds, a light flashes and a safety mechanism locks up the boom. "At that point, an operator can either override the mechanism or retract the boom," Quatro says. "The telehandler comes with a load chart, of course, but it is easy for operators who aren't paying attention to try to lift too much."
JCB has incorporated a safety mechanism into the joystick of its rental unit. If a worker on the ground is near the fork at the end of the boom, the operator can hit a switch that kills the joystick function. "At that point, no one can accidentally bump the joystick," abruptly changing the position of the fork and endangering the worker, Yates says. "It is an extra safety feature."
Safety mechanisms doubly benefit a rental store — or a dealer who has a rental division — because they help protect their customers as well as their machinery. While novice operators can be checked out on the equipment and given a walk-through of a manual, training usually comes on the job. Having these backup systems reduces liability for everyone.
Easy Operation
As noted, not every telehandler leaving a rental yard is going to be operated by an expert, so ease of operation is an important consideration. Manufacturers know this and have engineered their equipment accordingly. Yates says the JCB 505-20TC is "really easy to use. It has a single joystick and an accelerator and brake like a car."
One feature on the JCB machine is a forward-reverse shuttle switch located traditionally on the steering column but also on the joystick. That means operators can do bucket work and change the direction of the machine without moving their hands. "You can keep one hand on the steering wheel and one on the joystick and move the machine around," Yates says. "Small things like that add up to a big impact on productivity."
A single joystick is pretty standard across the industry. The GTH-5519 is simplicity itself with a single-speed hydrostatic transmission and fully proportional hydraulics. Consequently, says Taylor, "it has very intuitive operation."
Affordability
So, how much will these versatile, safe and easy-to-operate telehandlers set back a day-user or longer-term user. A sampling of online prices suggests the compact machine will cost $300 to $350 a day, $900 to $1,100 a week and $2,000+ a month. "Rental rates can vary greatly between regions, but those prices probably are in the median range nationwide," acknowledges Taylor. By comparison, if a renter of one of the machines is so taken by it that he or she wants to have one of their own, it will cost between $60,000 and $80,000. Unless the telehandler will be used every day, such a price range can cool commitment pretty quickly and make a person want to keep on renting.
---
Smartload: JLG Expands Its Cool Trio of Load Features Across Its Telehandler Line
Currently available for its 1644 and 1732 high-capacity telehandlers, JLG SmartLoad Technology will be available as an option on all JLG telehandlers over the next 12 months. SmartLoad is an advanced bundle of three integrated technologies that work together to increase operator confidence and optimize productivity. This award-winning, industry-first system includes automatic attachment recognition, a load management information system and a load stability indicator. The automatic attachment recognition allows a telehandler to identify an attachment and display the appropriate load chart to the operator. The load management information system (LMIS) graphically depicts the location of the load within the load chart and assists the operator in navigating the boundaries of the chart. Finally, the load stability indicator (LSI) works in conjunction with the LMIS to limit operation when a load becomes non-compliant. For more info, visit jlg.com.
---
Name that Telehandler
Compact telehandlers, like other pieces of self-propelled construction equipment, rely on more than their brand name to advertise themselves to prospective shoppers. It is called nomenclature, the act of naming something, in this case a manufactured product. Telehandlers are given designations to separate one machine from a similar one in a manufacturer's lineup.
JCB changed the model names of some of its equipment to more clearly describe what a customer is getting.
"In North America, we changed the designation of the 525-60 to the 505-20TC to make it easier for a U.S. customer to know the machine's capacity just by looking at the name," says Rebecca Yates, the company's product manager for material handling.
So, the 505-20TC is a tool carrier in the 5,000-lb class (its lift capacity actually is [5,500 lbs] with a maximum lift height of 20 ft. "We have just released the 504-13TC, a telehandler with a 4,000-lb maximum lift capacity and a lift height of 13 ft, which definitely is a little bit smaller," she says. "On the other side, we have the 506-23TC, a two-stage boom model in the 6,000-lb class [it can lift 6,800 lbs] that goes up 23 ft. Sometimes you just need that extra height."
Equipment shoppers would be given an even larger break were manufacturers to adopt a common nomenclature. Were every telehandler with 5,000-lb capacity and a 20-ft lift designated a 5-20 and other sizes clearly spelled out in number — a 4-13, a 6-23 — shopping the equipment lot would be simpler. That, of course, is not likely to happen. So, we have Genie's GTH-5519, which one can surmise stands for Genie TeleHandler, 5,500 lbs, 19 ft. The Wacker Neuson nomenclature refers to the metric capacities of the machine, so a TH627 is 6 meters of lift height and 2.7 metric tons of total capacity. In the department of too-much-information-in-a-name (but still unclear) is a larger model telehandler produced by Manitou designated the MLT 961-145 V+ L. Oooookay.
Can you handle more telehandlers? Click here!

Giles Lambertson is a freelance writer for Compact Equipment.
Tags:
April 2019 Print Issue
,
Genie
,
JCB
,
JLG
,
Wacker Neuson