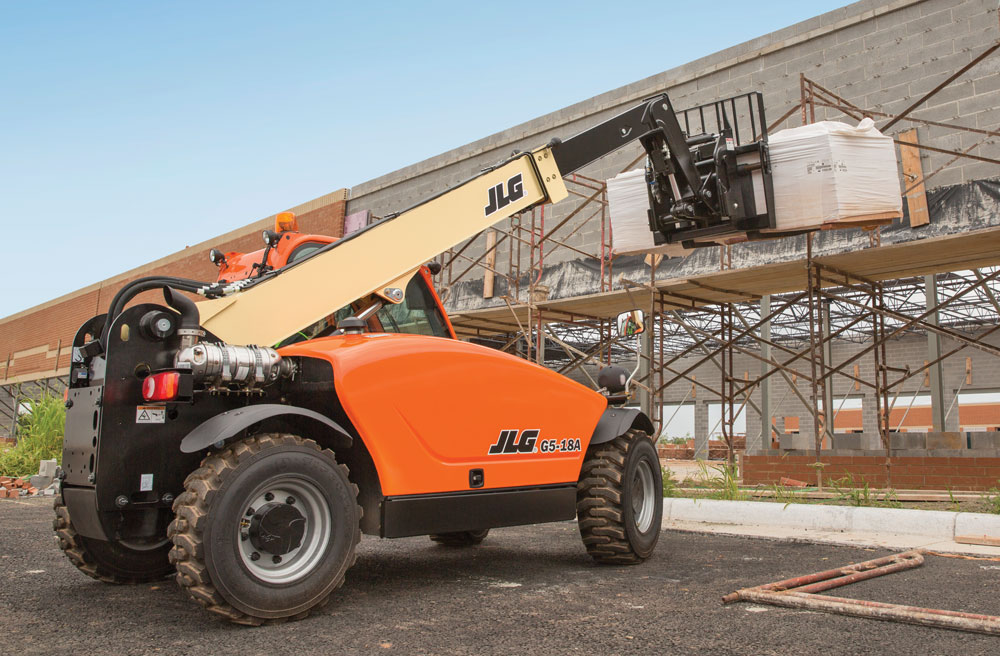 Trend lines for compact telehandler sales are rising as U.S. equipment users increasingly incorporate the two-stage, attachment-focused telescopic machines into their work patterns. This market surge is expected to continue and could be boosted further with the introduction in coming months of even smaller versions of the compact machine.
The growing sales are not surprising. After all, new infrastructure initiatives are being debated in Congress and a general economic revival is gaining steam. Increasing demand for compact machinery follows in due course. Steven Kiskunas, telehandler product manager at Manitou North America, acknowledges that some of the market's growth indeed can be attributed to this overall uptick in construction activity.
"But part of it comes from customers gaining wider experience with these machines and the higher level of comfort they're feeling," he says. "Some equipment owners have been operating these machines for years now and are happy with their versatility. More and more customers are coming to understand the utility of compact telehandlers."
In this country, the construction sector is principally responsible for compact telehandler popularity, especially compared to Europe where far more of the units end up in agricultural work. However, U.S. sales of JCB's telehandlers are growing in both markets, according to Rebecca Yates, the company's telehandler product manager. "JCB offers configurations for construction, as well as ag, which will have different standard features, such as a reversing fan to overcome the dust and vegetative debris found in feedlots and fields," says Yates.
If American farm operators are coming around to share their European peers' appreciation of the machine's functionality, it is only by degrees. According to Kiskunas, 50 percent of telehandlers sold in Europe are for ag users, compared to 5 percent in the United States. "We keep looking at this sales gap. We see this as a real opportunity for us to grow because more and more farmers here are finding how capable these machines are."
Wacker Neuson sees similar opportunities for its two compact telehandlers. The recently introduced model TH627 is a slightly larger version of the model TH522, which has been around a while. The TH627 offers more horsepower (74 compared to 60 in the TH522), higher lift and the option of a canopy. The company's product manager for loaders, Brent Coffey, calls the newer model a "natural progression" in the company's telehandler development.
What is interesting is that the two Wacker Neuson telehandlers are not tailored to specific markets. Instead, they are promoted as differing sizes and multi-purpose "ground engagement" machines designed to function across traditional equipment categories — lifting and loading, yes — but also sweeping and scraping. "We are trying to adapt our telehandlers to existing use patterns and consolidate equipment on a jobsite," Coffey says.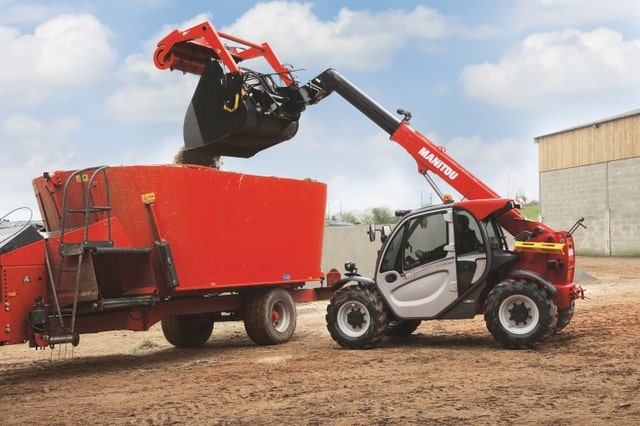 He notes that when several machines work a site, they each either sit idle at times or require multiple operators, which negatively impacts a contractor's bottom line. "If one telehandler can sub for three machines, my life as an equipment owner just got a whole lot easier in terms of renting one telehandler and four attachments vs. renting four pieces of equipment and attachments."
He makes a good case. Yates notes that small JCB telehandlers offer three types of couplers, including the one most popular with skid steers. "This compatibility with skid steer attachments adds to the telehandler's versatility by using attachments you already have."
JCB is a pioneer in the telehandler market and is celebrating 40 successful years of building the machine. In 2018, its compact model 505-20TC remains a top-selling telehandler. Less than 6 ft wide, the Tier 4 Final, four-cylinder-powered unit can lift a load 20 ft and handle 5,500 lbs of material. That's the kind of performance that fuels compact telehandler sales.
Manitou North America produces both Manitou and Gehl telehandlers. "Manitou and Gehl have both built a strong reputation for their telehandlers. With Manitou approaching 40 years in the market and Gehl at 30, we are confident in the future of these machines," Kiskunas says. In this lineup, the Manitou MLT 625 is a best-seller among ag customers. The Gehl RS5-19 and Manitou's equivalent machine, the MTA 5519, are popular in the all-important rental sector. Rentals account for 80 percent or more of the telehandler market in this country and generally cater to the construction industry.
Asked to quantify how fast the compact telehandler market is growing, Kiskunas answered that it all depends on which sector you look at, "but overall we are seeing the market grow year to year by 6 to 8 percent."
That growth may soon be augmented by subcompact models of telehandlers. "The smaller telehandlers will be even more compact in size, in capacity and in working height," Kiskunas says. "We expect that they will draw some interest where tight space is a factor. I expect you will see these units before the end of the year." Both Gehl and Manitou plan to add subcompact models to their North American lineups.
"[Subcompacts] won't necessarily be an enormous segment," says Yates, "but there is some interest. People are asking, and JCB is investigating how to best satisfy the interest." Visitors to last October's International Construction and Utility Equipment Convention (ICUEE) were given a preview of the small JCB telehandler, which is dubbed the 503-13 and is expected to be capable of lifting 3,000 lbs about 13 ft.
Wacker Neuson already has a subcompact in European and Canadian markets. The TH412 is under 5 ft wide and lifts material almost 15 ft. Coffey calls it "a tiny machine" that is finding work in horse stables and other agricultural venues. As for its introduction into the United states, he says, "There is no timetable we can talk about."
New niches in the market are being explored by manufacturers. According to Yates, JCB compact telescopic material handlers are gaining traction among operators of entertainment venues such as amusement parks and fairgrounds. Some small nurseries are finding work spaces for the machines. Manitou and Gehl have promoted turf-cutting attachments and turf tires in a bid to attract more landscapers. JLG sees similar potential in expanding markets.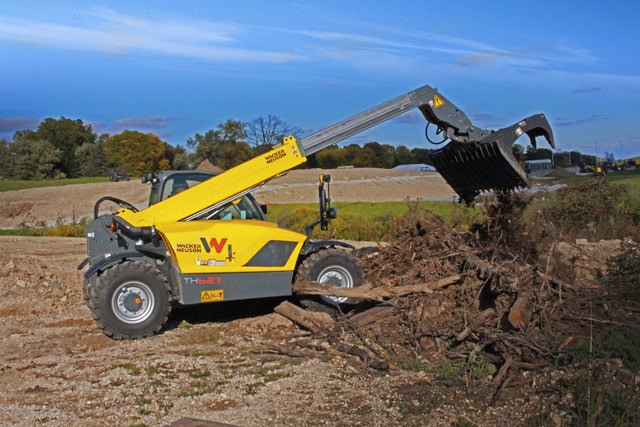 "Outside of their growing use across myriad applications such as utility, landscape and agricultural work, compact telehandlers continue to gain popularity for their small footprint and lighter weight," says Jennifer Stiansen, director of marketing, JLG Industries. "Both of these product attributes allow for easier transport without the need in many cases for additional over-the-road permits. Fuel savings is an additional plus when moving these versatile units from site to site."
JLG's compact G5-18A telehandler weighs in at 11,001 lbs and offers 5,512 lbs of lift capacity, maximum lift height of 18 ft and maximum reach of 11 ft. Its dimensions are 6 ft wide by 12 ft long, and it has a 10-ft, 6-in. outside turning radius, making it nimble on tight jobsites.
Companies like JLG and Wacker Neuson are pushing new markets and new seasonal uses in America. Specifically, telehandler snow removal. "It sounds really weird," says Coffey, who recalls life in Milwaukee in winter months when broad areas of parking lots were turned into mounds of snow. "With the small telehandlers, you can stack snow higher than you can with loaders and take up fewer parking spaces."
Giles Lambertson is a freelance writer for Compact Equipment.