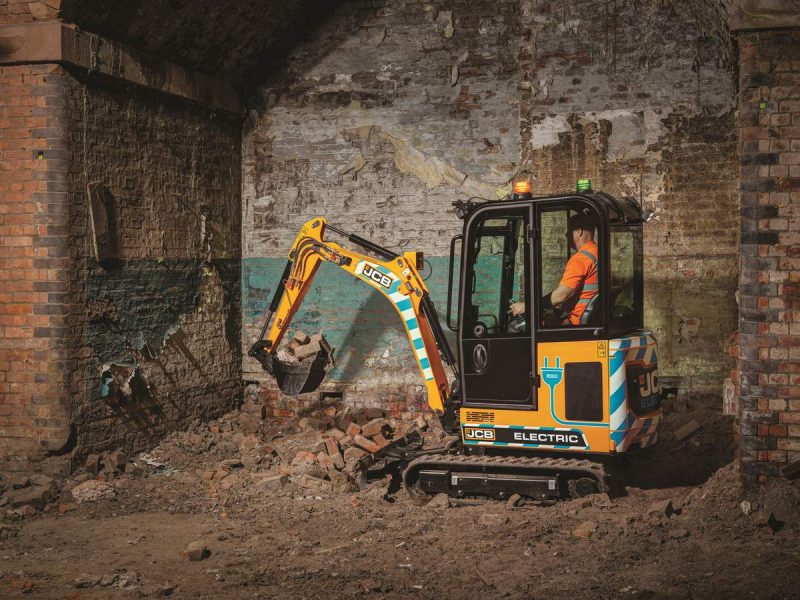 Euro off-highway equipment brands continue to invest in machines that plug in to power up. Last year, I barely survived the world's largest trade fair by physical size — bauma 2019 — and one of the major themes from that marathon was certainly alt-propulsion. From Volvo Construction Equipment to Wacker Neuson, European equipment makers are seeing demand for electric variants and are strategizing how to enter global markets. The European sector is primed for electrification with stricter emissions and noise regs, plenty of congested and indoor urban jobsites and a general inclination just to be greener. Luckily, America isn't being left out of the game plan.
Though absent from bauma 2019, U.K.-based JCB is easily one of the biggest and best examples of embracing electrification in off-highway equipment. Mid-November 2020, JCB held a global virtual product launch releasing everything from new electric excavators to telehandlers, continuing down its Road to Zero program.
"Times are changing. Indeed, the pace of change is rapid," said Tim Burnhope, JCB chief innovation and growth officer, during the company's first-ever virtual press event. "We need to be equally quick in responding to the growing environmental challenges posed by climate change and the need to improve air quality. At our last press conference here at JCB, we shared with you how proud we were to be at the forefront of developing new, innovative near zero emissions diesel engines. My message to you at that time remains the same today. Clean construction and clean agriculture mean clean power, which right now includes both diesel technology and electric."
As a teaser, over the last year, JCB has unveiled three new models that marked the inception of its electric product line: the 66-40E, JCB's first fully electric Teletruk, a new range of electric scissor lifts powered by lithium-ion batteries and the 19C-1E, JCB's first fully electric mini excavator, which we covered last year in a similar news feature. Now, JCB is introducing what it calls its E-TECH range — a new generation of fully electric machines with zero emissions — some of which will be available in the United States.
First Electric Ex with a Cab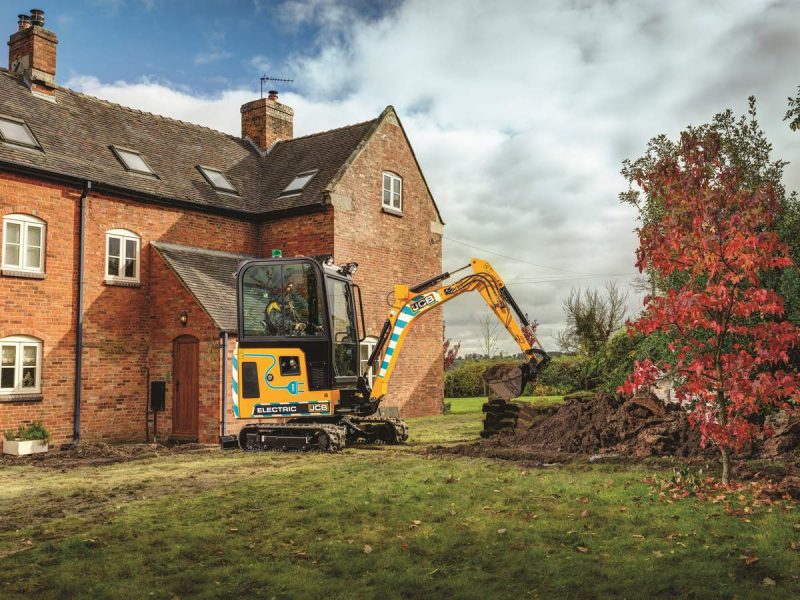 Fun fact: Every electric compact excavator in the U.S. market comes with a standard ROPs. Till now. Now, JCB will now offer a fully glazed cab on the just mentioned 19C-1E — an industry first — along with an electric heater to provide instant heat to demist windows and warm the cab working environment for the operator. The machine will use the same cab as JCB's conventional 1- to 2-ton models.
"[We] see plenty of opportunities for this machine — northern Europe, North America, and in Scandinavia where of course electric solutions are already in high demand," said Andy Whyman, JCB group engineering director. "A clever innovation on this machine is how it manages power consumption, smartly to ensure that heating the cab doesn't detract from the optimal operation of the machine itself. When operating on its maximum setting, the heater only draws on half of the power from one battery, so there is no impact on digging or tracking power when the heater is in use."
The ROPS/FOPS cab is equipped with easy to replace laminated flat glass. It has a 70/30 front windshield split, with clear jointing, for an unobstructed view of the digging area. The cab uses the same LED working lights and wipers as the diesel models, making it easier to work in poor visibility or during hours of darkness when required. The addition of a cab option will increase the appeal of the 19C-1E in regions with challenging weather conditions like sun deprived Cleveland, Ohio, where I reside.
"We are very proud of the award-winning 19C-1E because it is equally at home working indoors or outdoors in factories, warehouses tunnels, old basements, digging foundations or fixing gas and water leaks," explained Whyman, also noting the unit won RAEng's 2020 MacRobert engineering award. "Finally, unlike some competitor offerings right now, the 19C-1E E is not a prototype. It is not a concept machine. This all new electric mini excavator from JCB is in full production, and it's already been put through its paces by customers. They like it because it's 100 percent electric, zero emissions and it's ultra-quiet."
First-Ever Electric Loadall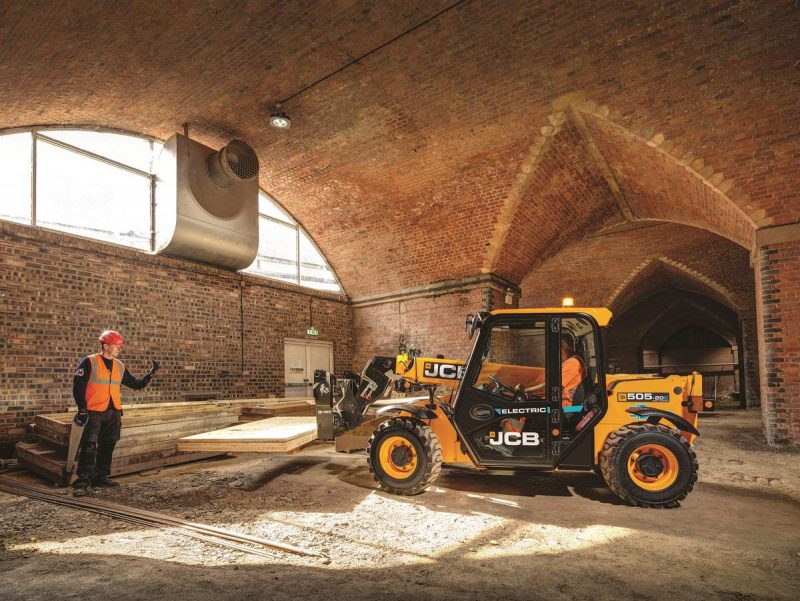 Compact telehandlers are a prime equipment category for electrification. Last year, Snorkel was first to the market with its SR5719E electric compact telehandler. At CONEXPO/CON-AGG this year, I saw the all-electric JLG telescopic handler concept G5-18A, a partnership with Deutz. Now, JCB expands its E-TECH range of zero-emissions machines with the launch of its first ever electric Loadall telescopic handler model (the 505-20E), noting the company invented the telehandler concept over 40 years ago.
"The robust lithium ion battery can be charged over 5,000 times," explained Richard Brooks, engineering director for JCB. "That's 10 years of use in typical duties. The battery's maintenance free and crucially can operate at temperatures as low as minus 20 degrees Celsius and as high as 60 degrees Celsius."
The 505-20E utilizes dual electric motors for drive and lift, delivering increased efficiency. Brake regeneration helps boosts battery charging, and regenerative hydraulics increase efficiency. There are also a full range of charging options, including on-board and off-board rapid charging.
The 505-20E also uses two electric motors, one for the driveline and the second to power the hydraulic system. The 23-hp (17-kW) traction motor drives through a permanent four-wheel drive dropbox to JCB drive/steer axles. The 30-hp (22-kW) hydraulic system motor powers a fixed displacement gear pump, delivering a maximum 21 gpm of flow. Flow is proportional to joystick position and the lift end is controlled by an electro-hydraulic valve block, with hydraulic regeneration on boom function.
"One hundred percent electric, zero emissions delivering exactly the same performance as the diesel power equivalent to customers in construction, industry and in agriculture," said Burnhope. "I can see this new electric Loadall in livestock barns, crop storage buildings, glass houses, greenhouses, and polytunnels all across Europe and North America … Crucially the [505-20E] is capable of a whole shift operation. Thanks to the JCB engineers who have optimized the lithium ion battery. The [505-20E's] maximum lift capacity is 2,500 kg with a maximum load of 2,000 kg at the full 6-meter height. Allow me to transpose some of these stats for North America. It has a maximum height of 20 ft and a maximum lift capacity of 5,500 lbs."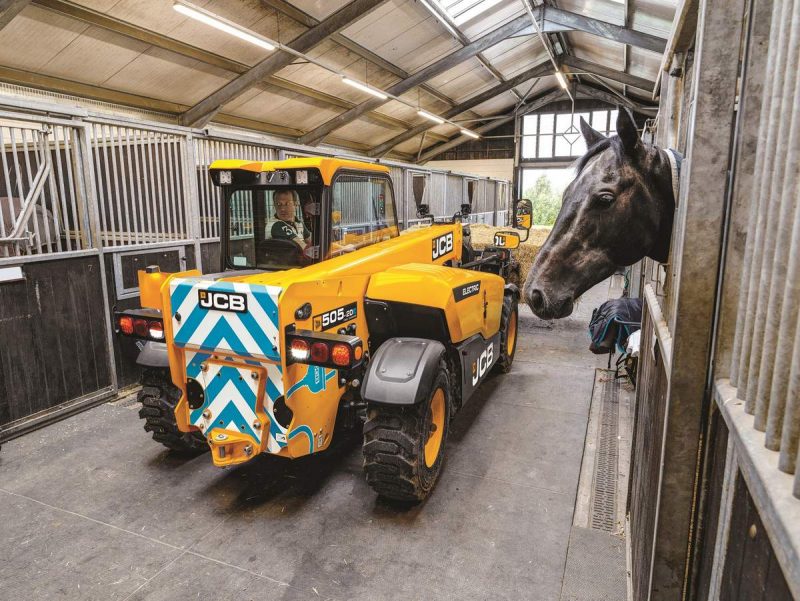 The machine also has a 240V, 16A on-board charger capable of recharging the battery in eight to 10 hours. An optional JCB Universal Charger can be used for a rapid top-up during breaks, in as little as 60 minutes. More info on that below. A big benefit of electric operation is obviously lower noise levels, making this electric Loadall suitable for operation in noise restricted areas — schools, hospitals and Compact Equipment's offices. The 505-20E delivers an in-cab noise level of just 66.7dB, while the external level is 92.2dB. A white noise reversing alarm is available as an option to warn site workers of machine movement. The machine is compact too: External dimensions allow a 12-ft, 1-in. outside turn radius and overall height of 6 ft, 2 in.
Universal Charger and More to Come
JCB released a metric tonne of other electric products during its first virtual event — electric dumpers, tracked carriers, forklifts, power packs and beyond — but only the models mentioned above will be available in North America for now. To complement this equipment, JCB has also developed a new rapid Universal Charger station, compatible with current and future E-TECH electric models. Working with machine electrical systems from 48V to 96V and above, the JCB Universal Charger offers customers a future-proofed off-board rapid-charging solution.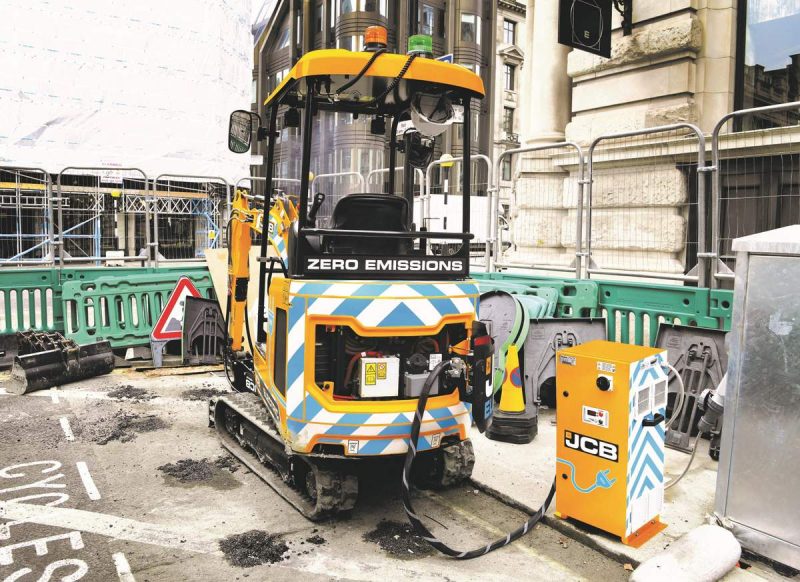 "You simply plug your machine into the Universal Charger for a high-speed boost during the working day," said Bob Womersley, JCB's director of advanced engineering. "For example, to fully charge the 19C 1-ton electric mini excavator from zero to full takes just two and a half hours. It's just what customers need on the jobsite."
The charger unit, which is available through JCB dealers and JCB Parts, can be installed at any site offering 480V three-phase electrical supply. Clearly, JCB is all in on electric, and there will certainly be more to come. We'll keep you updated.
Keith Gribbins is publisher of Compact Equipment. Tags: Electric, home, JCB