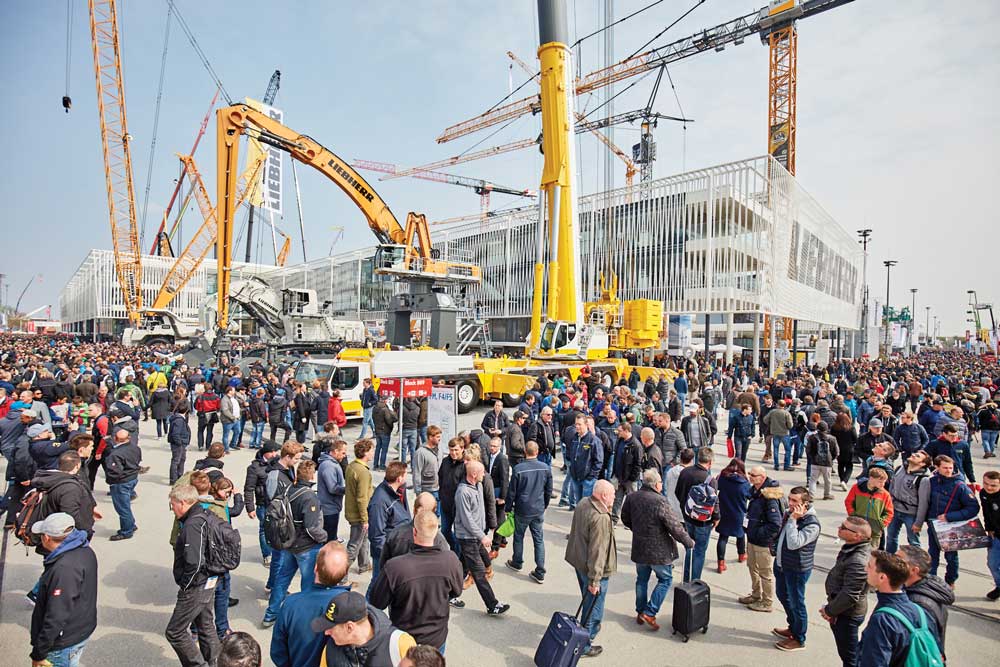 In April, a sea of 620,000 visitors from 200 countries descended upon Munich, Germany, exploring the biggest trade show by physical size in the world. Over seven days, the global exhibition called bauma generated the best attendance in its 65-year history. I was there as well, trying to avoid the majority of those hundreds of thousands of people. I needed to navigate the unprecedented 614,000 sq m of exhibit space (also a record) with its 18 giant indoor facilities and a never-ending outdoor exhibitor arena to investigate the latest machines, technologies and services in the compact construction sector.
Here's What I Found
The themes of bauma and really the themes of 2019 so far were hybrid and electric propulsion technology and the digitalization of the jobsite. A prime example of this was Wacker Neuson's expansive outdoor booth, which showcased maybe the biggest display of electric variants along with hot new digital products (and a giant Ferris wheel for visitors to ride). The booth's theme was "#electrified" and showcased the latest units in its zero emissions series — the Wacker Neuson DW15e wheel dumper, zero-tail EZ17e mini excavator, battery-powered AS60e rammer, AP2560e vibratory plate and the world's first battery powered high frequency internal vibrator system called ACBe. While not available in North America yet, these machines are on the horizon.
"Efficiency, digitalization and sustainable development were the hot topics of this year's bauma," said Martin Lehner, CEO, director of the Wacker Neuson Group, in a press release. "With our product range of electrically operated and emissions-free products and our range of digital services, we are one of the pioneers in these future-oriented topics."
On the digital side, Wacker Neuson focused on EquipCare, a telematics solutions designed to better support dealers and end-users.
Also with a big focus on digital services and e-machines, Caterpillar had a crazy indoor booth (a whopping 13,000 sq m), displaying 64 machines, 20 of them new introductions, and offering attendees a spectacular dance show performed on a giant inclined platform every hour and a half. Cat's eight new Next Generation mini hydraulic excavators were on full display (we've covered them extensively), but the big talk was Cat's new digital products — simply called Grade, Payload, Detect and Command — aimed at maximizing production, reducing costs and improving safety. Cat's theme was "Rewriting the rules."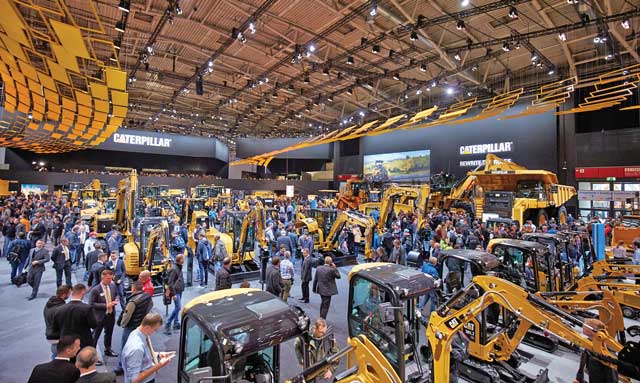 "Since our early days, we have focused on helping our customers get the job done as efficiently and productively as possible," explained Ramin Younessi, group president of Cat, in a packed press conference. "That commitment remains today. We intend to rewrite the rules, to give customers a competitive advantage when they partner with Caterpillar. I think we actively started rewriting the rules back in 2017 when we launched the Next Generation Hex. The revolutionary work has now continued across all machine families. So, from the next generation of dozers that we recently debuted, the D6 XE, that's the first hybrid electric dozer, to the launch of the new generation mini excavators from the 1- to 10-ton machine range, it's all about giving customers choices that help them meet the unique needs of the jobsite better than the competition."
Volvo Group hosted guests at two big booths (indoor and outdoor). Inside, it officially showed off its new commercial compact electric excavator (ECR25) and electric wheel loader (L25) with plans to launch both in 2020. In addition to the two new electric machines, the company touted the EC300E hydraulic-hybrid and the semi-autonomous EC220E excavator with Volvo Active Control automated boom and bucket movements.
While most companies embraced electric and hydraulic hybrids, Case Construction Equipment perked the most eyebrows with the world's first biomethane-powered wheel loader (just a prototype). Called Project Tetra, the wheel loader is focused on agriculture or ranch applications, running entirely on a biomethane-powered engine designed by FPT Industrial and delivering 230 hp (equivalent to the diesel engine in the Case 821G wheel loader). The wheel loader itself embraces an awesome futuristic design (dig the photo below) — slick forward cab stance, high 360-degree visibility with loads of glass, custom "power-tan" paint finish, run-flat Michelin Tweel wheels, complete LED lighting package, chestnut-colored Star Trek-looking captain's chair and features like auto mode, in which all working lights are automatically activated in low ambient light conditions.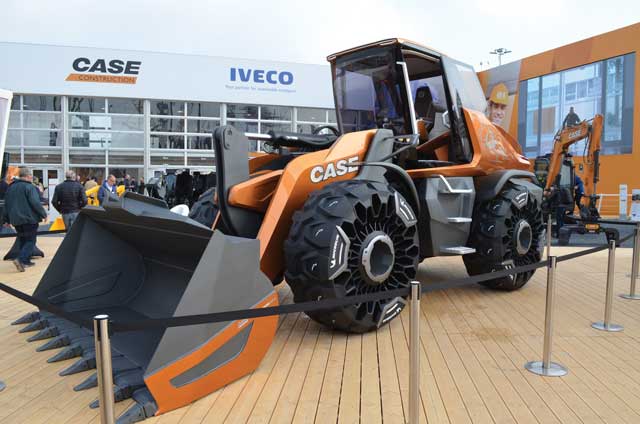 Engines and OEMs
The alt-propulsion trend of course continued with the engine makers and OEMs. Perkins elaborated on its significant investment in hybrid engines and electrification research at the show, noting it's established a dedicated team — the Perkins Expanded Offering Product Team — that's collaborating with customers to accelerate research and develop new products in the non-diesel or diesel + arena. Perkins is currently offering hybrid and electric technologies across its EU Stage V power range from 6 to 470 kW (8 to 630 hp).
"There are about eight different flavors of hybrids overall that are relevant to our industry," said Oliver Lythgoe, Perkins product concept marketing manager, as I visited the company's stylish bauma booth (see the photo on page 14). "Here at this show we're showing three of those technology flavors, and just for comparison we're showing them all on 55-kW engines, which is the maximum power you can have before you have to add SCR. The first one is an electric hybrid which is quite a familiar concept. It's very good when you want to store quite a lot of electricity, but batteries release energy quite slowly, so to get one that's going to release energy fast enough you end up having quite a big battery.
"The second one we're showing is a mechanical hybrid which stores the energy in a high-speed flywheel. That means you can have quite a small component on the side of an engine where you can store less energy than you would in a battery, but you can bring it back quickly, but it doesn't store energy over hours. It stores it over a minute or two and thus would be most applicable for machines that have repeated operating cycles of lifting, loading or digging. And then, the third one we're showing is a hydraulic hybrid that stores energy as pressurized hydraulic fluid. The obvious advantage is that many compact machines already run on a lot of hydraulics, so machine changes are minimized."
It wasn't all electric, hydraulic or biomethane. Deutz showcased an interesting combustion engine that could run on a carbon-neutral basis by using hydrogen. Deutz explained in the release: "Hydrogen and 'e-fuels' (synthetic fuels based on renewable electricity) are carbon-neutral because they do not extract any new carbon and because the energy sources used are sustainable." In research partnership with Munich-based startup Keyou, the first prototype engine, a hydrogen variant of Deutz's successful TCD 7.8 engine, was showcased. The company was also pushing its app and online portal. A particular highlight was the Deutz Advanced Repair service concept — an augmented reality application providing mechanics equipped with tablets real-time information to carry out targeted maintenance work. Very cool stuff.
Kohler was also an alt power player at the show. Its new range of K-HEM hybrid units is based on the concept of a parallel hybrid system — where an electric motor and the internal combustion engine deliver power in parallel. What I found intriguing was that the company identified two thresholds that were ideal for these hybrids — 19 kW (25 hp), i.e. the limit for America's Tier 4 and Europe's Stage V requirements for the use of a diesel particulate filter (DPF), and 56 kW (75 hp) and above, which requires the use of select catalytic reduction (SCR). Capable of tapping these two power nodes are the new K-HEM 2504, which combines a KDI 2504TCR diesel with a 48-volt electric engine, and the previously introduced K-HEM 1003, which combines a 48-volt electric engine with a KDW 1003. Both models offer reduced noise and gas emissions, excellent transient response and low total cost of ownership, said Kohler.
e-MEWPs
Hybrids and digital services have been popular in rental-heavy aerial lift equipment for quite a while. Throughout bauma, scissor lifts were always a good example by manufacturers of a practical hybrid with simple duty cycles and often easy access to charging. At Skyjack's two-story indoor booth, the SJ4740 DC electric scissor lift was the first of a new generation of Skyjack units. All future DC-electric scissor lifts will incorporate similar technologies such as a new control box, single location emergency lowering switch, adjusted pothole protection, a more rigid scissor stack and the new Skycoded diagnostic display.
The company also "…updated our full-size rough terrain scissor lifts in conjunction with Stage V emissions standards and produced our largest scissor lift to date [the SJ9253 RT]," said Brad Boehler, president at Skyjack, in the press release. "We also have our next generation of DC scissor lifts here at the show, so we wanted attendees to be able to be inside and comfortable as they walk around our new products."
Not to be outdone, Terex Aerial Work Platforms showcased its new Genie GS-4655 scissor lift at its booth. The latest addition to the brand's large electric slab scissor lift family, this new eco-friendly machine comes in a compact, lightweight package and combines productivity with long battery runtime and reduced service. It comes equipped with the latest generation of fully sealed AC electric drive motors, and it is suitable to meet the demands of indoor and outdoor access tasks. This new model will be available globally in Q3 2019.
In Conclusion…
The 2019 edition of bauma was insanely big, and I maybe got through 15 percent of the news released from the event. I'll be going through story ideas for the rest of the year. Visit other web pages online at compactequip.com to read even more about the show and see loads of pictures. Find out about Topcon Positioning Group's new automated edition of its cool 3D modular aftermarket solution for excavation — the X-53x automatic — designed to provide automated depth control and reduce operator fatigue. Go learn about Kobelco Construction's first mini excavator (the SK17SR) fitted with an all-electric drive with the help of Deutz AG.
The number of new products was overwhelming, but it was also an impressive vision of the near future of construction equipment. Yeah, I only caught a glimpse of it, but what I did see was game-changing — high efficiency focused digital services, paradigm-shifting hybrid power solutions, practical automation and giant footlong Frankfurters covered in mustard. I'm excited to see what the next three years brings. Time I'll spend training for the next giant bauma show.
---
Hatz Presents First Single-Cylinder Diesel with Electronic Controls
Global diesel leader Hatz was busy at bauma. The company introduced Hatz Connected Services and a slew of new EU Stage V Hatz engines, but maybe the coolest Hatz introduction was its new E1 technology or the first electronic controls for a single-cylinder industrial diesel engine. What's the end result? Increased engine control, the ability to compile and easily transmit engine data and the simplification of operations like automatic start protection for preventing starter damages and idle connection control for automatic shutdown in case of idle times that are too long.
The most important components of the E1 technology are the engine control unit, sensors and fuel injector, with an electromagnetic valve specially developed by Hatz in cooperation with Bosch. The control unit continuously measures the speed, oil pressure, oil and engine temperature, operating time or environmental data, such as air pressure or air temperature, in order to ensure perfect operation. Furthermore, machine manufacturers and operators can retrieve engine-relevant data using the new Hatz diagnostic tool HDS2 and via CAN J1939 for engine analysis or for servicing. For more info, visit hatznorthamerica.com.
---
Talking with Auger Torque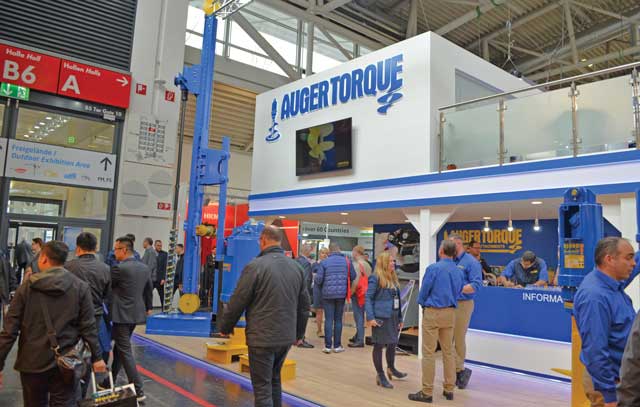 In my many journeys at bauma, I stopped by Hall B5 to talk with James Baird, president of Auger Torque USA, about this newer attachment brand in the American marketplace. Established in Europe in 1998, Auger Torque has been creating innovative implements like earth drills, trenchers, brooms, cement mixer bowls and beyond for two decades. The company is one of a number of attachment brands in the Kinshofer Group.
"Right now, we have a facility outside of Atlanta. We're taking advantage of our partnership with the Kinshofer group and sharing space with a sister company called Solesbee's," said Baird. "Kinshofer also owns brands like Demarec, RF, Doherty and just recently the company purchased Hammer, so that is another line we'll be able to offer our customers."
Auger Torque makes attachments for tool carriers like skid steers, track loaders, tractors and excavators. Some of its gnarliest new tools are its variable mulcher attachments available in working widths of 40 or 60 in. They have the unique feature of being able to change the whole tooth drum instead of individual teeth saving lots of time in the process. The variable mulcher is part of the Auger Torque landscaping range of attachments including stump planers, log splitters, hedge trimmers, sweeper brooms and its cool drill-looking log splitters.
"The big thing at this stage is we're trying to gain that brand recognition in the marketplace and create a dealer network that can help support the product in the field," said Baird. "We want to grow our footprint in the States. We've got a lot of new products in the works that will enhance the versatility of equipment in the U.S. market."
To help promote its brand, Auger Torque will be doing a roadshow this summer.
"It's a tow and show, lunch and learn, and we'll be starting in June in south Florida," said Baird. "We'll basically work our way up to Chicago by September. We want to put on a presentation to sales people and get customers to come in. We'll do a lunch and set up a demo onsite. We could even leave the facility with the dealer's salesmen and go right to a customer's jobsite to show the advantages of our attachments."
We'll keep you updated on the tour, but learn more about Auger Torque at augertorqueusa.com.
---
John Deere Exhibits at bauma for the First Time
Being an American, you might not know this, but John Deere construction equipment was not really available in Europe till recently. In fact, for the first time, John Deere exhibited 14 construction units at bauma, being sold via the Wirtgen Group's German sales and service companies and via the French sales and service company Wirtgen France SAS. John Deere acquired the Wirtgen Group in December 2017. Visitors at the booth could kick the tires and tracks on compact equipment including the 315SL backhoe loader, 312GR, 318G and 324G skid steers and the 333G compact track loader. There was also the John Deere Technology Center, which presented cool tech such as John Deere's SmartGrade, unmanned aerial intelligence systems and John Deere Connected Support telematics services. For more info, visit deere.com.
Tags:
Auger Torque USA
,
bauma
,
bauma 2019
,
Case Construction Equipment
,
Cat
,
Caterpillar
,
Deutz
,
Genie
,
Hatz
,
Hatz Diesel
,
home
,
John Deere
,
Kohler
,
May 2019 Print Issue
,
Perkins
,
Skyjack
,
Topcon
,
Topcon Positioning Group
,
Volvo CE
,
Wacker Neuson