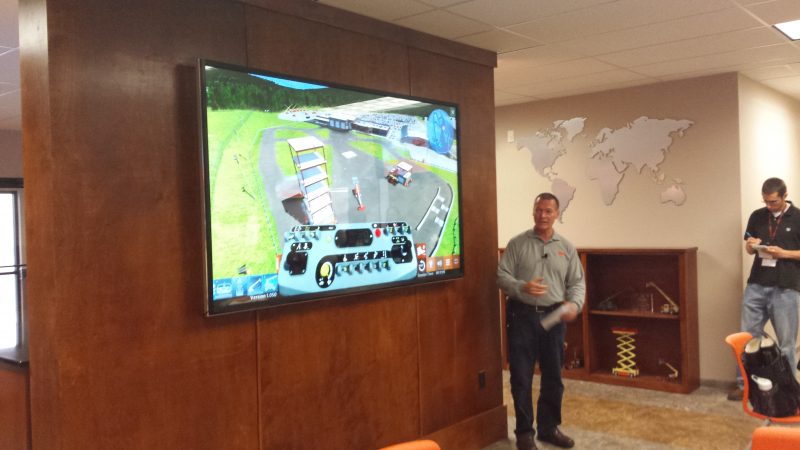 Oct. 15-16, I had the opportunity to head to McConnellsburg, Pennsylvania for a two-day media event at JLG Industries for Compact Equipment. This is JLG's world headquarters and the first day involved a tour of the sprawling manufacturing facility, where the company manufactures everything from JLG telehandlers, aerial work platforms and scissor lifts to Jerr-Dan tow truck booms. I am fairly certain the factory is just as clean, if not cleaner, than my own home.
As exciting as the factory tour and discussions on day one were, the highlight of the media event was a chance to scope out the newly completed 17,000-square-foot training facility and 4-acre proving grounds. As you may have read in my previous post (found here), day two also served as the debut of JLG's virtual training program for boom lifts and telehandlers. This allowed the media an opportunity to get hands-on experience with JLG telehandlers, boom and scissor lifts.
For Compact Equipment purposes, I was all about the telehandlers and it's good to get some seat time in the equipment we cover. I had two opportunities to represent team Black Attack behind the wheel of the JLG G6-42A on the telehandler course. Among other things, I had to place a pallet with a container full of water on a riser, then take it off, driver over some moguls and back down a hill. All the while, water was draining out of said container. I am happy to report that I had two of the highest totals of all the assembled media.
I capped off my adventures by joining the JLG 1850 Club, which signifies that I took a ride on the JLG 1850SJ Telescopic Boom Lift to its full 185-ft extension. This is the tallest boom lift available on the market today, and it's a surprisingly smooth ascent to 185-ft.
In addition to all of this, the fine folks at JLG compiled this brief video of my thoughts on the training center and the equipment. Faced with the opportunity of only showing my family the footage or making it public, I am making it public (at my editor's request) for everyone's enjoyment.