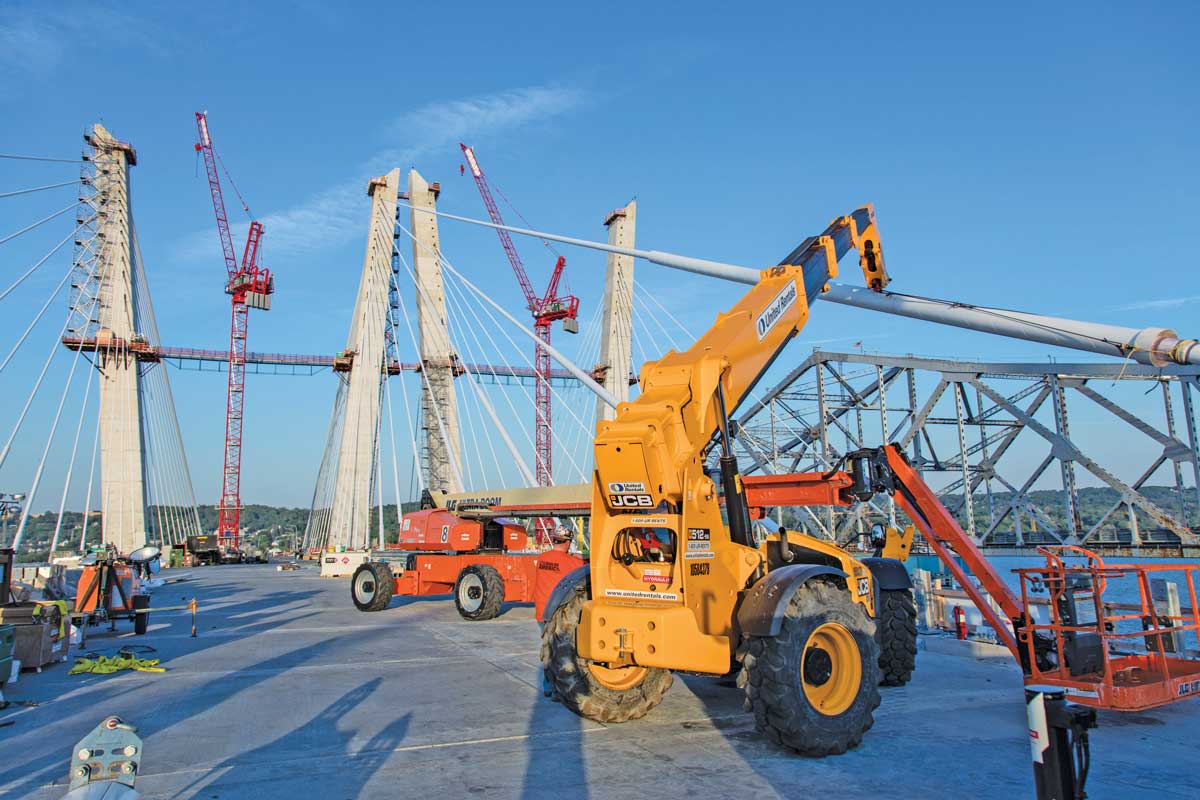 Compact telehandlers, sometimes called telescopic reach forklifts, are one of the growing categories of the compact equipment movement. Their popularity stems from their impressive versatility. These hydraulic machines, equipped with a telescoping boom and a variety of attachments (from buckets to brooms), can lift, load, transport and dump heavy objects and materials over short distances and across rough terrain. At United Rentals, telehandlers are among the most-rented forklifts. Compact telehandlers are especially popular in the rental market now. Convenient for use in small spaces and congested areas, they are cheaper to rent than their larger counterparts and easier to transport and store. It's no surprise that these powerful multi-tasking machines have become a go-to rental choice for many construction contractors, landscapers and other customers.
What Is a Compact Telehandler?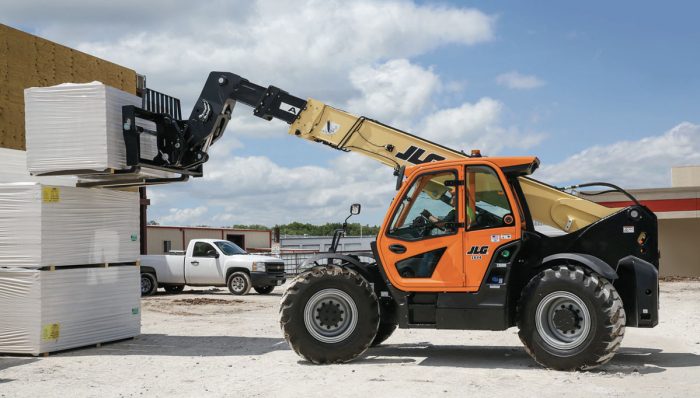 Compact telehandlers are small telehandlers designed to lift loads up to 5,000 to 6,000 lbs with a two stage-boom, and these units have a heavy focus on attachments (vs. their bigger pick-and-place brothers). A compact telehandler combines the power and reach of a larger telehandler with the capabilities of a standard forklift. About the size of a small tractor, it can efficiently maneuver in tight spaces, move between outdoor and indoor environments and fit into buildings that lack commercial truck doors.
With the right attachments, a compact telehandler can perform the tasks of several different machines, making it especially cost-effective. It's possible to use a telehandler in place of standard forklifts, skid steers and other loaders, for example. Attachments include pallet forks, buckets, grapples, lifting hooks, winches and work platforms. A telehandler with a skid steer mount plate or universal skid steer adapter can use most skid steer attachments a contractor may own. Small but mighty, compact telehandlers are well suited for applications in construction, agriculture, landscaping, industry and mining. Contractors favor them for lifting and placing bricks, blocks, trusses and other materials, loading and unloading trucks and moving items between rooftops.
I hate to be the bearer of bad news, but sometimes you can't have it all… unless you rent. From finding the right dealer to scoring the perfect rental machine, we have you covered!
Popular Compact Telehandler Models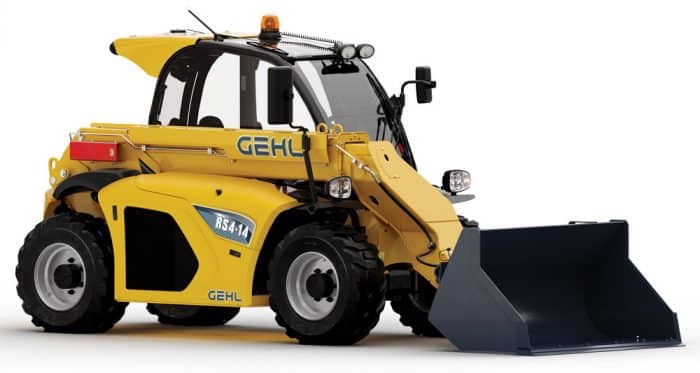 Within the compact telehandler category, different sizes serve different load and reach requirements. At United Rentals, the most popular compact telehandler has a maximum lift capacity of 5,000 lbs and a maximum lift height of 16 to 20 ft. Brands include Genie, JLG, Gehl and JCB. These all-terrain machines have four-wheel drive and all-wheel steering to allow for easy maneuverability over any surface, as well as sway control to help keep loads level on uneven surfaces. Telehandlers with the same lift capacity but a reach of up to 35 ft are also available but less common.
United Rentals rents smaller models, including a 4,500-lb telehandler with a reach of 15 to 20 ft and a 2,700-lb subcompact telehandler, handy for reaching into truck beds and trailers and, with a width of less than 5 ft, accessing narrow aisles. Also highly popular with customers are 6,000-lb telehandlers with a reach of 40 to 49 ft. Other models in the same capacity class have a reach of 35 to 39 ft or 15 to 34 ft.
The Advantages of Renting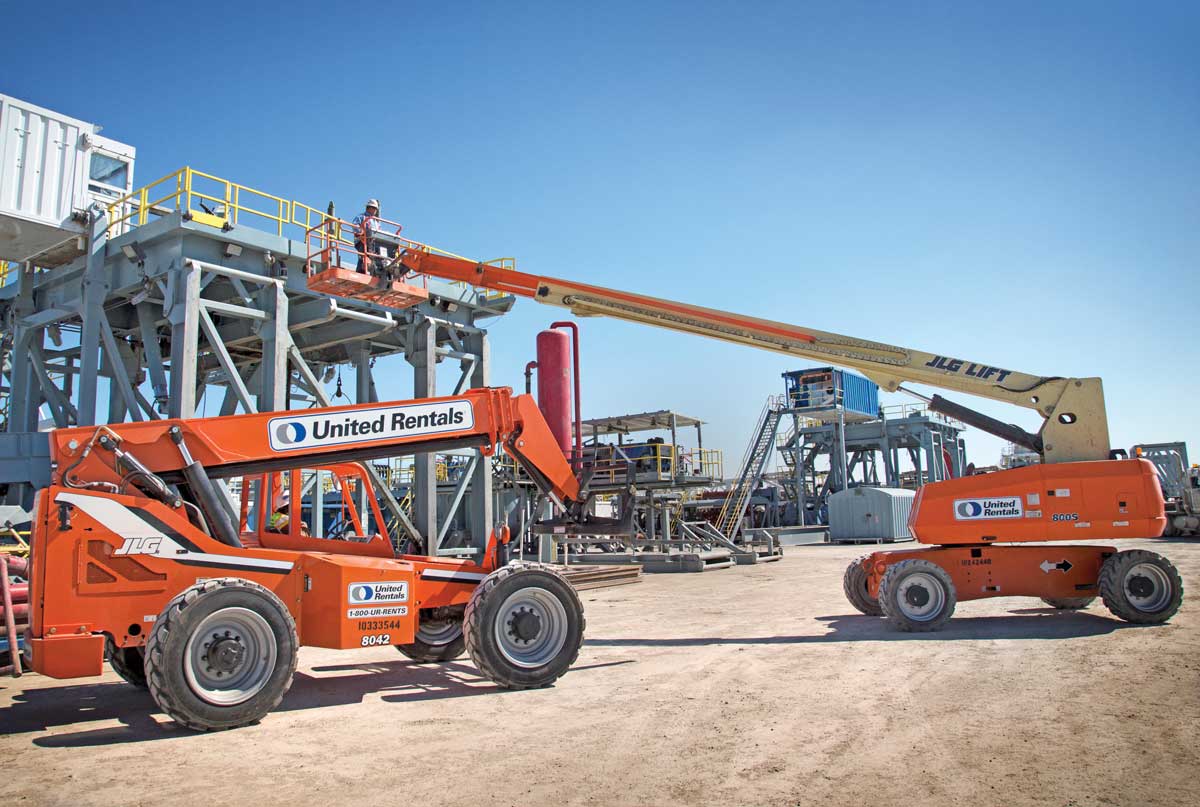 A new telehandler can cost as much as $100,000, depending on the size and model. Even a used machine can be expensive. Insurance, taxes, licensing, interest on loans, storage, depreciation and maintenance add to the total cost of ownership. For many companies, renting is a smart way to go. Rental costs vary based on location, vendor and contract length. A 5,000-lb telehandler might rent for about $400 per day, $1,000 per week and $2,300 per month.
Renting removes the long-term commitment of ownership and gives the renter flexibility to get exactly the right machine for the job, with the latest bells and whistles, and use it for any length of time, from one day to one year. If business slows down, the equipment can be returned with one phone call or the click of a few buttons. Hauling and maintenance are additional concerns for owners. Rental companies can get equipment to new worksites quickly and efficiently. Some use computerized maintenance programs and GPS systems to keep tabs on location, status and service needs. When a repair is needed, the machine is repaired or replaced quickly. The bottom line: Renting removes the burden of ownership so contractors can focus on the work at hand.
Choosing a Compact Telehandler to Rent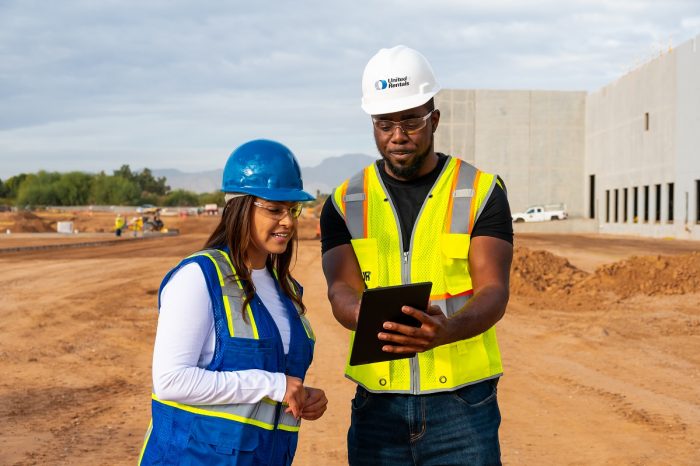 Before choosing a telehandler to rent, contractors should think through how they will use the machine and the heaviest loads they will need to lift, among other factors. The main factors to consider are these:
Capacity
It's common to underestimate the carrying capacity needed for a job. The load chart provides the telehandler's capacity at different lift heights and forward reach lengths. The capacity at maximum forward reach and height will be significantly lower than the maximum capacity.
Lift height
The lift height dictates how high the machine can lift materials or people. The choice of telehandler should be based on the highest lift height the contractor anticipates needing.
Operating weight and dimensions
Smaller telehandlers with a tight turning radius work best in compact or crowded spaces and can be towed on smaller trailers. Lighter telehandlers are well suited to work on sensitive surfaces and in areas with load restrictions.
Fuel type
Most telehandlers are powered by diesel, though in the subcompact category, a few electric models now exist. Diesel forklifts offer faster acceleration and more torque and can lift more weight. An electric telehandler is a good choice for indoor work and helping companies meet emissions targets.
We'd love to keep in touch! Check us out on Facebook, Twitter and LinkedIn!
Tips for Trailering
The relatively small size of compact telehandlers makes them easy to tow between jobsites, but given their weight, contractors should take steps to ensure they transport these machines in a safe and legal manner. Here are a few tips for trailering a compact telehandler.
Check the truck's GVWR
Consult the owner's manual or VIN label for the truck's gross vehicle weight rating (GVWR). GVWR is the total weight a vehicle can haul safely when fully loaded, including the weight of the vehicle itself. The truck weight plus the weight of the trailer, the telehandler and any attachments can't exceed the GVWR.
Choose an appropriate trailer
Overloading a trailer is dangerous and can result in fines. Check the trailer's GVWR to make sure the trailer can handle the weight of the telehandler and any attachments on top of its own weight. Also consider the length and width of the trailer in relation to those of the telehandler. A standard trailer can haul smaller compact telehandlers.
Secure the load
Once the telehandler is loaded, tie it down at four points using chains and binders to meet legal requirements. Drive slowly and stop to perform spot checks during the journey. Load and unload on a flat, level surface and lock the parking brake on the towing vehicle to avoid accidents. Use spotters for safety.
Tips for Safe Operation
In the United States, the Occupational Safety and Health Administration (OSHA) requires that telehandler operators be trained and certified. Certification must be renewed every three years. Operator training can be provided by the employer or a third-party training organization such as United Rentals' training branch United Academy. Trained operators should:
Perform a pre-shift inspection that includes a close look at the tires and steering components, which are prone to wear and tear.
Conduct a jobsite hazard analysis that includes an evaluation of the terrain and any slopes and identification of any obstacles. Some telehandlers have sizeable blind spots, so it is not uncommon for operators to run over jobsite materials.
Check the load chart to ensure the load does not exceed the telehandler's capacity for the operation being performed.
Wear a seatbelt if the cab has one. Remain in the cab with the seatbelt fastened in the event the machine tips over.
Keep the boom and load low during travel to lower the center of gravity and avoid tip-overs.
Drive straight up or down slopes, never diagonally across them, to avoid rollovers. Check the manufacturer's specifications to learn the slope and grade the machine can handle.
Avoid unbalanced loads. Attach the load following OSHA regulations.
Proper operator training and proactive safety measures reduce the risk of accidents that can cause injury and delay projects. A compact telehandler is a smart rental choice for contractors who want to boost efficiency and save money. With the right attachments, these agile, multipurpose machines can streamline equipment needs and tackle any number of loading, lifting and transporting tasks. Equipment rental providers such as United Rentals can help customers choose the right machine for their project and budget and suggest attachments that can help get the job done faster.
Christina Andrews is the content marketing manager for United Rentals.
The TL519 Bobcat's Most Compact Telehandler Yet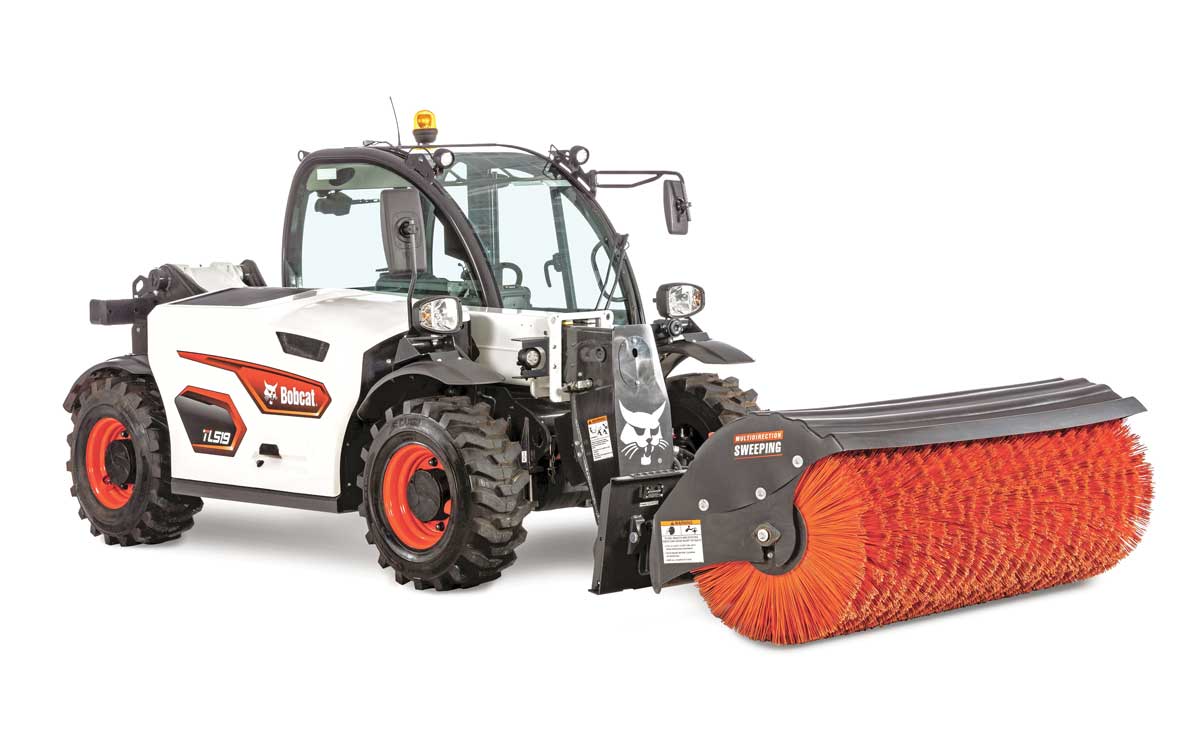 Bobcat recently announced the all-new TL519 telehandler. At just 6-ft wide, the TL519 is the most compact telehandler in Bobcat's current lineup. Ideal for construction, agriculture and rental tasks, the TL519 features a 74-hp engine, a two-speed hydrostatic transmission and a standard Power Bob-Tach mounting system so operators can easily swap attachments without leaving the cab. The TL519 has a lift capacity of 5,500 lbs and a lift height of more than 19 ft. The TL519 comes equipped with four steering modes and five operation modes for ultimate operator versatility. Eco mode allows the operator to maintain hydraulic performance without using the engine's full power. Smooth Drive mode is ideal for maneuvering across jobsites with mild acceleration and deceleration while carrying loads. Dynamic Drive mode increases responsiveness of the telehandler's acceleration and deceleration for traveling between tasks. Flex Drive mode allows the operator to manage the engine speed independently from travel speed, and Advanced Attachment Control mode allows for full auxiliary hydraulic performance. Learn more at bobcat.com.