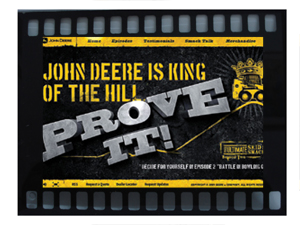 In
its continuing Web series "Ultimate Skid Steer Smackdown," real
contractors climb into the cabs of competitor equipment to square off
against a John Deere skid steer in a series of contests. The
recently-posted second episode, entitled "Battle in Bowling Green,"
features a hill climb battle in which the skid steers must negotiate
two small moguls and a 5-ft berm before grabbing a bucket of dirt and
returning to the starting line. The John Deere 313 makes quick work of
the moguls and the berm as the assembled crowd of over 1,000 cheers the
competitors on.
"These inclines are similar to what you might see on a jobsite," said
Sam Norwood, manager, John Deere Commercial Worksite Products. "What's
important here is a skid steer's weight distribution and stability.
Let's just say we had a lot of fun — and not all skid steers are
created equal."
This episode shows the first of four battles filmed in Bowling Green,
Ky. The Bowling Green event is but one of numerous battles in The
Ultimate Skid Steer Smackdown's Season Two "Prove It Tour," which has
Deere taking to the road to visit jobsites, tradeshow lots and
dealerships throughout the country, testing the skills of on-the-job
skid steer operators in machine vs. machine competitions. New battles
involving Deere skid steers and compact track loaders, and their
competitors, will be posted on the site as the "Prove It Tour" rolls
on. View all the action at www.skidsteersmackdown.com.