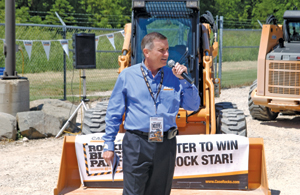 Anniversaries always mean parties. For its 40th anniversary of the skid steer loader, Case Construction Equipment decided to throw a party indicative of its legacy — which means 40 different parties.
"We're celebrating this milestone with customers at Case dealerships across the United States and Canada," said Jim Hasler, Case vice president. "We're an industry leader and proud of our heritage. Our tough, compact and versatile skid steers are found on landscaping, highway and construction projects everywhere."
In celebration of its 40th year manufacturing skid steer loaders, Case Construction Equipment announced the launch of the Case Rockin' Block Party campaign. This year-long series of events will be held at Case dealerships across North America. Case expects 40 or more Rockin' Block Parties to be thrown this summer.
"Customers, co-workers and family members will be invited to celebrate our 40th anniversary with a day of music, prizes, food and fun," explained Hasler. "Plus, we're inviting customers to climb in the cab of a skid steer for a demo — and a chance to win a new skid steer, valued at more than $47,000."
Case began producing skid steers in 1969 after acquiring the Uni-Loader line from Universal Industries. During the past 40 years, Case has sold nearly 250,000 skid steers. Along with its history of products, the Case Rockin' Block Party events will also promote local Habitat for Humanity affiliates. Case and its dealers have supported Habitat for Humanity for several years. Not only have they donated more than $140,000 during this time, but they also helped build several homes.
"Contractors have incredible impact on local Habitat for Humanity affiliates." Hasler added. "We will help several dozen communities this year through donations from Case, our dealers and contractors at the Rockin' Block Parties. Together, we hope to generate an additional $80,000 for Habitat for Humanity."
To find out where Case Rockin' Block Parties will be held, log on www.CaseCE.com. At the site, customers can win Case merchandise online. Customers can also submit a story, photo or video describing why their Case skid steer is the rock star on their jobsite. "We're looking for people who love Case just as much as we do," said Jim Hughes, Case brand marketing manager. Winners from several categories will receive a $1,000 CNH Capital revolving account gift card. Complete details are available online.