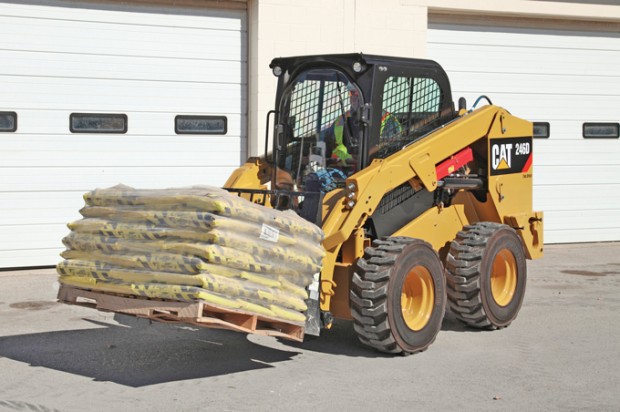 Loaders and Safety
Skid steer loaders are versatile machines used in a variety of industries, including construction, landscaping and agriculture. When operated properly, they are extremely efficient machines for a variety of applications. Controls and features can vary across models, so it's important for operators to undergo training on each individual machine. As with all machinery, strict safety protocols should be followed while operating a skid steer loader to avoid potential dangers.
Each machine comes with its own Operation and Maintenance Manual (OMM) that describes the safety, operation and maintenance procedures specific to that piece of equipment. Operators should read and understand the OMM, and employers should provide operator training for all equipment in their fleet. Operators should also be aware of special universal symbols in both the OMM and on the machine that indicate important safety messages.
Personal Protective Equipment (PPE) can minimize workplace injuries. The application and jobsite safety protocol will dictate the PPE requirements. In general, prior to entering a machine, an operator should wear a hard hat, safety shoes and safety glasses. It's important that PPE fits well and is comfortable to wear. An improper fit could render PPE ineffective.
Before beginning any project, the operator should survey the jobsite to avoid any potential hazards, making note of items such as overhead electrical wires, ditches, underground utilities and other potential dangers. Also clear the machine of debris, paying particular attention to the engine compartment as well as the areas under the accelerator pedal and around the tires. The interface where the work tools attach to the machine should also be inspected. The machine horn and the backup alarm should be tested to make sure they are in working order.
According to the Occupational Safety and Health Administration (OSHA), one of the most common risk factors for those working in or around skid steer loaders is the machine's moving parts. However, common safety practices can reduce risks. Most skid steer loaders are designed for cab entry from the front, requiring a step on or over the attachment. When entering and exiting, an operator should always face the machine and maintain a three-point contact with the steps and handholds provided. Interlocked control systems help safeguard against accidentally activating controls, as the operator must typically be seated with the arm bar lowered before operation can begin. Every manufacturer varies, so the OMM instructions should always be reviewed before beginning work.
A skid steer loader's hydraulically-operated lift arms allow the machine to perform multiple tasks such as lifting, carrying, digging or pushing materials. However, operators should never position themselves under the lift arms for any reason. If the lift arms are raised for repair or service, first remove the work tool attachment from the machine. Then use the lift arm brace and locking pin provided to secure the lift arms before beginning any work. To prevent rollover accidents, it's important to know the machine's capacity. Excessive or uneven loads, carrying materials too high and driving over rough terrain at high speeds could cause a loader to become unstable. Use caution to safely operate a skid steer loader and avoid tipping over.
It can be tempting to take shortcuts on the jobsite, but risks associated with circumventing safety procedures aren't worth your welfare or the welfare of your workforce. Follow safety basics and understand the unique features of each machine that are designed to protect the operator. The best defense against injury and harm is a proactive approach to skid steer loader safety that includes personal education as well as operation and safety training.
Kevin Coleman is a Caterpillar Inc. senior project engineer, based in Clayton, N.C.