It's not difficult to find a way to show pride in your school. You can buy almost anything in the school colors and sporting the school logo — hats, shirts, coffee mugs, flags, decals. But Dennis Smith found a unique way to demonstrate his school spirit.
Smith, president and founder of Pinnacle Construction, Benton, Ky., is an alumnus of nearby Murray State University, home of the Racers. To show his allegiance to MSU and promote the close business relationship that Pinnacle has developed in managing several construction projects on the campus, Smith commissioned a special paint job for the company's new Case TR270 compact track loader.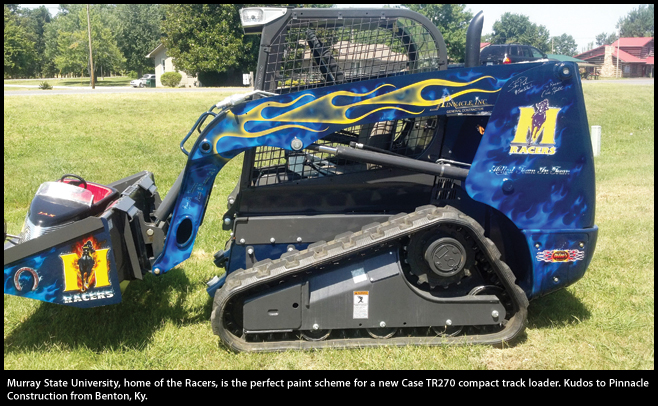 The machine not only displays Murray State Racers logos on the loader frame and bucket, but it also features a multi-tone blue paint job trimmed in yellow flames on the lift arms. Completing the unique design is the inscription, "Hottest Team in Town," and the autographs of the school's head football and basketball coaches. It's quite a departure from the standard Case "Power Tan" paint job.
"We thought the custom paint job would be a great way to promote our close ties to Murray State," said Smith. "It has caused quite a stir on campus already, and we look forward to loaning the machine to the school for promotional use at football games and other high profile events on campus, including fund-raisers."
For creative inspiration and execution, Smith turned to local specialty artist, Jim Defew, owner of Defew's Custom Painting and Body Shop in Benton. Defew has refined vehicle decoration into a high art form.
"Jim really outdid himself on creating the design for our Case loader," Smith said. "It was a labor of love, and it shows in the finished product."
Pinnacle's work for Murray State could also be described as labors of love. The school is alma mater for three other company employees in addition to Smith. Among the recent construction projects that Pinnacle has undertaken for MSU are two student dormitories, a cafeteria renovation and a large addition to the school's basketball arena, the CFSB Center.