When it comes to right-of-way and land clearing, the equipment choice is clear-cut. That's because few machines offer the same level of performance, versatility and safety as skid steer horizontal drum mulchers. This makes them ideal for many professional contractors looking for a cost-effective method for mulching thick grass, brush and trees. In many cases, they may already own a suitable skid steer for other jobs. Once the decision to purchase a horizontal drum mulcher is made, however, there are several more important considerations for maintaining that mulcher. From cutting teeth options to the drive system, these machines have many different aspects that will need your attention.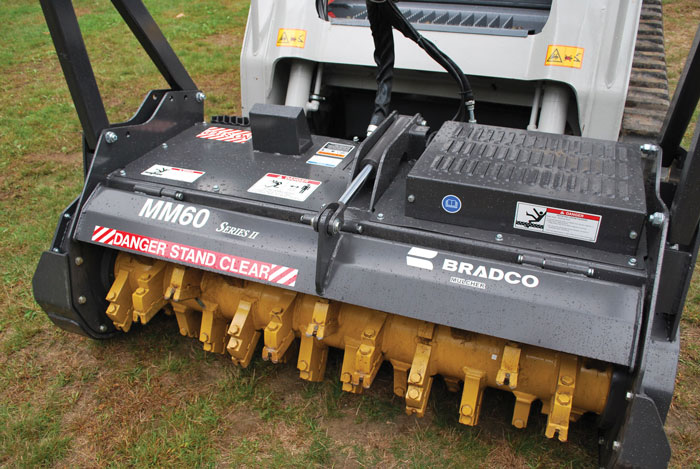 Similar to the way you maintain an automobile to keep it running longer, it is important to do the same for your mulcher attachments. Designed to shred trees, brush and vegetation, these attachments are exposed to high levels of wear and tear, making daily maintenance inspections even more crucial to their life and performance. Manufacturers commonly include maintenance tips and instructions in their operator's manuals. The following are suggestions on when to perform specific maintenance tasks and the problems you can avoid by doing so. Performing the tasks indicated in the Mulcher Attachment Recommended Maintenance Schedule can help you avoid costly problems later. Here are some issues you can avoid by conducting daily maintenance inspections:
Case Drain Coupler
Over-pressurization of the motor case can be caused by a kinked or pinched hose, improper connection, obstruction or a damaged coupler on the case drain line. It is important to make any necessary adjustments and/or reroute hoses before operating your mulcher attachment. Be sure to route hoses in a way that prevents pinching and chafing.
Hydraulic Oil Levels
If your skid steer's hydraulic oil levels get too low, it could cause excessive oil temperatures. If the temperature rises too high, the mulcher must be removed from the brush/debris and the skid steer returned to idle until it has cooled down sufficiently to continue operation. Refer to your skid steer owner's manual to determine the proper hydraulic oil levels for your machine.
Hardware
Check all hardware for tightness. Loose, missing or damaged bolts and nuts can cause oil leakage. Consult your mulcher attachment operator's manual for proper bolt torque specifications for your model. Paladin Attachments, manufacturer of Bradco mulcher attachments, recommends using grade 5 bolts or better when replacing them.

Hydraulic System
Improper maintenance or damage of your skid steer's hydraulic system can cause severe problems. If the hydraulic motor is damaged or its seals broken, it could cause the rotor to turn sluggishly or not at all.
Teeth
Worn, broken or missing teeth can cause excessive machine vibration and reduce productivity. Check to make sure that the mounting surface and bolt holes are clean and free of debris before replacing teeth. Double-sided, reversible teeth can be rotated when worn or if carbide points are broken or missing.
Rotor
Rocks and debris caught in the rotor and teeth can cause the rotor to stop turning and stall the mulcher attachment or cause it to vibrate excessively during operation. When a jam occurs, first shut off the hydraulics. Move the mulcher to a clear area, set the mulcher down and drive in reverse to force the drum to rotate without hydraulics, thereby discharging the jam.
Other maintenance is required less often in order to keep your mulcher attachment running at peak performance, including cleaning internal mulcher compartments, checking the drive belt tension and lubricating rotor bearing pumps. Always consult your operator's manual before performing any maintenance tasks to ensure all are performed correctly and safely.
John Thomas is the vice president of marketing and business development for Paladin Attachments, which includes Bradco mulcher attachments, based in Dexter, Mich.
Tags:
Bradco
,
Mulchers
,
Paladin Attachments