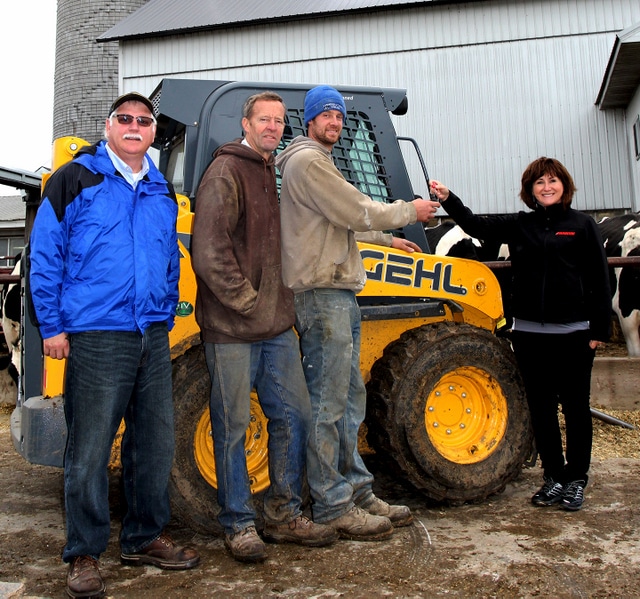 Jim Vanderstappen of Hebron, Ill., stopped by the Gehl booth at Wisconsin Farm Technology in Lake Geneva, Wis., to look at a new Gehl excavator and a thumb attachment for his current machine. A few days after the show, Jim received the news that he had won the free use of a new Gehl R190 skid loader.
"For years Manitou Americas [Gehl brand] has been giving away the use of a Gehl Skid loader at Wisconsin Farm Technology Days because Wisconsin is the home state of the Gehl brand since 1859," said Lori Heidecker Marketing Director for Manitou Americas. "We were very excited to hear that Jim Vanderstappen of Vanderstappen Farms was our winner this year and are confident he will find this skid loader the perfect product for his dairy farm."
"The guy I was talking too at the show from Gehl asked me to sign up, and I said I never win anything," says Jim Vanderstappen of Vanderstappen farms. "We use three Skid Loaders on our Dairy Farm and I was very excited to hear we get to use the Gehl R190 for 3 months." After running the machine for 30 days, putting on 30 hours Jim is very pleased with the power and productivity of the Gehl. "I've used Case skid loaders all my life, so the Gehl really surprised me. It's pretty well up there, especially with the controls as you are able to have one hand free while driving and you can also run your throttle with a dial system."
Vanderstappen Farms began in 1960 when Jim's father rented the farm they live on today. In 1985 Jim Vanderstappen purchased the farm and married his wife from Holland. Since then, the farm grew to 65 dairy cattle, 35 Angus cattle, and over 300 acres of land farmed by Jim and his son David.
Triebold Implement in Whitewater has been a long-time equipment dealer to Vanderstappen, and delivered the Gehl R190 when they received the news. Charlie Keiser from Triebold assisted Jim and David with the operations of the machine and is pictured above with Jim, David, and Lori Heidecker Marketing Director for Manitou Americas.
For more info on Gehl products, click this link. What are you, chicken?
Tags:
Gehl
,
Manitou Americas
,
R190 Skid Loader
,
Vanderstappen Farms
,
Wisconsin Farm Technology