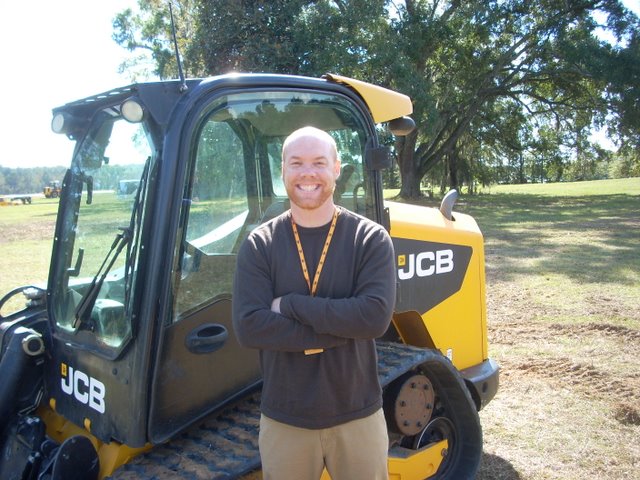 JCB has always been a groundbreaker when it comes to creating class-leading construction and agricultural equipment. The famed three lettered company (which stands for founder Joseph Cyril Bamford) claims invention of the backhoe loader and the telescopic handler. This year the company celebrates 65 years in the equipment manufacturing business, producing everything from excavators to high speed tractors. Most Americans don't know, but JCB is the leading equipment manufacturer in Europe and in India and one of the top five makers of earth moving equipment in the world.
Now JCB is poised to conquer the North American equipment industry using one of America's most famous inventions – the skid steer loader. Just today, down at their North American headquarters in Savannah, Ga., JCB launched four new skid steers and three new track loaders to its dealers and the press corps.
"This is a product designed, engineered and manufactured right here in Savannah for the worldwide market," said John Patterson, deputy chairman of JCB.
In fact, it's the first JCB product to be designed, engineered and manufactured in North America. Luckily, these next generation machines still retain what we love most about JCB skid steers – the one-armed boom design. The company calls it its "PowerBoom," using a single arm, rather than the conventional two arm skid steers we're accustomed to from Bobcat to New Holland. It makes entry and exit from the loaders the safest and easiest in the industry. And operators can enjoy an unobstructed rear view and better all around visibility for unmatched jobsite safety and driver confidence.
JCB introduced a range of seven loaders and that will eventually grow to 18 models. All seven machines introduced today are vertical lift, which allows for increased capacity and more reach at maximum lift height. The models now available (the 260, 280, 300 and 330 wheeled skid steers and 260T, 300T and 320T compact track loaders) are large platform machines with rated operating capacities of 2,600 lbs and above. With the introduction of these new machines, JCB will be able to offer a complete range of wheeled and tracked machines, both vertical and radial lift (the current 8 models are all radial), ranging from 1,300 to 3,500 lbs. It's a wide product offering that the company hopes will gain them 10 percent market share in the near future.
"Half of all machines sold in North America are either mini excavators or skid steers and that's a statistic we cannot ignore," said Patterson.
Patterson went on to name the top five reasons why its new compact loaders will impress customers and surprise the competition – 1) Serviceability (with a super nice tilting cab); 2) a complete model range (which will eventually be 18 units); 3) competitive pricing (nothing concrete on this at the moment); 4) vertical lift offerings (which makes up 70 percent of the skid steer market); and 5) attachments (offering 30 different families, from breakers to brooms to brush cutters).
The new generation machines are also focused on comfort with a 17 percent larger cab than previous models, introducing multifunction joystick controls and an optional heated air-suspension seat with adjustable armrests, making JCB's skid steers and track loaders easy and comfy to operate.
But what really sets these machines apart is the clever one-armed boom design. Let's face it: It's a crowded marketplace for skid steers and track loaders (some 10 manufacturers), and JCB has the most unique product out there. On these new units, JCB says its one loader arm contains 20 percent more steel than the competitions' two arms, so don't worry about lifting power. Worry about safety. As popular as skid steer and track loaders are in America, they are notorious for mediocre visibility, so so comfort and bad entry and exit. On every other track loader and skid steer, operators must scramble over the attachment to enter the cab. Try maneuvering over a big trencher or brush cutter when it's wet and muddy – it's definitely not safe.
Now there's an alternative. JCB hopes its unique design will catapult them above the competition, and they're not shy about touting their new status in the compact loader industry. 
"From now on, and you can print this, Savannah is the skid steer capital of the world," said Larry Ashley, JCB business development manager. – Keith Gribbins, managing editor, Compact Equipment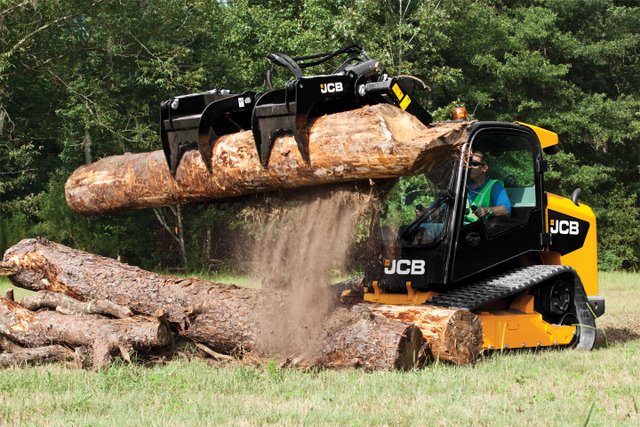 Tags:
backhoes
,
JCB