When it comes to skid steers and compact track loaders, there's little doubt that operator comfort has a positive impact on overall safety and productivity. However, the first skid steers developed back in the 1950s and 1960s were extremely utilitarian when compared to the "tricked out" machines being manufactured today. In fact, those early machines were designed without a cab or any type of overhead structure, making it possible for operators to easily access low-ceilinged facilities like poultry houses. As the owners of these skid steers began to use them for other tasks like snow removal, it quickly became obvious that operator enclosures with heaters, defrosters and windshield wipers weren't just pie-in-the-sky luxuries­ — they were an absolute must.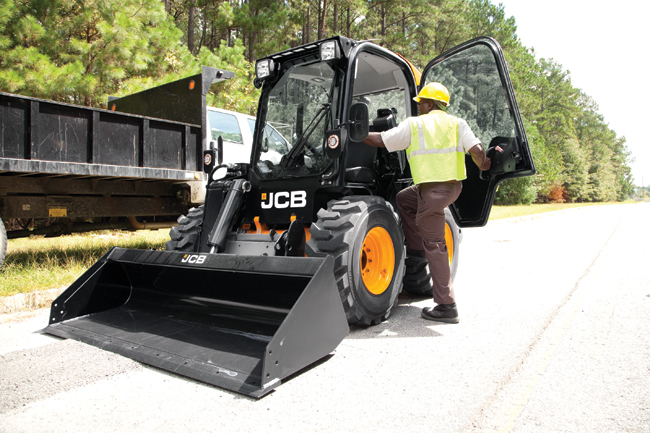 "Manufacturers began to recognize that the people operating these machines were often using them for long stretches of time in all types of weather," explains George Chaney, JCB's international sales manager for skid steers and compact track loaders. "As a result, enclosed cabs, comfortable seats, ergonomic controls and functioning HVAC systems became increasingly popular. The operators of these enhanced machines experienced less fatigue, which translated to better productivity and profitability."
Extensive customer research and years of product development experience have led companies to better understand the additional features operators need and want. Cabs are now heated, cooled, sealed and pressurized for maximum operator comfort, lower noise levels and minimal intrusion from worksite dust and dirt. Manufacturers are also making cabs larger to more easily accommodate operators with larger builds. According to JCB's Chaney, perhaps the most significant factor that continues to contribute to operator fatigue is the amount of effort it takes to manipulate a machine's control levers.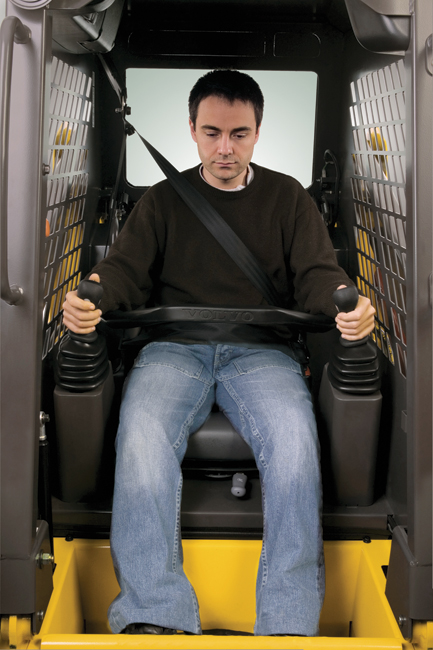 "Earlier control lever designs — particularly those for drive controls — employed simple mechanical linkages and longer lever movements," Chaney says. "Some of the lower-end machines on the market today still use that type of mechanism. Higher-end machines typically feature hydraulic servo controls that require less effort on the part of the operator while providing more precise control."
Designing a cab that offers the best all-around view of the worksite also greatly enhances operator comfort and safety. Visual obstructions of any kind can make operators less confident when using these machines, causing them to slow down and be less productive. Manufacturers are now designing increasingly ergonomic cabs that position operators precisely within machines for the best possible exterior view.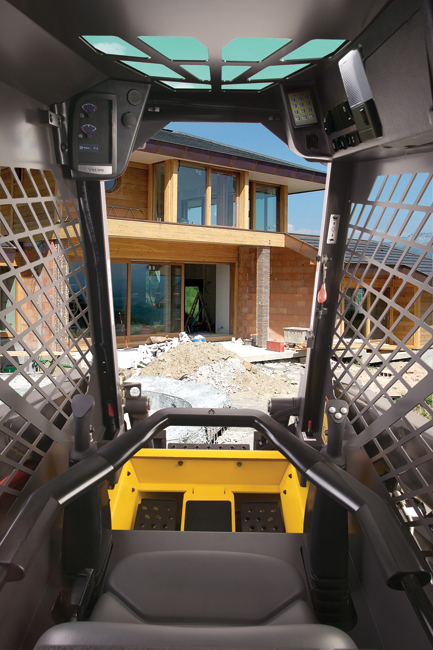 "For example, JCB uses a unique single-arm Powerboom design rather than the conventional two-arm skid steer design to eliminate the need for a torque tube across the back of its machines," Chaney explains.  "This allows operators to enjoy an unobstructed rear view as well as safe, easy access in and out of the skid steer or track loader's cab."
Heavy equipment manufacturers have been able to achieve these various improvements through the use of technology like CAD systems and increasingly sophisticated components from their supply partners. Some even have their own special divisions with the sole purpose of manufacturing cabs for all of the heavy equipment they sell.  
"A comfortable operator is a productive operator," Chaney says. "The majority of skid steers and track loaders are purchased by owner-operators, and these individuals seem to place greater value on comfort and ergonomics. When someone spends eight hours a day in their skid steer office, so to speak, it should be as enjoyable as possible. It's our job to make sure it is."
Lynette Von Minden is public relations counsel for Swanson Russell, a marketing communications agency in Lincoln, Neb. Tags: JCB