What type of equipment is a landscaper or small contractor most likely to use? If that question had been asked on the old television game show "Family Feud" back in the '70s or '80s, the excited guests would probably have offered up answers like "lawn mowers," "hammers," "shovels" and "saws."
While that simplistic definition is still somewhat true, survey says that many contractors have expanded their services over the years, necessitating the use of bigger, more powerful equipment. As compact equipment has evolved over the years, so have the services that the customers of smaller contractors have come to expect.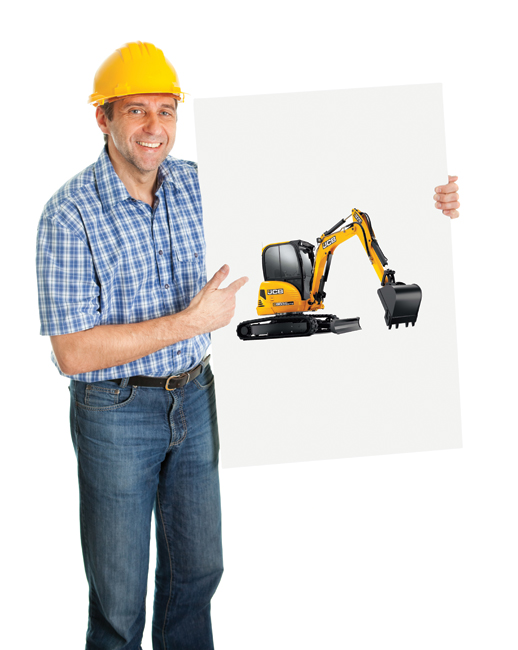 Today, landscapers and contractors may install in-ground irrigation systems, build retaining walls and water features, clear brush, perform snow removal and a number of other tasks that require more power and strength. While it's certainly not uncommon to see a skid steer loader or compact track loader at a smaller jobsite, many residential contractors are also adding other types of compact equipment to their fleets. Smaller backhoe loaders and compact excavators are two such machines that can make life a lot easier for contractors who have expanded their services with the times.
Chris Giorgianni, general manager of product marketing at heavy equipment manufacturer JCB North America, says that backhoes and compact excavators can provide extra power to complete more complex projects in less time.
"Skid steers and track loaders are great, flexible machines with multiple uses," Giorgianni says. "However, if a contractor decides to add pond installation or retaining wall construction to his list of services, using a compact excavator or a backhoe would probably help him complete those jobs faster. The time he could save might be the difference between winning or losing the bid on a new project."
According to Giorgianni, small- to mid-size backhoe loaders can both excavate material from a jobsite and move larger, heavier loads of mulch, stone or other materials. Because some backhoes come with a "quick hitch" mechanism, contractors can also use a multitude of attachments, just like they can with skid steers and track loaders. "You can move stone around a site, fit it with a broom to clear walkways and put a blade on it to remove snow," Giorgianni says. "Skid steers and track loaders are also great for these tasks. But, if you're going to be consistently excavating or moving large amounts of materials, a backhoe may be a more efficient choice because of its larger size and greater power."
Contractors interested in purchasing a backhoe loader must keep in mind that the machine is more challenging to transport than a skid steer or other compact machine. "Some skid steers are light enough to fit on smaller trailers attached to your average full-size pickup truck," Giorgianni says. "On the other hand, transporting larger machines such as a backhoe loader often requires a commercial driver's license [CDL]."
When it comes to digging in tight spaces — like trenching for irrigation systems or excavating backyard swimming pools — a compact excavator is your go-to machine. These smaller excavators use rubber tracks instead of wheels to create very little ground disturbance, something that's very important to the typical residential or commercial property owner with an existing landscape. Some compact excavators are also able to be outfitted with attachments like augers, hammers and buckets, making them useful for additional tasks.
Jack Riley, operations manager for CERVUS Equipment Corp. in Edmonton, Alberta, Canada, says that compact excavators have unique qualities that make them ideal for jobs. "A compact excavator's overall design offers excellent visibility, stability and control for jobs that require a deeper dig," Riley says. "ZTS [zero tail swing] models are maneuverable enough to be used right next to a house's foundation or fence line. Often, the spoil can be placed behind the machine so that it doesn't make contact with any nearby structures. This eliminates additional time needed to move the spoil out of the work area as the operator continues to dig."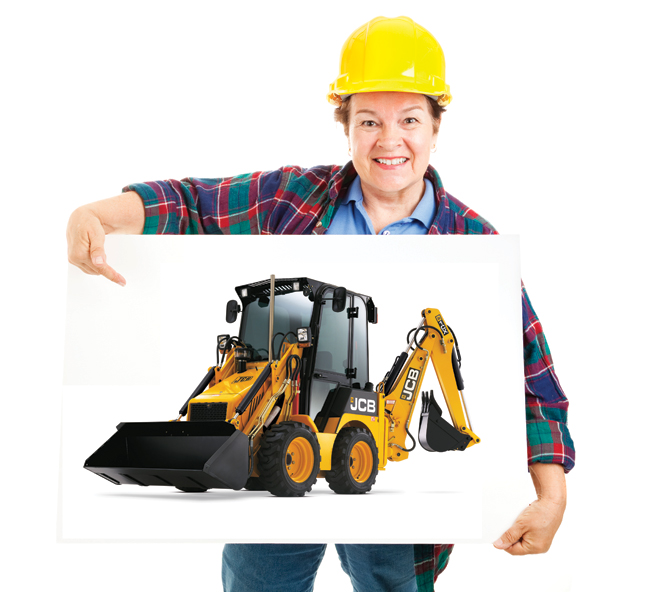 While backhoe loaders or compact excavators may be better suited for a number of tasks on these smaller jobsites, contractors are often tempted to try and make do with existing machines or tools. Or, they may decide to simply rent a backhoe or compact excavator when necessary. However, Riley says that contractors may want to reconsider that approach.
"Contractors obviously need to keep costs in line," Riley says. "It's understandable that they would try to use equipment that they already own and rent other equipment as needed. However, it's important to keep two considerations in mind when making the decision to stick with your current fleet, rent additional equipment when necessary or purchase new equipment to expand your fleet. First of all, a job without the proper equipment or a good plan can quickly run up costs in excess of the original quote. And secondly, contractors often can't rent the right machines when they need them. We see this happen at our dealership time and time again. All the contractors get busy at the same time, so our rental units are sometimes checked out for an entire season. That leaves some contractors struggling to come up with alternatives."
These two issues can make a significant impact on overall earnings, particularly for contractors who can only perform some outdoor landscaping jobs during milder weather. Inefficiencies caused by using smaller or less powerful machines can extend the amount of time needed to complete a project, leading to higher labor costs for customers and preventing the contractor from doing as many jobs per season.
"When you calculate the cost of getting by with current machines or rentals to the cost of payments and interest on a purchase, the purchase often comes out as the better deal," Riley explains.
So if you are going to buy a backhoe loader or compact excavator, should you choose a new or used machine? There are a number of factors to consider in addition to the unit's upfront cost. New machines have the obvious benefit of all-new parts backed by warranties. But, they also offer another advantage that's less apparent upon first glance. "If you want to be seen as reputable and professional, you need to look the part," Riley said. "This is where many used machines simply can't hold up. The old saying is that a picture is worth a thousand words, right? I tell contractors that the right picture may be worth thousands of dollars."
Contractors who decide to go ahead and make the big purchase (new or used) should be on the look-out for certain features. In addition to ensuring the backhoe loader or compact excavator has the horsepower, dig depth, bucket capacity and operating weight necessary to handle the tasks for which it will be used, there are a number of other items to check.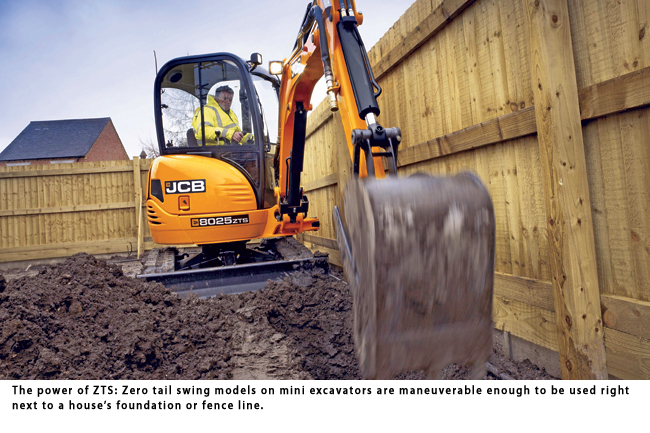 "Sit in the cab and see what kind of visibility the machine offers," Giorganni says. "The better you can see your worksite, the better, faster and more safely you can get the job done."
Ergonomics and comfort within the cab are also important, as some projects may take many hours from start to finish. Simple controls that are easy to use and understand can tremendously impact productivity. "It's safer for less experienced operators to use the machine when they can learn how to use its controls quickly," Giorgianni adds. "You also want to make sure that the controls themselves are easy to manipulate, because operators won't get tired as quickly and will be able to safely work for longer periods of time."
If you do have a line on a good-looking used machine, Riley says it's imperative to ask for a full service history on the unit. "Our used machines go through a rigorous inspection before resale, and they must meet strict criteria before we let a customer purchase it," Riley explains.
Riley notes that contractors must ensure that a unit's full driveline and hydraulics are operating to capacity and not in line for immediate failure because it's expensive and time-consuming to replace their components. Check all pins and bushings at all pivot and articulation joints to make sure the machine is operating with precise movements, not loose or sloppy. Even seemingly minor problems should be taken seriously.
"Cracked windshields, broken latches, questionable brakes, leaky hoses and non-functional warning lights should be fixed," Riley says. "A machine might still do its job with these defects, but it's not worth the safety risk. If an accident does happen and the investigation showed non-functioning safety equipment, the owner of the machine would be liable for damages. That's not something to take lightly."
Lynette Von Minden is a public relations writer with Swanson Russell, based in Lincoln, Neb.
Tags:
backhoes
,
JCB