Mulching attachments are becoming increasingly popular among a wide range of industries and machines. They extend the versatility of compact equipment such as track loaders and compact excavators as they efficiently and effectively remove unwanted vegetation in right-of-way clearing projects, fire fuels reduction thinning, residential and commercial site preparation/land clearing and more. Many manufacturers offer mulchers and attachments, so there are numerous options to choose from. Here are a few that we highly recommend.
Kubota by Land Pride SC70 Skid Cutter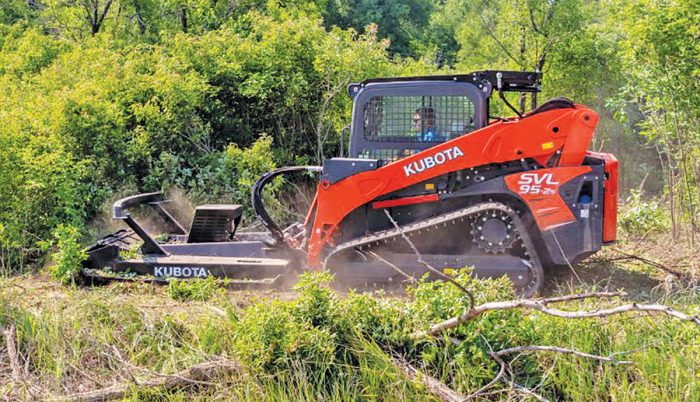 Farmers, ranchers, developers, contractors and landowners can clear land or small trees, shrubs, bushes and grass easily with the SC70 Series Skid Cutter. Performance matched to the Kubota SVL compact track loaders, the Kubota SC70 is a heavy-duty skid cutter with a 7-in. cutting capacity and 6-ft width. The deck and side skirts are manufactured from 1/4-in. steel. The SC70 comes with an optional case drain and motor pressure gauge. Standard safety features include front and rear chains, a pusher bar and a patent-pending bi-fold door that covers the cutting chamber when not cutting in heavy brush. For more info, visit kubotausa.com.
Danuser Intimidator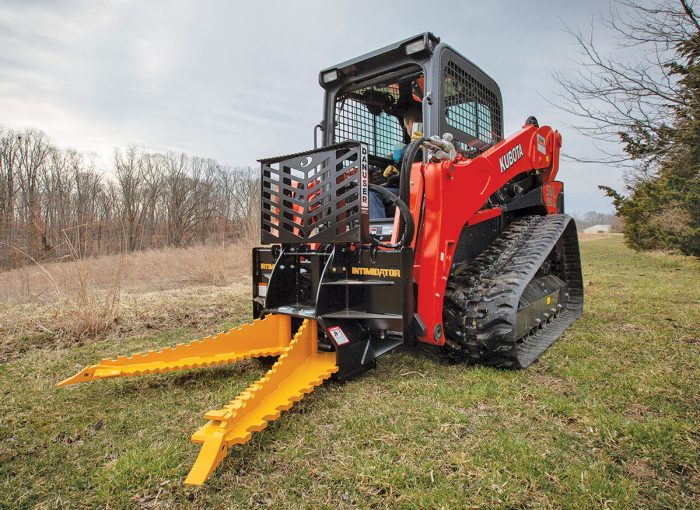 Pull. Saw. Dig. Carry. The Danuser Intimidator tree and post puller gets to the root of the problem. The Intimidator is the ideal attachment for removing trees, stumps, brush and other land clearing obstructions on the jobsite or farm. The Intimidator is basically the Swiss Army Knife of tree pullers. It incorporates several features that combine to make it both unique and extremely effective. Its versatility creates more job opportunities, making the Intimidator a perfect match for contractors as well. Danuser's Intimidator offers lower operating costs than a bulldozer and less work than a chainsaw. For more info, visit danuser.com.
Cat Industrial Brushcutter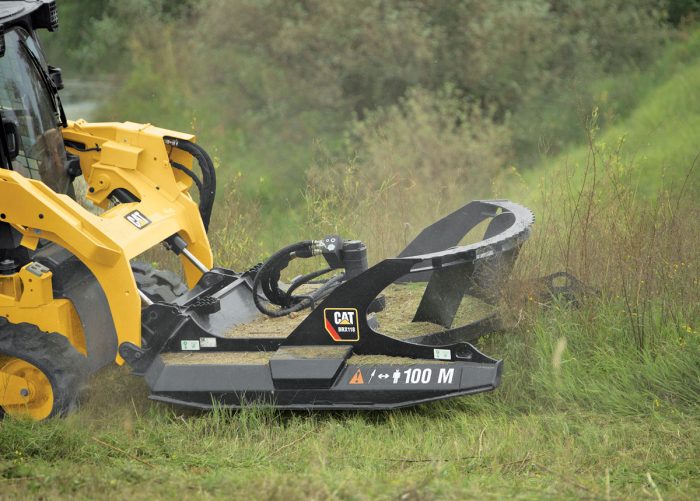 The new Cat Industrial Brushcutter is engineered for applications that involve removing or controlling large amounts of brush, small trees and dense vegetation — such as land clearing, right-of-way maintenance and site prep. The new attachment is designed for use with skid steer loaders, compact track loaders, Cat Multi Terrain loaders and compact wheel
loaders fitted with a universal coupler. The Industrial Brushcutter
provides a 72-in. cutting width and has the capability to handle material up to 8 in. in diameter, ensuring high production with all types of auxiliary configs (standard-flow, XPS high-flow or XHP high-flow). For more info, visit cat.com.
John Deere Rotary Cutters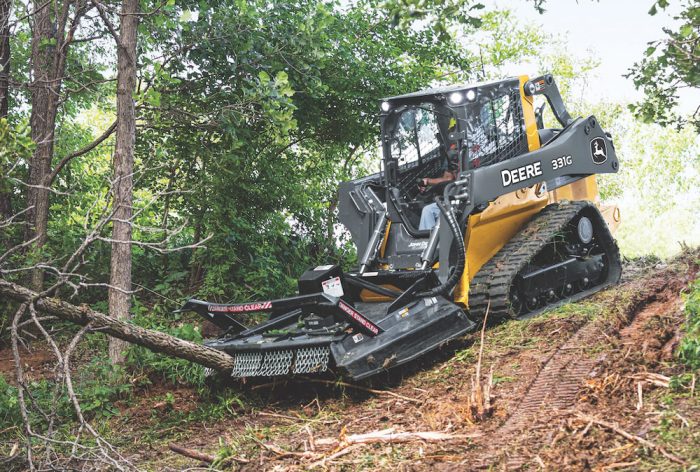 John Deere's new RX72 and RX84 rotary cutters are designed for heavy-duty vegetation management applications including property maintenance and right-of-way clearing. The RX72 and RX84 are compatible with large-frame John Deere skid steer and compact track loaders. Each model uses a skid steer coupler attachment interface to mount to the carrier and comes equipped with high-flow hydraulics and a severe-duty door. The RX72 and RX84 include motors with a direct drive bearing for higher efficiency and durability, while an optimized blade carrier design allows for faster startup and recovery time. For more info, visit deere.com.
Loftness L Series Battle Ax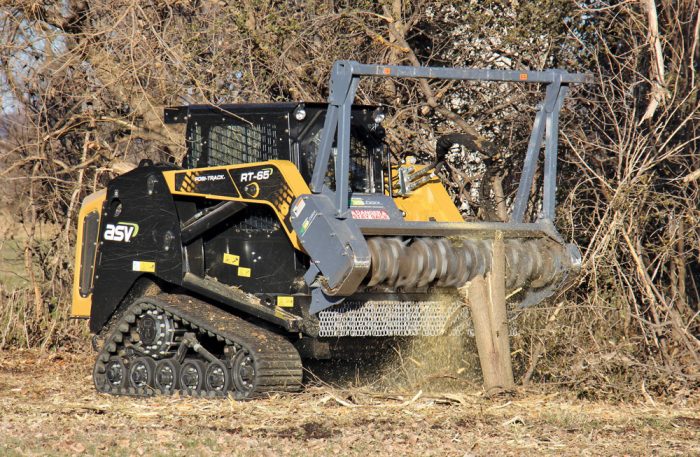 Loftness has expanded its line of Battle Ax horizontal drum mulchers with the new L Series, designed for low-flow skid steers with 16- to 30-gpm hydraulic flow ratings. The new models allow the high-performance Battle Ax to be used on a wider variety of power equipment, since previous models were only available for high-flow skid steers. L Series Battle Axes are available with 51- and 61-in. cutting widths. Like other Battle Ax models, the L Series features a new rotor design with built-in depth gauges, which function similarly to raker teeth on chainsaws to prevent the attachment from engaging too much material at one time. For more info, visit loftness.com.
Wacker Neuson Ground Shark
Wacker Neuson offers Ground Shark brush cutters in a variety of widths. The standard-duty unit (shown) is a great tool for general vegetation management and can handle light and medium density brush and hardwoods up to 4-in. in diameter. Wacker Neuson skid steers and compact track loaders have a creep mode feature that allows for top end travel speed to be set by the operator for an optimal working speed relative to the terrain and task. Standard and Extreme Duty Ground Sharks are an excellent choice for site prep, fence line maintenance, roadside maintenance and more. For more info, visit wackerneuson.com.
DFM Mastodon Forestry Mulchers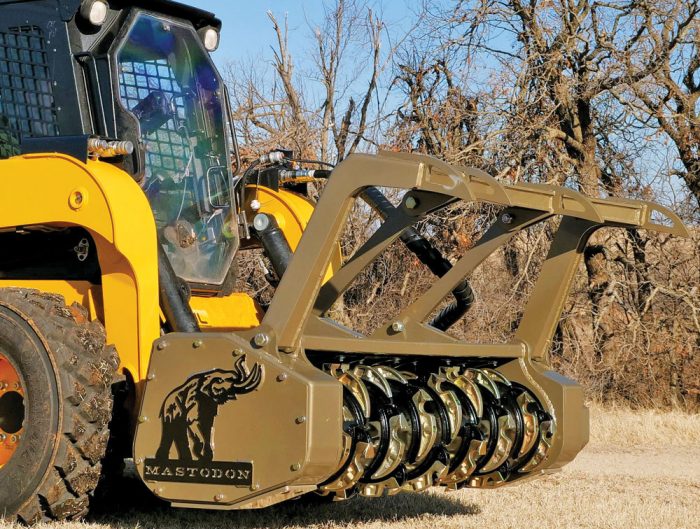 Dougherty Forestry Mfg.'s line of Mastodon Forestry Mulchers for skid steers and compact track loaders come in a 60-in. cut and include three models: the M60-F, Mastodon M60-S and Mastodon M60-C. The Mastodon line of forestry mulchers have some never-before-seen features, such as ECU controlled shifting, lift assist, hour and temp monitoring and in-field smartphone tuning with Bluetooth. All manufacture, machining and dynamic balancing of major components for these mulchers is in-house to ensure maximum quality control. Mastodon Forestry Mulchers are in stock and they come with a standard 24-month warranty. For more info, visit mastodon.com.
Steiner Rough Cut Mower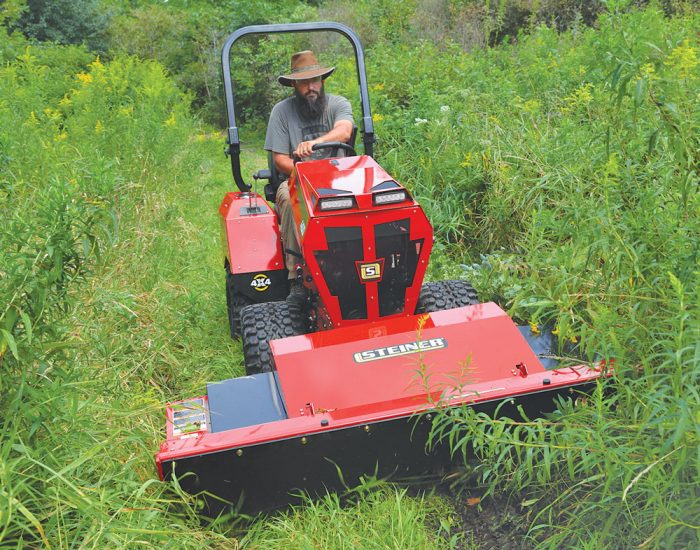 The Steiner Rough Cut Mower attachment makes easy work of the tough task of clearing thick, overgrown brush and grass. This durable tool is designed to evenly cut through tall grass and heavy brush up to 1.5-in. in diameter and provides performance for clearing undergrowth in woody areas. Attach it to the versatile Steiner 450 tractor for a powerful, dynamic mower that can cut grass on uneven terrain and slopes up to 30 degrees. The Steiner 450 is a true four-season machine with its wide stance, articulating and oscillating frame, hydraulic weight transfer and traction boost system and powerful engine. For more info, visit steinerturf.com.
Tags:
Caterpillar
,
Danuser
,
Dougherty Forestry Mfg.
,
John Deere
,
Kubota
,
Loftness
,
March 2021 Print Issue
,
Steiner
,
Wacker Neuson